Steam has quickly become very popular among the gaming community and it's pretty well deserved. Steam offers great deals on games, a safe and secure experience for online gamers, a huge collection of games, and regular promotions for gamers from all around the world. However, it's not completely flawless, as its support service is constantly made fun of, plus not everyone is a fan of Valve's monopoly on PC gaming. Thanks to Steam's popularity, there are a number of alternatives that bring new and exciting ways to find old favorite as well as new gaming titles that might have otherwise been unnoticed. So, if you are tired of Steam and are looking for something new to quench your thirst for gaming, check out the 8 best Steam alternatives below:
1. GOG
GOG is part of CD Projekt group, the developers of The Witcher game series. It offers some amazing deals on popular computer games and DRM-free classic computer games at very cheap prices that you can enjoy anywhere you want. Moreover, you can find the best indie games on GOG with very generous price tags.
GOG does not boast of a large games line-up as Steam but it still has a decent collection of amazing games for your PC that you can enjoy. Also, it regularly brings sales and crazy discount deals. For instance, at the time of writing, it is currently running a Summer Sale promotion where you can snag top titles like The Witcher 3 and many more at heavily discounted prices. 
2. Origin
Origin gives players a one-stop shop for all EA titles. Each month, visitors can expect discounts on their favorite franchises, including The SIMS and FIFA. Team gaming is a highlight with live chat and audio for an experience that mimics consoles. Want to broadcast on Twitch? Origin makes it easy. Free trials, as well as demos, are available for most of the games in the ever growing collection.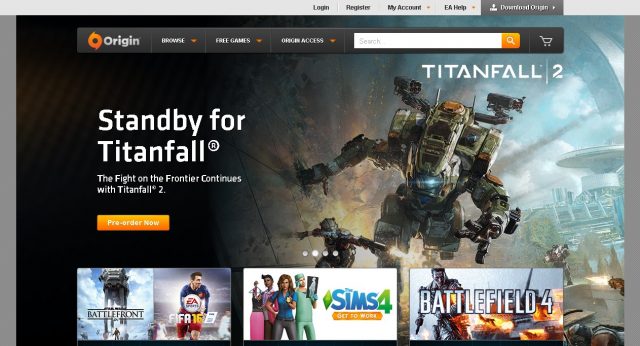 Origin Access presents an all-access subscription program for gamers who love trying out the newest titles. This EA property offers its users previews of upcoming titles as well as up to 10% discounts on every game purchase. Unlike some services, the company makes it easy to cancel the purchase at any time.
3. GreenMan Gaming
This newer entry to the streaming game market is trying to set itself apart from the competition by establishing a console-streaming program. Although it's still in its early stages, the company promises to have it up and running soon. When it comes to other platforms, GreenMan offers a similar design to its counterparts. Users can find a growing list of PC as well as Mac titles among the site's expanding catalog. Early access is also available on anticipated franchise entries from the industry's most well-known companies.
Gamers with a taste for indie titles will also enjoy the service's promotion of one-of-a-kind choices that cover the best of indie gaming. When it comes to deals, the site provides a rotating selection of choices that are discounted up to 90% off of retail prices.
Visit
4. Kinguin
Kinguin is a  pretty different offering when compared to other gaming services. The platform offers gamers a way to exchange, sell and buy titles safely. All platforms and services are covered through this unique exchange, including Steam, Playstation 4 and GOG.Com. Users can take advantage of the company's Buyer Protection Plan, which gives any buyer or trader a limited 30-day money back guarantee. Unlike other services, Bitcoin is accepted.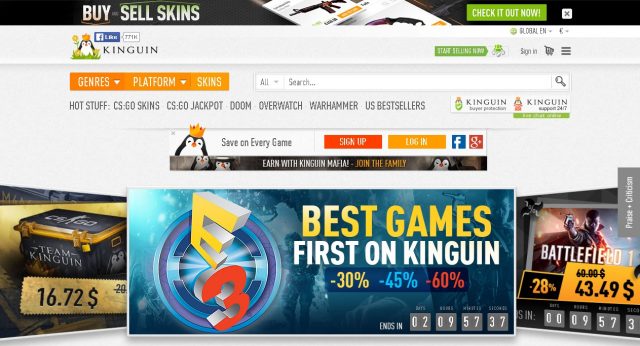 It's a bit more complicated to use Kinguin compared to other similar sites. With some practice, the site's sometimes-tricky design becomes easier to navigate. When it comes to discounts, they are constantly changing and can run as long as one day or last for months. Among promotions, gamers can find unique skins that can be kept or sold to other players.
5. G2A
G2A is structured in the same way as its competitor Kinguin. Users buy, sell and trade keys for games from every platform. Unlike Kinguin, G2A's design mirrors that of larger services such as Origin and GOG.Com. One of the service's most intriguing aspects is its Random Key offers. Gamers can choose to buy one or more Steam keys that will give them access to randomly selected games. It's an interesting option for users that are open to switching genres and anyone looking to broaden their gaming horizons. In addition to the usual payment options, G2A is now accepting Paypal.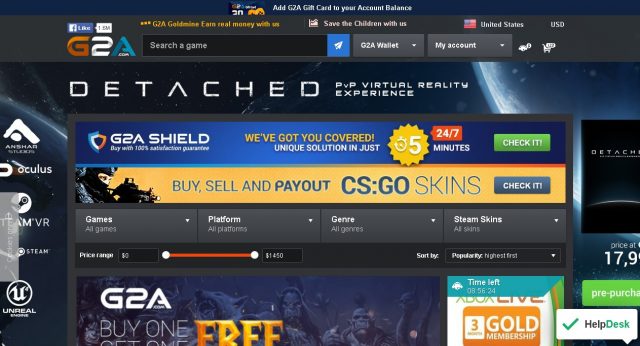 The G2A Goldmine program gives gamers a chance to make money doing what they love. There's a referral system that relies on social media tools, which could lead to some interesting payoffs if your number of referred friends is high enough.
6. Humble Bundle
As the name suggests, it's all about the bundle at Humble Bundle. Gamers can choose from their own selections or bundles curated by Humble's team of experts. Available games cover famous titles as well as an indie selection from emerging developers. A connection with Twitch makes it easy to find undiscovered titles or purchase selections that other gamers are highlighting in their feeds.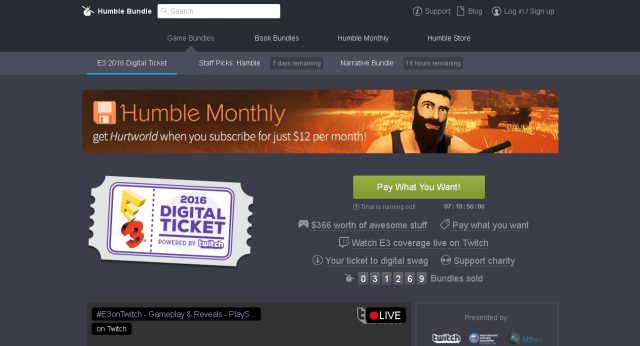 The Humble Monthly program offers additional discounts while sending players specially selected choices from new and established franchises. Promotions are always available through the site. These revolving promotions include special deals during E3. What sets Humble Bundle apart is its book section. Fans of graphic novels and books from popular genres are presented in bundles that are uniquely tailored to each user.
7. GamersGate
GamersGate, not to be confused with the controversial movement, offers PC and MAC users a full catalog of games. The company has brought together titles from the largest publishers to introduce a one-stop destination for games. Indie developers have also been welcomed into the service to bring a wider variety for its users.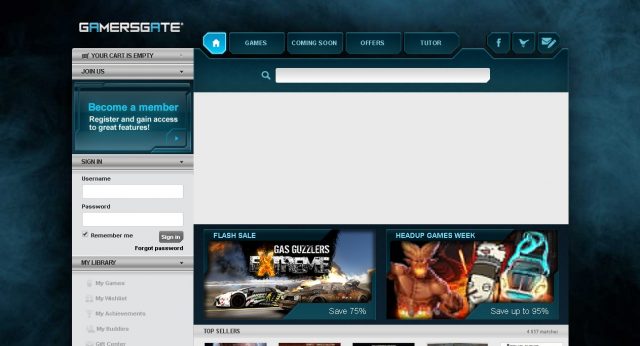 Gamers can take advantage of a no-nonsense rewards program too. Players earn the program's blue coins through regular activity as well as participation in the service's Tutor area. The Tutor area of the GamersGate brings users together to help players from around the world conquer challenging levels or chapters of games. The good news is, the Tutor feature is available at no additional charge, which is pretty cool. 
8. Gamefly
Gamefly is arguably one of the most established services in this market. It started with a Netflix-like product that sends gamers their favorite titles via mail. Subscribers paid a monthly fee and kept the game as long as they liked. That built the company's reputation as they moved into online game rental options. Every new subscriber to this monthly program gets their first month free, and they can cancel at any time. Shipping is always free as well.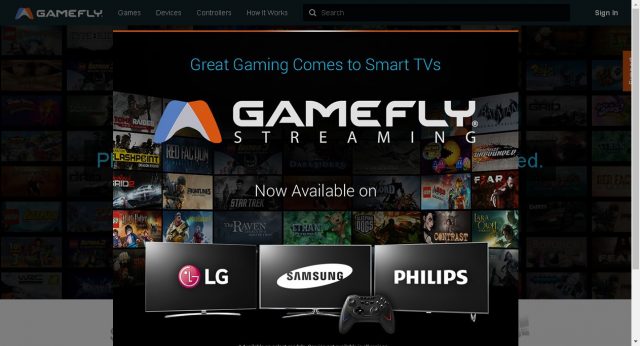 The company is also beginning an expansion into the streaming market. Its streaming experience will include a controller specially made to work with the service and users will be able to access the library through select smart TVs. Gamefly is currently expecting an expansion into other devices shortly.
Bonus: Amazon
Amazon has become the standard for online shopping, but it still has a way to go when it comes to matching its rivals in the games market. However, if you want, you can use Amazon as a Steam alternative. Games are structured through the site's games and apps section. Each game is sold much like a music or app download. That in itself poses a problem, as the site fails to match what gamers need to find when searching for streaming options.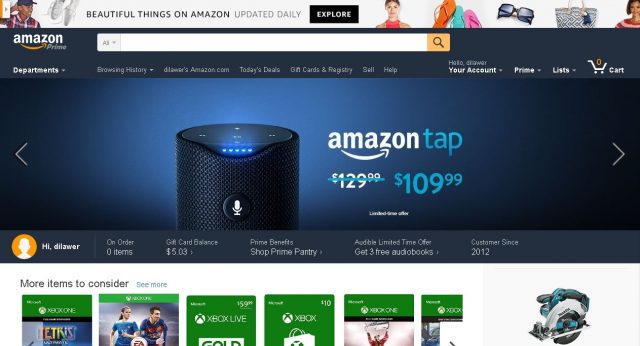 Deals are rarely presented through the site, and if one appears, it is usually limited to one-day sales. Customer service is one of the selling points of using Amazon. If a problem occurs, there is always someone standing by to help. Gamers accessing selections through the Amazon Fire Stick will also find it very convenient to purchase titles through Amazon.
SEE ALSO: 15 Amazing Games Like Skyrim You Should Try
Try out these Steam Alternatives for your gaming solutions
Steam has become the gold standard of gaming services, but many companies are showing they can be just as competitive as this glorious service for gamers. All of this means it's an exciting time to be a gamer in today's world. The more the services, the better experience for gamers overall. As more services emerge, so will the options, pricing and even deals. Well, that's all from our side! Check out all the Steam alternatives and let us know your thoughts in the comments section below. 
Featured Image Courtesy: Flickr