Ever since the launch of the Xbox One X, Microsoft's gaming sector has been rising high. Their console market has been steadily growing, with both the One X and the One S attaining high sales figures. Added to that the Xbox One Backwards Compatibility programme, players are able to play their classic games on the current-gen consoles. In this on-going growth of their gaming sector, Microsoft has rolled out another feature for its users that has been requested for quite some time now.
An issue with the Xbox One X and One S has been that both the gaming consoles lacked support for 1440p displays, rendering the videos at 1080p only. We previously covered a leak suggesting that 1440p support will be soon be added to the Xbox consoles. And rightly so, Microsoft has now released the Spring Update for its Xbox Insider members, and with it comes the highly-requested 1440p support. Apart from the marquee feature, Microsoft has also rolled out fixes for some known issues.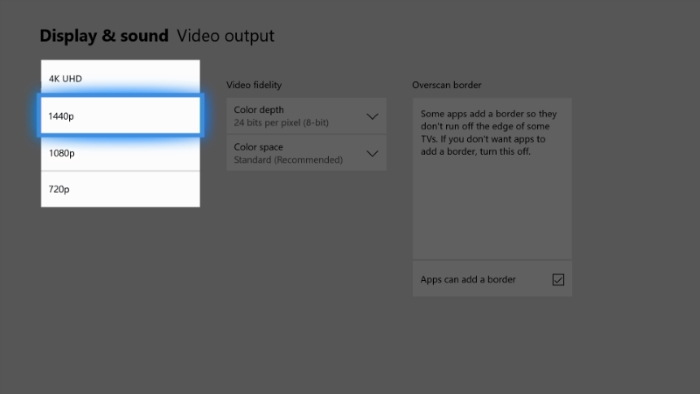 Many gamers out there use a single monitor for their gaming PC as well as consoles. On the other hand, there are players who just do not want to make the jump to 4K yet, but want a little more clarity than just 1080p. As such, these users rely on 2K displays for their gaming needs. Thanks to the new update, Xbox One X, and Xbox One S will support output at 1440p resolution for games and media, or 2560×1440 and QHD. As such, Microsoft's 1440p manages to fill the gap between full HD and 4K displays.
Apart from the 1440p support, another noteworthy feature that was included in the update is a new form of Mixer interactivity, namely, Share Controller. This feature allows Mixer streamers on Xbox One to share their controller with a Mixer viewer watching through Mixer.com. As such, the viewer is able to control the game by using the on-screen gamepad or by plugging a controller into their PC. Additionally, the update brings forth Club Invite Filters, smarter feeds, tournaments in the Gamehub, a redesigned Microsoft Edge browser on Xbox One, and the ability to balance game audio against background music within the console Guide.
The new Xbox Spring Update, also known as Alpha 1804, started rolling out at 6 pm PST yesterday. The update is only available to members of the Xbox Insider, for which you can register here.