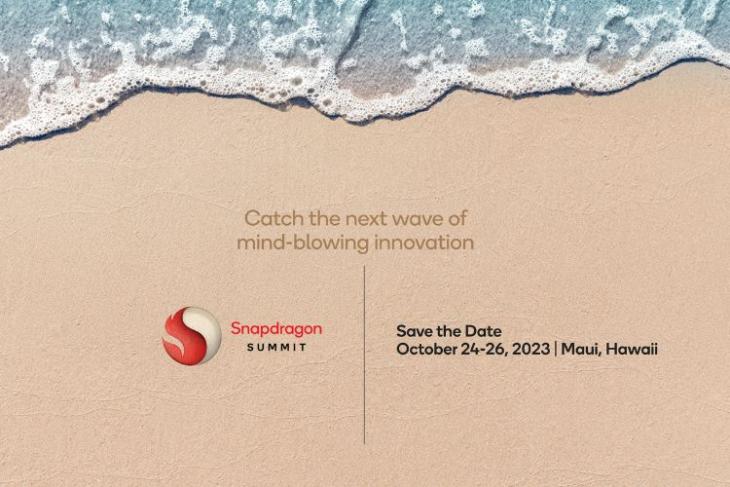 Qualcomm has officially announced the Snapdragon Summit 2023, which will take place in October, a little earlier than usual. To recall, the chipmaker hosted last year's Snapdragon Summit in November instead of going for the December timeline it has had for years. Continue reading to know more.
Snapdragon Summit 2023 Confirmed
The 2023 Snapdragon Summit is set to take place from October 22 to October 26 in Maui, Hawaii. The event is expected to see the launch of the flagship Snapdragon 8 Gen 3 chipset along with Qualcomm's custom-built PC chip, the Oryon CPU announced last year. This can bring performance and efficiency boost to 2024 Windows 11 Arm laptops.
If we go by previous leaks, the Snapdragon 8 Gen 3 chipset, codenamed "SM8650" is expected to feature one prime Cortex-X4 CPU core clocked at 3.7GHz, along with 5 performance and 2 efficiency cores. This could ensure significant performance improvements over its predecessor. It will be crafted on a new 1+5+2 CPU architecture, as compared to the 1+4+3 setup of the current Snapdragon 8 Gen 2 chipset.
The 8 Gen 3 will also offer an enhanced graphical experience when coupled with the Adreno 750 GPU. The chipset is expected to be based on TSMC's 4nm process with N4P Node for better efficiency.
The Snapdragon 8 Gen 3 chipset will power most of the 2024 flagships and the first ones could arrive in November. This could include the Xiaomi 14 and the OnePlus 12, followed by the Galaxy S24 series and phones from Motorola, iQOO, and Realme, among others. However, we can also expect some late 2023 devices to arrive with this chipset.
Other details about the upcoming Snapdragon chipset are still unknown. However, we expect to learn more as the launch date inches closer. We will be sure to keep you in the loop as soon as we receive further information. In the meantime, Do let us know in the comments below your thoughts on the upcoming Snapdragon 8 Gen 3 processor.