Qualcomm has finally unveiled its flagship mobile chipset, Snapdragon 8 Gen 3, at the annual Snapdragon Summit 2023. This chip is going to power most of the top-tier Android smartphones in 2024. But has the chip maker done anything new with the Snapdragon 8 Gen 3? Are we finally going to experience the power of Nuvia-designed cores on Android smartphones? To find out answers to all these questions, let's go through everything we know about the Snapdragon 8 Gen 3.
Snapdragon 8 Gen 3 Specifications
CPU
Octa-core, Kryo CPU
CPU Cores
1x 3.3GHz (Cortex-X4)
3x 3.2GHz (Cortex-A720)
2x 3.0GHz (Cortex-A720)
2x 2.3GHz (Cortex-A520)
Process Technology
TSMC's 4nm process
GPU
New Adreno GPU
Unreal Engine Global Illumination
Memory Support
LPDDR5X, up to 4.8GHz
Machine Learning and AI
New Hexagon AI Engine
Generates up to 20 tokens per second
Run on-device AI models
ISP
New Cognitive ISP
Camera Capability
Semantic Segmentation up to 12 layers
Dual Camera experience
Dolby HDR Capture
Video Capability
Night Vision for Darker scenes
Modem
Snapdragon X75 5G modem
Up to 10 Gbps Peak Download
Up to 3.5 Gbps Peak Upload
Wi-Fi Support
Wi-Fi 7
Bluetooth
Bluetooth 5.4
LE Audio
aptX Lossless
Others
AV1 Codec Support
NavIC Support
Snapdragon Seamless
Snapdragon 8 Gen 3: CPU
First off, let's talk about the CPU. Qualcomm has gone with a traditional octa-core design and packed Kryo cores on the Snapdragon 8 Gen 3. It means Android smartphones this year won't be running the newer Nuvia-designed Oryon cores available on the Snapdragon X Elite. However, the company has used all the latest ARM cores on the SD 8 Gen 3. The chip is also fabricated on TSMC's 4nm process node.
The Snapdragon 8 Gen 3 features a single prime core, the Cortex-X4 with a max clock speed of 3.3GHz along with 3x Cortex-A720 cores clocked at 3.2GHz and 2x Cortex-A720 cores clocked slightly lower at 3.0GHz. Finally, we have 2x Cortex-A520 cores clocked at 2.3GHz. This time around, Qualcomm has surprisingly used the performance cores, the Cortex-A720 at two different frequencies – 3.2GHz and 3.0GHz, which has not been seen before. It means in multi-core performance, this chipset is likely to perform better.
For the 8 Gen 3, the CPU core cluster design is 1+(3+2)+2, and Qualcomm has completely dropped support for 32-bit architecture. As per the company, the Snapdragon 8 Gen 3 brings around 30% performance improvement and is 20% more efficient than the Snapdragon 8 Gen 2, which is significant
Overall, I would say the CPU on the Snapdragon 8 Gen 3 is plenty powerful and a sizeable upgrade over the 8 Gen 2. Sure, it doesn't come close to Apple's latest A-series chips in terms of single-core tasks, but hopefully with Nuvia cores next year, Qualcomm will be able to take the lead on that front as well.
Snapdragon 8 Gen 3: Adreno GPU
In the GPU department, the Adreno 740 GPU on the previous year's Snapdragon 8 Gen 2 had already set the benchmark as the best mobile GPU across the ecosystem. And this year, Qualcomm is again set to redefine GPU performance and efficiency with the Snapdragon 8 Gen 3. It's not calling the new GPU, Adreno 750, but simply calling it a new Adreno GPU.
The new Adreno GPU on the Snapdragon 8 Gen 3 brings 25% faster performance and 25% better power efficiency. The GPU seems to be running at 903MHz, just like before so the efficiency improvement is noteworthy. Other than that, the new Adreno GPU brings support for 240FPS gaming for 240Hz displays. It has also upgraded the Adreno Frame Motion Engine to 2.0 (AFME 2.0) to generate frames in real-time from 60FPS to 120FPS.
Qualcomm already brought support for HW-accelerated Ray Tracing last year. And now, to make the gaming experience even more visually pleasing, it has added support for the Unreal Engine 5 Lumen system with Global Illumination. This will make the light reflections realistic and accurate, identical to console-level graphics. To sum up, the new Adreno GPU on the SD 8 Gen 3 has seen a nice improvement in both performance and efficiency and we can't wait to test it out.
Snapdragon 8 Gen 3: AI and ML
As touted by Qualcomm, the Snapdragon 8 Gen 3 is all about AI this year. The chip maker has partnered with Meta to deliver an on-device, private AI experience to users using the Llama 2 model. Users will be able to run AI models locally on their latest 8 Gen 3-powered devices. You can run 3B to 13B models locally on 8 Gen 3, confirms Qualcomm. While running a 7B Llama 2 model, the new Hexagon AI Engine can generate up to 20 tokens per second.
The fastest LPDDR5X memory is always available to the NPU to load models and seamlessly run them on the device. The new Hexagon AI Engine is also 98% faster and 40% more efficient than the NPU on the Snapdragon 8 Gen 2. It can generate images in less than 1 second, which is remarkable for a smartphone SoC.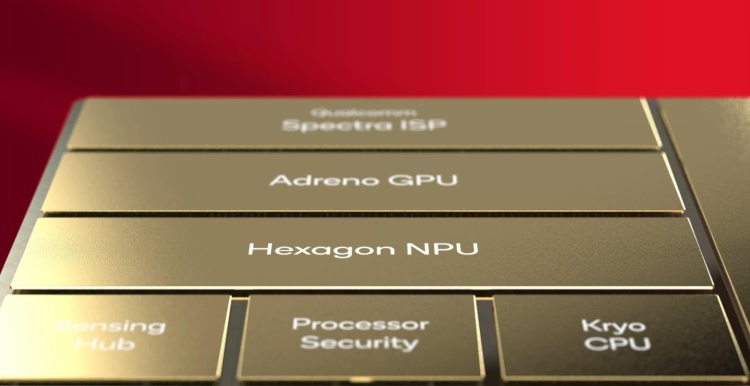 Not just Meta's Llama 2, you can run over 20 AI models optimized for Qualcomm's AI stack. It can also run OpenAI's Whisper model for voice assistance. Qualcomm is touting Snapdragon 8 Gen 3 as the first mobile SoC to support multi-modality. With the CPU, NPU, GPU, LPDDR5X memory, and Qualcomm Sensing Hub working together, it can process text, images, and speech as well.
Qualcomm says the Hexagon NPU can be used for delivering an on-device personalized AI experience. For example — you can ask the AI assistant to plan a trip, and it can take data from your location, sensors, age, etc., and come up with a plan that suits you.
Overall, I think the ability to run on-device AI models is a huge step in making the whole AI experience private and personalized. After the GPU, the Hexagon AI Engine on the 8 Gen 3 seems to be the most powerful co-processor.
Snapdragon 8 Gen 3: ISP
The ISP on the 8 Gen 3 has also seen a huge upgrade, thanks to the AI units working in tandem with the ISP. Qualcomm introduced triple-ISP architecture last year, and now it has taken the Cognitive ISP architecture to the next level. It can now perform real-time semantic segmentation up to 12 layers to isolate different parts of the images and apply colors accordingly.
Not only that, the new ISP can remove objects from captured videos as well, which is absolutely great. In addition, it can expand captured photos with the help of AI on your device and change backgrounds in images as well. The best part here is that the ISP can run small neural networks in real-time and process darker videos to make them brighter and color-accurate without any noise. Qualcomm is calling it Night Vision for video capture. You can process videos up to 4K 30FPS.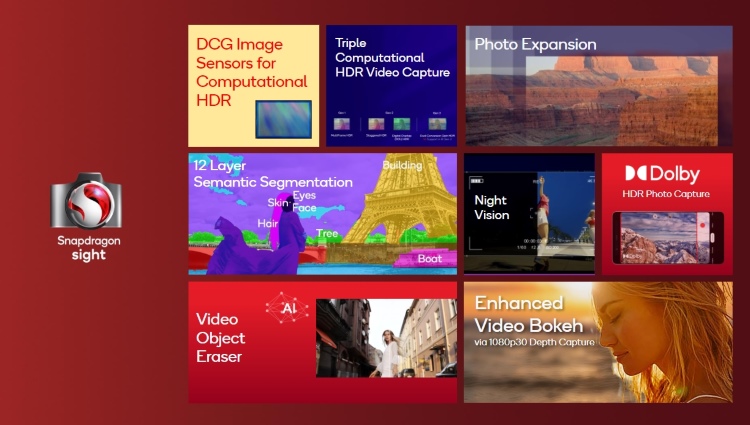 Along with that, the ISP can also handle dual cameras at once and brings something called a "Vlogger's view". You can use both front and back cameras to create vlogs with much ease. Finally, it also brings support for Dolby HDR capture which has over 1 billion shades of color and supports 10-bit color depth. JPEG can only process 16.7 million shades of color.
And in this age of AI, Qualcomm is taking the right step to maintain transparency and authenticity for photos captured on its mobile platform. The Snapdragon 8 Gen 3 is C2PA-compliant and can hardware-assign metadata information if the image has been manipulated using AI tools.
Snapdragon 8 Gen 3: Connectivity and Other Features
With the Snapdragon 8 Gen 3, Qualcomm is using its latest Snapdragon X75 5G modem. It can deliver 10Gbps download speeds and 3.5Gbps upload speeds. In addition, you get Wi-Fi 7 support with speeds up to 5.8Gbps and supports Bluetooth 5.4 and LE. Qualcomm has also introduced Snapdragon Seamless which would work with PC chips like Snapdragon X Elite for seamless file sharing, screen mirroring, etc. between Android and Windows laptops.
So that is everything you need to know about Qualcomm's latest mobile chipset for Android smartphones. It's a very powerful chip but falls behind on single-threaded CPU workloads if we compare it with Apple's A-series chips. Besides that, the GPU, NPU, ISP, and other aspects have seen great improvements with impressive power efficiency. Now, it depends on OEMs on how they are going to leverage these hardware features to offer a smarter experience.
At the event, Qualcomm also unveiled the Snapdragon X Elite chipset with new Oryon cores based on Nuvia's technology for Windows PCs. But what do you think about the Snapdragon 8 Gen 3? Let us know your thoughts in the comment section below.
---
Load More