Crashing issue has haunted Snapchat for a long time, with a large number of users often complaining about the repeated crash out of the app. While some state that Snapchat keeps crashing on iPhone right after launch, others report that the app tends to get frozen while being used and automatically quits. Either way, it's rather frustrating and needs an immediate fix. But fret not, we've figured out 10 effective ways to fix the Snapchat not working issue on iPhone. So, give these hacks a try to bring the social networking app back on track!
10 Tips to Fix Snapchat Crashing Issue on iPhone
What Could be Causing Snapchat to Crash on your iPhone?
First things first, app crashing is a common phenomenon on iPhone, or for that matter, any smartphone. So, you shouldn't worry too much about it. As to why the crashing issue has persisted with Snapchat for so long, it's a matter of deep research.
Perhaps, Snap has failed to spot the underlying frailties that cause the issue despite several attempts. Maybe, the social networking app needs to be cleaned up from time to time, and failing to do that triggers the problem. Or maybe there is a hidden iOS bug that is playing the spoilsport. Not to mention, your VPN service might also be coming in the way.
Considering there are multiple potential reasons, it's not easy to pinpoint a specific loophole. Hence, we are going to try out various ways in order to troubleshoot Snapchat's repeated crashing problem and fix the problem.
Force Kill Snapchat and Relaunch It
Whenever an app seems to be misbehaving, the first thing that I do to get rid of the issue is to force quit it. In many cases, this little nifty trick gets the job done. As it hardly takes a few seconds to try and also doesn't hurt your data, there is no harm in giving it a chance.
On iPhone with home button: Double-press the home button to bring up the App Switcher. After that, swipe up on the app card to force kill the app.
On iPhone without home button: Swipe up from the home bar and hold along the middle of the screen to access the App Switcher. Then, swipe up on the app card to force kill the app.
Clear Snapchat History
If Snapchat is still crashing on your iPhone, try clearing the cache. If it's been a long time since you cleaned this social networking app, there is a good chance that the pile-up of the cached data may be causing the crashing issue. So, make sure to clear the history, which may not just enable the app to run smoothly but also help you recover some precious storage on your iOS device.
Open Snapchat on your iOS device -> your profile at the top left -> Settings icon at the top right.
Now, head over to the Account Actions section and hit Clear Cache. Now, a popup will show up informing you that it would wipe out all the caches and also restart Snapchat. Bother not, your memories backup will remain secure.
Note: You should also try to restart your iPhone as that sometimes helps getting rid of random glitches and bugs as well. Just press and hold the power button (or power button + volume up button on Face ID equipped iPhones) to turn off your iPhone and then power it back on.
Hard Reset Your iPhone
When you hard reset your iPhone, certain cache and temporary files are flushed out, which often results in fixing common iOS issues such as freezing and crashing. Therefore, you shouldn't miss out on this go-to troubleshooter.
Hard Reset iPhone 8 and Later
Press and quickly release the volume up button. Then, press and quickly release the volume down button. After that, hold down the power button until you see the Apple logo on the screen.
On iPhone 7 and 7 Plus
Hold down the volume down button and side button at once until the Apple logo pops up on the screen.
On iPhone 6s/6s Plus, iPhone SE 1st-Gen, and Earlier
Press and hold the home button and side/top button simultaneously until the Apple logo comes up on the screen.
Enable Background App Refresh for Snapchat
With the background app refresh enabled, apps are able to check for updates and new content in the background. It not only helps apps to remain updated with the latest information but also allows them to run smoothly.
While there is no doubt that background app refresh is power-hungry and also gobbles up plenty of data, you should never fail to take advantage of this feature to enable some of the most demanding apps to run with the needed smoothness. In this case, I would recommend you allow Snapchat to refresh in the background. Since iOS provides you the needed control over which apps should/shouldn't refresh, there is no need to fear rapid battery drain or the consumption of a lot of cellular data.
Go to Settings app on iPhone -> General -> Background App Refresh -> find Snapchat and then turn on the toggle next to it.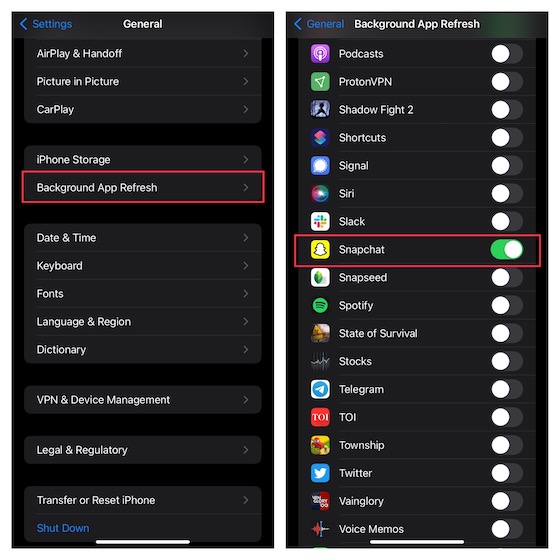 Update Snapchat on Your iPhone
In order to fix miscellaneous bugs and also boost performance, Snapchat frequently releases updates. Hence, it's better to update the app to ensure it is able to run smoothly. If you haven't updated the social-networking app for a long time, the outdated version could be causing the problem. Installing the latest version of Snapchat can help fix many issues.
Navigate to App Store on your iPhone -> Profile at the top right -> Update All section. Now, find Snapchat and then hit the Update button located right next to it.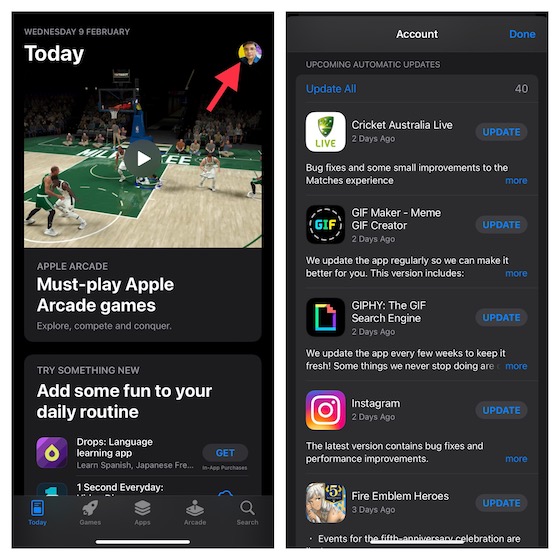 Check Snapchat Server to Ensure It's Not Facing Outage
If Snapchat continues to crash on your iOS device, it would be worth checking out its server to ensure it's not facing an outage. To check the server status of Snapchat, head over to Downdetector.com. Just enter Snapchat in the search field and hit enter. The site will soon provide the status information related to the app. If the social networking app is down, you can't do anything but wait until the issue is resolved.
Disable VPN on Your iPhone
Are you using a VPN service on your iOS device? If yes, try deactivating the VPN service as it might be interfering with Snapchat's internet connectivity.
Head over to Settings app on your device -> General -> VPN & Device Management -> VPN. Now, disable the VPN service.
Next, open Snapchat to see if the crashing issue has been resolved.
Delete Third-Party Snapchat Apps
If you have recently installed any third-party Snapchat apps like "Z: Make Friends on Snapchat" (free) or "Swipr" (free), try deleting them all since they might be causing issues. Tap and hold the app icon -> Remove App -> Delete App -> Delete.
Delete and Reinstall Snapchat
When it comes to fixing persistent issues related to an app, deleting and reinstalling has long been a pretty safe bet. Yeah, this is exactly what you should try whenever an app seems to be ill-functioning. But before going for this radical solution, bear in mind that it will wipe out all the data associated with the app. Therefore, do not forget to first back up your data.
Tap and hold the Snapchat icon on the home screen -> Remove App in the menu -> Delete App. Finally, hit Delete to confirm the deletion of the social networking app.
Now, head into App Store, search for Snapchat and install Snapchat again.
Once Snapchat has reinstalled, open the app and sign in to your account. After that, use the app for sometime to figure out if you have got the better of the crashing issue. Usually, having the latest version of the app solves many problems.
Update Software
If Snapchat continues to misbehave, try updating software on your iPhone. The outdated version of the software or a hidden bug might be behind the crashing issue.
Head over to the Settings app on iPhone -> General -> Software Update. Now, allow your device to check for updates. If there is any update available, it will show up.
Ensure that the device is connected to a stable Wi-Fi connection and has around 50% battery. Once you have checked off these essential requirements, hit Download and Install.
Solve Snapchat Crashing Issue on iPhone
That's pretty much done! Hopefully, you have resolved the Snapchat crashing problem on your iOS device. From what I can tell, these tips work reliably in fixing the issue. Many a time, you can sort out the problem by updating the app or clearing the cache. Besides, deleting and reinstalling is also a safe bet. By the way, let me know the trick that has helped you fix Snapchat on your iPhone. If there is something else that has enabled you to troubleshoot this social networking app, be sure to mention that as well.