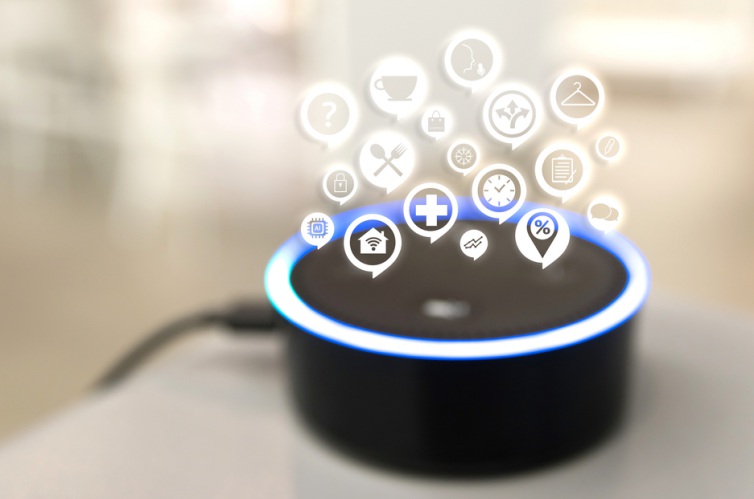 As the grand consumer electronics extravaganza comes to a close, there was one major technological trend that was hard to turn a blind eye towards, i.e smart voice assistants. The CES show floor was flooded to the brim (almost literally!) with pieces of technology, with their most prominent innovation being the integration of an AI assistant.
We've become accustomed to seeing smart assistants all around us, be it on our phones, computers, or now even speakers. But, hardware makers took the ongoing trend to new heights by embedding Alexa or Google Assistant into any device within their arm's reach. So, the smart assistants have now come into many facets of our lives and are coming to many more really soon.
Here's a quick look at some smart voice assistant-powered devices that caught our eye:
1. Alexa on Even More Devices
Amazon's Alexa already dominates the smart speaker ecosystem, but we witnessed the assistant find its way to a variety of products at CES 2018. It is no longer limited to the corner of your room but can be found in headphones, microwaves, refrigerators, cars or any other wild devices you can think of. This was made possible by the launch of the Alexa Mobile Accessory Kit, which allows OEMs to integrate the assistant into all their products.
The highlight would, however, have to be the surprising Microsoft-Amazon partnership that resulted in Alexa being made available on Windows 10 devices. It is coming in the form of a dedicated Alexa app, which will enable users to interact with the voice assistant. Multiple OEMs such as HP, Acer, and Asus are already onboard and showed off their laptops with Alexa's smarts on the CES show floor.
2. Google Smart Displays
Google Assistant and Alexa are currently engaged in a heated competition. Thus, to take on Amazon's Echo Show and Spot devices, the search giant is taking the Google Assistant to Smart Displays. This is a brand new ecosystem of touchscreen devices that will rely on Google's AI smarts to provide users with more than just auditory information.
The Smart Display, as Google likes to call them, is not an Android tablet. It is not powered by any flavor of Android but instead, it's running atop the company's Android Things IoT platform. You still interact with the Smart Display as you'd with a Google Home, the only difference being that your Google Assistant queries are now accompanied by a visual or graphical info as well. Lenovo, LG, and JBL have shown off their smart displays at CES, and they're expected to give a tough competition to Amazon.
3. Bixby Explores More Avenues
While Amazon Alexa and Google Assistant ruled the electronics expo, Samsung's budding AI voice assistant Bixby also made an appearance on the show floor. The Korean giant one-upped itself by taking the wraps off a Bixby-powered smart refrigerator, which enables you to ask the fridge to show you new recipes, play songs via Spotify or control all your smart home devices, thanks to the SmartThings integration.
Samsung is hoping Bixby would eventually find its way into many different devices around your home. At CES, the company announced that it is also baking Bixby into its upcoming smart TV lineup that would make your existing interactions, as well as viewing experience, much simpler.
And that's not all. We all are aware that our four-wheelers will become smarter by the day and it's likely that Samsung will be a part of that future. The company showed off its autonomous DRVLINE platform, along with a concept that was complete with Bixby, which will enable car manufacturers to leverage the intelligence and technology to build connected vehicles for improved transportation.
4. Alexa Reaches Cars
While Apple and Google are building exclusive software such as Android Auto and CarPlay for your vehicles, Amazon Alexa has found its way to your cars with help from third-party manufacturers. Garmin unveiled a dashcam and GPS console combo device, which can be activated via Alexa voice commands, helping you navigate the city while also offering you warning for lane departure and potential collisions.
Garmin's Speak Plus brings a ton of features to make your travels secure, but if you're primarily looking to add Alexa's smarts to your vehicle then Anker has unveiled just the perfect gadget for you. Called Roav Viva, it's a Bluetooth smart charger that allows you to not only charge your devices on the move but also get answers to queries from Alexa. It is also much cheaper than Garmin's Speak Plus, but the significant take is that Alexa's reach is climbing one device (or smart vehicle) at a time.
5. Cortana-Powered Thermostat
To stay relevant amid all the smart assistant chaos, Microsoft also debuted its first-ever Cortana-powered smart thermostat called GLAS. This follows pursuit to the Harmon Invoke smart speaker and brings a rather sophisticated design to the table.
While the thermostat in itself is capable enough, Cortana's backing turns it into a smart speaker as well. You can just call out voice commands, such as "Hey Cortana, set the temperature to 68 degrees," to adjust the warmth of your living space. It will answer your queries while showing you info about upcoming meetings, weather forecast, traffic updates, and more on the screen.
Microsoft partnered with 135-year old thermostat maker Johnson Controls to make GLAS come to life. As seen below, this thermostat features a translucent touch display and can easily track indoor and outdoor air quality while adjusting the temperature on the fly. It's also capable of tracking your presence in the room to better adjust the temperature levels.
6. Asus Lyra Voice Mesh Router & Speaker
Coming back to Alexa, because hardware makers couldn't get enough of Amazon's voice assistant. It has now been baked into a mesh Wi-Fi router built by Asus. The Lyra Voice doubles as an enormous Alexa-powered smart speaker as well.
It also supplies you an 802.11ac Wi-Fi mesh system while housing a microphone and stereo speaker. While the former will come in handy for your Internet needs, the latter will facilitate full Alexa support. You can ask Asus' router any question you would ask an Amazon Echo device.
7. Kohler Connect Smart Bathroom
The bathroom was one of the places where I least expect Alexa (or any voice assistant) to be at my beck and call. But well, here we are in 2018 and that's now a reality. Kohler, the world-renowned bathroom fitting maker, debuted a connected platform that allows you to control its bathroom products via gestures or voice commands, thanks to an Alexa integration.
As you can see, we're moving towards a dystopian world where you'll just need to call out a voice command to your toilet and it will flush your poop down the drain. It can also be used to automate tasks and control even the temperature, which will come in really handy on a chilly morning. I'd be even more amazed if the Alexa-powered toilet will read me my news brief on the seat itself. That's the future, folks.
SEE ALSO: Mercedes Shows off the in-house Voice Assistant Powering Its 2018 Smart Cars
This year's CES has wholly convinced us that it is just the beginning of a voice-controlled era and smart assistants are here to stay. We witnessed the rivalry between Amazon and Google set new highs, with the former still making its presence felt across the show floor. The latter, on the other hand, attended its first-ever CES, all thanks to Google Assistant's expansion into new avenues. Other assistants were just like a spec in the dust, in front of these two biggies.
We've just stepped foot into 2018, so we'll now have to wait and see who takes the crown by securing a spot in your living room, vehicle or even the bathroom. We're also looking forward to the day smart assistants become more self-sufficient and actually helpful, like Jarvis from Iron Man (the obvious example, here). So, will Google manage to dethrone Amazon? Let us know your opinions in the comments below.
---