While the Xbox might still be shy in front of the massive overall sales of the PS4, Microsoft has lately been pushing hard for the growth of its gaming department. The company recently acquired gaming services startup PlayFab and is also rumored to be in talks with either EA or Valve for the development of exclusive titles for its consoles. But, while we are on the topic of exclusives, let us discuss the recent success that Microsoft's latest exclusive, Sea of Thieves, has had.
Sea of Thieves is a game that allows players to control pirates in the first-person mode and explore an open-world via a pirate ship and assume different roles such as steering, hoisting sails, navigation, firing cannons and other tasks. The game went into closed beta from January 24 to January 31, and in that week-long run, the game has managed to cross 300,000 players.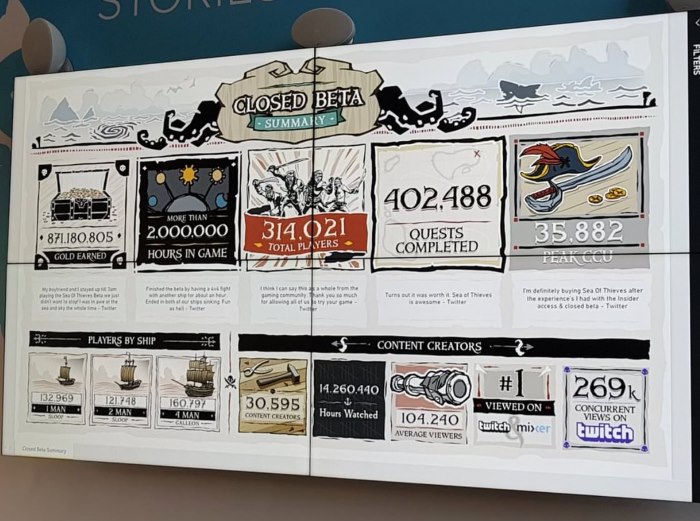 Thanks to a recent post on Restera, a total of 314,021 players were logged into the game, with two million hours spent in the game, 402,488 quests completed, a peak concurrent user count of 35,882, and a whopping 871,180,805 gold earned. The report goes on to suggest that the players prefer to travel in teams, as the four-man galleon was the most popular ship in terms of numbers, followed by the one-man sloop which is favored by the lone-wolves and finally the two-player sloop. The summary also shows Sea of Thieves was number one on both Twitch and Mixer, with an average viewer number of 104,240 and 269,000 concurrent views on Twitch alone, totaling 14,260,440 hours watched.
These figures are nothing short of stellar, and Sea of Thieves is certainly shaping up to be a huge success for Microsoft. Considering the fact that the game was just in its beta and there was merely any content to actually play with, an average of over 6 hours played per person is a great feat that the game managed to accomplish.
When Sea of Thieves was announced back in 2015, it was held up to us as a "shared-world adventure game", which sounds a lot like many of the cliched multiplayer games that get released and go unnoticed. Turns out that Rise and Microsoft both actually had a gem up their sleeves, planning a game that works out in a similar fashion to the recent hit that is PUBG.
Whether you matchmake with strangers or invite a group of friends, your first island will always have an all-new pirate ship at its dock, ready to board, along with at least one starter "mission." The game's early missions typically ask you to plot a course to a nearby island, then read a mission-specific map with a big, red X to find and dig up a single buried treasure chest. As evident by the numbers in the report above, players are certainly digging this game, and can't wait to embark on quests with their squad.
Any concerns I had about Sea of Thieves are gone. This will be 2018's PUBG.

— Jez (@JezCorden) January 30, 2018
Comparing Sea of Thieves to PUBG might sound ridiculous to some, but the fact is that the core idea of the two games is pretty similar – to give the players an experience that is ridiculous, yet engaging and addictive. As a gamer myself who has tried out both the titles, I can assure you that 2018 is gonna be the year of Sea of Thieves. Whether it will go on to break the records set by PUBG is a different question, but it will surely be able to see the success PUBG saw last year in 2017.
Well, that's my opinion of the game. I personally can't wait for the game to be released on March 20, 2018, for the Xbox One and Windows. Microsoft is pulling all the strings in trying to grow the gaming sector of its company, and Sea of Thieves is definitely a step in the right direction. But what do you think? Let us know your thoughts in the comments down below.
---