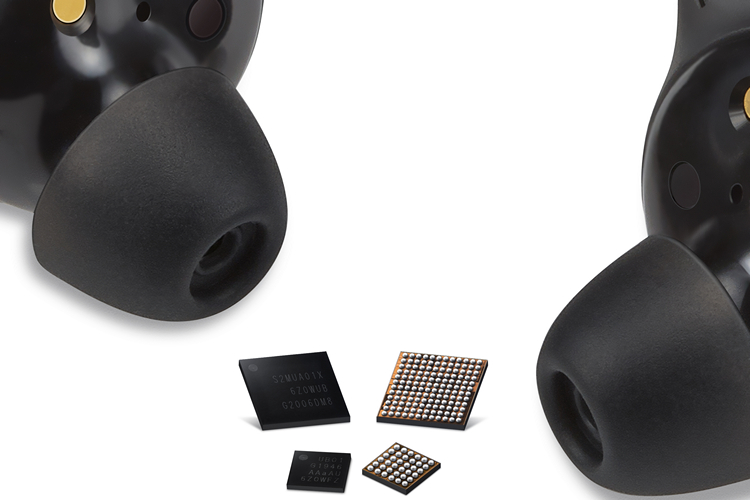 Samsung has announced a couple of power management integrated circuits (PMIC) for True Wireless Stereo (TWS) devices. Being described by the company as the industry's first all-in-one PMICs, the MUA01 and MUB01, are said to integrate multiple discrete components in one chip for enhanced power efficiency and more efficient designs in today's True Wireless Stereo earbuds.
While the MUA01 is meant for the charging case, the MUB01 has been designed for the earphone itself. The chips are said to come with up to ten discrete components that combine several of the company's in-house logic technologies into one integrated chipset. Some of the critical components in the PMIC include switching chargers and discharge circuits.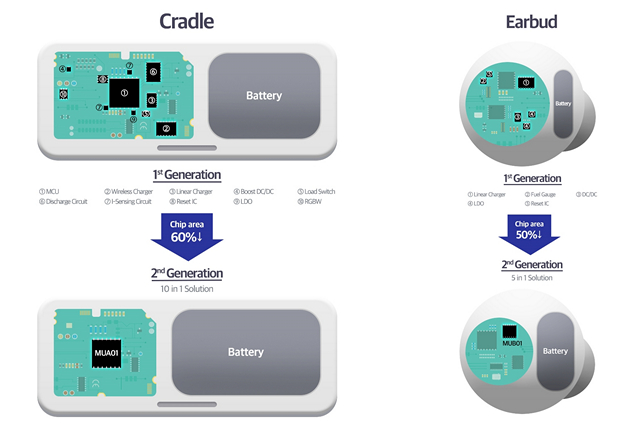 According to Samsung, the new technology enables the PMICs to occupy less than half the space of their predecessors. "The compact solutions can allot more room to the battery for longer playback time and enable more flexible and efficient designs", said the company. Both the chips are currently in mass production and can be found in the company's recently-announced Galaxy Buds+ TWS earbuds.
Samsung further claimed that the MUA01 is also the industry's first solution to support both wireless and wired charging in a single chip. For wireless charging, it supports the Wireless Power Consortium's latest power transfer interface standard, Qi 1.2.4. In addition, it also comes with a microcontroller unit (MCU) and embedded Flash (eFlash), offering the option of modifying its firmware to support other applications.
In an official press release, Dong-ho Shin, senior vice president of System LSI marketing at Samsung Electronics, said: "TWS earbuds present elevated listening experiences for more users and the trend is rapidly expanding the mobile accessory market, creating new opportunities for device manufacturers. Samsung's industry-first, all-in-one power management solutions optimized for TWS devices will allow manufacturers to craft new applications with greater flexibility".
---