There's no doubt that Samsung makes some great high-end smartphones but when it comes to budget and mid-range smartphones, Samsung hasn't been doing so well. Honestly, if you think about it, there's no budget or mid-range offering from Samsung from the past few years that are even worth remembering. Well, the South Korean giant has just launched its brand new budget smartphone, the Galaxy On7 Prime (starts at ₹12,990) and I can't help but wonder if Samsung has learned its lesson. Well, from the looks of it, the Galaxy On7 Prime seems well equipped to take on the likes of Mi A1 and the Moto G5S Plus. So, what are we waiting for? Let's get into our Galaxy On7 Prime review.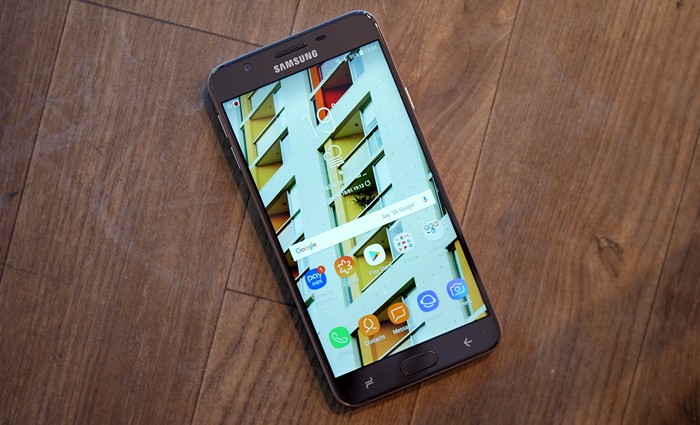 Galaxy On7 Prime Specifications
Before we get to our review, let's take a look at the specs of the On7 Prime:
Dimensions
151.7 x 75.0 x 8.0mm
Weight
167 grams
Display
5.5-inch TFT LCD (1920x1080 pixels)
Processor
1.6 GHz Exynos 7870 Octa-Core
RAM
3/4 GB
Storage
32/64 GB with microSD support
Primary
Camera
13 MP f/1.9 with LED flash
Secondary
Camera
13 MP f/1.9
Battery
3300 mAh
Operating
System
Experience UI 8.5 (Android 7.1.1 Nougat)
Sensors
Fingerprint (front-mounted), accelerometer, proximity, compass
Connectivity
Wi-Fi 802.11 b/g/n, Bluetooth 4.2, GSM / CDMA / HSPA / LTE
Price
Rs. 12,990 for 3 GB/32 GB and Rs. 14,990 for 4 GB/64 GB
What's in the Box
We have come to expect Samsung phones to feature a pair of earphones in the box but surprisingly, the On7 Prime only comes with the charging cable and charging adapter. Here's what's in the box:
The Galaxy On7 Prime (obviously!)
microUSB charging cable
Charging adapter
SIM ejector tool
User guide and other booklets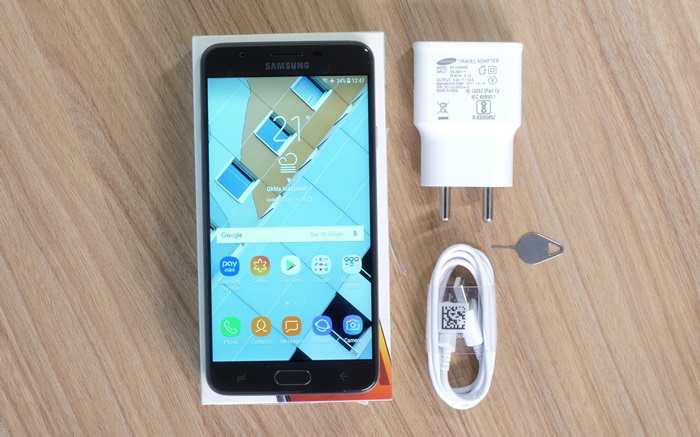 Design and Build Quality
After having used phones like the Mi A1 and the Honor 7X, which are unarguably the most good looking phones in this price range, it's hard to be attracted to the Galaxy On7 Prime. Honestly, the Galaxy On7 Prime looks like your usual Samsung phone from 2017, 2016 or even 2015. There's nothing modern about it. I mean, it's not a bad looking device but there's nothing appealing about it either. The back is made of plastic and metal but the gold colored variant we have looks especially tacky.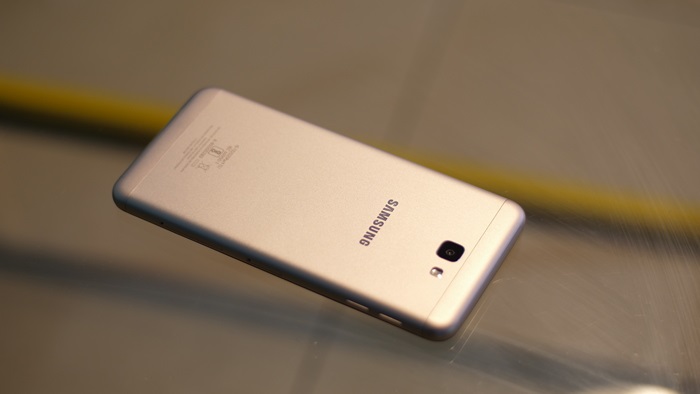 Anyways, there's the usual Samsung-button placement, with the hardware home button that also acts as the fingerprint scanner, which is great for people who prefer a front facing fingerprint scanner.
There's also the headphone jack, which is always nice to have. Another nice thing about the hardware is the speaker grills on the side. This means the speaker doesn't get blocked even when playing games. Plus, it helps that the speaker is good.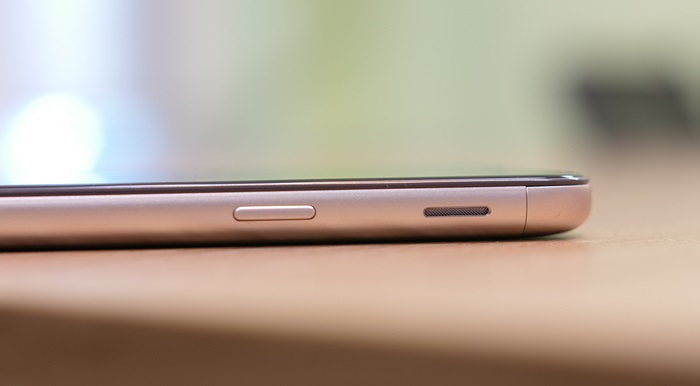 One qualm I do have with the On7 Prime is the microUSB port. I know a lot of budget phones are still going with a microUSB port but it's 2018 now and I am expecting a lot of phones to come with the USB-C port.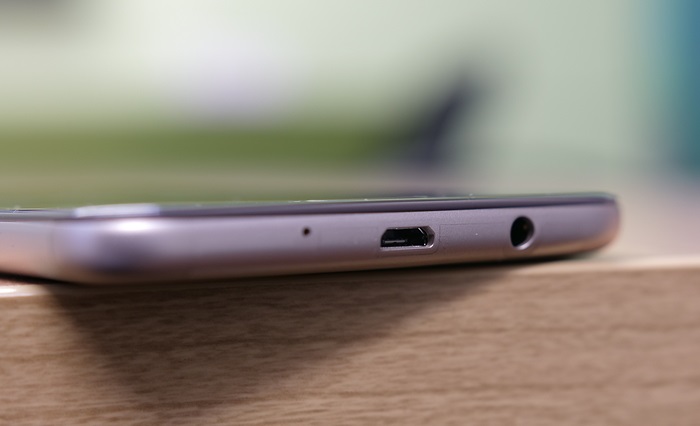 Overall, the Galaxy On7 Prime looks fine, albeit a bit outdated but if you are a Samsung fan, that should not matter to you. Having said that, if you are not a Samsung fan, you can get better looking phones in this price range.
Display
Moving on to the display, the Galaxy On7 Prime features 5.5-inch Full HD TFT LCD display, which compares well to the competition, at least on paper. In real world usage, I found the On7 Prime's display to be pretty average. The major problem I have with the On7 Prime's display is that it's too warm. The whites look a bit too yellowish, which is something that I just don't like.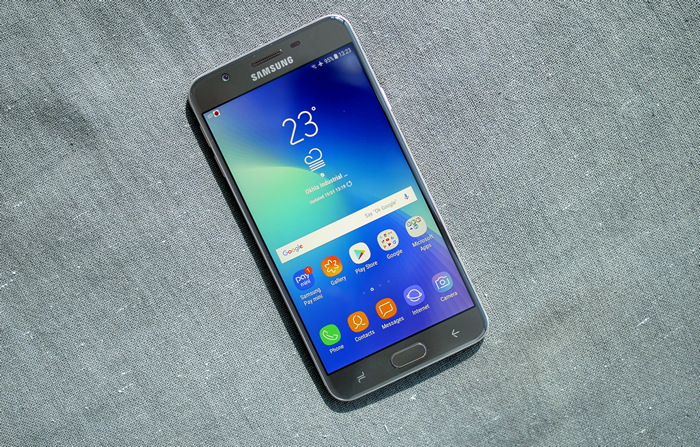 Like most Samsung phones, the On7 Prime's display does exude more saturated colors and if that's something you like, you will like the On7 Prime display. The sunlight visibility of the display is decent, especially with the "Outdoor Mode" that Samsung packs in these phones. There's no night mode or any blue light filter mode, which is part of most mid-range and high-end Samsung phones, which is kind of disappointing.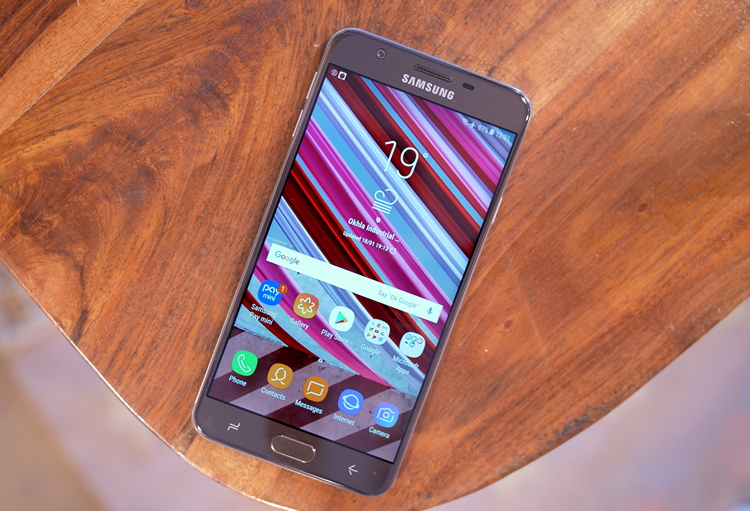 When it comes to the display, the On7 Prime again misses the mark. I mean, it's not bezel-less, like the Honor 7X and it's not able to match the quality of the Mi A1's display. Disappointing, especially since it's Samsung we are talking about here.
Cameras
Well, Samsung is known for including some great camera units in all their phones and so, I was hoping for a decent performance on the camera front from the On7 Prime. The device packs in the same 13 MP f/1.9 camera sensor on both the front and the rear, which (again) sounds good on paper. Well, here are a few photos we took, in both day time and low light: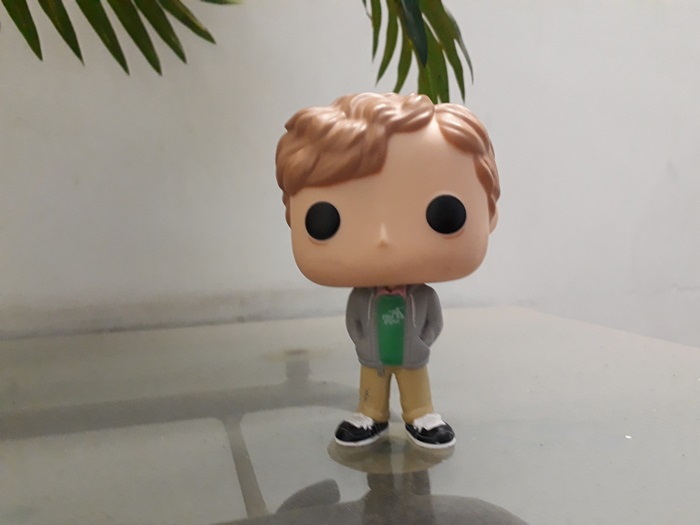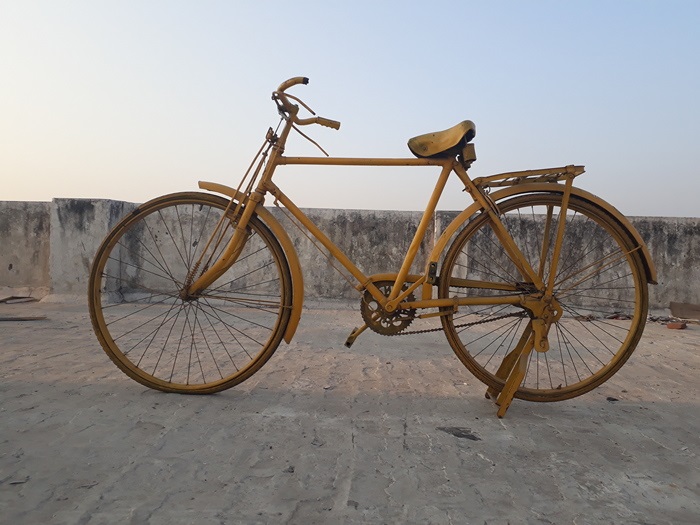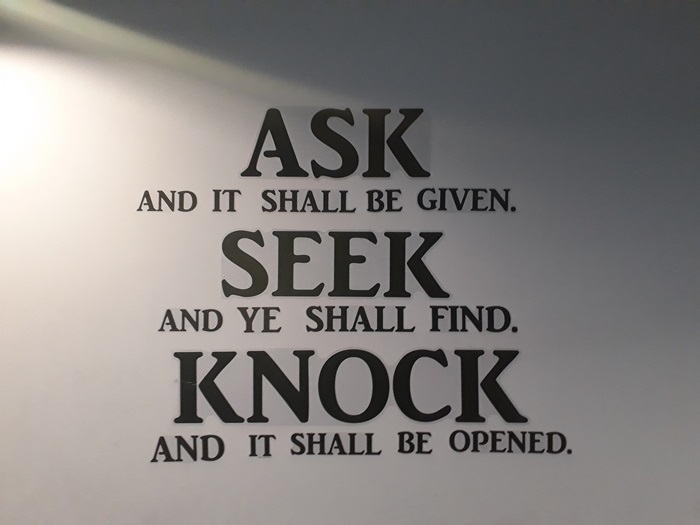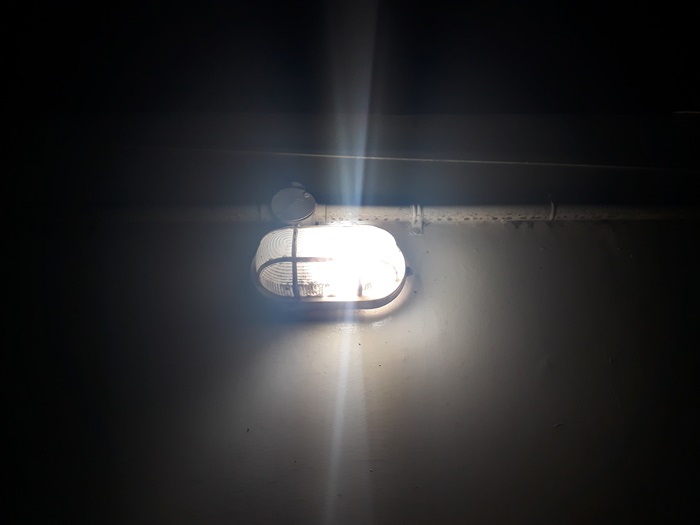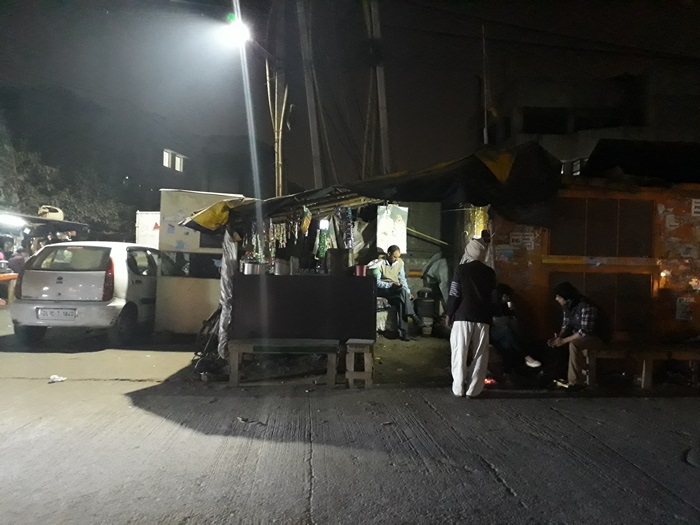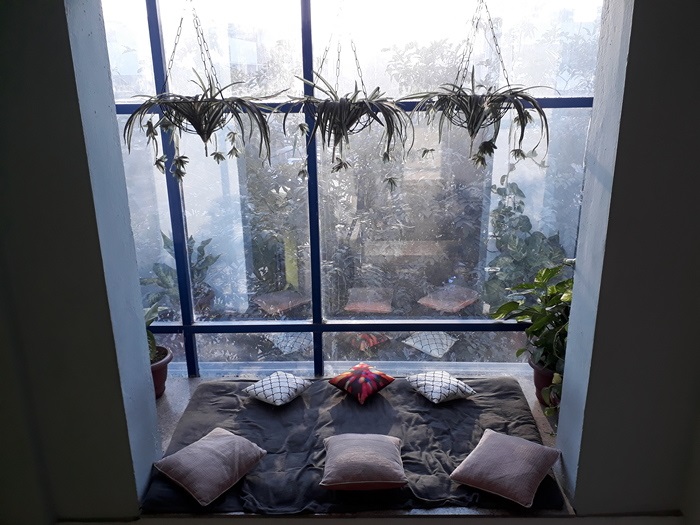 Well, as you can see, the photos captured by the On7 Prime are pretty average. First of all, the phone has problems focusing. Secondly, photos taken even in good light have a bit of noise. Also, while some photos have good details, some photos just lack any details. Some photos even come out blurry or overexposed.
When it comes to low light photos, the camera does not manage to capture a decent amount of light, even though it has a decently wide aperture of f/1.9. Moreover, if you capture a photo in low light with a light source in the photo, there's lens flare in almost all the photos. We took a couple of shots with the On7 Prime and the Mi A1 and the Mi A1 just captures better photos. Take a look: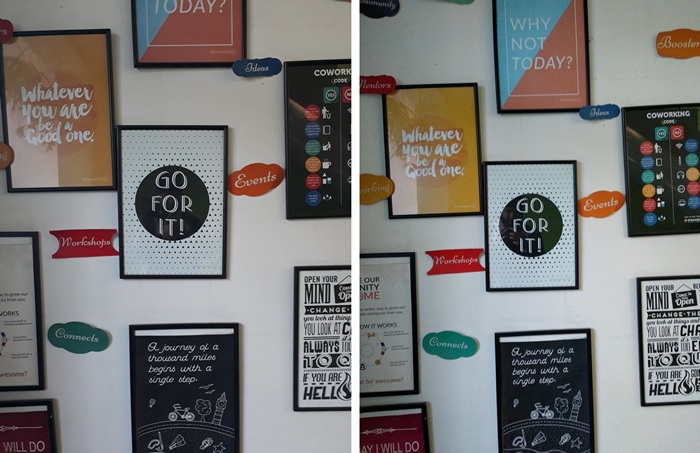 Moving on to the front camera, the 13 MP f/1.9 lens performs similarly, but since it's a selfie camera, this is fine. I mean, it takes better selfies than the Mi A1.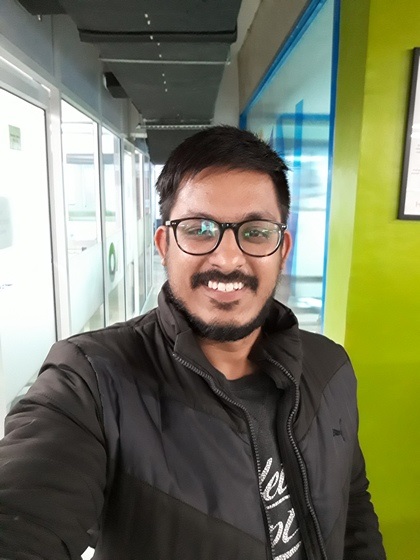 Well, the cameras on the Galaxy On7 Prime are pretty disappointing. If you just take selfies then the On7 Prime might have been a decent option for you but with the launch of the latest Honor 9 Lite, which by the way is priced lesser than the On7 Prime, you can get a dual camera selfie unit. So yes, the cameras on the On7 Prime don't make a lot of sense.
Well, the cameras on the Galaxy On7 Prime are pretty disappointing.
Performance
Unlike the yesteryears when Samsung used to launch modestly powered budget smartphones, the On7 Prime packs in decent performance. The device is powered by the 1.6 GHz Exynos 7870 Octa-Core processor coupled with 3 or 4 gigs of RAM.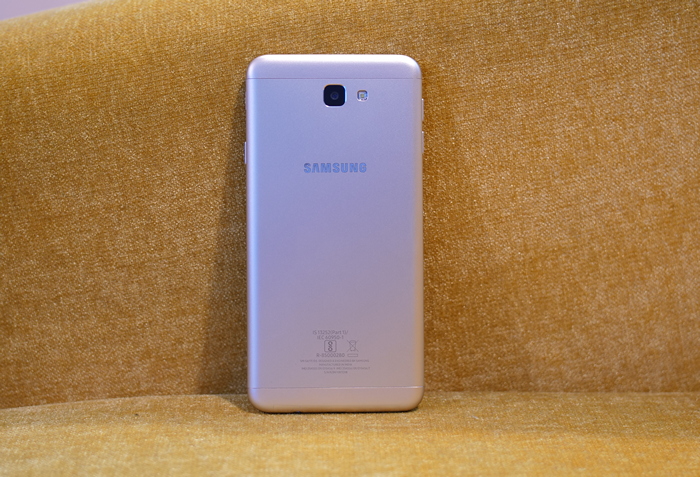 We have the 4 GB variant and as of now, the performance seems decent. The app launches are speedy, the phone unlocks quickly, multitasking is great, thanks to 4 GB of RAM but hey, this is a Samsung smartphone we are talking about. I mean, almost all Samsung phones perform well in their first few days but after a while, they all slow down. I mean, I have used the Galaxy S8 too and even that slowed down after a while. Well, this is what makes me skeptic around the On7 Prime's performance. I do hope that it doesn't go the same route but Samsung's track record hasn't been true great. Plus, the On7 Prime does not really fare well when it comes to benchmarks. Take a look at the AnTuTu and GeekBench scores of the On7 Prime and the Mi A1: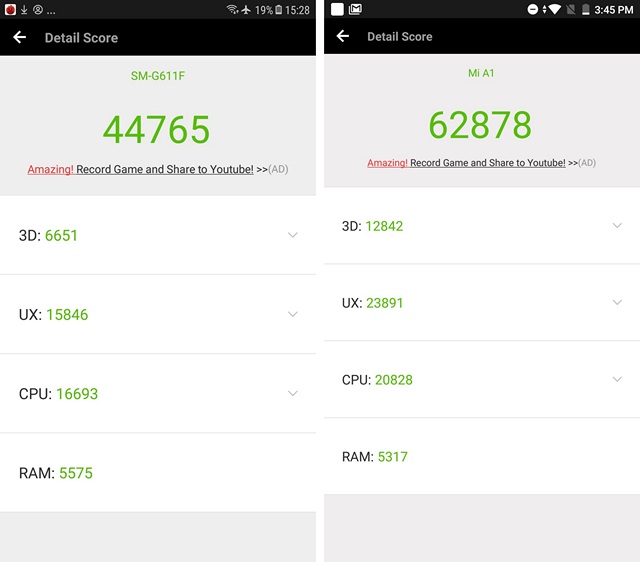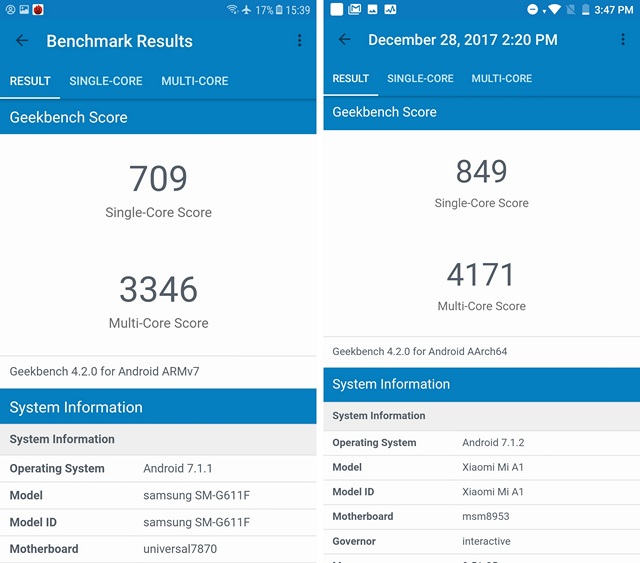 Software
Part of that software skepticism comes from the fact that Samsung phones don't run on stock Android. Instead, they come with Samsung's very own Experience UI, which is known to bog down even the highest-end phones. Having said that, the Samsung Experience UI does bring a ton of cool and useful features. The On7 Prime comes with Android 7.1.1 Nougat with the Samsung Experience UI 8.5 on top.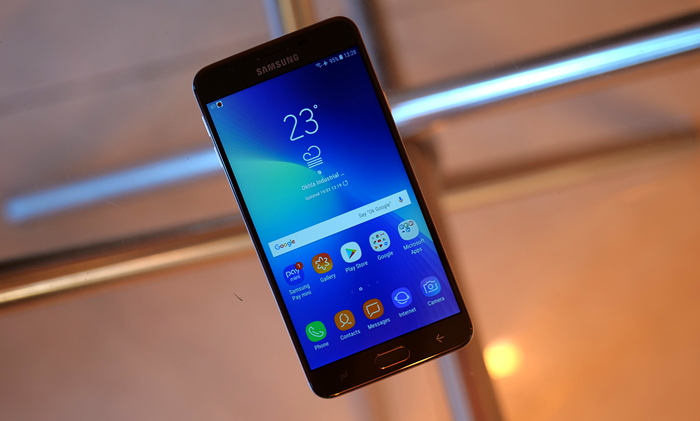 Along with the usual Samsung features like Secure Folder, Samsung Pass, Samsung Cloud, app locker, the ultra power saving mode etc., there are some exclusive new features that Samsung has just launched with the On7 Prime.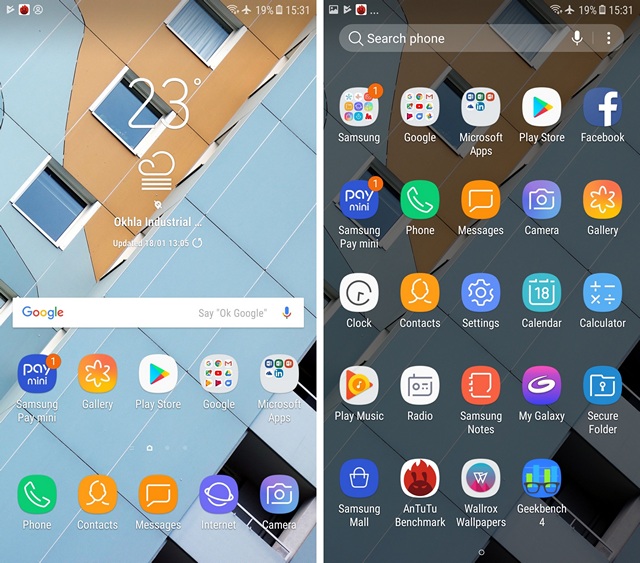 Firstly, there's the Samsung Mall, which is basically Bixby Vision in a brand new avatar. The Mall lets you shop via your camera. Basically, you can use the app's camera to capture a product which you are interested in. Then, the app will recognize the product bring you listings from where you can buy it.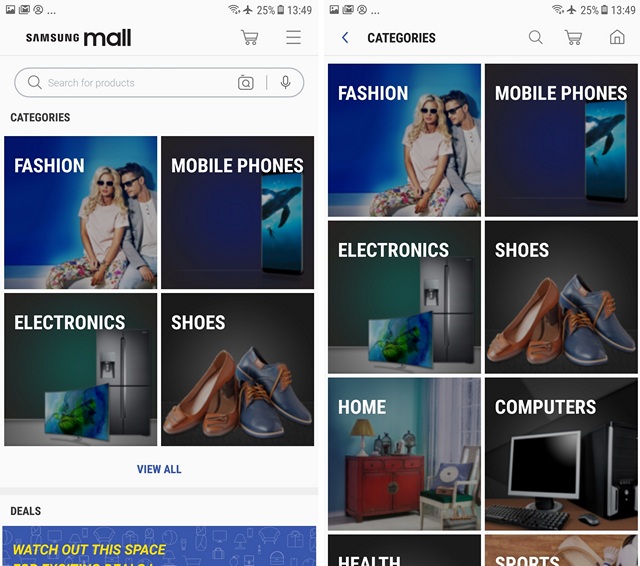 Samsung Mall recognizes clothes, phones, shoes, furniture, computers etc. and brings you results from various online retailers including Amazon, Shopclues etc. Well, it was a hit and miss for me. I captured my HP Envy laptop but Samsung Mall always brought results of other HP laptops.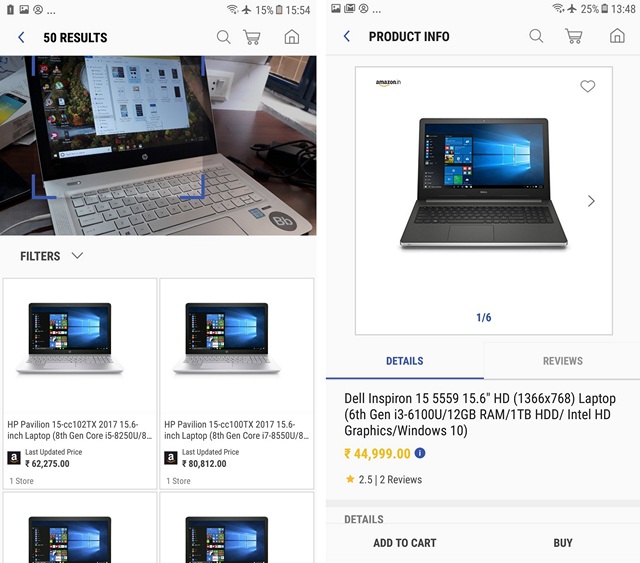 Another new feature is the lighter version of Samsung Pay, aptly dubbed Samsung Pay Mini. The app simply lets you make payments via UPI or mobile wallets. It's certainly a handy app to manage all your payments.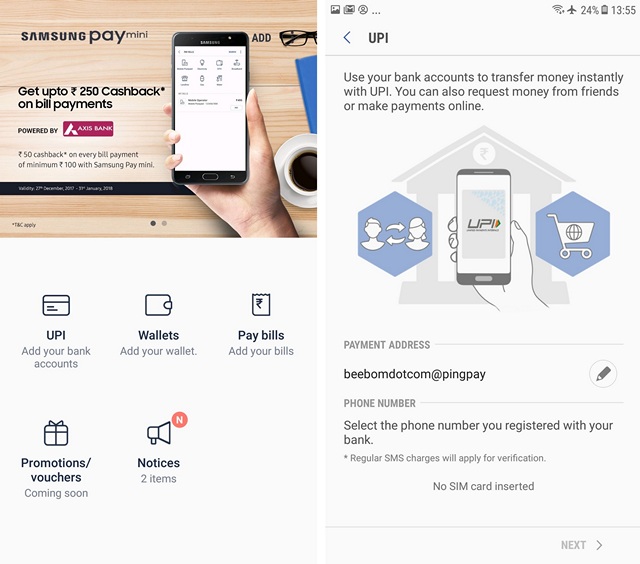 There's also Bixby but only in the Bixby home form in the home screen. There's no Bixby Voice here.
Overall, it all depends on your personal preference. I mean, I don't have a problem with the Experience UI as long as it does not bog down the phone, especially since I really like some of the features Samsung offers.
Battery
When it comes to the battery, the Samsung Galaxy On7 Prime packs in a 3,300 mAh battery. In my usage, the battery life on the On7 Prime is pretty good. I was able to get through a day with medium to heavy usage on the On7 Prime.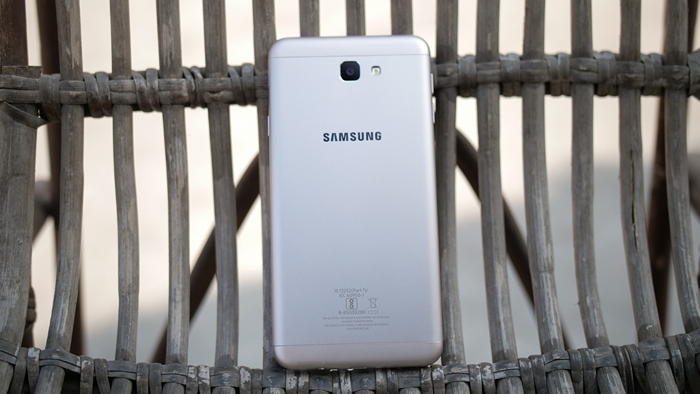 Plus, Samsung has some pretty great power saving modes. For instance, at around 23%, without a power saving mode enabled, the device was estimated to last 3 hours. With the "Medium" power saving mode, which decreases brightness, limits the background network usage, the battery life of the device would be extended by 28 minutes. Then, there's the "Maximum" power saving mode aka the ultra power saving mode, which would extend the battery life to around 10 hours. Now, that's awesome! Plus, all of these modes are customizable, so you can limit your phone according to you.
Connectivity
On the connectivity front, the Galaxy On7 Prime features almost everything you expect from a modern smartphone. There's 4G VoLTE connectivity and dual SIM support. Plus, the SIM card slots aren't hybrid, which means there's separate slots for the second SIM card and the microSD card. Other than that, there's Bluetooth 4.1. Yes, there's no Bluetooth 5.0 or NFC in budget phones right now.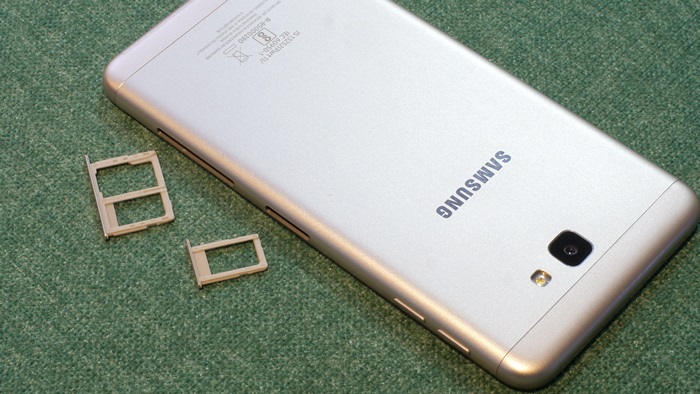 Galaxy On7 Prime: Should You Buy It?
Chances are, you already know the answer to this. At a time when there are some great budget phones in the market, the Galaxy On7 Prime just fails to make a mark. I mean, there's nothing special about it. The design is solid albeit bland, the display is okay-ish, the cameras are disappointing, and the performance although decent isn't something Samsung phones can be proud of. There are just a few positives, like the great battery life, the decent selfie camera and the front mounted fingerprint sensor. I mean, the On7 Prime would have worked in 2016 or 2015 but of late, we have seen some great budget phones and the On7 Prime just fails to match up to them.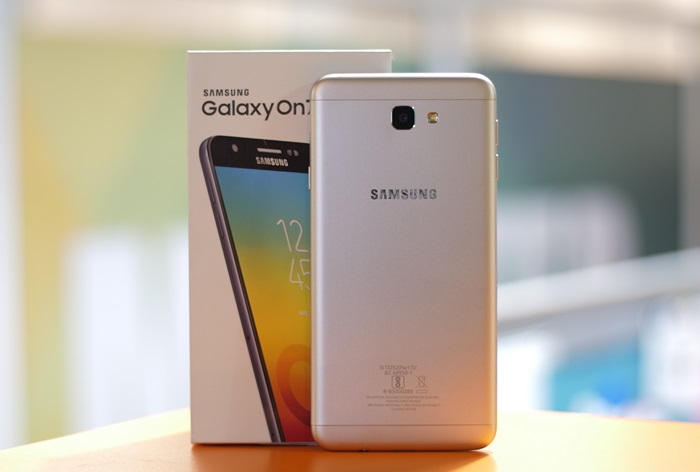 Right now, we have the Mi A1 Android One phone, with amazing performance and decent dual cameras, the Honor 7X, with an 18:9 display and dual cameras and the Honor 9 Lite, with an 18:9 display and 4 cameras. Well, you will be better off with any of these phones. The Galaxy On7 Prime is a smartphone I would just not recommend in this price range.
The On7 Prime would have worked in 2016 or 2015 but of late, we have seen some great budget phones and the On7 Prime just fails to match up to them.
Pros:
Solid build
Great battery life
Decent front camera
Nice software additions
Cons:
Bland design
microUSB port
No dual cameras and disappointing rear camera
Okay-ish performance
Still running on Nougat
Average display
Check out the On7 Prime on Amazon: (starts at Rs. 12,990)
SEE ALSO: Honor View 10 Review: Your First AI Phone
The Galaxy On7 Prime: Another Failed Attempt by Samsung!
Well, when I started reviewing the Galaxy On7 Prime, I was hoping for a Samsung phone that finally matches to the standards set by other companies. Sadly, I was wrong. The On7 Prime is just another failed attempt by Samsung at making budget smartphones. The phone might still end up doing well in the offline stores across the rural parts of the country but I hope Samsung learns soon and brings us a phone that we like pitting against the other great budget smartphones. Well, those were my thoughts on the Galaxy On7 Prime. What'd you think? Let us know in the comments section below.
---
Load More