iPhone 6 plus had a really tough time when #BendGate was trending all over the social media and many other competitive brands came up with mock-ups on Twitter and Facebook. But now it looks like the trend has shifted from Apple to Samsung.
Samsung's latest high end Phablet Galaxy Note 4 is showing traits of manufacturing defects. There's enough space between screen and metal body part where you can fit a visiting card right in there. Many early buyers from South Korea have uploaded the pictures on social media which makes it obvious that the defect is there. Here are two of those pictures: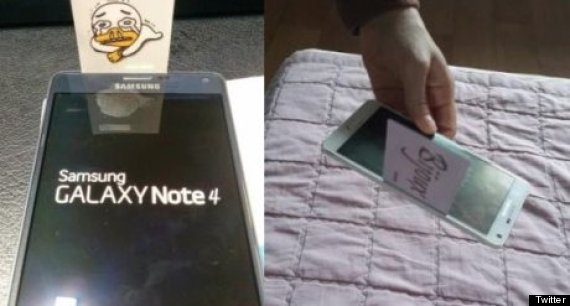 Samsung is well aware of this fact and has issued an ignorant statement in the press. Here's what it says:
"The reported issue does not impact the functionality or quality of the Galaxy Note 4," an official Samsung spokesperson told us. "We assure our customers that all Galaxy Note 4 units meet our strict manufacturing and quality control standards."
As a matter of fact, Samsung was one of the brand which posted hilarious mock-up on their social media page while the trend BendGate was prevailing.
Recommended: iPhone 6 Plus Vs Galaxy Note 3 'Bend Test' Video
Now, we'd like to hear from you. What do you think of #GapGate? Do you think this news is going to affect Galaxy Note 4 sales in UK which is going to start from October 10.