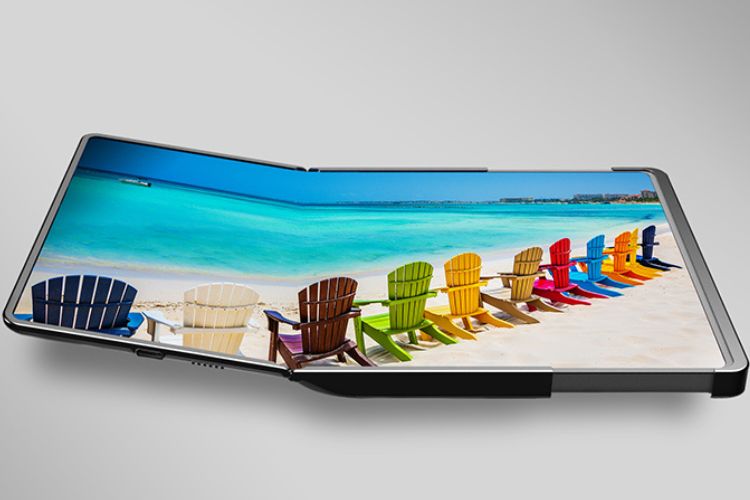 Samsung has a couple of display technologies it will showcase at the upcoming CES 2023. Samsung Display will host an in-person event to show the Flex Hybrid display prototype with both folding and sliding capabilities. It will showcase the QD-OLED 2023 display technology too. Have a look at the details below.
Samsung Introduces Flex Hybrid Display Concept
Samsung's Flex Hybrid display tech is meant for future laptops and will fold and slide at the same time. The product's left side can fold, while its right side is meant to slide. With this, you will be able to watch content on the 10.5-inch display in a 4:3 aspect ratio or on a 12.4-inch display with a 16:10 aspect ratio.
This can be applied to future foldable tablets too. However, Samsung hasn't revealed much about the concept and it remains to be seen if this becomes commercially available. For those who don't know, TCL has already shown a similar concept and if it becomes a feasible product, it could be tried out by other companies too.
The company will also talk about the QD-OLED 2023 tech, which will be an upgrade to the QD-OLED tech showcased at CES 2022. The QD-OLED 2023 tech includes the new OLED HyperEfficient EL material and advanced optimization algorithm IntelliSense AI to provide up to 2000 nits of combined RGB color brightness. While further improving the image quality and increased efficiency of the light source, the new tech also saves power consumption by up to 25%.
There's a product for automobiles too; a Digital Cockpit, which combines a 34-inch and a 15.6-inch display. The cockpit display has a curvature of 700R.
Samsung will also bring the Flex Slidable Solo and Flex Slidable Duet sliding display concepts to CES 2023. So, what do you think about the new fold-and-slide display by Samsung? Let us know your thoughts in the comments below.
---