There are a plethora of Roblox games out there that are inspired by anime, and Fruit Battlegrounds is one of them. Fruit Battlegrounds is based on the One Piece world, much like Blox Fruits in Roblox. In this game, you get to fight in battlegrounds using different abilities and special skills. However, to get special skills you need to consume devil fruits in One Piece that helps stretch your body like Luffy. However, you need to buy gems to spin the wheel and get these fruits.
So, we have compiled Roblox Fruit Battlegrounds codes that will help you get free gems. So without further ado, here are all the working Fruit Battlegrounds codes in 2023 along with the steps to redeem them.
Working Fruit Battlegrounds Codes
Note: These codes are working as of November 2, 2023. We will remove codes as soon as they stop working and will add new ones as they are available, so bookmark this page for your convenience.
GETTINTHERE490: 500 Gems (NEW)
WECLOSE480: 500 Gems (NEW)
How to Redeem Fruit Battlegrounds Codes in Roblox
The redemption process can be a little tricky in Fruit Battlegrounds, but you don't need to worry because we have you covered. Follow the steps below to redeem codes in Fruit Battlegrounds on Roblox:
Open the game and look for the treasure chest in the middle of the room.
Approach it and click (or tap) on the chest.
After you click on the chest, it will open the spin and redeem menu.
In this menu, you can spin the wheel with gems to get all kinds of devil fruits.
Now, look for the codes section on the bottom left of your screen.
Once you find the text box, copy and paste a working Fruit Battlegrounds code from our list above.
Finally, click on the Redeem button, and you will see free rewards on your profile.
Additionally, if you want to get better fruits when you spin the wheel, then you can get Roblox premium.
You can click the Buy button at the bottom of the screen in the Redeem screen to get the premium membership. This will get you a 20% luck boost in Fruit Battlegrounds.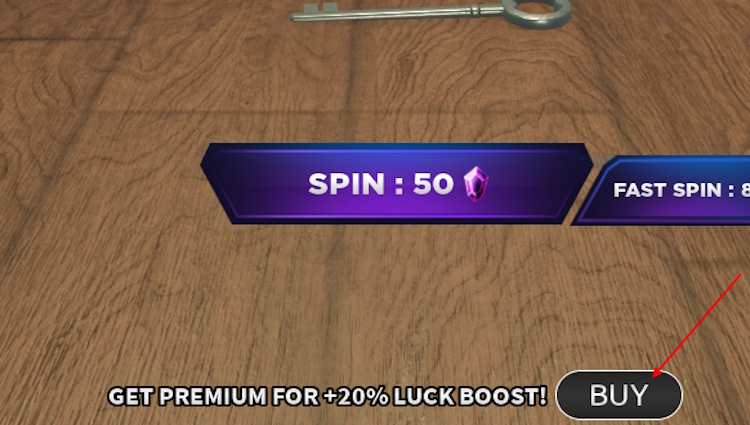 List of Expired Codes
Disclaimer: Codes expire fast in Roblox games. These codes are released during in-game events and special occasions. That's why use the codes before they expire.
CHEF470K
460KRAZY!
SIZZLIN450
420BLAZE
440KEEPHITTIN
CRAZYYY410!
SUPEREVENT!
LETSGOO400
430TOOMUCH
HEARDADRUMS
JOYBOYY
SHEEESH390!
380ALMOST
TOX1C
TOURNYCLASH
P4TIENC3!
QUIKREBOOT
WEBACKBABYYY
370MADDD
PULLINGSTRINGZ
FULL360!
350HAPPY
TECHNOBOX
HYPETIME!
PITYUP!
340NEVERENDS!
330WEUP!
320THXGUYS!
310KEEPGOING
300KWOW
HYPEFIX!
SKYH1GH!
KINGJUNGL3
4TTRACTI0N
OMG100M
2HAPPY290
TOOKRAZY280
270TOOINSANE
260BELIEVE
LIGHTNINGHYPE
KRAZYGASSED
GETKRAZYY!
250QUARTER!
240GASSED
230GANGG
BUGFIXOP
TOOHAPPYBRO
APPRECIATIVE
LIT210
BRO220K
YESSIRBIG200!
NEVERSTOP
ITKEEPSCOMING!
DUBMINER
CANTSTOP
190KWOWBRUH
GOCRAZY180!
170KKRAZY
FREECASHBRO
KRAZYSUPPORT
160WOW
DRACOMASTA
KAIDOBEAST
GOKRAZY150
140KAGAIN
FATSTACKZ
RAININGGEMS!
GEARFOOOOURTH
ITJUSTDONTSTOP
WINTERDAYZ
GOLDENDAYZ
LETSGOO130K
If a code does not work, let us know in the comments below, and we will remove it from our Fruit Battlegrounds codes list. Moreover, do share any codes that we have missed out on in the comments below.
---
Load More