Steam deals are great to check out games that you have held off on buying for one reason or the other. And it gets better when we have special edition on sale. That's why you should jump on the Rise of Tomb Raider deal on Steam today.
The 2016 follow-up to the much-acclaimed 2013 reboot Tomb Raider, Rise is one of the most popular titles in the franchise and is now available for just Rs 249 on Steam. This is the lowest it has ever been on the marketplace, making it a perfect time to try the game if you haven't already.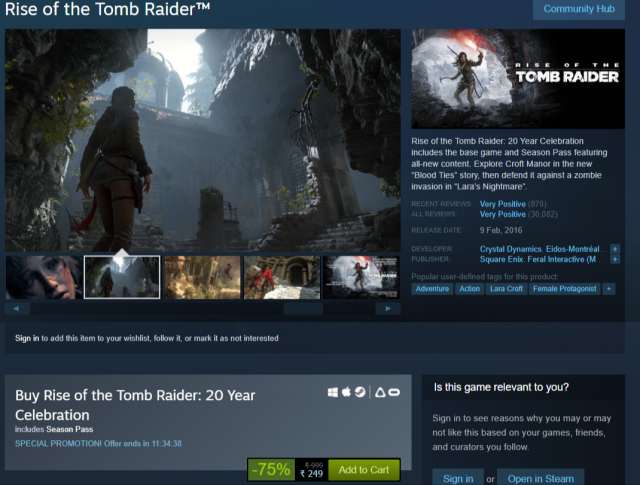 And it's the Rise of the Tomb Raider: 20 Year Celebration edition, so you are getting a ton of extra content. The Rise of the Tomb Raider: 20 Year Celebration includes the base game and Season Pass featuring all-new content. As the protagonist, you get to explore Croft Manor in the new "Blood Ties" story, and also defend it against a zombie invasion in "Lara's Nightmare".
The game takes you through Lara's journey where she uncovers an ancient mystery, making her vulnerable to an enemy organization called Trinity. With over 30,000 reviews averaging at Very Positive on Steam, you are sure to have hours of fun exploring the world and solving ancient puzzles and mysteries as the legendary Lara Croft.
And with Shadow of the Tomb Raider coming out next month, this is a perfect intro to the new game and those who enjoy fleshed-out storylines will definitely want to jump in on this Steam deal.
Buy Rise of Tomb Raider from Steam (₹249)