If you thought the budget smartphone industry in India was uber-competitive last year, well, we're barely two months into 2019 and phone makers are already at each other's throats. Xiaomi unveiled the much-awaited Redmi Note 7 last week to much fanfare and everyone was of the opinion that it was the phone to beat, Well, Realme (Oppo's sister brand, for those unaware) has today unveiled the Realme 3 and it looks like the perfect gamble against Xiaomi's budget smartphone.
So, if you're in the market for a sub-Rs 10,000 budget smartphone, then you've come to the right place as we pit the Redmi Note 7 and Realme 3 against one another to see how these smartphones stack up against one another.
Specifications
Before we dive in to compare the Redmi Note 7 and the Realme 3, here's a quick look at the specifications of these two devices:
| Specs/ Device | Redmi Note 7 | Realme 3 |
| --- | --- | --- |
| Dimensions | 75.2 x 159.2 x 8.1mm | 75.6 x 156.1 x 8.3mm |
| Weight | 185 grams | 175 grams |
| Display | 6.3 Full-HD+ in-cell LCD | 6.2-inch HD+ LCD |
| Processor | Snapdragon 660 AIE | MediaTek Helio P70 |
| GPU | Adreno 512 | Mali G-72 |
| RAM | up to 4GB | up to 4GB |
| Internal Storage | up to 64GB | up to 64GB |
| Rear Cameras | 12MP (f/2.2) +2MP | 13MP (f/1.8)+2MP |
| Front Camera | 13MP (f/2.0) | 13MP (f/2.0) |
| Operating System | Android 9 Pie-based MIUI 10 | Android 9 Pie-based ColorOS |
| Connectivity | Wi-Fi 802.11ac, Wi-Fi Direct, Bluetooth 5.0, dual VoLTE, USB Type-C | Wi-Fi 802.11 a/b/g/n, Bluetooth 4.2, dual VoLTE, microUSB |
| Battery | 4,000mAh | 4,230mAh |
Design and Build
The biggest change in both of these smartphones comes in the design department. The phone makers today are enamored by two key design cues – a glass design or gradient colors. Well, we have both of them amongst us today. The Redmi Note 7 brings in tow a premium glass sandwich build, with Gorilla Glass 5 protection, whereas the Realme 3 is proud of its unibody gradient design that looks quite good.
Xiaomi has opted for solid colors with Redmi Note 7, which look good, but Realme 3's gradient backs are eye-grabbing and shiny. I quite like the Radiant Blue color that Realme has lent us but the black and purple gradient variant which resembles Vivo V11 Pro's Starry Night color is what I have my eye on. Both the devices surely look and feel premium, with a fingerprint sensor on the rear – right where your index finger rests.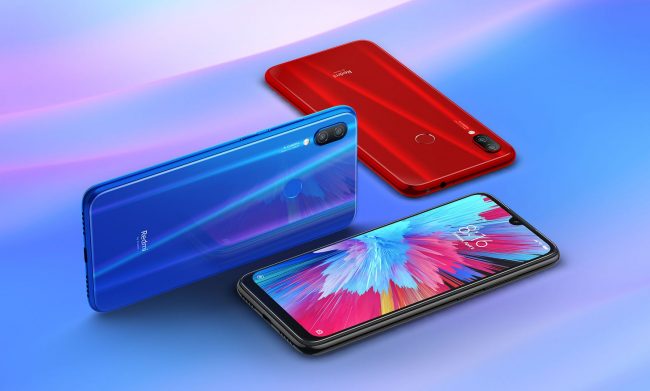 I have tested out both of these devices and have to say that even though there's only a minor 10-gram variation in their weight, the Realme 3 feels quite light. The curved back here also makes it comfortable to hold and offers an excellent in-hand feel, whereas the Redmi Note 7 feels a little chunky and the glass-design makes it slippery too. These devices tout a waterdrop notch display on the front, which we talk about in detail below.
Both the Redmi Note 7 and Realme 3 boast the standard buttons and ports layout, all of which are mostly the same – except for the charging port. Xiaomi has finally jumped the gun and included a USB Type-C port on its sub-Rs 10,000 device whereas the Realme 3 sticks with the microUSB port.
Display
On the display front, both the Redmi Note 7 and Realme 3 have opted for a non-intrusive and immersive experience to the users with the waterdrop notch. Both the companies use different jargons for the same, with Xiaomi calling it a dot-notch display and Realme using the dewdrop notch in its marketing.
Coming to the specs, the Redmi Note 7 sports a 6.3-inch Full-HD+ in-cell LTPS LCD screen with a 19.5:9 aspect ratio and 2340×1080 resolution. The Realme 3 lacks on this front and features a 6.2-inch HD+ LCD display (yeah, HD+) with a 19:9 aspect ratio and 1520×720 resolution. There's a considerable chin on both of these devices, but it doesn't really hinder the experience.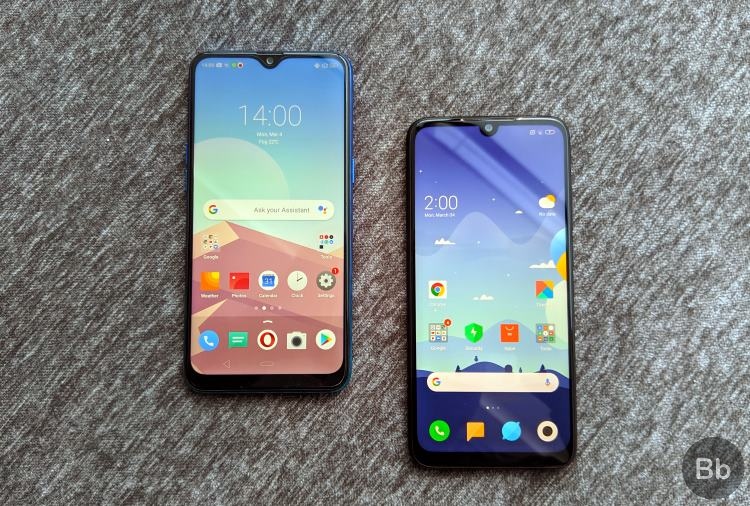 In my brief time with both the devices, the display on the Redmi Note 7 is absolutely stunning with ample brightness and great color accuracy. The display panel on Realme 3 isn't bad, per se, but it pales in comparison to the Redmi Note 7. You can expect to learn more on the same in our comprehensive review of both the devices.
Performance
Xiaomi hasn't made any changes to the internal hardware of the Redmi Note 7 it launched in China earlier last month. It is powered by the Snapdragon 660 chipset, clocked at up to 2.2GHz and coupled with up to 4GB of RAM and 64GB of internal storage.
For the Realme 3, the company has decided to stick with the beefy MediaTek Helio P70 chipset that we first saw in the Realme U1 (Review) last year. The smartphone also packs up to 4GB of RAM and 64GB of onboard storage – just like the Redmi Note 7. The storage on both the devices is expandable up to 256GB, via a dedicated slot on the Realme 3 and a hybrid slot on the Redmi Note 7.
Both the Snapdragon 660 AIE (one of the most popular chipsets in the premium budget category now) and MediaTek Helio P70 (flagship chipset from MediaTek) are powerful, to say the least. I haven't faced any major issues with the Chinese Redmi Note 7 variant & Realme 3 in my brief time with them.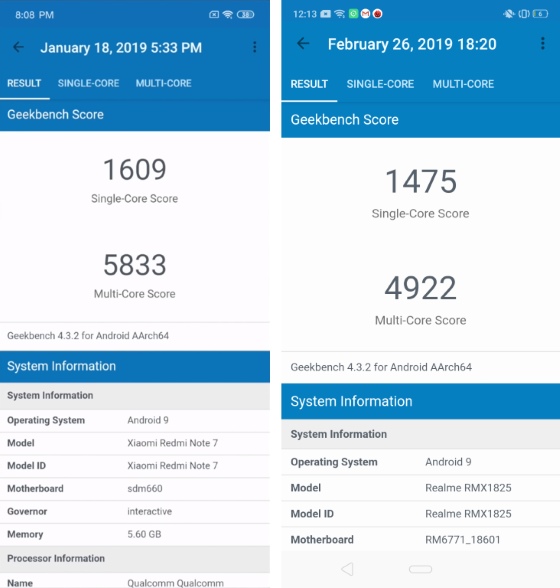 For those interested in benchmarks, you can check out the Geekbench score of both the smartphones above. You can see that the Snapdragon 660 scores higher than MediaTek's Helio P70 chipset.
As for an initial gaming impression, PUBG Mobile runs on medium graphics setting on both the Redmi Note 7 and Realme 3 by default. We haven't played enough games to give a final verdict but the game runs decently on both the smartphones.
Software
As for the software department, the Redmi Note 7 is backed by Xiaomi's trusty MIUI 10 custom ROM based on Android 9 Pie and it's recognized to be one of the better Android experiences by the community. And even I love the UI, navigation gestures, and all the features on board.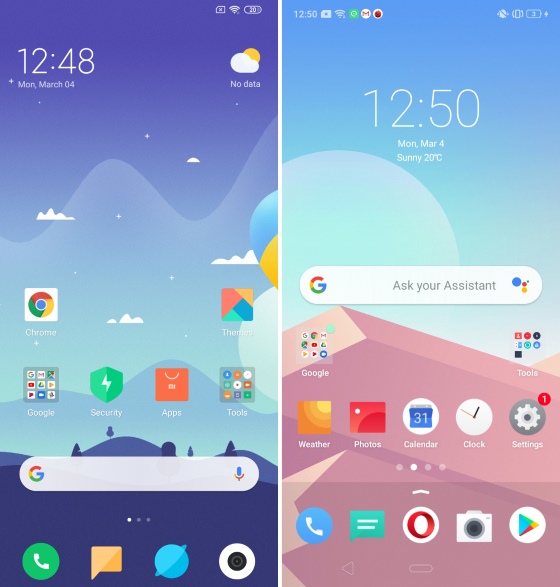 Realme 3, on the other hand, moves past the clunky ColorOS 5.2 implementation we've seen on previous Realme phones and brings Android 9 Pie-based ColorOS 6 in tow. This version of the software is a little more refined, with Android's default pill-based gesture navigation, and a ton of additional features. ColorOS 6 appears to have taken cues from MIUI 10 and there'll be instances where you'll feel that they're quite resemblant.
Cameras
Speaking of the camera department, the Redmi Note 7 launched in India, unfortunately, doesn't carry the 48MP Samsung GM1 sensor; instead it packs a 12MP primary sensor on the rear. This sensor has an f/2.2 aperture and a 1.25μm pixel size, and is coupled with a 2MP depth sensor for better portrait photos.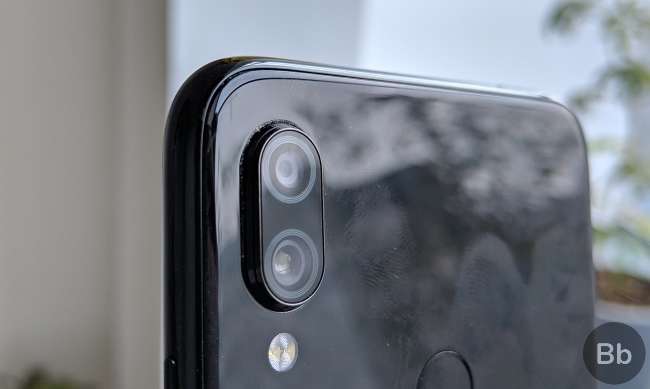 On the other hand, Realme 3 brings a minor upgrade in camera specs when compared to Realme U1, which included a 13MP primary sensor and a 2MP secondary depth sensor. It now has a large f/1.8 aperture that should offer you improved performance but it misses the mark. There's also a yellow ring around the primary sensor on the Realme 3 not just for aesthetics but branding as well.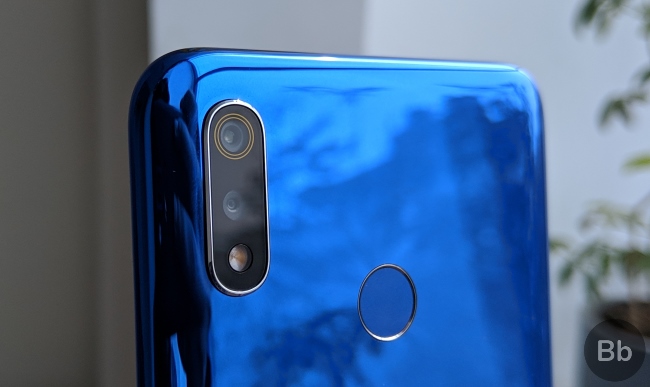 Both the Redmi Note 7 and the Realme 3 pack the same 13MP (f/2.0) selfie sensor, with 1.12μm large pixel size. They also support Camera2 API out-of-the-box, which sure would appease a lot of users, who want to install the Google Camera mod or third-party camera apps on their phones.
We're currently testing both of these smartphones thoroughly, so expect to learn more about the camera performance over the coming days.
Battery
Both the Redmi Note 7 and Realme 3 carry massive battery packs, with the former being 4,000mAh and the latter a 4,230mAh battery. These should last you at least a whole day on a single charge – if not longer depending on the usage patterns.
While Redmi Note 7 comes with Qualcomm's Quick Charge 4 support in tow, the Chinese giant doesn't provide a compatible adapter in the box. You will only get a 10W (5V, 2A) charger with the device but can buy a QC 4.0 adapter for faster charging. Realme 3 also comes with a 10W charging adapter, but it's a microUSB one as compared to the Type-C port on the Redmi Note 7.
Xiaomi has finally adopted the USB Type-C port in its budget smartphones and I love it. I feel Realme should've also taken this route but at its price, I am not going to complain. You can check out our first impressions of the Realme 3 right here:
Value for Money: Should Xiaomi Be Concerned?
The pricing is one of the most crucial factors in today's frenzied Indian budget smartphone market and well, both the Redmi Note 7 and Realme 3 are priced quite competitively. They strive to provide a solid design, beefy internal specs, and a myriad of features for an attractive price.
Last week, Xiaomi surprised everyone with a jaw-dropping and aggressive pricing for the Redmi Note 7 and it seemed like no one would now be able to get close to Xiaomi. Redmi Note 7 seemed like the obvious pick in the sub-Rs 10,000 price segment until a few hours ago.
However, my presumption has been wronged by Realme 3, priced a thousand bucks lower than the Redmi Note 7, as the company is looking to lock horns with Xiaomi for a larger chunk of the budget smartphone segment in India.
So, what are your thoughts on the Realme 3? Do you think it'll be able to stand its own against the Redmi Note 7? Let us know in the comments below.
---
Load More