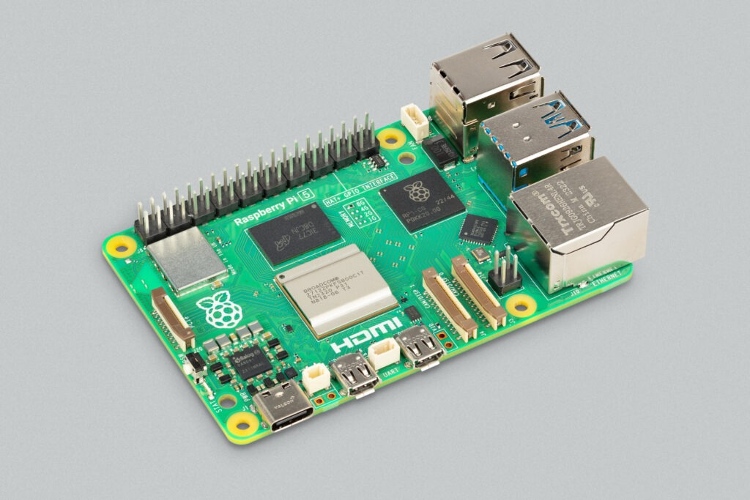 After almost 4 years, the Raspberry Pi Foundation has released the next-gen single-board computer Raspberry Pi 5. It's touted to bring 2x to 3x performance improvement over the last-gen Raspberry Pi 4. The new SBC packs a more powerful processor and features an in-house chip developed by the RPi Foundation. To learn more about Raspberry Pi 5 and its specs, read on.
Raspberry Pi 5 Launched, Starting at $60
The Raspberry Pi 5 is the most powerful SBC made by the Foundation yet. It packs in a Broadcom BCM2712 CPU with four Cortex-A76 cores clocked at 2.4GHz. For comparison, the last-gen RPi 4 had a max frequency of 1.8GHz with four Cortex-A72 cores. The increase in clock speed and improved Cortex-A76 cores should provide a good leap in performance.
Apart from that, it features a VideoCore VII GPU with support for OpenGL ES 3.1 and Vulkan 1.2 graphics APIs. The GPU can now power dual 4K 60FPS monitors with HDR support via 2 micro HDMI ports, which means the GPU has also seen substantial improvement. Notably, the Raspberry Pi Foundation has developed an in-house silicon called the RP1 for enhanced I/O performance with external peripherals.
The best part about Raspberry Pi 5 is that it comes with 4GB of LPDDR4X RAM with the base variant (unlike 2GB of LPDDR4 RAM on RPi 4) and goes up to 8GB. In addition, you get the usual dual-band Wi-Fi support, Bluetooth 5.0, and Bluetooth Low Energy (BLE). For the first time, the Foundation has also included a single-lane PCIe port (2.0) to connect your NVMe and PCIe devices, which is impressive.
There is also an on-board power button for the first time. In terms of ports, you have 2x USB 3.0 ports and 2x USB 2.0 ports. And for power delivery, the Raspberry Pi 5 sports a USB-C connector, which is awesome. Even after substantial upgrades and with 4GB of RAM on the base variant, the Raspberry Pi Foundation has managed to keep the price low at $60, and that is remarkable. The Raspberry Pi 5 will go on sale from October 2023.
---