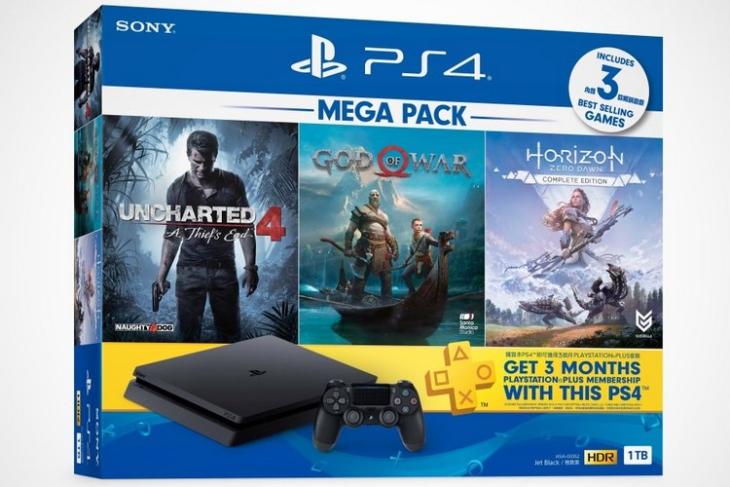 Ahead of the rumored PS5 launch next year, Sony has reportedly reduced the price of its 1TB PlayStation 4 in India. Believed to have been first reported by The Mako Reactor, the news has since been confirmed by Sony to NDTV. The reduction is said to be on account of a recent GST rate cut on consumer electronics, which is being passed on to the consumers by Sony.
With the price-cut, the MRP for the 1TB PS4 is Rs. 29,990 and, according to NDTV, will be offered as part of a 'Mega Pack' with three bundled games, including God of War (2018), Horizon Zero Dawn: Complete Edition (2017) and Uncharted 4: A Thief's End (2016). Sony is also offering a three month PS Plus subscription that grants access to online multiplayer, cloud saves and two new games each month.
The new pricing for the Mega Pack is almost 11 percent lower than the PS4's earlier MRP of Rs. 33,650, although, it was often sold at lower prices on e-commerce portals, such as Amazon and Flipkart. For example, the 1TB PS4 bundle with Red Dead Redemption II is currently listed on Amazon at Rs. 31,990, while the same console bundled with God of War, Uncharted 4 and GT Sport comes in at Rs. 28,990 on Flipkart.
According to reports, stocks of the new PS4 Slim 1TB bundle are slated to be available from next week on various online and offline stores, including Amazon, Flipkart, Croma, Reliance Digital, Games The Shop and more. With the launch of the new Mega Pack, prices of the other bundles are also expected to go down further, and all of them will also be the 1TB model, given that the 500GB option has been discontinued in the country.