After an avalanche of leaks, Google finally dropped the curtain on its latest Pixel 8 series. The new, top-of-the-line Pixel 8 Pro is Google's best smartphone yet, featuring a new chipset, longer update support, and availability in multiple colors. But how does it compare against people's default choice, the iPhone 15 Pro? Can the Pixel 8 Pro beat the iPhone 15 Pro in terms of performance, camera, connectivity, and other aspects? To find out, let's go through the comparison between Pixel 8 Pro and iPhone 15 Pro.
Pixel 8 Pro vs iPhone 15 Pro: Performance
First off, let's compare the performance of the Pixel 8 Pro and iPhone 15 Pro. The Pixel 8 Pro packs the latest Tensor G3 chipset made by Google. This is the third iteration of the Tensor chip, and Google is still banking on Samsung's Foundry to create a custom chip for its Pixel series.
The Tensor G3 packs a year-old Cortex-X3 prime core clocked at 2.91GHz, 4x Cortex-A715 cores (2.37GHz), and 4x Cortex-A510 cores (1.7GHz), as per a recent hands-on. This is the first time Google has opted for a nine-core design (1+4+4). The chipset is developed on a 4nm process node.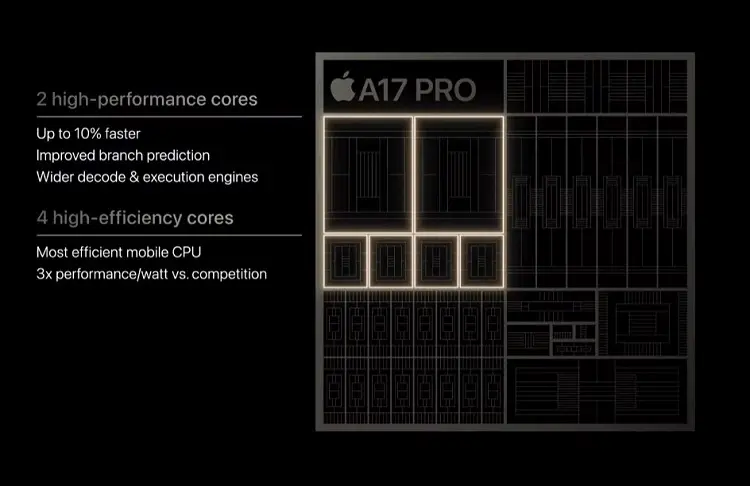 In contrast, the iPhone 15 Pro comes with a powerful A17 Pro chip that has a hexa-core design with 2x high-performance cores and 4x high-efficiency cores. It's built on TSMC's latest 3nm process node and packs almost 19 billion transistors. Its high-performance cores can go up to a whopping 3.70GHz, which is much higher than the max clock speed of the Cortex-X3 core (2.91GHz) on the Tensor G3. Also, Apple has vastly improved the efficient cores on the A17 Pro and now offers 3x performance per watt against the competition.
| Chipsets | Geekbench 6 (Single-core) | Geekbench 6 (Multi-core) |
| --- | --- | --- |
| Apple A17 Pro | 2926 | 7237 |
| Google Tensor G3 (leaked) | 1760 | 4442 |
If we consider the Geekbench 6 scores, it becomes clear that the A17 Pro on the iPhone 15 Pro is a much more capable processor than the Tensor G3 on the Pixel 8 Pro. The new 6-core GPU on the A17 Pro allows you to play AAA titles on your iPhone with Ray Tracing enabled which the Mali-G715 GPU on the Pixel 8 Pro can't match up.
So in terms of sheer performance, Google can't level with Apple in the silicon game just yet. However, Google is not chasing breakneck performance either. It's trying to strike a balance between quality, day-to-day performance, and efficient utilization of resources.
We have already seen reports of the iPhone 15 Pro getting too hot after a few basic operations. While Apple has stated that the heating issue is caused due to third-party apps, like Instagram and Uber, overloading the system and some pesky iOS 17 bugs, some experts state that the A17 Pro's peak power envelope is too high. In contrast, Google understands that mobile chipsets have gotten plenty powerful in recent years, so it's rightly focusing on efficiency.
Now, it's up to the consumers whether they want top-of-the-line performance (well, at the cost of battery life) or an efficient processor that does the job well.
Pixel 8 Pro vs iPhone 15 Pro: Camera
Moving to the camera department, Pixel has always remained a top camera phone, at least for still photography. And with the triple camera setup that includes an updated 50MP primary lens, a 48MP telephoto lens with 5x zoom (Super Res Zoom up to 30x), and a 48MP ultrawide sensor, Google is set to rival the best of the best in smartphone photography. All the sensors have better light sensitivity.
On the front side, you get a 10.5MP selfie camera with auto-focus support on the Pixel 8 Pro. It has also improved video recording and now supports 10-bit HDR video recording at 4K60FPS.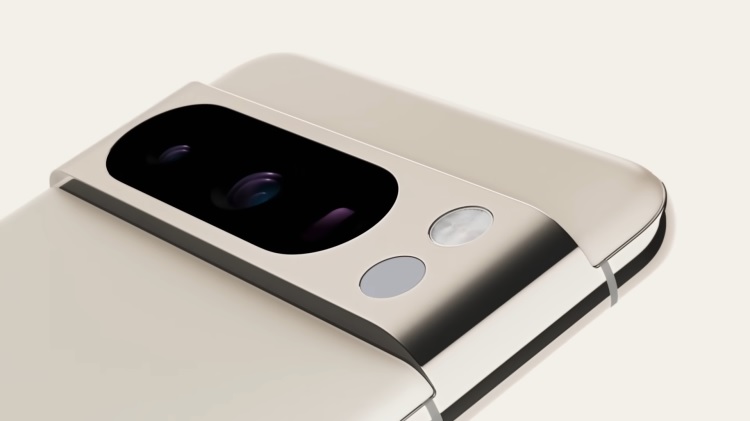 With the Pixel 8 Pro, Google is also adding a Pro mode to the camera app, which was missing on Pixel cameras since the beginning. And finally, Google is introducing an AI-powered "Best Take" feature that will allow you to replace blurry faces with better shots. Google Photos continues to have its usual suspects like Magic Eraser, Photo Unblur, and more. Moreover, the Pixel 8 Pro brings a "Video Boost" feature, which makes the skin tones look life-like, offers a wider dynamic range, and delivers vivid colors and details. Google even compared its new Pixel phone against the iPhone 15 Pro Max with this feature enabled; see a screenshot here: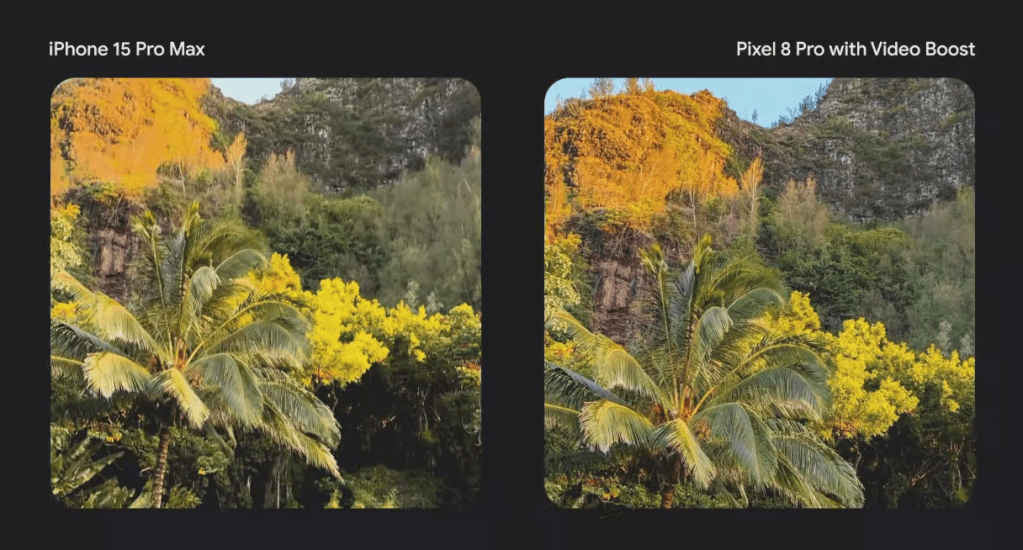 Moving to the iPhone 15 Pro's camera, it seems Apple has fixed the HDR issues this time. The availability of various focal lengths (13mm, 24mm, 28mm, 35mm, 48mm, and 120mm) on iPhone 15 Pro Max means users can now take shots in different styles, depending on their preferences. There is also a periscope lens, which Apple is calling a "tetraprism design" that allows the sensor to simulate the 120mm (5x) focal length. It's still a 3x optical zoom lens though, but the results are quite good.
Moreover, you can shoot spatial videos (3D) with your iPhone 15 Pro so you can relive the experience on Apple Vision Pro. Apart from that, you can shoot 10-bit HDR videos at 4K60FPS, and capture Dolby Vision HDR, and ProRes videos. Overall, Pixel 8 Pro and iPhone 15 Pro cameras are fantastic and live up to their flagship name. However, for photos, I would still recommend the Pixel 8 Pro over the iPhone 15 Pro and iPhones remain the undisputed king for shooting videos.
Pixel 8 Pro vs iPhone 15 Pro: Display
Last year, the Pixel 7 Pro's display was highly praised and Google is making steady improvements this year with the Pixel 8 Pro's display panel. Google is naming the new display "Super Actua," which brings a 6.7-inch LTPO OLED HDR10+ panel with a variable refresh rate from 1Hz to 120Hz. Its standard HDR brightness is 1,600 nits, but it can go up to a whopping 2,400 nits of peak brightness under direct sunlight. Besides that, the panel is flat and has Gorilla Glass Victus 2 protection.
In comparison, the display on the iPhone 15 Pro sports a LTPO Super Retina XDR OLED panel with a refresh rate of 120Hz. It's compliant with the HDR10 standard and supports Dolby Vision too. In terms of brightness, it has a standard brightness of 1000 nits and can go up to 2,000 nits of peak brightness under high brightness mode. Simply put, the Pixel 8 Pro has trumped not just the iPhone 15 Pro but also the Galaxy S23 Ultra as far as brightness is concerned.
Pixel 8 Pro vs iPhone 15 Pro: Connectivity
Talking about the connectivity on the Pixel 8 Pro, you get 5G support with both sub-6GHz and mmWave bands support. However, keep in mind that it still uses the Samsung modem, which is not the best in the market. With the Pixel 7 Pro last year, the modem was heavily criticized for failing to connect to 5G networks whereas other phones could easily latch onto newer bands.
Besides that, you get Wi-Fi 7, Bluetooth 5.3, and LE support on the Pixel 8 series. Keep in mind that it still does not support India's NavIC navigation system, and satellite connectivity for emergency services is still not confirmed.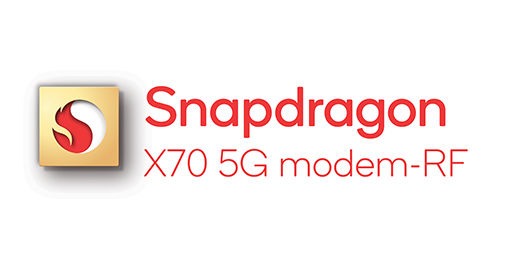 The iPhone 15 Pro, in comparison, uses a Qualcomm modem, specifically the Snapdragon X70 modem. It is one of the best 5G modems out there and supports both 5G spectrums with a peak download speed of up to 10Gbps. Apple recently extended its partnership with chip maker Qualcomm, so we are still a few years from seeing an Apple modem on iPhones. Maybe the iPhone SE 4 will be the first.
So in terms of mobile connectivity, the iPhone 15 Pro is definitely better than the Pixel 8 Pro. Not to mention, the Emergency SOS feature on iPhone 15 Pro can help you call emergency services even from desolate places. Finally, you get Wi-Fi 6E, Bluetooth 5.3, LE, and NavIC support on the iPhone.
Pixel 8 Pro vs iPhone 15 Pro: Battery and Charging
The Pixel 8 Pro features a 5,050 mAh battery that can offer a full day of juice, even with extensive usage. It supports Power Delivery 3.0 and can fast charge 50% of the Pixel in just 30 minutes with a 30W adapter. The best part is that it can wirelessly charge at 23W, which is amazing and supports reverse wireless charging too.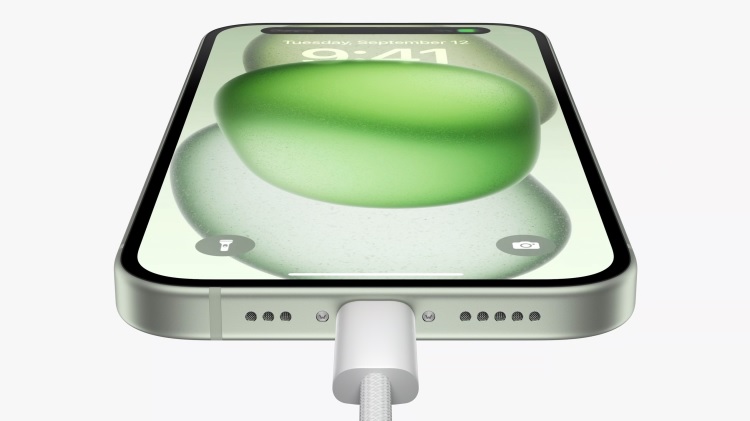 Apple, on the other hand, has finally embraced USB-C with the iPhone 15 series and can charge 50% of the phone in 30 minutes with a 25W wired charger. It packs in a small 3,274 mAh battery. The iPhone 15 Pro can wirelessly charge at 15W but with a MagSafe charger and brings reverse charging (only wired, though) at 4.5W.
Pixel 8 Pro vs iPhone 15 Pro: Software Updates
In terms of software updates, Google has knocked it out of the park and set a new benchmark for the mobile industry starting with the Pixel 8 series. The company is now promising 'seven years of OS, security, and Feature Drop updates.' As confirmed in a support page, this means you will get updates up to Android 20 (up to 2030), which is amazing. Google has specifically mentioned that the Pixel 8 and 8 Pro will get not just security updates, but also OS updates and Feature Drops until 2030.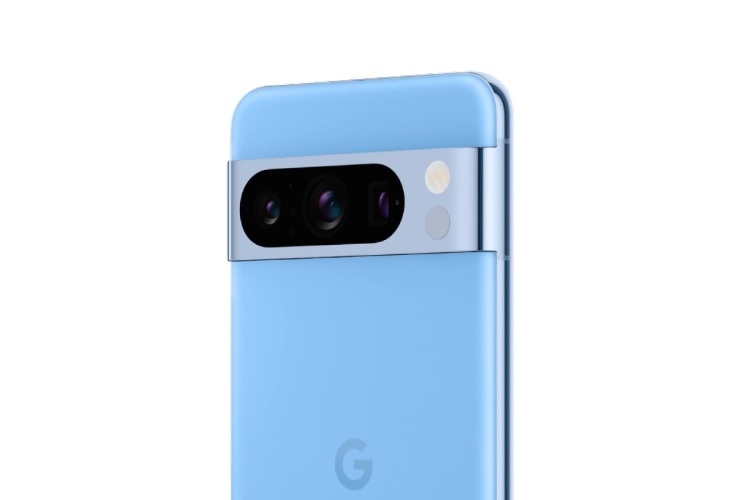 In comparison, Apple's five years of updates fall short in front of the Pixel 8 series. I'm not sure if Pixel 8 or 8 Pro's hardware will be capable enough to survive another seven years of updates, but that's something only time will tell.
Pixel 8 Pro vs iPhone 15 Pro: Specs Comparison
To recap, let's compare the specifications of the Pixel 8 Pro and iPhone 15 Pro side-by-side right here:
| Specs | Pixel 8 Pro | iPhone 15 Pro |
| --- | --- | --- |
| Dimensions | 6.4 x 3.0 x 0.3 in | 5.77 x 2.78 x 0.33 in |
| Weight | 213 grams | 187 grams |
| Processor | Google Tensor G3 (9 cores, Samsung 4nm) | Apple A17 Pro (6 cores, TSMC 3nm) |
| GPU | Mali-G715 | 6-core GPU |
| RAM/ Storage (Base) | 12GB LPDDR5X / 128GB UFS 3.1 | 8GB LPDDR5 / 128GB NVMe |
| Display | 6.7-inch 120Hz LTPO AMOLED "Super Actua" display, 1344 x 2992, 489 ppi, Up to 2400 nits | 6.1-inch 120Hz LTPO Super Retina XDR OLED, 1179 x 2556, 461 ppi, Up to 2000 nits |
| Rear Camera | 50MP Main+ 48MP Ultrawide + 48MP Telephoto (5x optical zoom) | 48MP Main + 12MP Ultrawide + 12MP Telephoto (3x optical zoom) |
| Front Camera | 10.5MP | 12MP + Face ID |
| Video | 4K at 60FPS, 10-bit HDR | 4K at 60FPS, 10-bit HDR, Dolby Vision HDR, ProRes, Spatial video, Apple Log |
| Dual SIM | Yes; Supports eSIM | Yes; Supports eSIM |
| Connectivity | 5G, Wi-Fi 7, Bluetooth 5.3, LE, NFC | 5G, Wi-Fi 6E, Bluetooth 5.3, LE, NFC |
| USB-C | Yes | Yes |
| Battery | 5,050 mAh | 3,274 mAh |
| Charging | 30W wired, 23W wireless | 27W wired, 15W wireless with MagSafe |
| IP Rating | IP68 | IP68 |
| Software | Android 14, 7 years of OS updates | iOS 17, 5 years of OS updates |
| Price | starts at $999 | starts at $999 |
Pixel 8 Pro vs iPhone 15 Pro: Pricing
The Pixel 8 Pro starts at $999 in the US for the base variant (128GB), which is a $100 price increase over the Pixel 7 Pro. I'm fine with the price increase as Google is now providing a massive seven years of OS updates and some impressive upgrades on the camera as well as the AI front. Similarly, the iPhone 15 Pro also starts at $999 for the base 128GB variant.
Yes, the Google Tensor G3 is still three years behind Apple's A-series chips in terms of performance, but you get a longer update window, A-grade cameras, efficient performance, excellent display quality, and a plethora of AI features with the Pixel phones. The all-new Pixel 8 Pro is certainly turning out to be a promising alternative to the iPhone 15 Pro. But what do you think about the new Pixel 8 series? Let us know in the comment section below.
---
Load More