OnePlus started rolling out Android 9 Pie based OxygenOS 9.0 to the OnePlus 6 earlier this year in September, introducing a bunch of Android Pie features to the device along with new full-screen navigation gestures. The update allowed users to do away with the navigation buttons and make use of the Android Pie navigation gestures or OnePlus' own navigation gestures.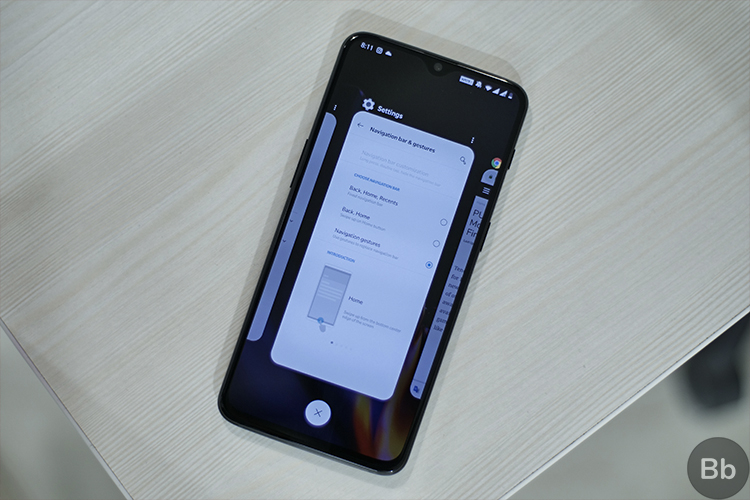 While the OnePlus 6 had a total of three navigation gestures – swipe up from the center for home, swipe up and hold from the center for recent apps and swipe up from either side to go back – OnePlus has included a couple of more gestures to the OnePlus 6T. OxygenOS 9 also has a nifty app switching gesture, which works much like double tapping on the recent apps button and allows users to switch between the two most recent apps used. In order to use the app switching gesture, users will have to swipe up and right from the center to quickly switch between apps.
I'm pretty sure a whole lot of OnePlus 6 users missed a quick app switching gesture on their devices and the new gesture on the OnePlus 6T comes to their rescue. OnePlus has also included a handy Google Assistant shortcut due to the lack of a home button, allowing users to long press the power button to activate the Google Assistant. The Google Assistant shortcut isn't on by default and in case you want to use it, you'll have to navigate to the 'Buttons & gestures' tab in the 'Settings' menu and tap on the 'Quick activate the assistant app' toggle.
Once the Google Assistant shortcut is turned on, users will be able to hold the power button for 0.5 seconds to bring up the Google Assistant and hold it for 3 seconds to bring up the power menu. While I personally like the new Google Assistant shortcut, it might seem like an issue to some people who don't want to deal with the Google Assistant while they're trying to turn off or restart their device. However, considering the fact that most of us rarely turn off or restart our smartphones, the chances of facing this issue will be cut down to a minimum.
What do you think of the new navigation gestures on the OnePlus 6T? Do you think OnePlus' implementation of navigation gestures is better than the stock Android Pie navigation gestures? Let us know in the comments section below.