Nico Robin, the archaeologist of the Straw Hat Pirates in One Piece, is one of the most enigmatic and fan-favorite characters. Appearing as an antagonist at first, Robin joined the Straw Hats most unexpectedly. This so-called devil child is the "Light of the Revolution" and an indispensable part of Luffy's crew in One Piece. Though Robin-chwan is much-loved by One Piece fans, there are some lesser-known things that you might not know about this character. So, from her favorite foods to her concept art, we have shared some hidden facts about Nico Robin from One Piece in this guide. So, let's dive right in!
Spoiler Warning: This article contains spoilers about Nico Robin from the Straw Hat Pirates in One Piece. We suggest you watch the anime and read the manga to avoid ruining the intended experience.
1. Another One of Oda's Personal Favorites
Previously, we mentioned that Shanks is Oda sensei's personal favorite character in our facts you didn't know about Shanks article. Another one of his personal favorite character is none other than Nico Robin.
In a Shonen Jump interview, Oda was once asked, "Who would you be if you could be any manga character?" To this, he jokingly replied that he would like to be Nico Robin so he could grow multiple hands using the Hana Hana no Mi devil fruit (one of the strongest Paramecia devil fruit) power and draw the manga twenty times faster than now.
2. Nico Robin Portrayed in Different Ages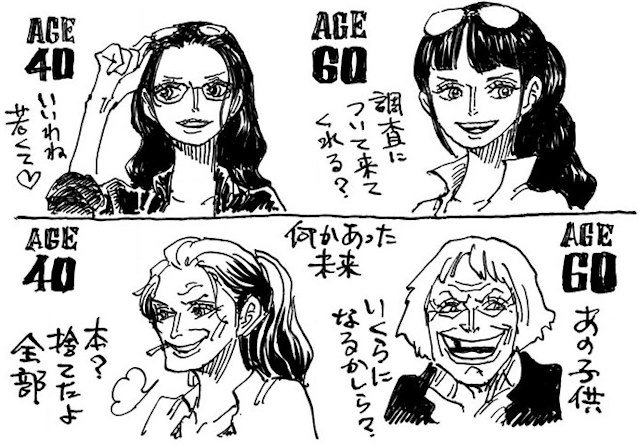 The fans of Nico Robin once questioned Oda sensei about how she would look like when she aged. Oda then offered two alternate scenarios for Robin's latter years in response. You can view Nico Robin in her old age as imagined by Oda in the manga panel above. The first version is likely going to be the future of Nico Robin as she is an everlasting beauty in the world of One Piece.
3. Robin Made Her Way to the Crew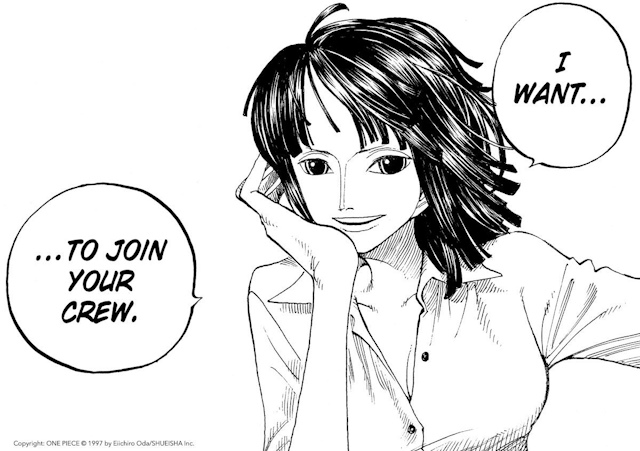 If we go back and visit the scene where Nico Robin joined the Straw Hat Pirates, we realize that she is the only character who hasn't got an invitation from the crew. Usually, Luffy invites people, except for that one-time when Nami invited Chopper. Therefore, Nico Robin made her own way to the crew by making her own decision to join, and there were no objections to that. She did so by stowing away aboard a Straw Hat ship for the first time. To this day, I still think this is the best decision Nico Robin ever made in her life.
4. Nico Robin's Early Concept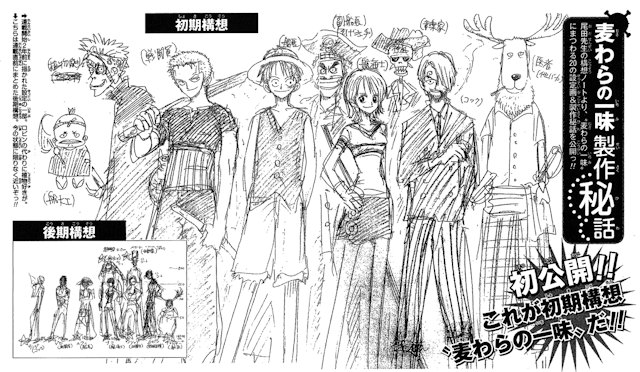 Would you all believe me if I say that Nico Robin was initially designed to be a male character? Yes! That is right, as mentioned in the One Piece Green: Secret Pieces databook. As you can see in the above image, the man on the left was the early concept Oda came up with. He is more of a plants-lover than a history-lover like Nico Robin. Luckily, Oda didn't go with this idea. Because otherwise, we wouldn't have got Robin-chwan in our lives.
5. Nico Robin's Birthday is a Wordplay
Most of the Straw Hats birthdays are a wordplay from Oda sensei, and the same is the case with Nico Robin. Her birthday is on February 6, which can be written as 2/6. It can be written as 2=Ni and 6=Ro in Japanese. Thus, Ni-Ro is the first syllable of her complete name which is Nico Robin.
Another unknown fact about her birth date is that she shares it with none other than her mother, Nico Olvia. What an amazing coincidence, right?
6. Robin's Very Own Jolly Roger
Oda has come up with personal Jolly Roger designs for each member of the Straw Hat Pirates. Like other Jolly Rogers in One Piece, Nico Robin's Jolly Roger is a special one. The left one was designed before the time skip and the right one was after the time skip, respectively. The old one simply has Nico Robin's hat and the skull mark surrounded by the hands of the Hana Hana no Mi power. In my opinion, the improvised version looks so beautiful with the hat and the coolers surrounded by the hands and the Chrysanthemum in the background.
7. Nico Robin's Origin and Job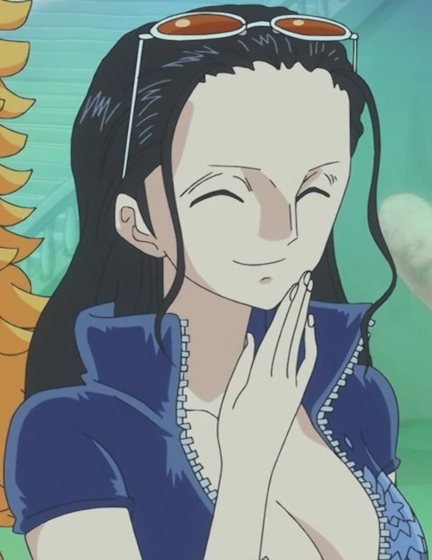 We all know that Nico Robin originates from Ohara island. But let me show you where she would have come from if One Piece was based on real life. Oda says that Robin would be Russian if it was the above case. Also, he mentioned that Nico Robin would work as a cabin attendant if the Straw Hat Pirates weren't pirates. That would've been a sight to behold, isn't it?
8. Robin Chwan's Favorites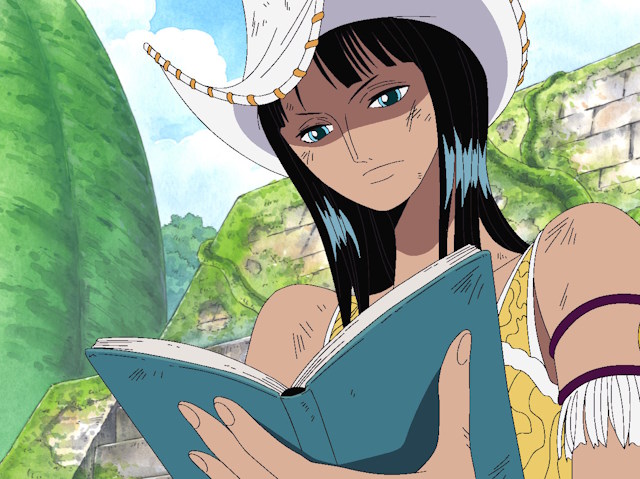 Well, if you want to know the favorite things of Nico Robin, then here you go: little sweet desserts, sandwiches, and dishes that go well with coffee are among Robin's favorite foods. Sunny side-up fried eggs, steamed with black pepper, are the main favorite dish.
Soba from Wano Country has recently become a beloved dish for Robin. And Paella is Robin's favorite food to prepare. If you're wondering what her least favorite meal is, it's chewing gum since she can't swallow it.
9. Nico Robin Had the Highest Bounty Once
One lesser-known fact that you probably aren't aware of is that Nico Robin had the highest starter bounty among the Straw Hats. Not even Captain Luffy nor the right-hand man Zoro had such a gigantic starter bounty. Robin was assigned this bounty when she was just 8 years old. It was primarily due to the threat she poses to the world government as she can read the poneglyphs. While you are here, check out the complete list of highest bounties in One Piece.
10. Robin's Odd Straw Hat Record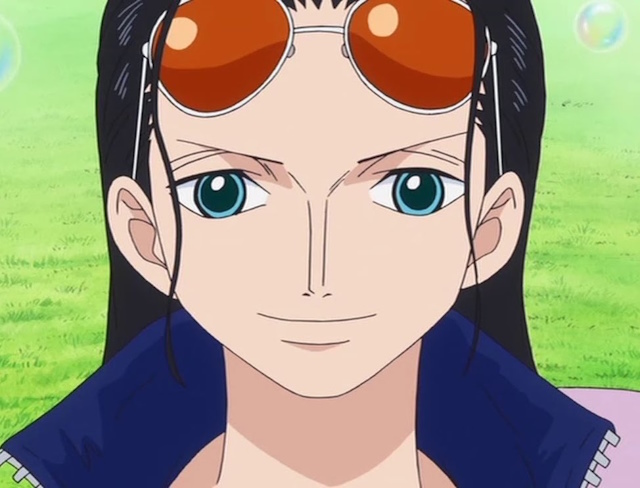 There are a few odd records held by Robin as the only Straw Hat among the pirate crew, you can check them out right here:
She is the first and only Straw Hat to join the crew by making her debut before another member and later joined them.
Apart from Jinbe, she is the only member of the Straw Hats to have performed the Fish-Man Karate ability.
She is the first stowaway to board the Straw Hat Ship.
She is the only character to join the crew without any invitation, as mentioned above.
Frequently Asked Questions
How long does Nico Robin stay with Luffy?
Nico Robin joined the Straw Hats during the post-arabasta arc but she left during the Water Seven arc. Shortly after that Luffy and co rescued her back in the next arc which is the Ennies Lobby arc.
Who will marry Nico Robin?
Robin has been shipped with Zoro, Sanji, and even Franky by some fans. But Oda has mentioned that there will be no romance between the crew members. So we don't know who is Robin's partner at this moment.
Who will join Luffy after Robin?
Franky is the next member to join the Straw Hat Pirates after Robin.