NVIDIA recently unveiled their most powerful graphics card for PC to date called the TITAN V and almost everyone who went through the specs sheet was in awe of the GPU's capabilities. However, NVIDIA is a brand that's synonymous with gaming and the company's GeForce GTX graphics cards are something to rave about. Well, if you're a gamer, this is totally not the graphics card that you were anticipating. We're pretty sure that you guys are excited about NVIDIA's next-gen Volta architecture-based graphics cards, but the TITAN V is not designed for gamers. Instead, this GPU was created to aid AI-based and deep learning applications.
Graphics cards that you normally buy for gaming carry the "GeForce GTX" tag with them, something which the newly launched TITAN V clearly doesn't have, giving a clear indication that the TITAN V isn't really a consumer-grade graphics card. However, according to the unofficial benchmark results that were posted on Reddit by MrOmgWtfHaxor, the TITAN V managed to easily outshine the company's top-of-the-line gaming GPU GeForce GTX 1080 Ti. Yes, you read that right, the GTX 1080 Ti managed to score a meagre 28000 in 3DMark Fire Strike whereas the TITAN V scored nearly 33000 at stock speeds. Now, although this is impressive, a score improvement of 5000 in Fire Strike comes at the cost of $2300 more which is not worth it at all.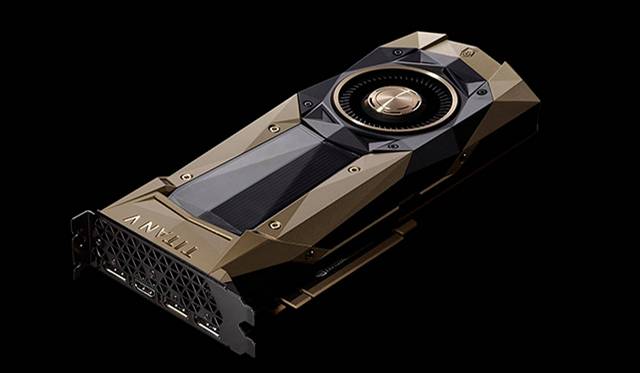 These benchmark results could essentially mean that the TITAN V could push out more frames that any other desktop GPU ever created, but yet again, it's not worth the asking price. At this point, all you need to do is just wait for a few months until NVIDIA launches the Volta-based GeForce GTX cards. They are hugely expected to be announced in mid-2018 and believe me, the highest-end GTX GPU could potentially come close to matching the performance of the TITAN V at least when it comes to gaming for a price tag of well under $1000, if NVIDIA's track record is taken into consideration.
All in all, if you have no patience but you've got money to throw away, I'm not stopping you from buying a TITAN V. On the other hand, if you're actually looking for a flagship GPU that provides the class-leading performance without having to sell your house, patience is key and the next GTX 80-series graphics cards certainly won't disappoint. So, are you looking forward to upgrade to a new Volta architecture-based GPU in the near future? Do let us know your valuable thoughts on the TITAN V in the comments section down below.