Last year's Nvidia GTX 1060 was a mid-range champion that offered smooth and stable frame rates for a flawless 1080P gaming. Not only was it chasing the coat-tails of its big brother, the Nvidia GTX 1070, but it also locked horns with the AMD Radeon RX 580. The 6GB version of GTX 1060 was on top of the list of my recommendations for 1080P gaming builds.
It's 2019 and enter the new RTX 2060, a successor to one of my favorites. The new card is based on Nvidia's new Turing architecture, and it sits right below the more expensive RTX 2070, RTX 2080 and RTX 2080 Ti in Nvidia's current lineup of GPUs. We had a great time reviewing the RTX 2080 last year, and now, I am equally excited to put the new RTX 2060 through its paces.
I have been using the Founders Edition of the RTX 2060 GPU that carries a price tag of Rs. 31,000. It's the cheapest RTX card out there, and it's also your gateway to the world of real-time ray tracing. But is it a big enough upgrade to be worthy of your attention and wallet? That's what we are here to find out:
Nvidia GeForce RTX 2060 Founders Edition Specs
Before we get started with the review and dip our toes into some benchmarks, let's talk numbers, shall we? Here are the key specs that should give you an idea of what we are dealing with –
| | |
| --- | --- |
| Architecture | Turing |
| CUDA Cores | 1920 |
| Base Clock | 1365MHz |
| Boost Clock | 1680MHz |
| Ray Tracing | Yes |
| Giga Rays | 5 |
| Memory Clock | 14Gbps GDDR6 |
| Memory Bus Width | 192-bit |
| VRAM | 6GB |
| TDP | 160W |
Nvidia GeForce RTX 2060: What's in the Box
As is the case with many other GPUs, the box contents are fairly minimal when it comes to the RTX 2060 Founders Edition. Inside the box, you'll get the GPU itself along with a standard set of booklets which you'll end up ignoring if you know your way around computers.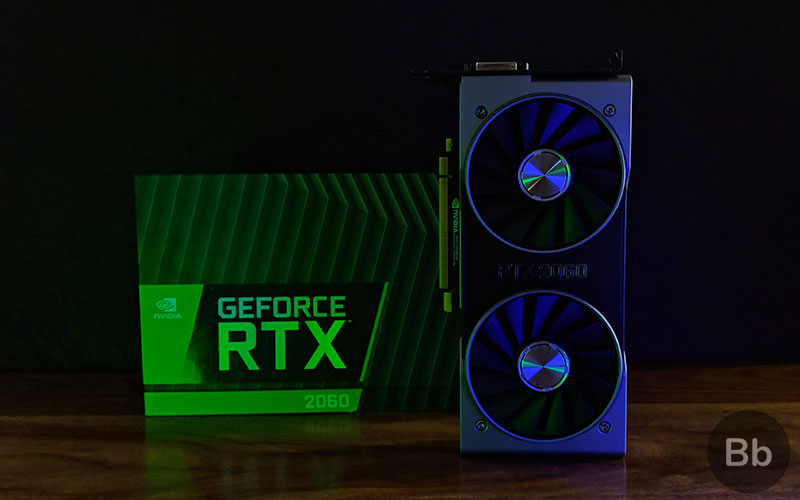 Nvidia GeForce RTX 2060 Founders Edition
Quick Start Guide
Support Guide
Nvidia GeForce RTX 2060 Design and Build Quality
Although the GPU is going to rest inside your PC, it's essential that your card looks good and has glowing lights to make it look pretty when you peek inside through the cabinet window. Well, I am happy to report that the RTX 2060 looks and feels premium.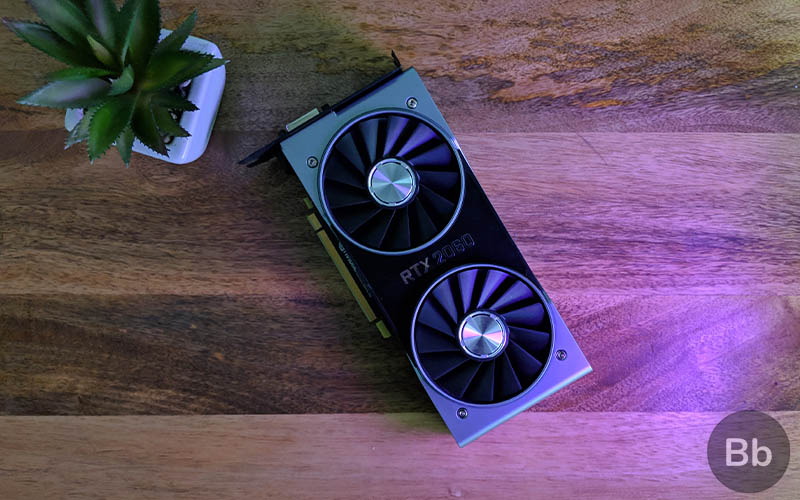 It follows the same design language as the other Founders Edition cards, and it looks identical to the other RTX cards. Much like the other cards in the lineup, 2060 also sports two fans to keep things cool while rendering demanding AAA titles like Battlefield V. I'll talk more about the thermals later in this review.
Just like the RTX 2070 GPU, the RTX 2060 Founders Edition has a single 8-pin power connector on the front of the card. As you can see, it also lacks the NVLink SLI connectors as only the RTX 2080 and above support SLI. Around the back, you'll see two DisplayPorts, a USB-C (for VirtualLink) and an HDMI 2.0 input.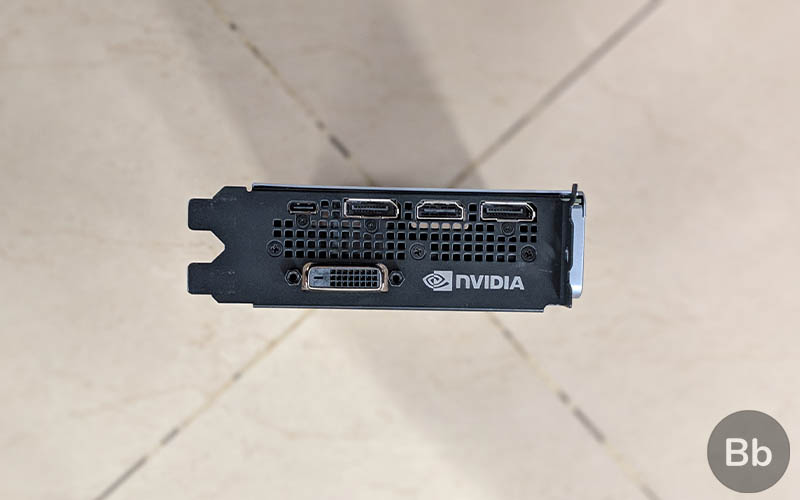 No, I didn't forget the GeForce RTX logo that lights up in Nvidia's signature green. Just look at that beauty:
Overall, I'd say that the RTX 2060 Founders Edition looks great and is a well-built card. Of course, a lot of third-party cards will start showing up with funkier lighting and design, but the Founders Edition card will always have a special place on my shelf. I've always been a huge fan of the design language of these Founders Edition cards and the RTX 2060 is no exception.
The RTX 2060 Founders Edition Looks Great and is well-built
Nvidia GeForce RTX 2060 Performance
Alright, it's the numbers time. In the performance section, we'll be taking a look at what the RTX 2060 is really capable of. By the time you'll finish reading this part, you'll know exactly what you're actually getting with the RTX 2060.
All the RTX 2060 cards right now have 6GB of super-fast GDDR6 memory that's clocked at 14Gbps. We're looking at 1920 CUDA cores, which, if you're keeping a track, is exactly the same number that you would get with the GTX 1070.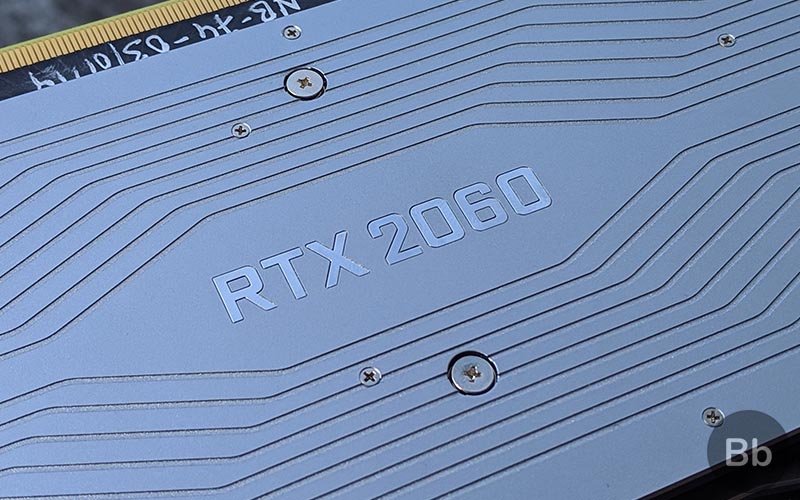 Despite having less memory (6GB vs 8GB on the GTX 1070), the RTX 2060 can rip through the data at a rate of 336GB/s. It's significantly better than what you would get with, say the GTX 1070, and its Ti variant. We won't be diving deep into a comparison here, but you'll see how the RTX 2060 chews through most AAA titles without breaking a sweat.
Also, if you are a spec nerd, then I am sure you must have noted that the RTX 2060 runs a bit slower than both the GTX 1060 and the GTX 1070 with a base clock of 1365MHz and a boost clock of 1680MHz. Again, the third-party cards may have a slightly higher clock speed (both base and boost), but that's not a deal breaker, really. Why? Well, I'll let the benchmarking and real-world gaming performance do the talking.
For the purpose of this testing, I installed the RTX 2060 on a test bench with other components like AMD Ryzen 7 2700 coupled with 16GB of DDR4-3200MHz RAM. All the games and the benchmarking tools were loaded on a 500GB HDD, whereas the OS was loaded on a 120GB SSD.
RTX 2060 chews through most AAA titles without breaking a sweat
If you're planning to pair the RTX 2060 with high-end components like we did (which you should BTW), you'll be plowing through almost every AAA title out there, for real. Here, see the results yourself –
Nvidia GeForce RTX 2060 Founders Edition Synthetic Benchmarks
As a part of a standard procedure, I started with some benchmarking tools like 3DMark, PCMark, etc., and I must say that I finished my benchmark tests with some good numbers. In 3DMark's TimeSpy Extreme test, our system managed to get a graphics score of 3,327 while maintaining well over 100FPS. The GPU, however, struggled with just over 20FPS when I ran the TimeSpy Extreme 4K test. That's not really surprising since the RTX 2060 is not ideal for 4K gaming.
In 3DMark's Port Royal Ray Tracing test (1080p), we got an average of close to 30FPS. When it comes to PCMark10 and VRMark Orange test, our system scored 5,440 and 8,449 respectively. I also tried the Blender test, in which we usually time how long it takes a GPU to render a 3D object in Blender. I rendered an image of a BMW car, and the GPU finished it in 314 seconds.
We tested the Nvidia GeForce RTX 2080 Founders Edition with a similar set of benchmarking software and you can find those results in our full review of the RTX 2080 GPU.
Nvidia GeForce RTX 2060 Founders Edition Gaming Performance
First, I ran all the games at 1920×1080 resolution and the highest possible in-game graphics settings (Very High, Ultra, Extreme, etc.) to push the GPU to its limits. You can get better results by going for custom graphics settings and tweak Motion Blur, View Distance, and more as per your needs.
Here's a quick look at the average FPS that I managed to get –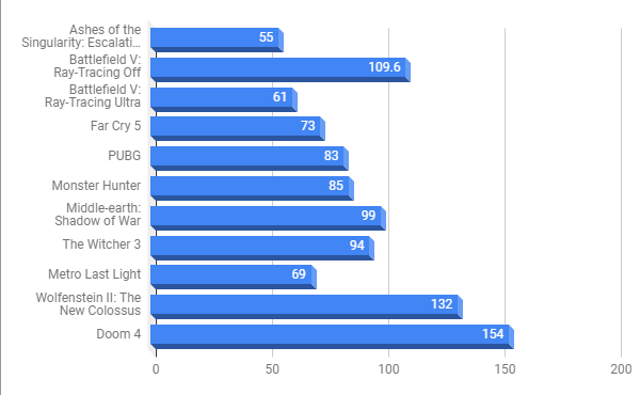 The graph, which you see above, clearly sums up the 1080P gaming performance of the RTX 2060. But where this particular GPU really shines is gaming at 2560×1440. Yes, I did play a similar set of games in 1440P and I had a huge smile on my face during the test. The GPU managed to punch through a lot of titles with near flawless 60fps on near-ultra settings. With a little bit of graphics tweaking, I was able to play a lot of titles at playable frame rates. Check out the graph below –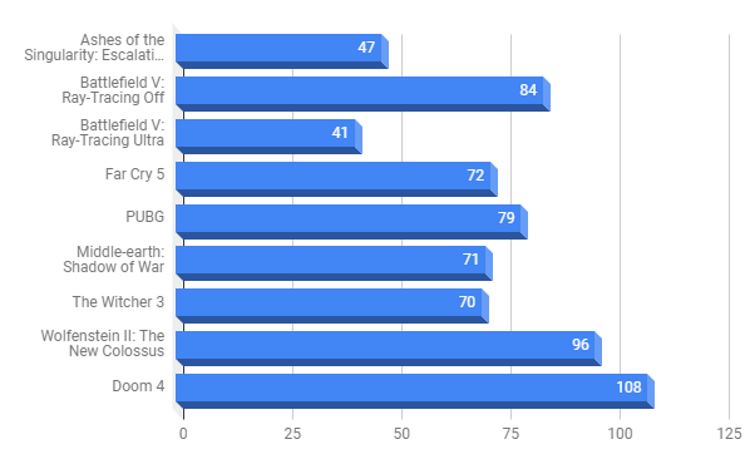 As you can see, the RTX 2060 was averaging well over 60fps at 2560×1440 resolution. Of course, you won't be able to play all these titles at the highest possible settings, but it's impressive to see that RTX 2060 can churn out so much power. These are the kind of numbers you'd get with, say, the GTX 1070Ti.
Look, I can keep going with all these numbers to show how powerful the RTX 2060 really is, but I think you already have a clear picture in front of you. Getting stunning visuals with close to 80fps in titles like Battlefield V is certainly impressive in my books.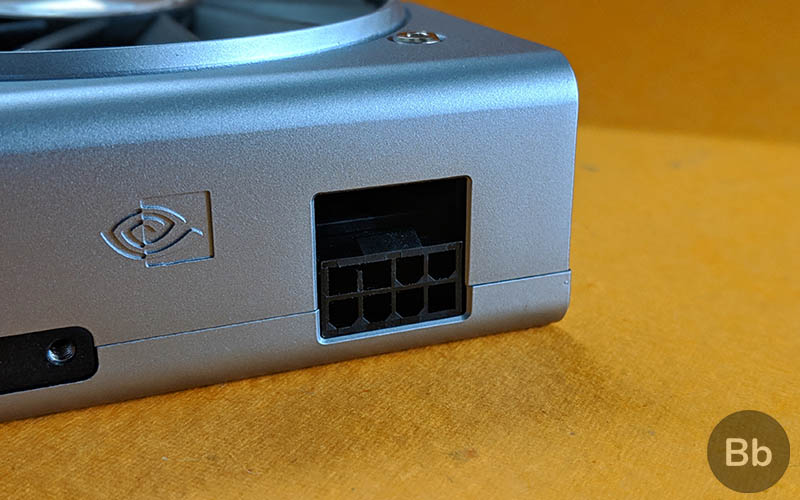 In fact, I would say the RTX 2060 even proved its worth as an entry-level 4K card. If you are willing to put down the settings to 'Medium', then you'll be looking at around 40-50fps in titles which I thought would be toughies for the GPU to handle. That being said, I don't recommend pushing this card to its limit by forcing 4K gaming. You'd be better off playing titles at 1080P or 1440P or get a more powerful card like the RTX 2080 Ti.
Nvidia GeForce RTX 2060 Ray Tracing Performance
When Nvidia announced RTX last year, it made a huge deal about Ray-tracing and DLSS support. I for one thought it was overrated until I had first hands-on experience with ray tracing. Though there aren't many supported titles out there, they do look a lot better with ray-tracing. It's not something that will significantly change your experience, but the visuals are noticeably better when you play with the ray tracing setting turned all the way up.
Ray tracing support, for those of you who don't know, makes it easier for game developers to incorporate lifelike lights and realistic shadows and highlights in their games. Thanks to Nvidia's game engine tools developers just have to specify values for lights and shadows which the GPU will render in real-time to produce incredibly realistic lighting effects. I played Battlefield V with ray tracing turned all the way up (Ultra), and the visuals, in some places such as in gun-fights, were simply stunning. Here's a screenshot of Battlefield V with ray tracing turned on: –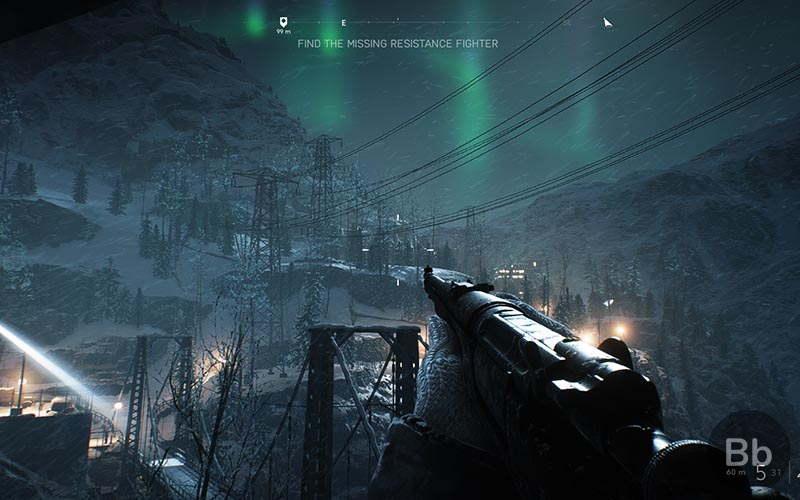 Thermals
Without adding too much fluff to this part of my review, I am just going to say that the thermal performance of the RTX 2060 is pretty impressive. With an open air cooler design with dual axial fans, I found the results to be in line with other RTX cards. Much like the RTX 2080, which we tested last year, the RTX 2060 stayed under 75-degrees Celsius, which is quite normal.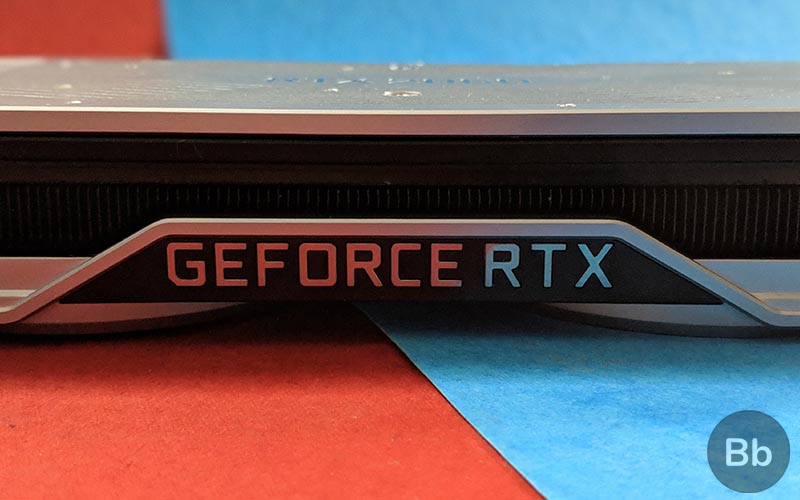 Even while playing the most demanding titles like Battlefield V for extensive time, the maximum temperature that I recorded was 79-degrees. Here's a graph to show you the temperatures for different use cases and games:
Pricing and Availability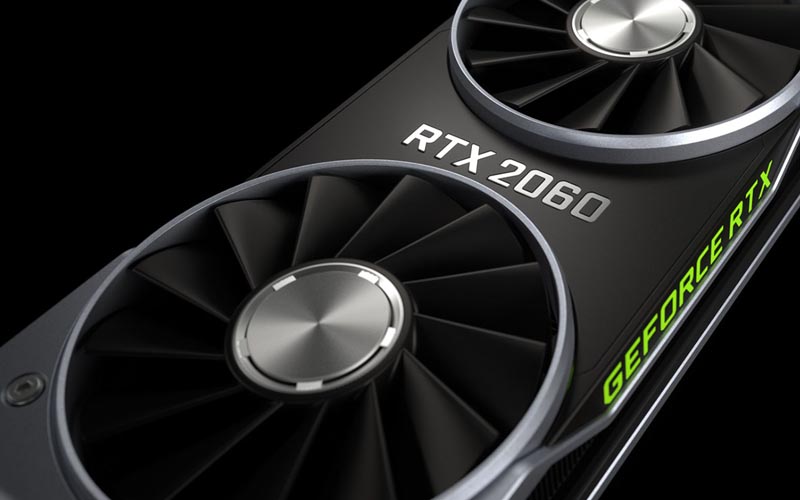 The Nvidia GeForce RTX 2060 is priced at Rs. 31,000 in India. The associated price tag instantly makes it an appealing card when compared with, say, the GTX 1070 Founders Edition that's currently going for Rs. 40,350. You can pick up an RTX 2060 directly from Nvidia's official site with which you'll also get either a free copy of Battlefield V or Anthem (when it releases in February).
Buy the Nvidia GeForce RTX 2060 Founders Edition (Rs 31,000)
Nvidia GeForce RTX 2060 Founders Edition: Worth It?
The RTX 2060 is one compelling card. No, it's not the Turing stuff that makes it special, but it's the price tag that makes it a great value offering. All the other RTX cards, be it the RTX 2080, the 2080 Ti or even 2070, are significantly more expensive. The RTX 2060, however, offers as much, if not more, juice than the GTX 1070 Ti at quite a bit less. In fact, I can no longer recommend the GTX 1070 Ti to anyone who's looking dip their toes in 1440P gaming.
The RTX 2060 is the most affordable RTX card that's out right now, so I'd say it's your cheapest entry to the world of ray tracing. Don't let the lack of titles supporting ray-tracing make you settle for a 10-series card. It's only a matter of time until we start seeing more titles that take advantage of ray tracing and DLSS, and the RTX 2060 has that element of future-proofing that you'll wish your 10-series has, if you do end up buying the last-gen GPU right now. 
Also, unlike the RTX 2080, which we thought was a little overpriced once you remove the factor of ray tracing from it, the RTX 2060 is more than just an incremental upgrade. That being said, if you already own a 10-series card like the GTX 1070 Ti or a GTX 1080, then you might want to wait out purchasing the RTX 2060 and see whether ray-tracing picks up momentum among game developers. But if you are still rocking an older card and are itching to upgrade, then you can jump on the RTX 2060 in a heartbeat.
---
Load More