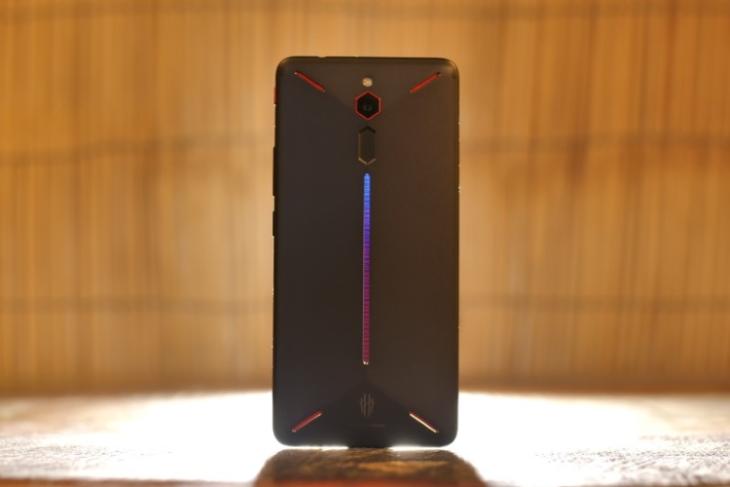 Earlier this year in April, Nubia launched a gaming smartphone called the Red Magic which packed some impressive specs in a sleek body with a flashy RGB lighting effect in tow. Although Nubia's decision to equip the Red Magic with a Snapdragon 835 SoC raised some eyebrows because Snapdragon 845-powered devices had already hit the market by then, the Nubia smartphone did perform like a venerable gaming beast in our review.
It now appears that Nubia is preparing a successor to the Red Magic gaming smartphone that will be powered by the Snapdragon 845 processor. Noted tipster, Roland Quandt, recently tweeted that the Red Magic's successor will come equipped with Qualcomm's latest flagship processor as well as shoulder buttons.
Nubia Redmagic actually seems pretty nice for 449 Euro with SDM835, 8/128GB and all the other fancy stuff. Btw: new Redmagic device w/ Snapdragon 845 and shoulder buttons is in the works. pic.twitter.com/m64KS9LTfk

— Roland Quandt (@rquandt) September 2, 2018
The selection of the Snapdragon 845 is an obvious choice for a gaming smartphone because Qualcomm's mobile chipset is the fastest one in the market right now, and will give the upcoming Red Magic smartphone some legit processing credentials. But the more interesting information revealed by Quandt was the presence of shoulder buttons on the upcoming Red Magic device.
Dedicated shoulder buttons are something fans of smartphone gaming have long been waiting for, because it gives them a more console-like experience. ASUS did something with its ROG Phone which features ultrasonic Air Triggers that can be used in landscape mode so that your index fingers are actively occupied during gaming sessions.
Additionally, to add versatility for portrait mode users, the ROG Phone features an additional AirTrigger on the bottom left corner of the device. All AirTriggers can be customized to perform different functions, including in-game macros or non-gaming tasks like launching specific apps. While ultrasonic AirTriggers are an ingenious idea, there is no beating the tactile feeling of a shoulder button.
The addition of shoulder buttons might pose some problems when it comes to ergonomics while the device is being used in portrait mode. However, if Nubia's engineering team does come up with a way to equip the next Red Magic gaming smartphone with shoulder buttons in an inventive manner, the company will have a real winner on its hands.