All those who have been eagerly waiting for a smaller Nintendo Switch to make a debut, stalking the Internet for the latest scoop on the same. Well, the rumors have now finally come true and Nintendo has today announced a smaller hand-held version of its popular Nintendo Switch gaming console.
Dubbed the Nintendo Switch Lite, it's a cheaper $199 version of the popular tablet-console hybrid (which starts at $300) launched back in 2017. We've been waiting for an upgrade to arrive for quite some time now and surprisingly it's in line with the myriad of leaks seen over the past few months.
https://www.youtube.com/watch?v=jZOPC6J4fAA
The Nintendo Switch Lite differs greatly from the original Switch as it's designed only for on-the-move hand-held play. This means it's smaller and lighter than the original Switch, weighing in at just 277 grams as compared to the 399-gram Switch. It features a slightly smaller 5.5-inch touchscreen too but is now even easier to carry around and enjoy your favorite Switch titles. Yes, you will be able to play any game title that's available for the Switch and supports hand-held gameplay.
The biggest caveat of the Nintendo Switch Lite will, however, have to be that you cannot connect this console to your TV or detach the Joy-Con controllers as they're baked right into the body. Yeah, this means you can no longer hand over a Joy-Con controller to your friend and play a multiplayer game like it's nothing. Nintendo Switch Lite supports all the accessories that work with its elder sibling.
The controller layout basically remains the same, with the directional buttons now being replaced with a D-Pad, which is a decision we're completely in favor of. Switch Lite does away with the kickstand (which had its fair share of trouble) and offers improved battery life to users, thanks to a new efficient chip inside the console.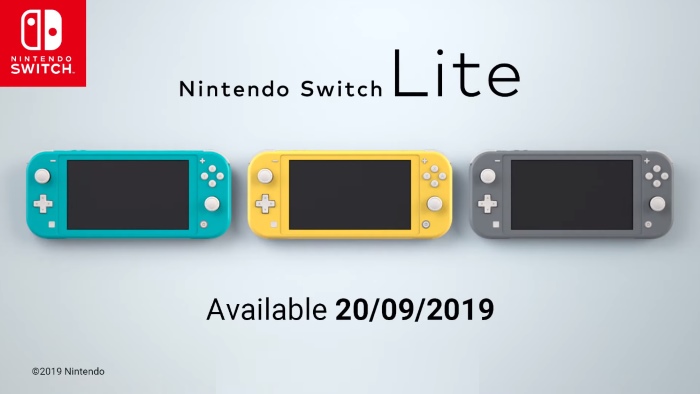 Nintendo Switch Lite will officially be available for sale on September 20 and will come in three color variants namely yellow, turquoise, and gray. We will also see a special "light gray Pokémon Sword and Shield edition" Switch Lite launch towards the end of the year and will be slightly costlier. So, what are your thoughts on Nintendo Switch Lite? Let us know in the comments below.