Cyber risks are increasing every day, and if you though your streaming services like Netflix were safe, think again. There have been many instances of users' Netflix accounts being hacked whether it's due to a lack of proper password hygiene, or anything else. So, if your Netflix Account is hacked, here's what you need to do and get it back.
What to Do If Your Netflix Account Is Hacked (2022)
It doesn't make sense why someone would hack into an OTT platform account. Still, hackers repeatedly attempt to breach the Netflix database and steal your personal information. It contains your account details, email address, phone number, etc., and a massive breach can leak your sensitive information to the public. Meanwhile, the hacker maybe someone you know who has access to your Netflix password. We will see how to identify if your account is hacked and what major steps you can take to secure it.
How to Identify If your Netflix Account Is Hacked
You can use a few methods to check whether someone is accessing your Netflix account without your information. A common way is to look for unknown shows or movies in the Continue watching list. Or if there is a new unknown profile in your account. Let us see some of these methods to check suspicious activity on your account.
Login Password Is Changed
A changed password is the easiest way to know that someone else has tampered with your account. If you haven't updated your Netflix password and still can't sign in, it is possible someone else has changed it. Firstly, ask your family members about it. If they haven't changed the password, you should recover your account quickly; More on that later.
Unknown Titles in Recently Watched and Continue Watching Section
If you can see unknown titles in the Continue Watching and Recently Viewed section, someone else might have streamed using your account. Both the rows are available on the Netflix homepage, as shown in the image below.
Check Recent Streaming Activity
Netflix has this great feature where you can check which devices have last used your account. The Recent Streaming activity section also shows the IP address for each device, location, and last streaming time. If you find any suspicious/unknown device listed in the streaming activity, you can be sure of an infiltration. Here's how to check the Streaming Activity on Netflix.
Log in to Netflix from a web browser. Then, hover over your profile icon at the top-right corner and move to the "Account" settings from the drop-down menu.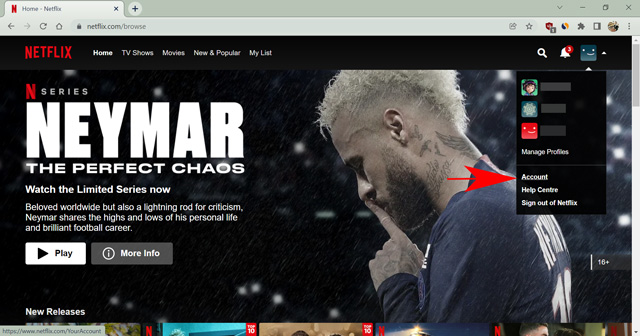 Here, click on "Recent device streaming activity" under the Settings section.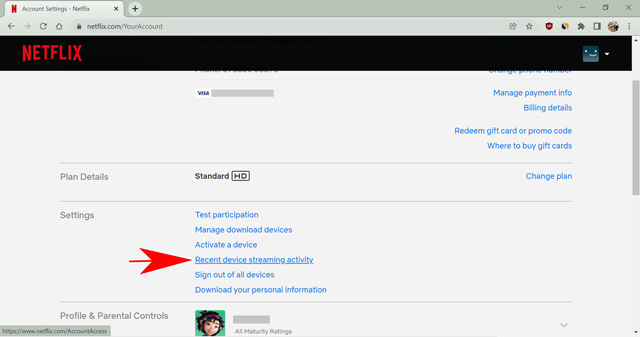 The next page will show you a list of all the devices using your Netflix account, along with the last three times someone has used a specific device to stream from a particular IP address. You will also see the location from where the device is accessing your account. If you find anything suspicious, like unknown devices or IP addresses, it's better to kick out that device.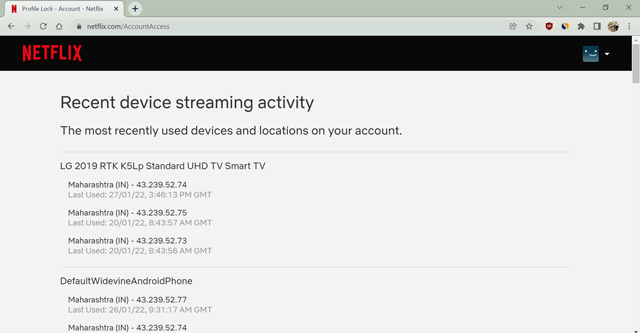 Check Out Netflix Viewing History
Netflix allows you to check the last seen titles for any profile in your account. The history varies for each account, and you would have to check each profile separately to know if there is any suspicious activity. That said, here's how to see Viewing History on Netflix.
Firstly, log in to your Netflix account from a browser.
Then, go to Account Settings by clicking on the profile icon.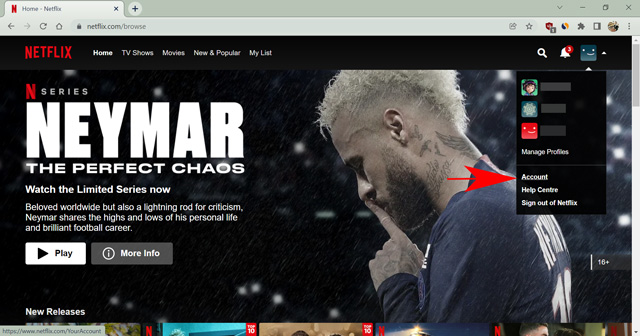 Now, scroll down and open Profile & Parental Controls for the profile you want to update and open Viewing activity for the profile.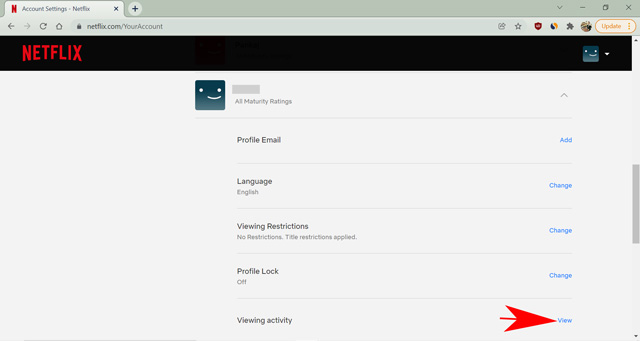 The following screen will show the list of shows watched from the profile.
You can check the Viewing History to know if someone is using your account. However, it is not a foolproof option since anyone with your account password can delete Viewing History on Netflix. Still, it is worth giving it a shot.
Important Security Measures To Recover Hacked Netflix Account
Once you are sure that your Netflix account has been hacked, it's time to take the essential security measures to secure your account. Here are a few important steps to consider in case of unknown infiltration on your Netflix account.
Change Your Password
The first and foremost step in case of a security breach is to change your Netflix password. This tip applies to any online account, including Netflix. Here are the steps to change your password on Netflix after you log in. 
Log into Netflix and hover over the profile icon at the top-right corner of the screen and select "Account" from the pop-up menu to go to your account page.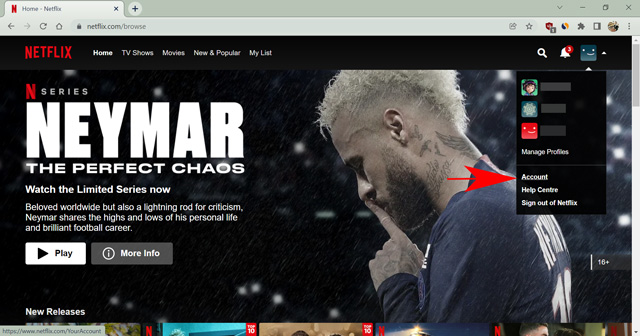 From the Account settings page, click the "Change password" option under the "Membership & Billing "section.
Enter your current password in the first textbox and the new password in the second and third text boxes. Lastly, click on "Save" to change your password.
You should select the option saying "Require all devices to sign in again using the new password" to remove any other person using your Netflix.
Changing your password if you can log into your account is quite straightforward. However, the hacker might likely have changed your password, and you can't log in at all. In such a case, please read our detailed guide on changing your Netflix password. It covers everything you should need, including steps to follow if the hacker has changed your email id as well.
Sign Out of All Devices
It is a prudent step you should follow even if you have changed your password to avoid trouble. Kicking other devices out of your account will need everyone to re-login to use Netflix. However, they won't be able to if you have changed your password already. Here are the steps to remove any device from your Netflix account quickly if someone gains access to it.
Sign in to Netflix using a web browser. Then, go to the "Account" settings by hovering over the profile icon at the top-right corner.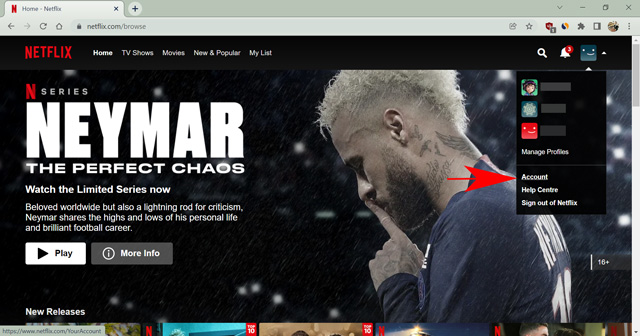 Now, click the "Sign out of all devices" option available under the Settings section.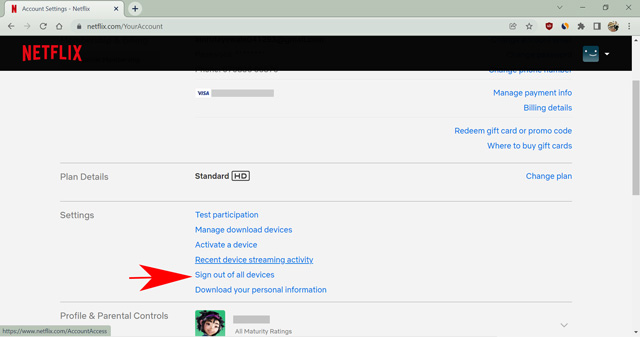 Confirm your choice on the next page by clicking the blue "Sign Out" button.
And that's pretty much it. Netflix will now sign out your account from every device, including the one you are using for this process. You can read our detailed guide on removing devices from Netflix to know more.
Contact Netflix Customer Care
If you have tried everything and still can't access your account, it's time to contact Netflix's customer service. You can quickly get to the Netflix help page and start a live chat with the executives by clicking here. 
Additional Steps to Secure Your Netflix Account
Once you have successfully recovered your account and changed your passwords, it's time to consider taking additional security steps to avoid such a problem in the future. Below are a few key points you should remember to protect your online identity.
Keep your data private: A quick way to enter your account for any hackers to know your email id and password. Therefore, do not store the data on public files or share your account details through messages in any case. You should also avoid filling up surveys and forms asking for your email id, credit card number, address, and more. Such forms can ask you security questions associated with your accounts which help hackers change your password.
Make a strong password: It is common knowledge, yet people tend to ignore it. A strong password is most necessary if you don't want to lose your precious data. Imagine if someone can crack your email password. The person can now sign into every platform with your account having the same email id. Therefore, it is vital to create a strong password. If you can't remember a difficult one, try using a password manager. Our guide on the best password managers will surely come in handy. 
Share account with trusted members only: Netflix is testing account shareability which will allow users to share their accounts with their friends for an additional fee. Still, set some ground rules and share the account only with those you trust. It is highly possible that your friends might leak your data to others. Therefore, keep an eye out for suspicious login activities if you share your account.
Don't click on suspicious links: There are a lot of phishing scams that can range from things like stealing your Netflix credentials, to getting even more sensitive data about you. It's always a good practice to look carefully before clicking on a link, especially one that comes from unknown sources.
Frequently Asked Questions
How do I change my payment information if I can't log in?
If you are still unable to log into your Netflix account, the hackers will likely benefit from your account as long as your payment is active. You can cancel your Netflix subscription after logging in. However, if you can't get into your account, it is wiser to contact your payment service. The credit/debit card companies can block the payments from their side in exchange for a small fee. It is a much better option to avoid unnecessary charges on your card in the long term.
Why would someone hack my Netflix account?
If you use a similar email id and password for your Netflix account and other social media/finance account, hackers can use the login information to infiltrate them. Therefore, it is crucial to use a different password for each account. In addition, the hackers sell the Netflix account and your data on the dark web to make additional profits. Unethical developers can use the data to cause you financial and personal harm.
Is there 2-factor authentication on Netflix?
Unfortunately, Netflix does not have 2-factor authentication at the time of writing this article. However, keeping in mind that the company strives hard to protect its users, we can expect the functionality soon in the future.
Keep Your Netflix Account Safe
It isn't common for hackers to attack your Netflix account. Still, they do so more often than you can imagine. Meanwhile, someone known might have infiltrated your Netflix account as well. Hopefully, the methods we've mentioned in this article were able to help you recover your account. If you're very concerned about your internet accounts, we'd also recommend that you use a password manager to create strong passwords and securely store them for you. If you have any additional questions or concerns, comment down below.
---
Load More