After its launch, MoviePass quickly become a very lucrative service for its customers. If somehow you have never heard of this service before, MoviePass basically allows users to watch one movie per day for free, in any theater of their choice, for a nominal monthly subscription fee of $9.99/month. While the service became instantly popular, it has faced controversies since the day it launched. Just recently, MoviePass ran out of money and defaulted on payments to merchants which led to a service outage. The future of MoviePass certainly seems a little dingy and we don't blame you if you are worried. While we can't solve the problems of MoviePass, we can give our readers a little relief by bringing the list of the best MoviePass alternatives that they can use to watch their favorite movies in theaters.
Best MoviePass Alternatives You Can Use
1. AMC Stubs A-List
AMC runs the biggest theater chain in the world and the company has been a very vocal critic of MoviePass since the start. AMC sees MoviePass as a virus to its business as it drove down the prices of tickets to a point where it was not sustainable for the business. To fight with MoviePass' increasing popularity, AMC released its own subscription service, which incidentally is the best MoviePass alternative that you can use. For a subscription price of $19.95/month, customers are allowed to watch 3 movies/week.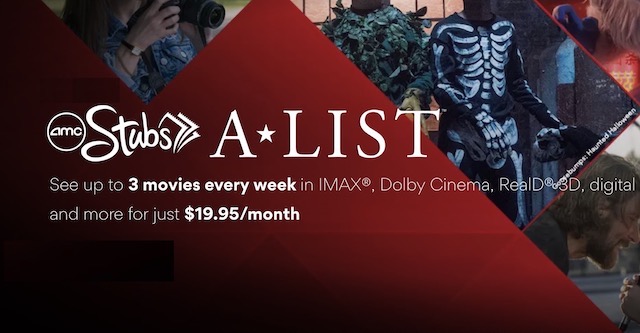 The best part about using this service is that unlike MoviePass, you don't have any restrictions on the type of theaters you can go to. You can watch movies in any theater, whether it is an IMAX, a RealD 3D, Dolby Cinema or any other. This is a very big advantage over MoviePass as the latter only includes entry-level 2D theaters. Even better is the fact that you can book tickets in advance, watch multiple movies in a day, and even get a 10% discount on food and drinks. I mean, even if MoviePass keep on existing, for me, the AMC Stubs A-List seems to bring far more privileges and perks and is certainly a better service.
Visit: Website
2. SiNEMiA
SiNEMia is not your normal movie subscription service like MoviePass or AMC Stubs A-List, however, it does allows users to see a movie at cheaper rates. In its essence, the service is less about subscription and more about buying tickets at a cheaper price by buying it in advance. The service has three different tiers. You can pay $3.99/month for a single ticket, $7.99/month for two tickets, $9.99 for two tickets elite, and $13.99/month for three tickets. Once you are subscribed, you can watch any movie in any theater without any blackout days. It means that you can watch new movies on opening weekends too. That said, just like MoviePass, the classic plans restricts you to normal 2D theaters. If you want to watch movies in 3D and use premium theaters like IMAX, you will have to go for either the $9.99 or $13.99 plan.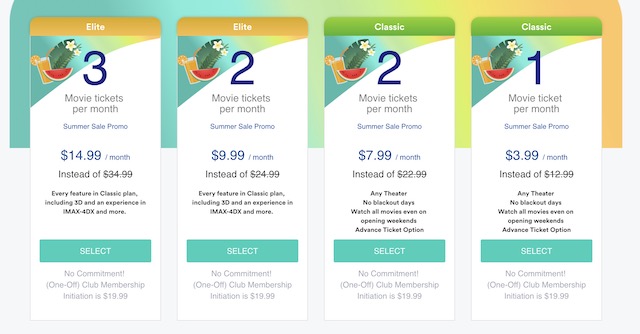 One unique thing that SiNEMia offers is its family plans which allows two people to watch a movie together. The family plans start at $7.99/month which includes one ticket. For more tickets, you can use their more expensive plans including the $15.99/month ($19.99/month for elite) and $29.99/month plans, which will get you two and three tickets respectively. This is a very good option for anyone who doesn't like to go to the movies alone.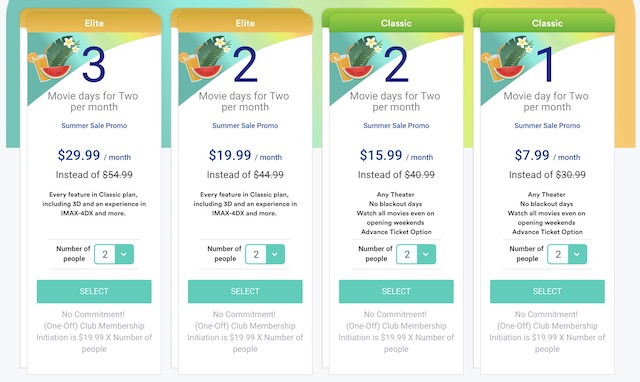 Now that you know what the service is offering let us take a look at the restrictions it has in-place. The first and the biggest restriction is the fact that even when you pay for higher plans, you are eligible to watch movies in IMAX or 3D on only one of those tickets. Another big restriction is that you can't buy more than three tickets in a month with one account. Also, you can't watch two movies on the same day. These restrictions make this service a little less lucrative, however, their family plan does make it worth checking out.
Visit: Website
3. Cinemark Movie Club
Cinemark Movie Club is probably the least rewarding movie service for customers. When you subscribe to the service, which by the way costs $8.99/month, it basically gives you one free ticket per month. For any additional tickets that you want to buy it will cost $8.99/ticket. Basically, the service is less like MoviePass and more like Audible where you subscribe to get one audiobook free a month and get discounts on additional books. What makes this deal even hard to digest is that the ticket is just valid for 2D theaters just like on MoviePass. If you want IMAX or 3D experience, you will have to pay the overage.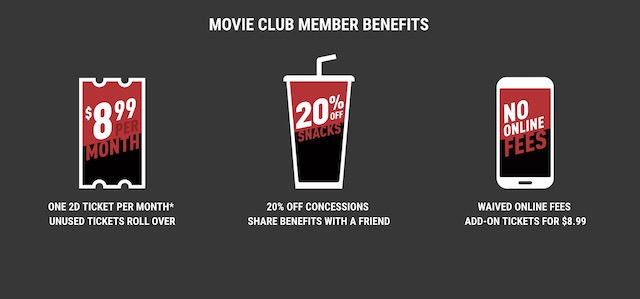 That being said, Cinemark does bring some additional benefits. For starters, you get a 20% discount on snacks and drinks. The best part is that these discounts can be shared with friends by letting them scan your Cinemark ID. You also don't pay any online fees while booking a ticket. Moreover, you earn reward points every time you spend money through the app, which can be redeemed to get further benefits. As you can see Cinemark is not exactly offering any free movies, however, the 20% discounts on snacks and drinks along with reward points does make this a little more interesting.
Visit: Website
Bonus: Paytm Movie Pass
While MoviePass or any other services mentioned above doesn't exist in India, the homegrown giant Paytm does offer a limited movie subscriptions service. With a subscription price of INR 800/month, you get 4 movie tickets per month at just INR 100/ticket. Do note that you can only watch one movie per day. Paytm also offers a couples plan which costs INR 1600/month and allows you to buy two tickets at a time. The rest of the plan remains the same. Do note that the service's cost changes depending on the city you are using it in. The above-mentioned prices are for Delhi/NCR and depending on your city the prices might be lower or higher.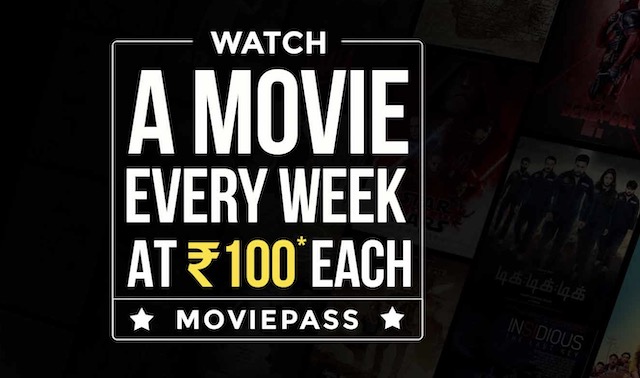 Visit: Website
SEE ALSO: Top 10 Amazon Echo Alternatives You Can Buy
Satiate Your Movie Pangs With These MoviePass Alternatives
I hope that MoviePass gets it act together so that the service remains viable for the coming future. However, if it does drops off the face of the earth, there are a few services which can replace it. Do let us know, which one you are going to choose in case of MoviePass's demise, by writing in the comments section below.