With Xiaomi testing a new iteration of its custom Android skin, i.e. MIUI 11 in China, we expected them to share news about new features over the coming weeks. We thought a formal announcement happens September 24, alongwith the reveal of the official rollout schedule. However, the company mistakenly rolled out the closed beta update to Redmi K20 Pro, Mi Mix 2S, and Mi 6 users in China. Yes, this means some Xiaomi users are now running Android 10-based MIUI 11.
As many online reports suggest, download links for MIUI 11 (build #9.9.9) closed beta were briefly live on Xiaomi's update but it was time enough for users to grab the latest firmware and flash their devices. So, thanks to a small mishap on Xiaomi's part, we've today got our first look at MIUI 11, whose motive is "Empowering the productive." If you'll look closely at the screenshots of the about page and homescreen below, you will notice some trivial changes here and there:
Most MIUI 11 screenshots you will see on the Internet are covered in the IMEI number of the users (blurred out to protect identity), all because of some internal code in the closed beta build, but users have found ways to bypass it. Coming to the features, well, Xiaomi previously said that we could see new iconography, with a dash of color, across the board. And well, that's true as you can see in the settings page down below.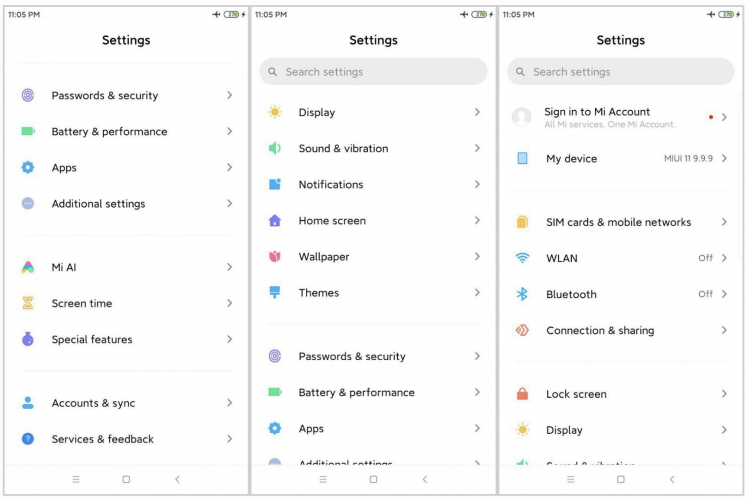 The company has also revamped some of its system apps, introducing a new design into the mix. There's now a new Community app, redesigned Files app, and a number of new customization options that will help elevate the MIUI 11 experience. This will include the toggle to turn off system ads, a dynamic sounds feature, quick replies, and the option to tweak the always-on display. MIUI 11 is also putting the dark mode front and center via the quick setting pane, alongwith the addition of the new file-sharing protocol that would work with Vivo and Oppo phones as well.
You can take a look at this hands-on video which shows off the new design elements and features introduced in MIUI 11 –
Xiaomi has already taken down the links for the closed beta update builds. The MIUI 11 closed beta update is around 2.7GB in size and if you're lucky enough, you can come across the ZIP file for the update. You'll need to have an unlocked bootloader and TWRP installed on your device (recommended for Chinese models and not Indian) to flash the update. You can get MIUI 11-based GSI images from this link, but we suggest you wait around for Xiaomi to roll out the official update.
This is just a pre-release early build for MIUI 11, so a lot of new features could still be under development and being finalized for release. Xiaomi hasn't announced an official release date, but we expect the company to talk about MIUI 11 at the rumored Mi 9 Pro "5G" event on September 24.