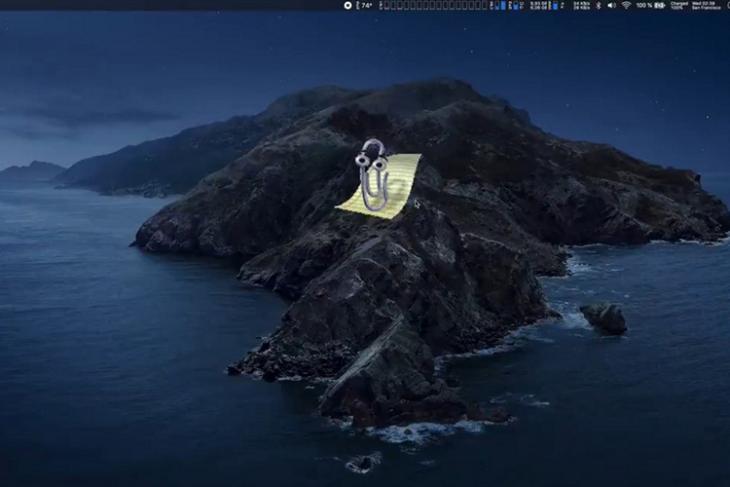 Remember the good-old Clippy assistant from Microsoft Office that used to shower us with suggestions? Well, if you miss Clippy too much and happen to be a macOS user, I've some good news for you. You can actually use Clippy on your PC.
A developer named Devran Uenal has ported Clippy to macOS as a standalone desktop assistant. As of now, it does nothing assistant related, which is actually good if I'm being honest as no one likes to be poked for silly reasons.
No one asked for it, but I ported Clippy to macOS!
📎 https://t.co/stCTKtrigf 📎 pic.twitter.com/mf6UckPINv

— Cosmo — Devran Uenal (@maccosmo) September 4, 2019
Clippy will exist at your desktop, animate and make some sounds if you insist. You can make Clippy animate by right-clicking on it and choosing Animate!. The animations are nothing new and they remind you of the original Clippy assistant back in the day.
The developer has made the project open-source and it is available on GitHub. If you are interested to check the code behind it, you may do so from here. The instructions necessary to build Clippy from the source-code is given in the README.md file.
Other cool features like the ability to control Clippy from the command line, zooming in and out, more language support, other agents, and idle animations are on the developer's to-do list. We'll have to wait to check those features out.
Once other agents are deployed, you will be able to toggle between them by right-clicking on Clippy and choosing the agent you want from "Choose Assistant".
However, seeing Microsoft Clippy after almost a decade was a great experience for me. What do you think? Let us know in the comments.
Download Clippy for macOS