Nowadays, companies are significantly pushing innovation in artificial intelligence forward at the fastest possible pace. Microsoft, in the same vein, introduced its Bing Chat as a chatbot cum search engine. However, it looks like the company is now reframing its model and actually rebranding Bing Chat to Copilot instead.
At the Microsoft Ignite 2023 event, the company announced that Copilot will be replacing Bing Chat and Bing Chat Enterprise. In its official blog post, Microsoft consistently refers to its AI services as 'Copilot' now and also states it was formerly Bing Chat.
From today onwards, users can simply visit the Copilot AI website and start using the tool. While it is still in a 'preview' stage, Microsoft has now confirmed that its Copilot AI will be out of preview and become generally available starting December 1. Additionally, Bing is also being rebranded to Copilot on Windows 11 after updating to 23H2.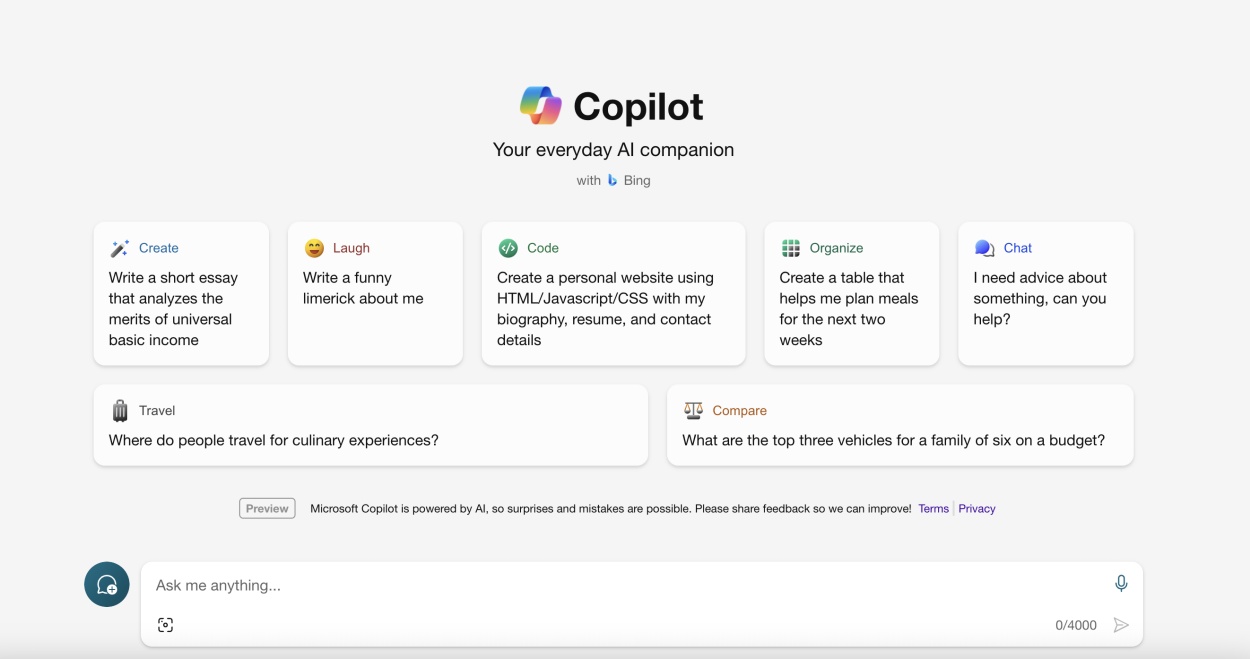 With this new change, all the AI requirements of today's computing crowd will be fulfilled by Copilot. It is natural that Microsoft aims to compete with ChatGPT and its other alternatives even though the companies have a working relationship together. To access Copilot, business users will need an Entra ID, while consumers will need to sign into their MS account. The rebranding has already begun, as users can access the new website now.
Bing Chat did have its own useful features. You could ask it to research, find web solutions, assist in shopping, and more. But despite the integration of AI into Bing, it did not seem to boost the search engine's market share, which is still stagnating under ~7%, according to StatCounter. By the way, Microsoft has confirmed that it will expand Copilot with commercial data protection to Microsoft 365 later. This includes various enterprise plans such as Microsoft 365 E3, E5, F3, A3, and A5.
In addition to this, Microsoft has announced that Copilot AI will support OpenAI GPTs. Currently, Copilot is based on GPT-4 & DALL-E 3, bringing a unified experience of both models into one AI assistant. Microsoft wants to make things even better by allowing its users to create tailored versions of Copilot. With this, people can make their own Copilot for specific tasks! The Bing brand is alive and well, and while it will have some AI features, all of it will be powered under the 'Copilot' branding.
AI is moving forward at a rapidly evolving pace. So far, Microsoft says over 1 billion prompts have been registered since the launch of Bing AI chat. Was Microsoft's move to rename Bing Chat to Copilot a good thing? Let us know your thoughts in the comments below.
---