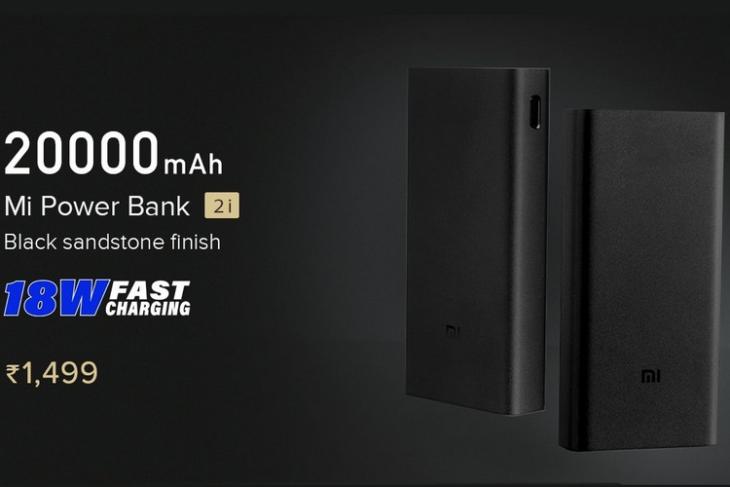 Xiaomi has launched a 20,000mAh model of its Mi Power Bank 2i in India. The device comes with 18W (9V/2A) fast-charging support and is priced at Rs. 1,499. It is manufactured in India under the government's Make In India initiative and, is available for purchase through the company's official webstore in a Black sandstone finish. The company had earlier launched the 10,000mAh variant, which is available for Rs. 899 in Red, Black and Blue color options.
The 20,000mAh Mi Power Bank 2i comes with high-density Lithium polymer batteries and, can charge two devices simultaneously, thanks to its dual-USB output. The ports can also be used for 2-way charging with 18W support on both ports. There's also a double press feature for low-power charging, which is ideal for Bluetooth devices and fitness bands.
In terms of safety, Xiaomi says that the power bank comes with 9 layers of circuit chip protection and, has several built-in smart safety features, including surge protection, over-voltage protection, over-heating protection, short-circuit protection, overcharging protection, over-discharge protection and more. The device is built using high-quality ABS plastic / polycarbonate material and, measures 15.06cm in length, 7.23cm in width and 2.63cm in thickness.
It is worth noting that Xiaomi had first launched its Mi Power Bank 2i devices back in 2017. While the 20,000mAh model was still priced at Rs. 1,499 back then, the 10,000mAh variants came with a slightly lower, Rs. 799 price-tag. While the company hasn't detailed the exact changes between the older devices and the new ones, they are unlikely to vary significantly in terms of how they will perform in day-to-day usage.
Buy the Mi Power Bank 2i 20,000mAh from Mi.com: (Rs. 1,499)