As a millennial, the good ol' idiot box has been an essential part of my growing up, development, exposure to the world around me, as well as primary to my entertainment. For this reason, TVs and not smartphones are my preferred mode of entertainment at home. But over the years, our TVs have become smart as well, letting us do what we needed a smartphone or computer to do a few years ago.
Xiaomi disrupted smart TV market last year and Mi TVs are among the most attractive products the company has made. Now, after smashing competitors with its ultra-affordable HD and full HD smart TVs, Xiaomi has announced a 55-inch 4K UHD LED smart TV with an introductory price of Rs 39,999 and we've naturally been eyeing it since launch.
Simply based on the specifications, one can be confident that this TV offers a good value for money. But how well does the Mi LED TV 4X PRO live up to the promise of 4K video, is something we'll test in this review. Let's start with a look at the specifications of the massive 4K smart TV by Xiaomi.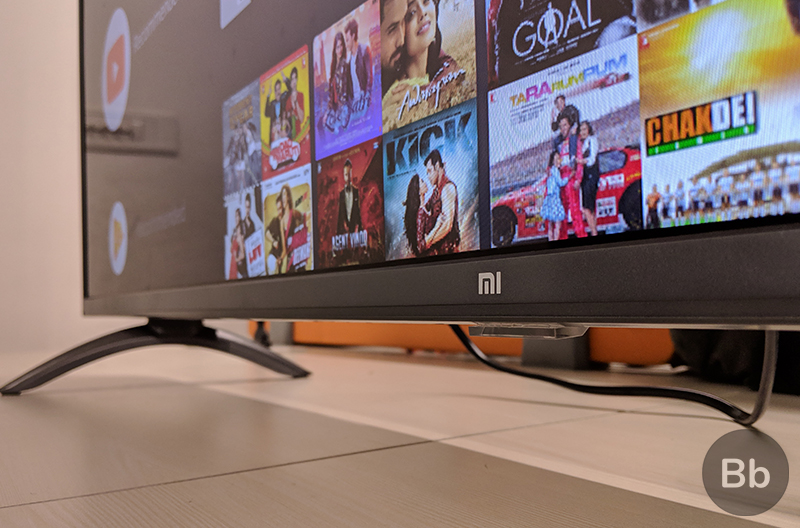 Mi LED TV 4X PRO Specification
| | |
| --- | --- |
| Display Technology | IPS/VA with LED backlight |
| Screen Size | 138.8 cm (55 inches) |
| Resolution | 3840 x 2160 UHD |
| Refresh Rate | 60 Hz |
| Image Aspect Ratio | 16:9 |
| Weight | 13 kg (including feet) |
| Screen Shape | Flat |
| Audio Wattage | 20 Watts |
| Smart TV | Yes; In-Built Chromecast |
| Operating System | Android TV (8.1 Oreo) |
| App Store | Official Google Play Store |
| CPU | Quad Core Cortex-A53x4 64bit |
| GPU | Mali-450 |
| RAM | 2GB |
| ROM | 8GB |
| HDR Compatible | Yes; HDR10 |
| Remote | Bluetooth remote with mic |
| 3D Capable | No |
The Mi LED TV 4X PRO is decently powered and the quad-core processor, 2GB RAM, and 8GB of storage, seem to satisfy the requirements of a basic smart TV. However, when you bring 4K into perspective, the hardware seems a bit underpowered. Moreover, there's no dedicated woofer, leaving us with the desire to investigate how well the Mi TV 4X PRO works for reproducing soundtracks or background scores with heavy bass.
But as intended, we shall start by taking a look at the design and the build quality of the display.
Mi LED TV 4X PRO Design and Build
Enormous is the first word that comes to your mind when you visit the Mi LED TV 4X PRO for the first time – we say visit because it will definitely take a lot of room. The 55-inch display is really tempting to look at, and the thin bezels make it look even more compelling. But that impression is washed when you witness the Mi TV from up close.
As one encounters the Mi LED TV 4X PRO up front, the illusion about its supreme build quality comes crashing down like hard-hitting truth. You need not switch on the 55-inch Mi TV to understand that its build quality is a glittery sham, mostly comprising thin and seemingly feeble plastic material. The provided base stands seem too frail to hold the weight of the TV, and the upper half of the TV swings dangerously like a bridge in strong wind.
As you move to the back of the display, you can see the same less-than-reliable quality of the construction material. Besides rough edges from the die mold, one can easily feel the bending and flexing throughout the rear panel of the Mi LED TV 4X PRO, which leaves you with nothing but a sense of insecurity about the build quality.
Besides that, there are no button controls on the TV — the only physical button is the power button, which is hidden underneath the infrared receiver under the central Mi branding on the base.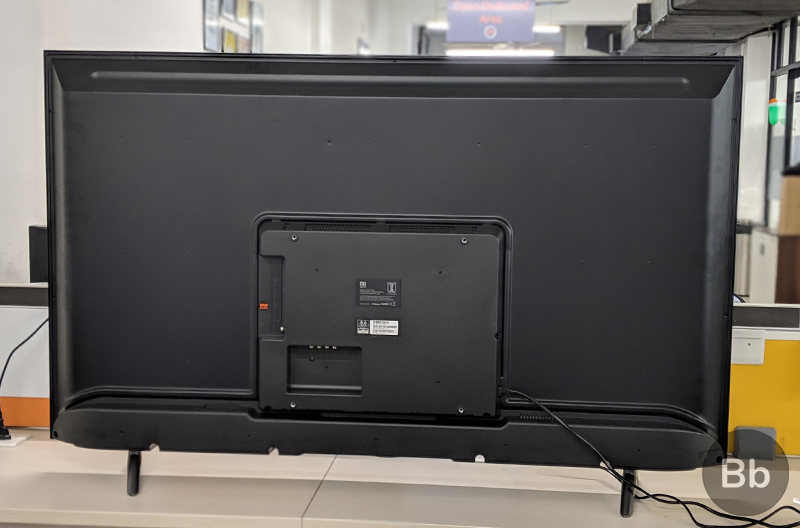 The overall impression I got is that the TV will not last me long in this position. Thus, it is only advisable if you're going to tether it to the wall using a wall mount and not move it very often. Besides that, the TV cannot be called thin but nor does it feel bulky or intrusive despite its size, in my opinion, that is one good thing about it.
Note: you'll need to buy the wall mount separately for Rs 499
A counter-argument for this seemingly cheap build is that the Mi LED TV 4X PRO is likely to be one of the most affordable 55-inch TVs with a 4K UHD resolution in India. So without any delay, let's suss out the picture quality.
Mi LED TV 4X PRO Picture Quality
The Mi LED TV 4X PRO has a 55-inch panel with a resolution of 3840 x 2160 pixels. The display can play HDR10 content, although there's no HDR10+ support. Broadly advertised as an LED TV, which depending on the unit you get is an IPS or a VA panel backlit by LEDs. The first thing we could tell about the display is that it is dull and the colors do not seem striking, nor is it super bright as Xiaomi has claimed it to be.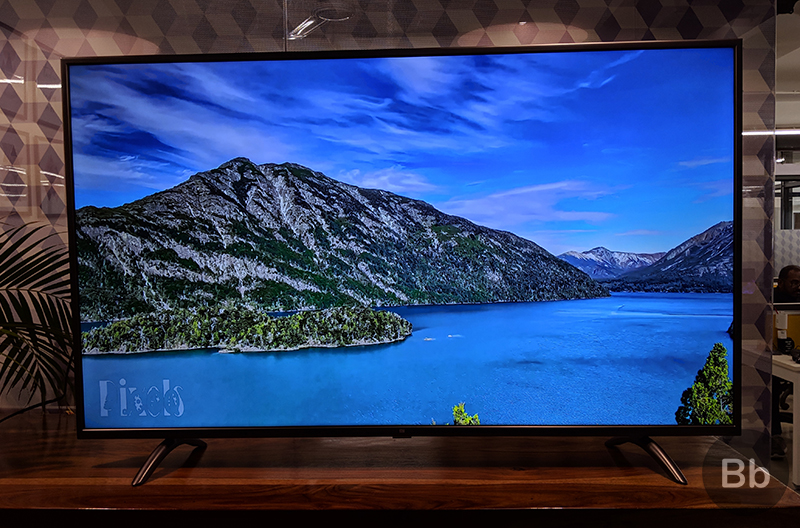 Within the UI, there are options to change the brightness, contrast, sharpness, hue, saturation, and white balance. But despite of cranking the brightness to full, the display fails to produce anything close to stunning picture quality. In most scenarios, the display quality is just decent and not as impressive as one would expect a 4K panel to be.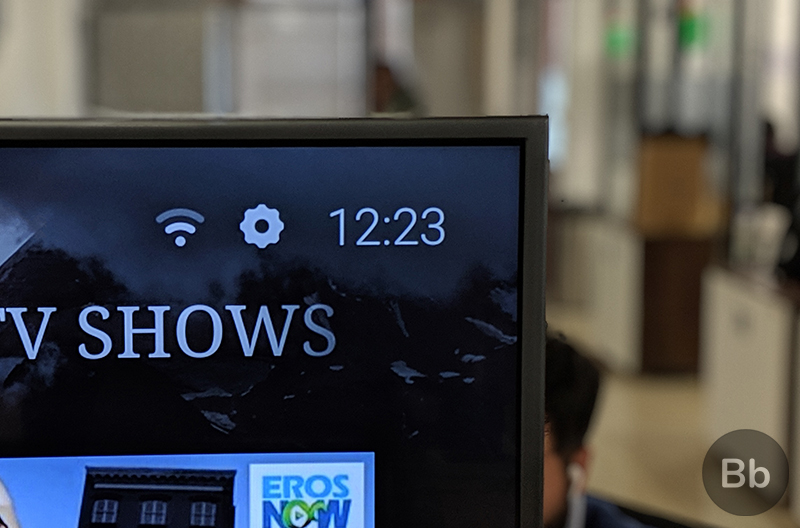 If you're expecting to be surprised by the HDR playback of the Mi LED TV 4X PRO, you will only be disappointed. I, honestly, couldn't figure out any noticeable difference between SDR and HDR content and this is possibly due to the insufficient brightness of the panel. Since it is an LED-backlit panel, there is sufficient dimming of the dark areas on the screen, but not as deep or accurate like in an OLED TV, which suggests that the LEDs for backlight are aligned with the edges and not directly under the panel.
Lastly, what irks me more is that the display is really reflective, so if you're in a well-lit room, the chances of any light source obstructing your view are high.
Mi LED TV 4X PRO Audio
The Mi LED TV 4X PRO features a pair of 10W speakers at the bottom, which relays a sound output of 20W in total. These speakers get sufficiently loud to fill up a big room very easily without any observable crackling. In our office, the sound from the TV could be heard clearly from over 20 feet away. While there's no Dolby support, the loud output makes up for it, and Xiaomi seems to have done a fair job in terms of the quality.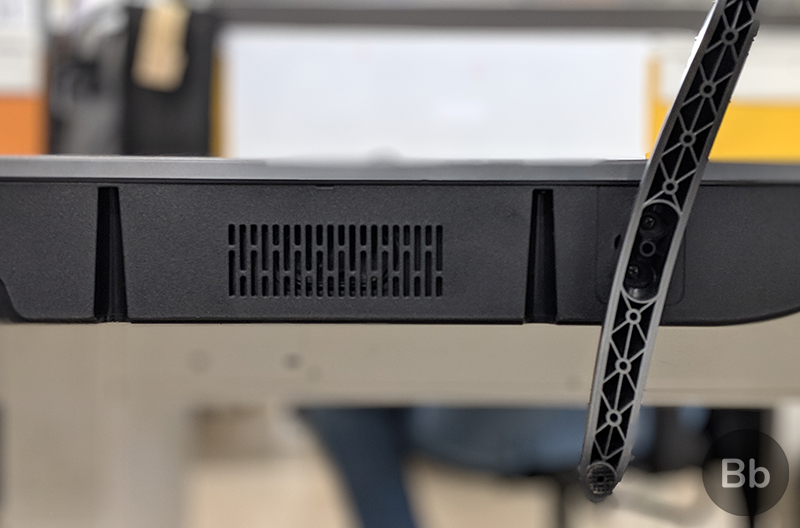 The only two caveats are that the speakers throw the sound downwards and not straight at you, thereby resulting in slightly lower clarity and less immersive feel. Further, since there's no dedicated sub-woofer in the TV, the bass cannot be heard. If you want a bass-forward sound, the best option will be to pair the TV with an external home theater unit or a soundbar such as the one from Xiaomi, which we recently reviewed.
Mi LED TV 4X PRO User Experience
In the past, Xiaomi has received much flak for not supporting the direct installation of Android apps on its TV despite running an indirect version of Android. With the newer generation of TVs, Xiaomi has opened the gates to Google Play Services right out-of-the-box and the Mi LED TV 4X PRO runs two interfaces or launchers parallelly – one is the classic Android TV interface which separates apps in an organized and structured layout, alongside Xiaomi's own Patchwall which curates content from different supported apps like Hungama Music, Sony LIV, Zee5 etc. and shows you a catalog that you can play directly without entering each app separately.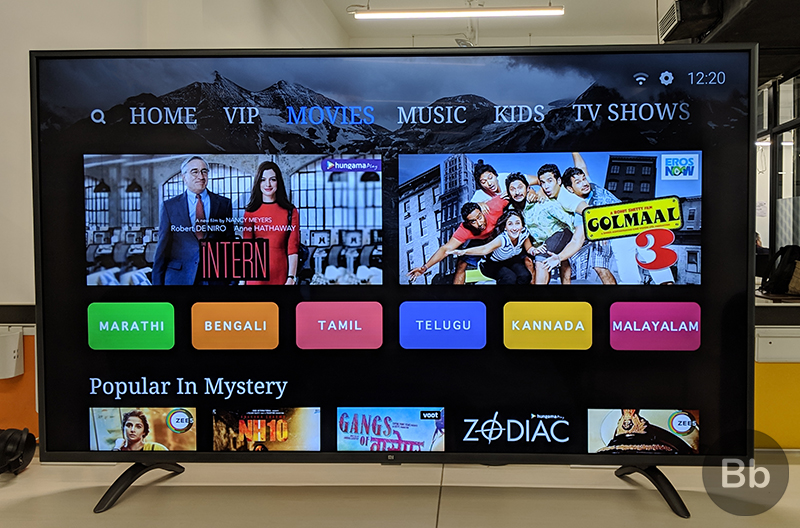 App Support
I personally prefer using the Android TV interface more, simply because it's cleaner and uses a font that does not make me cringe. Further, with the support for Google Play Store, you can install a variety of Android TV apps like Hotstar, Facebook Watch, Vimeo, ESPN, Kodi, VLC Player etc. and even enjoy some games including Hungry Shark and Asphalt 8 on the massive screen – although you might need a keyboard or a gamepad to enjoy these. Furthermore, if the apps are not available directly, you can sideload them using a third-party store called Aptoide TV and this enables you to install apps in tablet mode if their Android TV variant is either not available or not supported.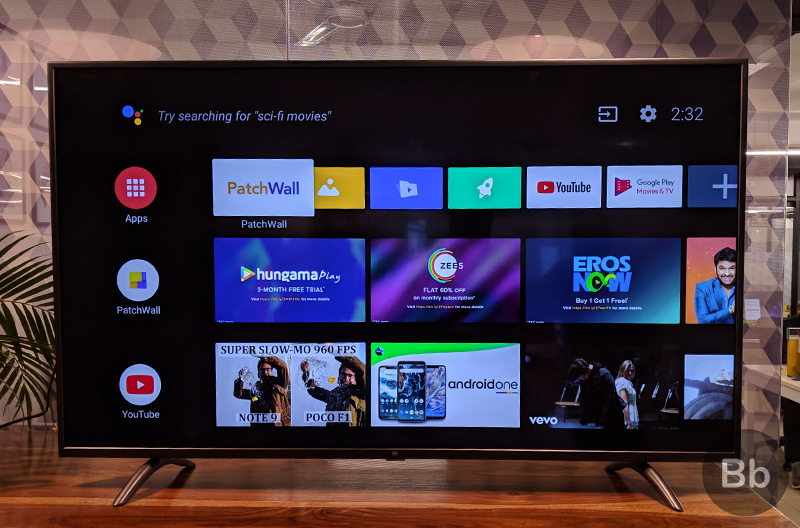 I used Aptoide to install Prime Video, which is not available via Play Store, and the tablet version of Netflix – since the Mi LED TV 4X PRO does not support the Android TV app for Netflix. It lacks Netflix support probably because Xiaomi appears to have opted out of paying the premium for certification, in order to keep the TV's price low.
So for all your binges on Netflix, get ready to use Android tablet version of the app, and you would need a mouse since the app is not optimized to be used with a TV remote. Besides that, despite setting the quality to high, we could not enjoy 4K or HDR content on Netflix.
Google Assistant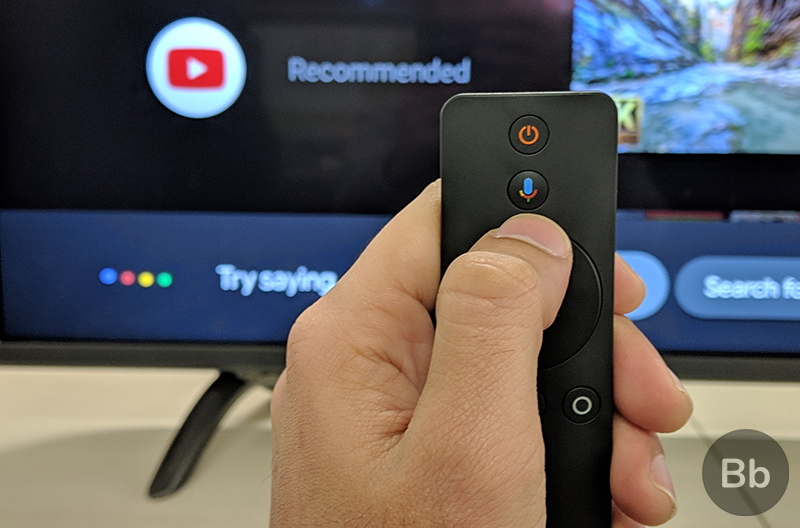 Thanks to the dedicated Google Assistant button, you can activate the virtual assistant and use the inbuilt mic in the remote controller to speak commands. However, as of now, the Assistant's usability is limited to launching apps or performing basic searches on YouTube.
Truly 4K?
While there's a great emphasis on 4K, the TV struggles when running 4K content on services like YouTube, Amazon Prime Video, or Netflix (using the hack). There's a lot of stuttering and screen tearing while playing UHD content. Unless you have 4K content pre-downloaded, the TV won't be of much use. Of course, you can always hook up a Fire TV Stick 4K and play 4K content through the supported apps there, but then that makes the Mi TV just a 4K display.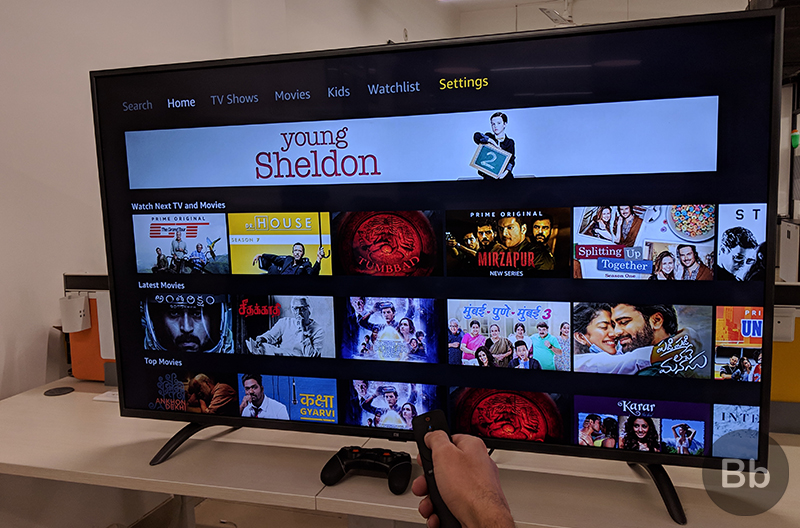 Additionally, the elements in the UI are not very well adapted to the 4K resolution and one can see a lot of blurring, which is likely to bog down your experience if you're particular about nuances like these. I personally did not enjoy playing around the UI as well as the animations, even though there wasn't that much to complain.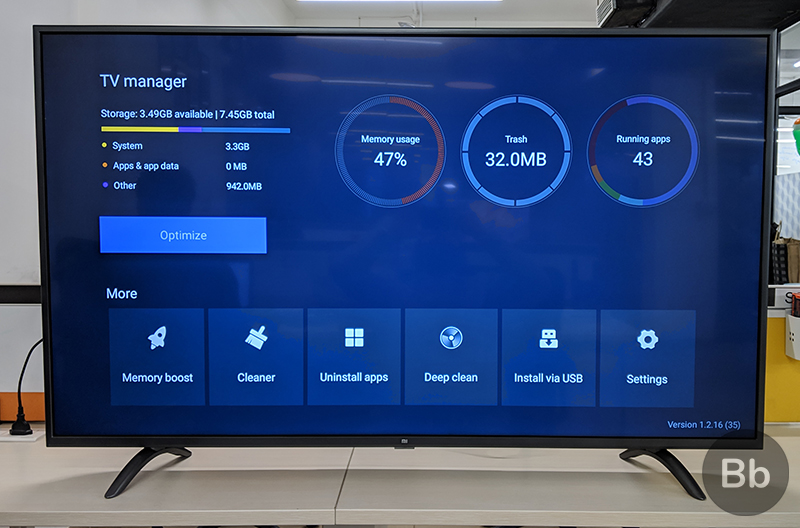 Overall, while the Android UI is a step ahead of the earlier Patchwall, proper support for apps, especially Netflix, will actually be appreciated. Apart from that, I faced no issues, and the experience was good  – if not specifically great – and you should be able to get used to it, even if you have no experience of using smart TVs.
Mi LED TV 4X PRO Connectivity
In terms of connectivity, the Mi LED TV 4X PRO isn't very well endowed but features some basic input options including three HDMI ports, two USBs, RCA input, an SPDIF jack, and a TV antenna port. Besides these ports, you get dual-band Wi-Fi which guarantees seamless wireless connectivity, although the Ethernet port ensures that you can enjoy lag-free internet access if you are okay with a wired connection.
Apart from that, the TV supports Bluetooth 4.2 which is also used to connect with the remote control alongside Bluetooth headphones, speakers, or the official Mi Soundbar. Lastly, there's inbuilt support for Chromecast so that you can cast from smartphones or Chrome directly onto the TV. Sadly, this doesn't work while casting Netflix.
Remote Controller
Coming to the remote controller which accompanies the Mi LED TV 4X PRO, it is fairly compact and tactile. As mentioned above, the Mi LED TV remote pairs with the TV over Bluetooth. It has a fairly simple layout, with a power button at the top-most, a dedicated Google Assistant button, direction pad with a selection button in the center, a volume up and down button, a back button, and dedicated keys for the Android home interface as well Xiaomi's Patchwall UI. Xiaomi's decision of omitting the numpad can be appreciated, as it results in a light and minimal remote – although I wish it supported the ability to be used as an air mouse.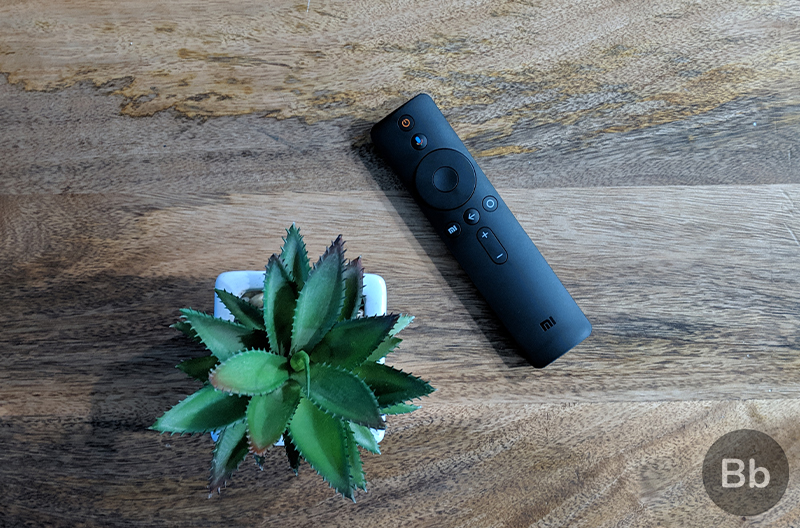 The mic on the top of the remote will also help you in voice searches if you wish to avoid typing one button at a time on the on-screen keyboard. It is not always accurate and does not recognize the commands correctly all the time, but it does the job, more or less.
Mi LED TV 4X PRO: Pros and Cons
The Mi LED TV 4X PRO is surely an intriguing proposition given its large screen and the promise of 4K and while it may feel seem like a useful product, it lacks in certain areas. Here's a rundown of the advantages and disadvantages of buying the colossal Mi LED TV.
Pros
Thin bezels
Great value for 4K
Android TV interface
Sufficiently loud and clear speakers
Basic connectivity options including LAN port
Google Assistant and voice control built-in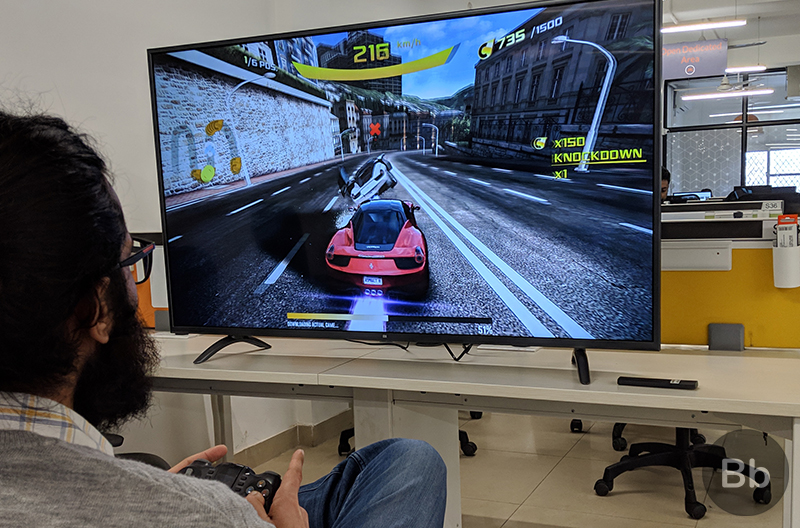 Cons
Bad build quality
Average picture quality
No direct Netflix or Amazon Prime support
Speakers lack bass
Gimmicky HDR support
UI not optimized for 4K
Mi LED TV 4X PRO: Leaves You Unsatisfied
The Mi LED TV 4X PRO is, by all means, a delightful product, with its ability to accomplish almost everything a basic Android TV can offer. However, both in terms of the hardware and the software, there are some loose edges, owing to the middling build quality and improper app support, especially in the case of Netflix. Besides that, the picture quality is far from impressive considering it is a 4K panel.
If good picture quality, surround sound audio and long-lasting build are things on the top of your wishlist for the next smart TV, you should skip this 55-inch unit and grab a smaller TV from another more established brand with proper support for the leading apps. Or, you could check out the 4K Android TV from TCL's iFFALCON (Rs 38,999) or the Android-certified 4K TV from Vu (Rs 44,999) for better sound and a truer Android experience.
It could fit your needs if you want the massive screen for a large family or for a big room for general TV viewing and already have a soundbar or speaker system. The TV will serve you with basic Android apps and games, and let you enjoy your favorite shows or movies in 4K offline as streaming UHD content can be a painful experience. The Mi LED TV 4X PRO can be a great option for you as it brings good value for money, it's a shame it won't satisfy those looking for great picture quality as well.
Buy Mi LED TV 4X PRO on Mi India starting Feb 1st (Rs 39,999)
---
Load More