Xiaomi's onslaught on the Indian smart TV industry, which kicked off earlier last year, has proved to be a runaway success. The Mi TV lineup has only grown over the course of 2018 to help Xiaomi build a strong foothold over the home entertainment market. Well, the Chinese giant is now looking to enhance your TV viewing experience with the launch of their Mi Soundbar (Rs 4,999) in India and that too at a pretty tantalizing price tag.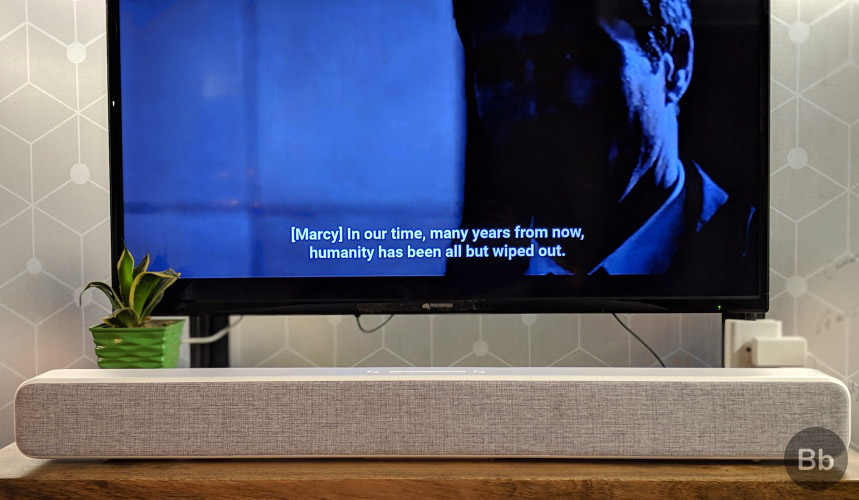 Xiaomi sent over the huge Mi Soundbar to us for a review, and I have been using it over the past week. So, here's how my experience with Xiaomi's Mi Soundbar has been so far:
Mi Soundbar: Specifications
Calling the Mi Soundbar huge isn't an understatement, it is 33 inches in length and holds eight speakers, but it's still quite lightweight and weighs just under 2 kilograms. If you want to delve into the specifics of the speaker setup, well, Xiaomi has packed two 0.75-inch dome tweeters and two 2.5-inch woofers to bring the crisp audio experience to the table. This is coupled with four passive radiators that help boost the bass – which is a prime selling point for the Mi Soundbar. You can check some key specifications listed below:
| | |
| --- | --- |
| Dimensions | 83 x 7.2 x 8.7 cm |
| Weight | 1.9 kgs |
| Speakers | two 65mm woofer units + two 20mm dome tweeters + four passive radiators |
| Input Power | > 14W X 2 @1 kHz |
| Connectivity Options | 3.5 mm stereo AUX, fiber optic, coaxial S/PDIF, red and white line-in, and Bluetooth 4.2 |
Mi Soundbar: What's in the Box
Xiaomi's Mi Soundbar comes packed inside a brown cardboard box similar to its Mi TVs. You'll get the following stuff in the Mi Soundbar box:
Mi Soundbar (you cannot miss this one)
Power adapter
User manuals
S/PDIF cable
Wall mounting accessories
The Mi Soundbar has a number of connectivity options and I would have much preferred if Xiaomi provided a 3.5mm AUX or optical cable in the box over the S/PDIF one.
Mi Soundbar: Design and Build
The Mi Soundbar is no different from several other Xiaomi products we have seen in the recent past. The classy design and minimal aesthetic of the Mi Soundbar, should make it attractive to the masses.
The Mi Soundbar is a massive cuboid, and comes only in white (for the plastic body with a matte finish) with a grey fabric mesh on the front to cover the speaker unit. There's a subtle "Mi" branding on the top right of the soundbar and I like that.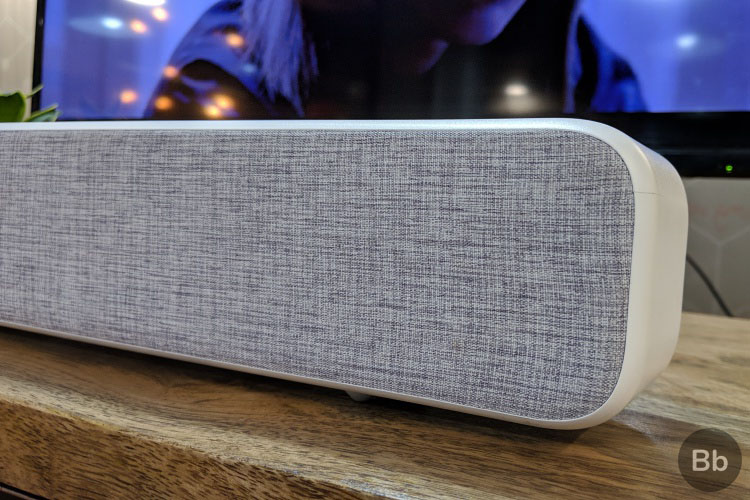 This color combo makes it look sophisticated, and I kind of like it, but it also makes me wary of handling the Mi Soundbar. It catches dust and grease pretty easily and that could ruin its look, which is why I'd have loved it if Xiaomi had a black variant of the soundbar as well.
The buttons to switch between all available connectivity choices, along with the volume controls, are neatly placed at the top. It's handy and functional (and the buttons sure are clicky) but there's no way to see the volume level, which could have been fixed with a display. You have to keep pressing the buttons until you feel you cannot go down or up any further.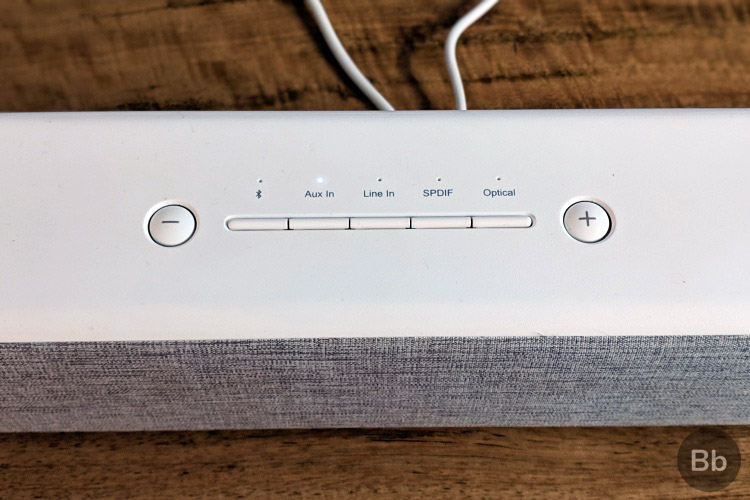 If not a display, Xiaomi could have at least provided a remote with the soundbar to allow users to adjust the volume from the comfort of their sofa set or bed. It's one of the key ingredients missing from the recipe here and many of its competitors do have an edge here.
Xiaomi has also kept the weight of the Mi Soundbar in check and it weighs just 1.9 kilograms but doesn't feel like it when picked up. The weight distribution appears to be fairly even and everyone who checked out the Mi Soundbar was impressed with this one fact – in addition to the sound, which we'll talk about in a bit.
The Mi Soundbar can be installed in 2 different forms under your television set. You can either choose to just connect the power and input cables and then place the soundbar below your TV on a table,  or mount it on the wall – great if your TV is also mounted. Xiaomi even provides the accessories — screws and screw mounts — required to mount the Mi Soundbar within the box but you'd have to do the heavy lifting yourself.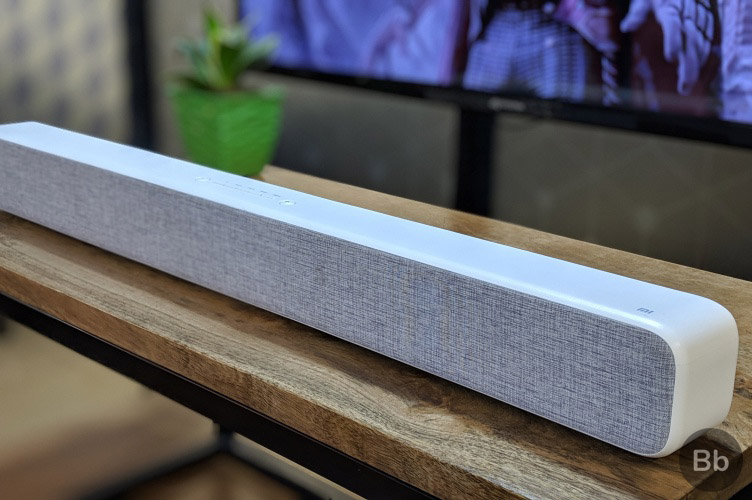 If you decide to place the Mi Soundbar on a table top, the body will rest on three sturdy rubber feet which can be found at the bottom – two near the ends, and one sitting in the middle. They will not only keep your Mi Soundbar from directly touching the table but also makes it skid-proof and absorb the vibration from the speakers.
Overall, the build quality of the Mi Soundbar is pretty good and I don't really have any major qualms with it — except the lack of the remote which would have solved a number of issues here.
Mi Soundbar: Connectivity
Xiaomi offers you a number of different options to connect the Mi Soundbar to your TVs, laptop or smartphone. Firstly, you can obviously turn to Bluetooth to connect any of the devices to the soundbar but the audio output won't really be the best, well, because wireless audio streaming is still not there yet. It supports A2DP music playback, which is sweet, however, still not as good as its wired alternatives.
The wired options include the familiar 3.5mm AUX port, the red and white Line-in ports, a black S/PDIF (co-ax) port, followed by the optical port. It means you're not going to face any issues when connecting to your Mi TV as it has all of these ports. However, I was using the Mi Soundbar with one of the smart TVs at the Beebom office and it worked perfectly fine in my case.
The ports are arranged neatly on the rear, with buttons to switch between them laid out on top. These connectivity options can be switched between pretty quickly and easily, with just the press of a button. An LED indicator above the button tells you which source is playing. It requires you to have the necessary cable attached to the soundbar (which you might need to buy yourself) to get the output. You'll have to flip the rocker switch to turn on the soundbar once you've connected it to the power source.
While all this sound perfect, I know, the Mi Soundbar lacks a few of the most important ports in today's age. It lacks the HDMI input and USB ports to round off the connectivity options and that's a huge shortcoming. It would have made it easier to connect to a lot more devices or simply plugging in a USB drive to play songs directly.
However, I won't be too harsh on Xiaomi for the lack of these connectivity options because the company is giving users access a great audio experience at a pretty reasonable price.
Mi Soundbar: Audio Quality
We already know what's packed inside the Mi Soundbar, so let's get down straight to the meat and gravy of this product – the audio quality. Xiaomi promises that the soundbar is designed to deliver a "thrilling cinematic" experience and well, I was astounded to see it make good on this promise the moment I plugged it into my MacBook Air. Yeah, it was my first taste of using a soundbar and I kicked off the testing with my daily drivers before moving to a smart TV.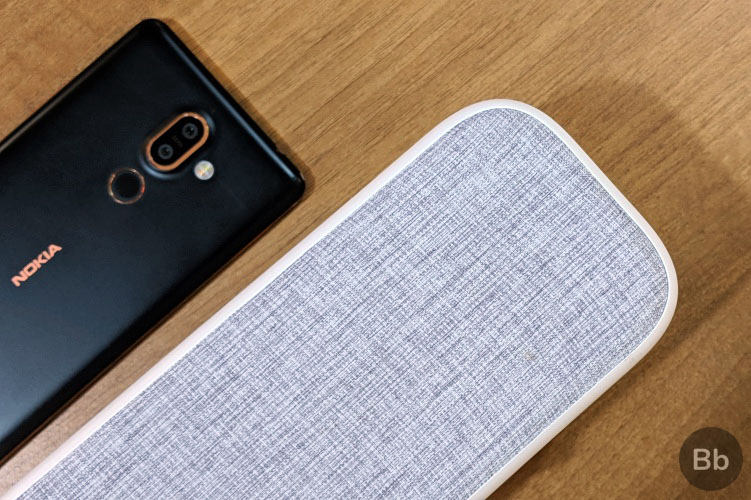 Well, let me preface my experience by saying that you're not going to be impressed with the Mi Soundbar in this scenario. While the soundbar gets loud and has a ton of treble and bass that a lot of people may approve of and like, but I have to warn you that the soundstage isn't well-balanced in this case.
The enhanced bass, as Xiaomi terms it, clearly takes control and this subdues the vocal performance and low frequencies in the process. There will certainly be times, such as during songs like Steven's Crossfire, when the bass would be so overpowering that you won't really catch the vocals and it's distracting. Otherwise, the clean bass and treble are something EMD enthusiasts will appreciate with the Mi Soundbar.
While the music listening experience isn't particularly great here, you can't overlook the movie and TV season-viewing aspect of the Mi Soundbar.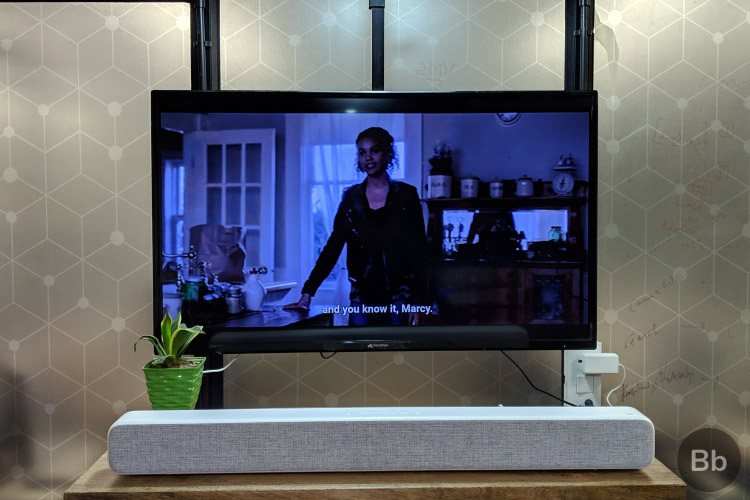 Over the past weekend, I spent all my time in bed binge-watching a new sci-fi mystery show called Travelers on Netflix. I realized that the true purpose of Mi Soundbar is to make it possible for you to appreciate your favorite movies and TV shows with a fuller and cinematic audio experience. The soundstage is pretty well-balanced here and one can not just distinctly hear the dialogues clearly, but also the sound effects with heavy bass, as well as higher frequencies. Movies sound fantastic on the soundbar. .
Also, I have a medium-sized room at home and the Mi Soundbar was loud enough to give me an improved viewing experience as compared to just using the TV's speakers. Placing the soundbar on a table under the TV was satisfactory in my case and also, I did notice that the rubber feet here are strong enough to hold the soundbar in place.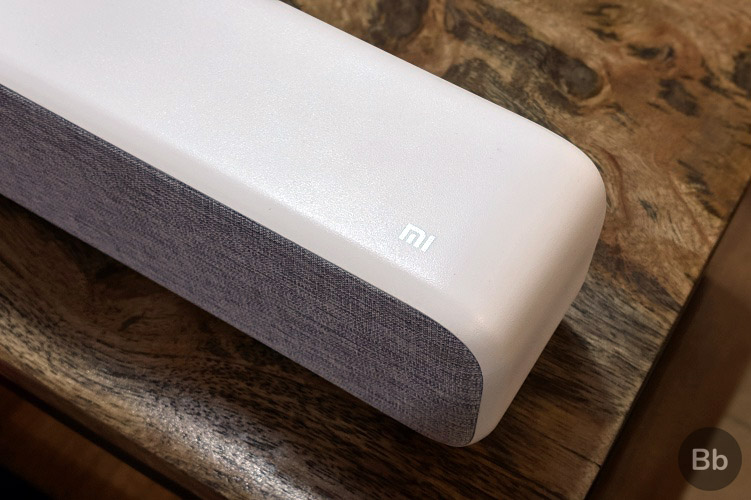 Xiaomi has certainly put in much effort to tune the sound of the Mi Soundbar for a better home entertainment experience and while it seems to work for binge-watching movies, it all boils down to preference when listening to music.
Mi Soundbar: Should You Buy One?
Finally, let us answer the one question that you're here for, and it's whether you should get Mi Soundbar for your home or not. Well, Xiaomi has designed a soundbar that extends a well-balanced and full output for binge-watching movies on Netflix or listening to music when you come home after yet another tough day at work. And if you're a bass lover, well, your day will be made. So, Xiaomi has probably added another feather to its overflowing hat with the launch of Mi Soundbar in India and I think it justifies the Rs 4,999 price tag pretty well.
There may be a few chinks in its armor such as the lack of a remote or a few I/O ports, however, the sound quality makes up for these imperfections.
Mi Soundbar is perhaps one of the better options available on the market in its price range and there's no denying it. But, there's a possibility that you want to use a remote. Well, in that case, you can get the F&D T180X 2.0 TV Soundbar (Rs 5,490) which should offer you a similar soundstage due to its 3-inch drivers and 1-inch tweeters. You can also pick the Philips DSP-475 U Soundbar and subwoofer combo (Rs 4,500) if you want to add that extra thump to your experience.
PROS:
Elegant aesthetics
Lightweight body
Powerful bass and treble
Amazing sound for movies and TV
CONS:
No Remote Control
Lacks few I/O ports
Not great for just music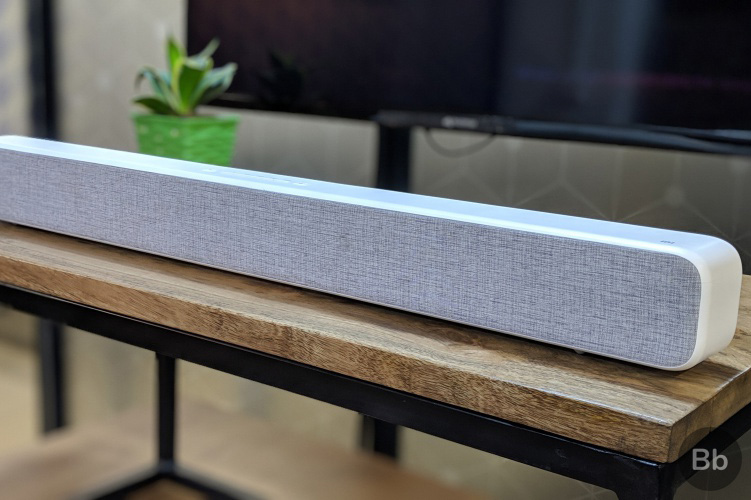 SEE ALSO: Xiaomi Poco F1 Review: Flagship of the Masses!
Xiaomi Mi SoundBar Review: Cinematic Sound At a Bargain
After smartphones, Xiaomi now strives to dominate the home entertainment market and the Mi Soundbar is the perfect addition to their enormous portfolio in India. It serves as a perfect companion to their Mi TV lineup, that has been selling really well, and brings a lot of value to your viewing experience. It's sleek, light and more importantly, affordable, to make you want to pull out your wallet and buy one almost immediately.
Well, are you interested in buying the Mi Soundbar? If not, why and what other option do you have in mind? Let us know in the comments down below.
REVIEW OVERVIEW

SUMMARY

Xiaomi is fishing for gold in the home entertainment market in India and while the Mi TVs have already given it enough credibility, it wants to up the ante with its Mi Soundbar. The soundbar offers a well-balanced output for binge-watching movies and TV shows. Though it may be slightly lackluster for music listening, it certainly has the potential to be the perfect companion for your smart TV.