Gaming notebooks have been getting better day by day, with the advancements in technology bringing their performance at a match to gaming PCs. While most manufacturers aim to create a slim and ultra-portable gaming laptop, there are some out there that just aim to be the perfect gaming desktop replacement. One of the oldest names in the gaming scene, Alienware, has brought out a refreshment for its highly successful laptops, the Alienware 15 R3 (2017).
Powered by Intel's i7 unlocked processor and 32 gigs of RAM, the laptop is darn powerful and screams of beastly capabilities. That being said, coming at a price tag of Rs. 2,63,990, it is priced higher than some of its competition. As such, is the laptop capable of living up to the fame of Alienware and being the best in the gaming business? Let's find out, as we take an in-depth look at the Alienware 15 R3:
Alienware 15 R3 Specs
Before starting off with the actual review of the device, how about we discuss the kind of horsepower that the Alienware 15 R3 comes with. The Alienware 15 R3 packs in a 7th-gen i7 processor, coupled with 32GB of DDR4 RAM. There's 1TB of SSD storage for super fast read/write speeds along with an extra 1TB of HDD storage. The display has a refresh rate of 120Hz with support for Nvidia's G-Sync technology. Below is the detailed list of the hardware powering the Alienware 15 R3:
| | |
| --- | --- |
| Dimensions | 25.4mm x 389mm x 305mm |
| Processor | Intel® Core™ i7-7820HK (Quad-Core, 8MB Cache, Overclocking up to 4.4GHz) |
| Memory | 32GB DDR4 at 2400MHz (2x16GB) |
| Storage | 1TB SSD + 1TB HDD |
| Display | 15.6 inch FHD (1920 x 1080) 120Hz TN+WVA Anti-Glare 400-nits NVIDIA G-SYNC Enabled Display |
| Graphics | NVIDIA® GeForce® GTX 1080 with 8GB GDDR5X (with Max Q Design technology) |
| Wireless | Killer 1550 802.11ac 2x2 WiFi and Bluetooth 5.0 |
| Ports | 2x USB 3.0, 1x USB 3.1 Type-C, 1x Thunderbolt 3, 1x HDMI 2.0 Output, 1x Alienware Graphics Amplifier, 1x Mini-Display Port |
| Weight | 3.49 kg |
| Operating System | Windows 10 Home Plus Single Language, English |
| Battery | 99 Wh |
Now that we've got that out of the way, let us get into the actual review of the device.
Design and Build Quality
Okay, so I've been an Alienware fanboy since the early stages. I loved the design that was there on the older gen Alienware laptops, that screamed of beastliness. As such, I was kind of disappointed at first with the design on the Alienware 15 R3. That being said, once I moved past my love for the previous designs, I was able to appreciate the new design language for what it is – subtle yet powerful.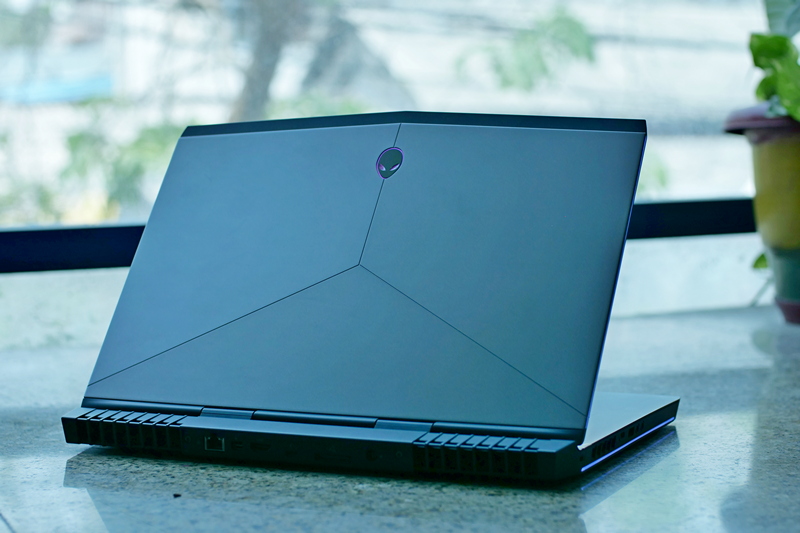 The Alienware 15 R3 features a super premium chassis made of anodized aluminum along with magnesium alloy. Yes, it does add on to the bulk of it, making the device weigh approximately 3.5kgs, but then again, the Alienware laptops are meant for proper desktop replacement and not portability. Thanks to the high quality of materials used, the 15-inch system features excellent stability that surpasses most competitors. In fact, it is one of the rare laptops that I've used that I was able to open the lid off with just one hand.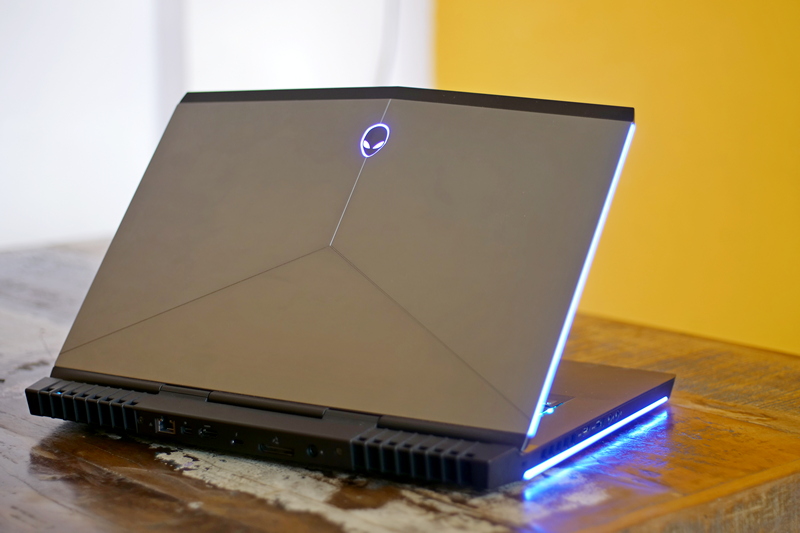 The thickness of the device is what makes it quite bulky. Alienware claims that the chassis is designed in such a way to facilitate better cooling, which I'll get to later on in this review. Nonetheless, the RGB lights on the sides do give a fancy feeling and being a gamer myself, I'd any day have the RGB lights instead of a slimmer chassis because that's just the way we are.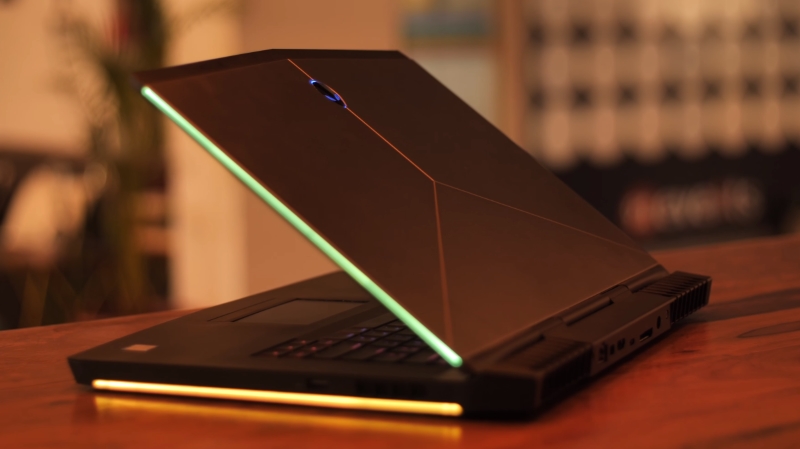 Speaking of lights, the Alienware 15 R3 is literally the personification of RGB-Everything. Apart from the sides, there is illumination underneath each key, the Alienware text logo, the Alien logo on both the front and back, and also the touchpad. Yes, the frickking touchpad! And boy does it all look beautiful when its all lit up.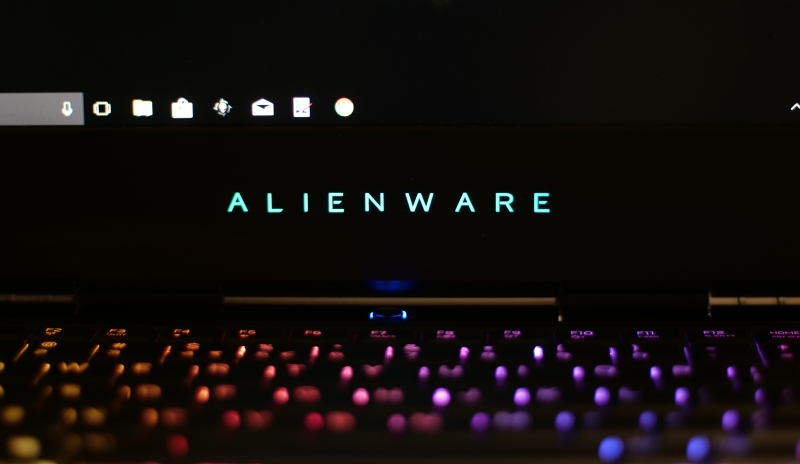 The surface of the laptop is made up of rubberized palm rests, which, although are comfortable to use, are also bound to get dirty quite fast. And in my experience, I've found it super hard to actually clean this thing off, with all the oil marks and sweat, causing a sort of discoloration.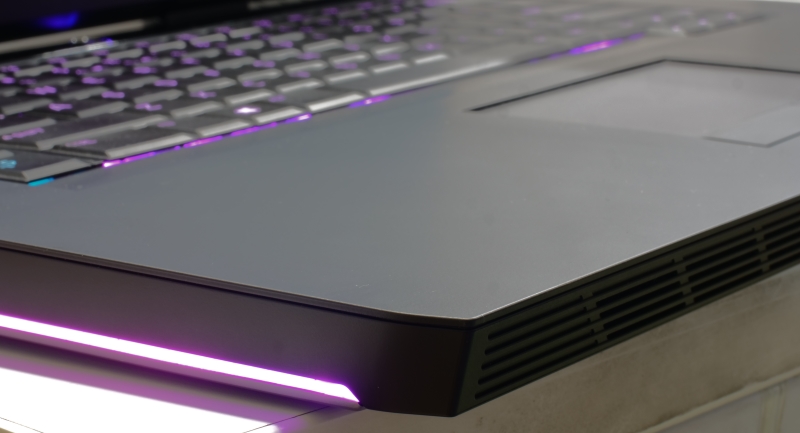 The frame around the display screams bezels, and while it does come with its own advantages of providing a secure build quality, in the year 2018, it is hard to justify such big bezels. That being said, a proper game won't really notice the difference that much, considering they'll be too engrossed in the game. Also, speaking of the panel, the hinge on this thing is pretty sturdy too. It's actually pretty well build and even allows the laptop's screen to go all the way back to a 180-degrees.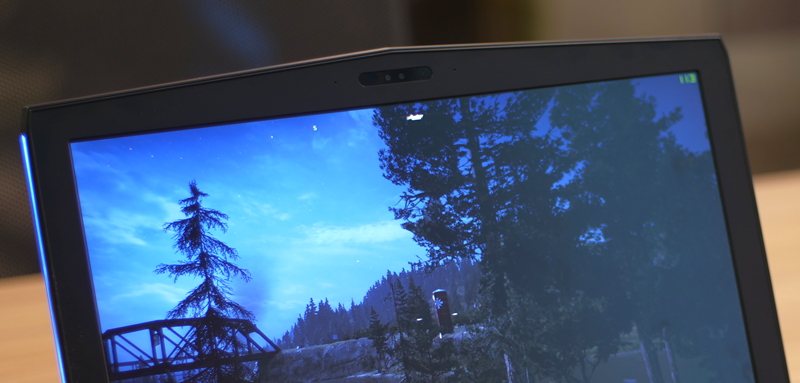 All in all, the design and build quality of the Alienware 15 R3 is top-notch. It might have a premium price tag associated with it, but for starters, the build quality is certainly able to live up to the expectations.
Ports and Connectivity
Gamers love ports, and the Alienware 15 R3 is not one to become a hindrance. The Alienware 15 offers almost all the necessary ports but manages to miss out on just one, which is kind of absurd.
On the left side of the device, you get a noble lock port followed by an exhaust. It is further followed by a USB 3.0 Type-C port, a USB 3.0 Type-A port, and a microphone and headphone jack.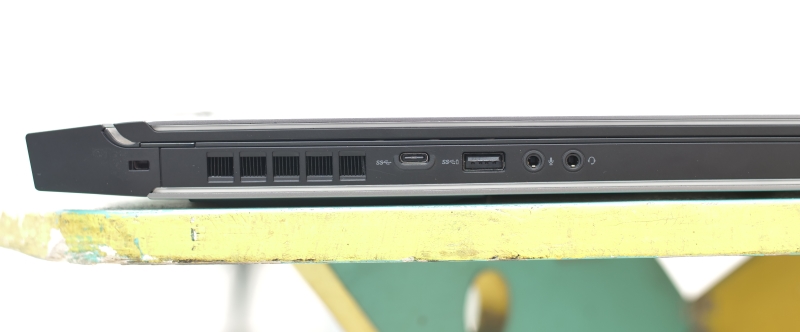 On the right side, there's just a single USB 3.0 Type-A port, which is understandable, considering you'd have your mouse on that side. As such, you'd want as minimal peripherals on that side as possible.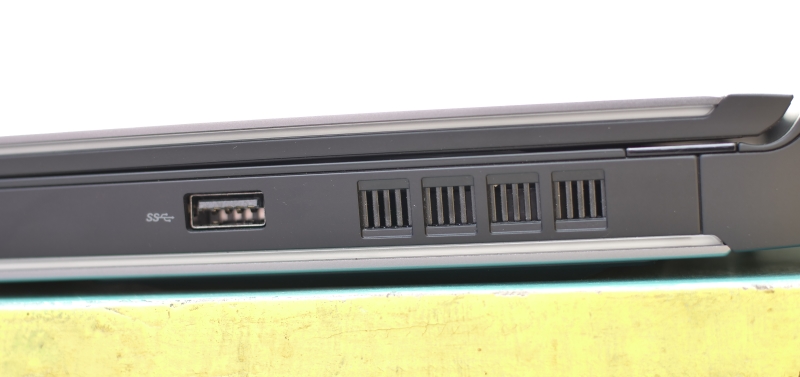 The rear side of the device is where things get interesting. The back side houses the RJ45-LAN port, a Mini-DisplayPort 1.2 port, an HDMI 2.0 port, a Thunderbolt 3 port, Alienware's own Graphics Amplifier port, and a power port.

As far as connectivity is concerned, the Alienware 15 R3 makes use of the Gigabit Ethernet Chip Killer E2400 and the wireless module Killer 1550 (WLAN 802.11ac 2×2 WiFi and Bluetooth 5.0), both which are supposed to be optimized for gamers. These can further be fine-tuned with the help of the powerful Killer software, to get lower ping rates and experience less lag while gaming online.
While the Alienware 15 R3 offers almost everything you'd expect from a premium device, one thing that really disappoints me is the lack of an SD card reader. I can understand the dropping of an optical drive, considering that most users are moving on to digital marketplaces such as Steam and Origin. But an SD Card slot is pretty much a standard expectation from any laptop, and the Alienware 15 R3 really disappoints on that front.
The Alienware 15 offers everything that you could ask for, especially from a gamer's point of view, and then some.
Display
While most users usually go for the hardware specs hoping for a great gaming experience, the real gamers know the importance of a good display panel. Considering that the display panel is your way into the game, its quality cannot be neglected. Thankfully, the Alienware 15 R3 comes with a premium display panel, that should satisfy just about every gamer out there.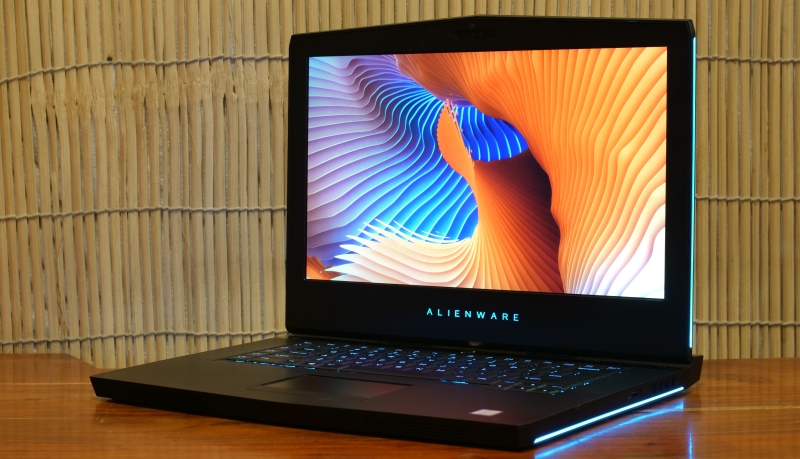 I'll get the negatives out of the way first, considering there are only a couple of them. First off, the display offers only a 65% Adobe RGB value, which might seem low to some users. Additionally, there is a matte finish on the panel, which means while it is useful for outdoor usage, the colors won't seem as popping as they do on a glossy panel. Now then, let's discuss the positives, shall we?
Displays offering a 60 Hz refresh rate have become pretty much standard, that literally every panel offers it. However, now we are seeing more and more panels with higher refresh rates. The Alienware 15 R3 is not one to stay behind and comes equipped with a fast 120 Hz display. What's more is that the panel is actually backed with support for Nvidia's G-Sync technology, which means lower screen tearing and higher frame rates.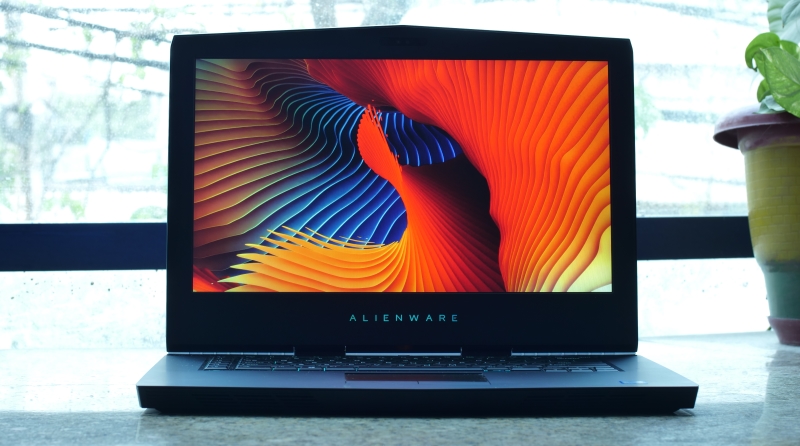 The Alienware 15 R3 makes use of an AUO51ED panel and offers a great response time. While many notebooks need more than 20 ms for a black-to-black switch and more than 30 ms for gray-to-gray, the Alienware 15 R3 manages a fast 12 and 25 ms, respectively. Also, while the panel may lag in the Adobe RGB department, it manages to sport a 90% sRGB value, which isn't just great but also puts it ahead of its competition.
Like I said, the matte finish with an anti-glare finish should aid you in outdoor usage. But apart from that, the panel itself exhibits a high brightness value of 400 nits on average and a 93% brightness distribution. Additionally, the color contrast of 990:1 along with a black value of 0.39 cd/m² is again something that the laptop's display should be applauded for.
While the bezels may make the device look, well, non-2018, the panel itself is futuristic, and justifies the sturdy bezels, since you wouldn't want something happening to this stunning and powerful display.
Keyboard
I am a gamer, but I'm a writer as well, and truth be told, the keyboard on the Alienware 15 R3 should appeal to users of both kinds. There is the lack of the numpad which does leave room for complaints, but apart from that, there is practically nothing wrong with the keyboard on this machine.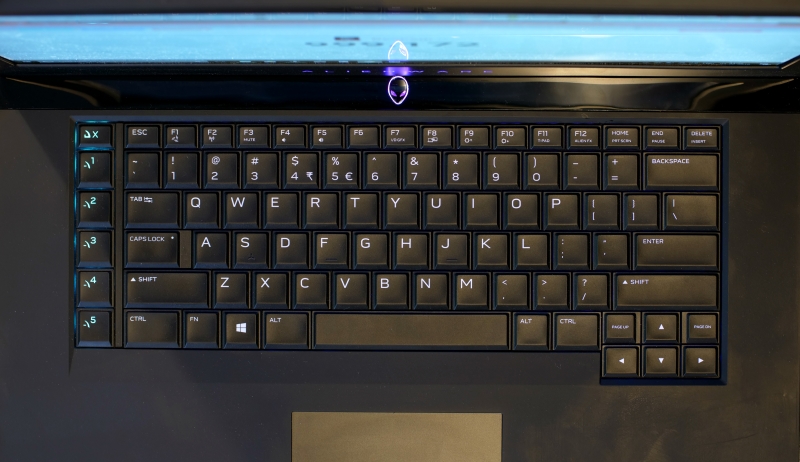 The keyboard features matte-black, closely arranged and slightly rubberized keys which provide a typing experience like no other. There is no chicklet design here, which is something I admire, considering the fact that game on those switches is a nightmare. The keys themselves are soft but still manage to provide a decent amount of key travel. The lack of the numpad has also allowed Dell to provide better spacing between the keys, allowing you to use the keyboard comfortably. Yes, there is still space for a numpad on the laptop, but I wouldn't really make a big fuss about it.
What I personally did not like was the overall positioning of the keyboard. No, I don't mean the layout, for that is absolutely fantastic. What I mean is how the keyboard in itself is positioned on the chassis of the Alienware 15 R3. It is not in the center, and one can easily mistake the Macro keys for the first column of the normal keyboard. Furthermore, it is located a little too much at the top, and while I could easily use it (all credit to my large hands), others in the office such as Akshay did find it a tedious task.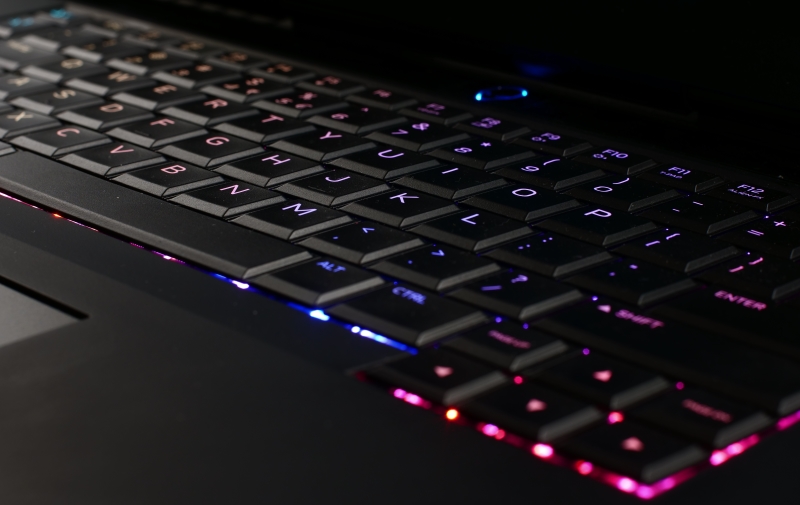 That being said, it is nothing that you can't get used to. In fact, this entire review has been written on this laptop only. Also, the illuminations are something that I find hard to get over, they're just too good. Thanks to the AlienFX installed on this device, there are hardly any limitations in terms of illumination, with four zones, dozens of colors, profiles, and modes.
Touchpad
So I've already discussed the fact that the touchpad is also one of those things that lights up. But apart from that, what else is there to this touchpad? Well, for starters, I can tell you that this premium laptop does not come with Precision Drivers.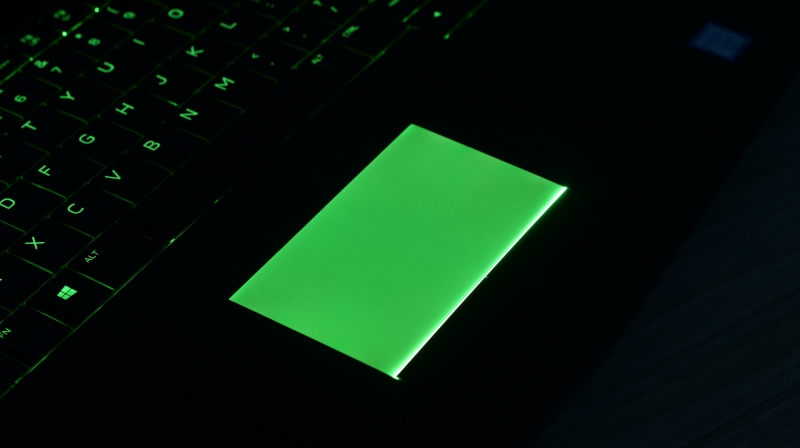 Yes, even I was kind of taken aback by that. But then again, thanks to Dell's own drivers, all the possible gestures are still supported by the touchpad. This also gives me the opportunity to point out that this is not the first laptop that I've tested that uses a touchpad which can exhibit all the gestures but does not come with Precision Drivers. Often, the case with these touchpads is that they end up being lesser responsive, and honestly, not that good.
Fortunately though, such was not the case with the Alienware 15 R3. The laptop's touchpad is one of the best that I've used, and despite knowing the fact that gamers are bound to be using an external mouse, Dell hasn't really compromised on the touchpad front. The dedicated left and right click buttons are also great and provide a nice haptic feedback which is always great.
Audio
The Dell Alienware 15 R3 comes with a 2.0 Speaker configuration, which is absolutely amazing. The speakers are loud and are well optimized as well. Located in the front of the chassis, the speakers almost merge into the design and look quite elegant as well. But apart from the looks, they are also a powerhouse.
The dual firing speakers offer volume levels that are way higher than most laptops out there. And thanks to the Alienware Sound Center, you can effectively tune literally every aspect of the audio quality. Based on Gaming or Media consumption, the software assists you in every way possible to get the best audio experience possible.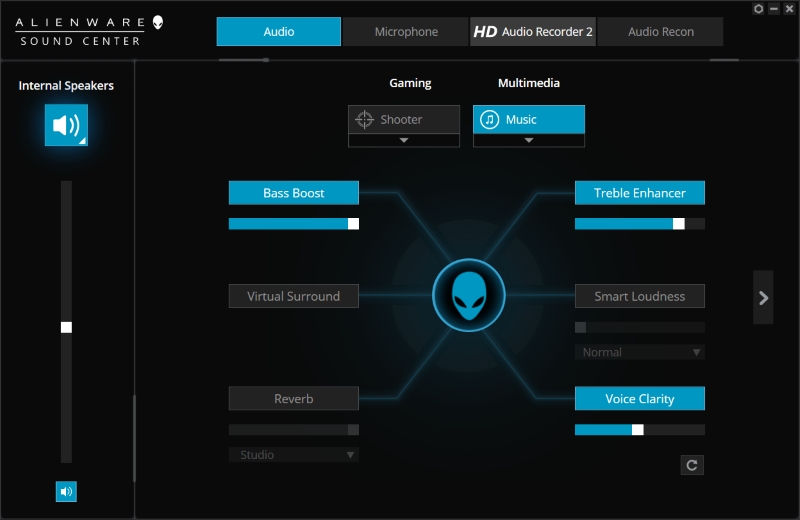 Yes, serious gamers are anyway going to be using their 7.1 audio headsets, another thing that the Alienware 15 R3 supports. But apart from that, it is nice to see that Dell hasn't really compromised on the actual speakers up front as well, providing an immersive experience, that most other gaming laptops don't.
Camera
Considering the targetted audience of gamers, the camera plays a crucial role in determining the overall user experience of the device. With hardware like a GTX 1080 onboard, the Alienware 15 R3 is meant for streamers, and they would obviously want the camera to be good. That being said, the camera performance isn't nearly as good as one would expect it to be.
Equipped with the Tobii Eye Tracking software, the Alienware 15 R3 packs in an HD+IR presence detection camera which is also compatible with Windows Hello. Now, while the camera works quite fast for unlocking the device, the actual image quality is disappointing, to say the least. The images are too grainy, and there is a high amount of noise. Honestly, I can't even recommend the camera for your standard video calls, it is that bad.
If you're a streamer, you'll have to buy a propietary webcam for your laptop. The one on the Alienware 15 R3 is a big no.
Alienware's Bundled Software/Bloatware
Alienware is, after all, a laptop that comes from Dell, so there was bound to be a lot of pre-installed software on the device. That being said, I am so glad to say that it isn't bloatware. Almost every software here has a designated role and one that it performs outrightly well. Be it the AlienFX or the Alienware Sound Center, the company has bundled some great software into the laptop, leaving little for the user to complain about.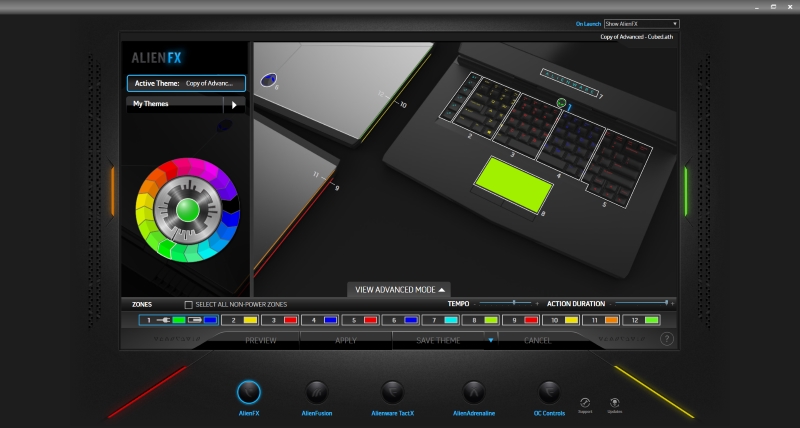 The Alienware 15 R3 comes with a copy of Windows 10 Home along with a copy of Microsoft Office 365. Obviously, you'd have to purchase a subscription for extended use, but depending upon your preferences, you might either like or dislike the inclusion of Office 365 as opposed to a copy of MS Office 2016.
Performance
The performance on this thing is absolutely mind-blowing. It goes without saying that the laptop can easily handle your basic tasks with ease. The Alienware 15 R3 fairs pretty well when it comes to handling normal tasks such as web browsing, watching a movie, working with office documents and more, which basically combines the core of my work usage, for which the Alienware 15 was pretty good.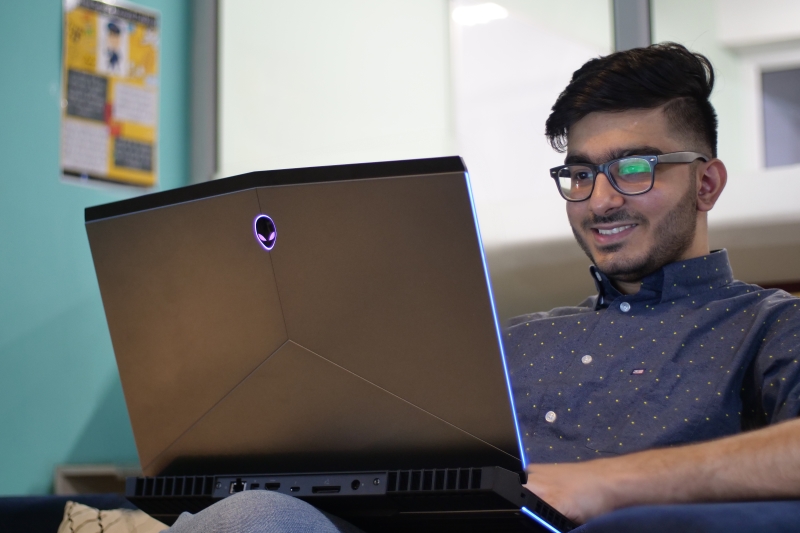 Even when you move on to higher processes such as Adobe Photoshop and Premiere Pro, the laptop doesn't break a sweat. The device was able to render a full-fletched 4K video that you see on your YouTube channel in under 55 minutes, which is pretty good.
I know many of you out there fancy owning an Alienware laptop for your video editing tasks, and truth be told, you won't be disappointed with the performance of the Alien.
Gaming Performance
Packing in an Intel Core i7-7820HK processor with 32GB DDR4 RAM at 2400MHz and a full-fletched NVIDIA GeForce GTX 1080 with 8GB GDDR5X (with Max Q Design technology), the Alienware 15 R3 already sounds like a beast on paper. In games, it manages to live up to the hype as well.
In all of my tests, I ran the games at 1920×1080 resolution and maxed out graphics quality, running settings labeled as Very High, Ultra, Extreme etc. And honestly, the results were just amazing.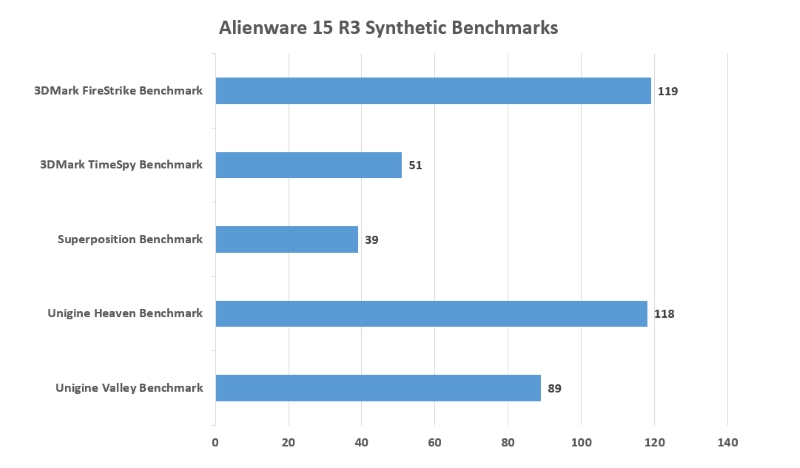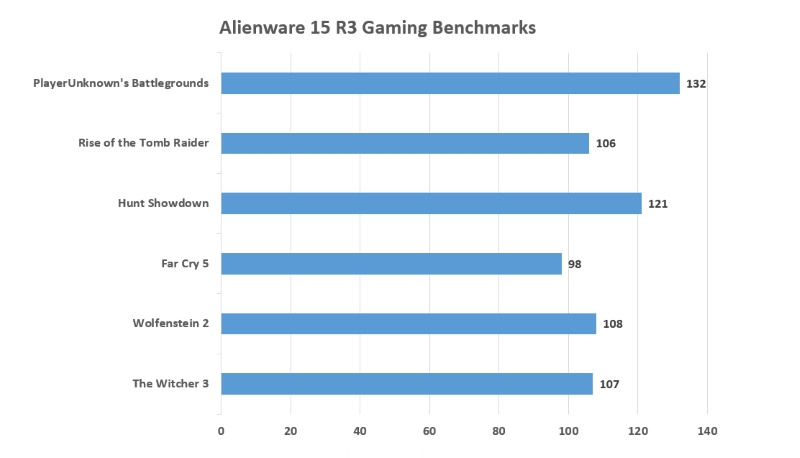 As you can see from the list above, the Alienware 15 tamed the so-called stress testing benchmarks, and easily pushed above 100FPS on 1080p without breaking a sweat. Even on the most demanding of games such as Metro Last Light, Rise of the Tomb Raider, and The Witcher 3, the GTX 1080 Ti was easily rendering frames above 80 FPS while being on the highest of settings. The relatively newer Far Cry 5, which has been critically acclaimed for being well optimized, was running at a stable 98 frames per second, which is just sick. And then there's the fan favorite game, PlayerUnknown's Battlegrounds (PUBG), which the laptop was able to run at a comfortable 130 FPS.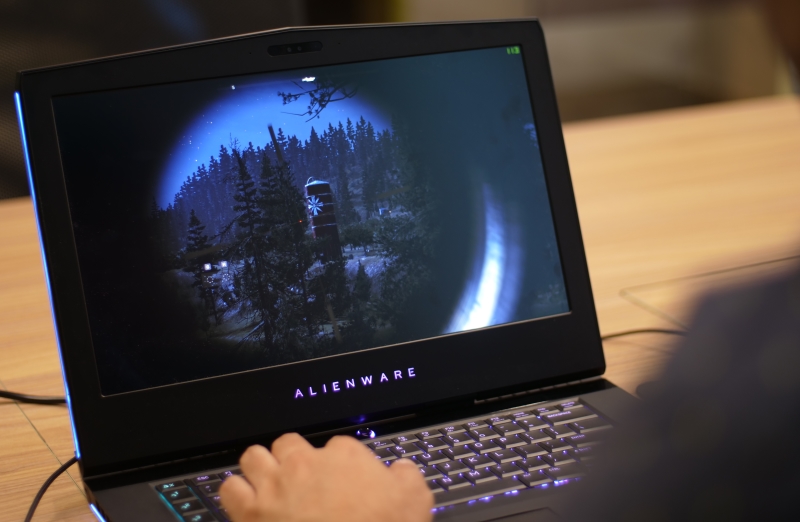 While most gamers fancy a 60 FPS mark for their gaming needs, the Alienware 15 R3 is not for the average gamer. It is designed for those of you who need the absolute best, and the Alienware laptop actually manages to deliver that. I reckon things could have been even better had Dell installed a proper GTX 1080 onto the system instead of the Max-Q design. But that is where the thermals part comes in, something which could be the key deciding factor for any prospective consumer out there.
Thermals
I know many of you must have this question in their minds that if a gaming laptop comes with a GPU that is designed with the Max-Q architecture, shouldn't it be slim and portable? Well, that's where the Alienware 15 R3 actually manages to excel. You see, the biggest problem with a Max-Q GPU is its temperatures. While most OEMs focus on creating the slimmest gaming laptop out there, they often install relatively less powerful thermal systems on their device. As such, there are issues such as the laptop reaching high levels of heat along with throttling in performance. Thankfully, the Alienware 15 R3 suffers from no such issues.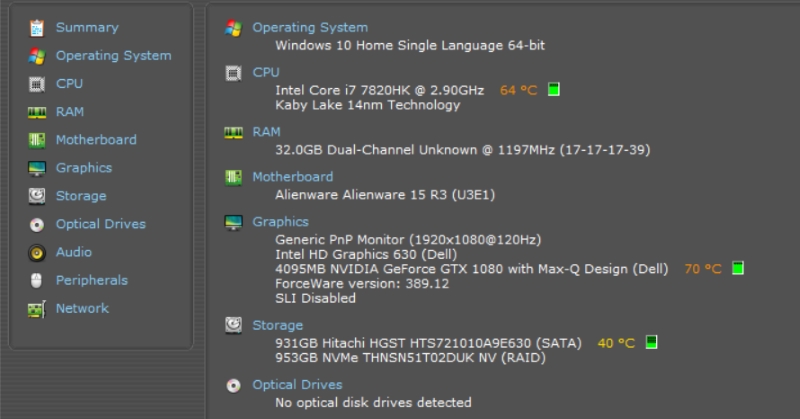 The Alienware 15 R3 features a total of three large heat pipes connecting the CPU and GPU heat sinks to the cooling fans. There are two big heatsinks for the CPU and GPU and three heat pipes connecting them to the cooling fans. What's most intriguing is how the entire cooling process is facilitated. The right fan draws cool air from the outside and pushes it into the system while the left fan spins in the opposite direction catching the hot air and leading it out. This is done using openings on the left and right side of the laptop. The rear radiators, however, contribute the most for dissipating the heat.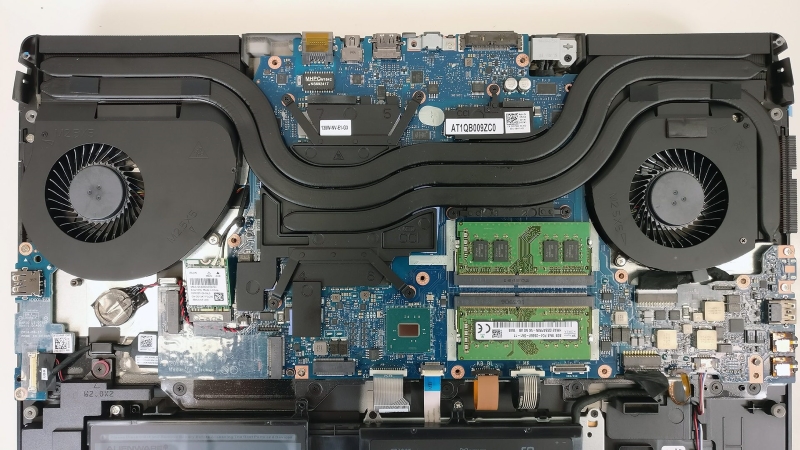 In my experience, the laptop was running at a decent 40-degree Celsius mark on normal usage. Pushing things higher with gaming didn't affect the system much since it has been designed for this load. The max temperatures that I managed to hit were 70-degrees, which is exceptionally great, considering this is a gaming laptop that we're talking about, and that too, after rigorously gaming for upwards of an hour.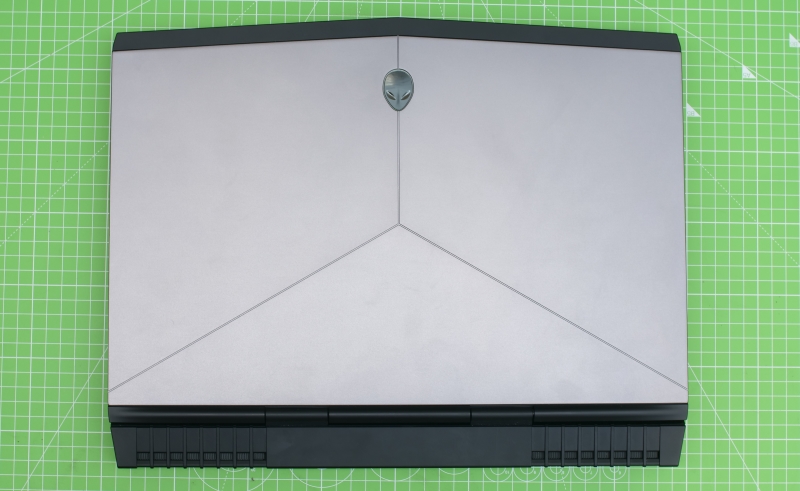 Personally, I find this to be the actual factor that gives Alienware the edge over its competition and makes it a better option for most users. Sure, there are other options in the market that offer the same specs at a lesser price, but they come at a cost of thermals. High temperatures directly translate into a lower life of the device, which is universal for any electronic device. As such, if you're going to be shelling out over 2.5 lakhs on a gaming device, you'd want it to last more.
The Alienware 15 R3, not only promises a longer life but also promises better overall performance, since there is absolutely no throttling whatsoever.
Battery Life
Gaming laptops don't really pack in a lot of juice, and the Alienware 15 R3 is no different. The laptop packs in a 99 Wh battery which should last you for about 3-3.5 hours on medium usage, with the screen at maximum brightness. Add a little more load to it, such as gaming, and the laptop should last you for just about an hour.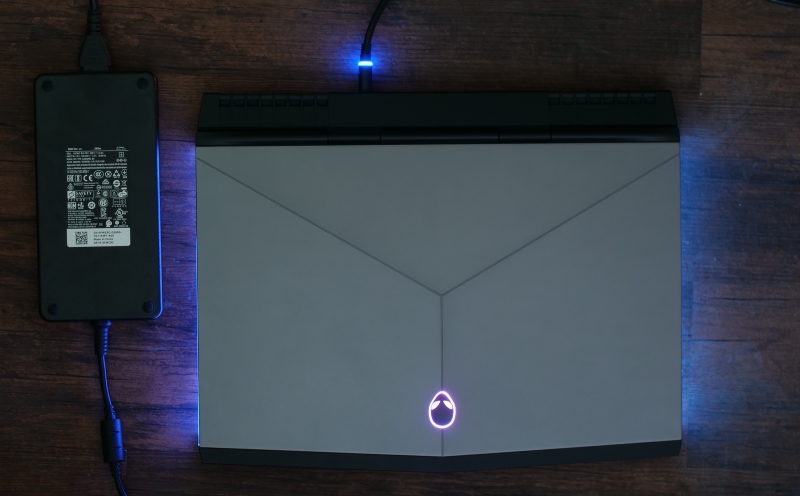 However, if you want to get a bit more runtime from the notebook, you can always choose the battery saving mode and turn down the brightness, which will give you an additional hour and a half depending on your use case. As for charging, the 240W power brick was able to completely charge the device in under 140 minutes, which seems to be decent enough for a device this big.
Alienware 15 R3: The Best for a Reason
Available for 2.64 lakhs, you get yourself a fully unlocked 7th-gen i7 processor with clock speeds up to 4.4 GHz. There are no compromises in the hardware with 32GB DDR4 RAM and 1TB storage of SSD as well as HDD. The 15.6-inch 120Hz display on the device is great and comes with support for Nvidia's G-Sync technology as well. The performance is great, there is premiumness flowing all over the body. Additionally, the thermal section of the laptop is what justifies its cost, and gives it an edge over its competition.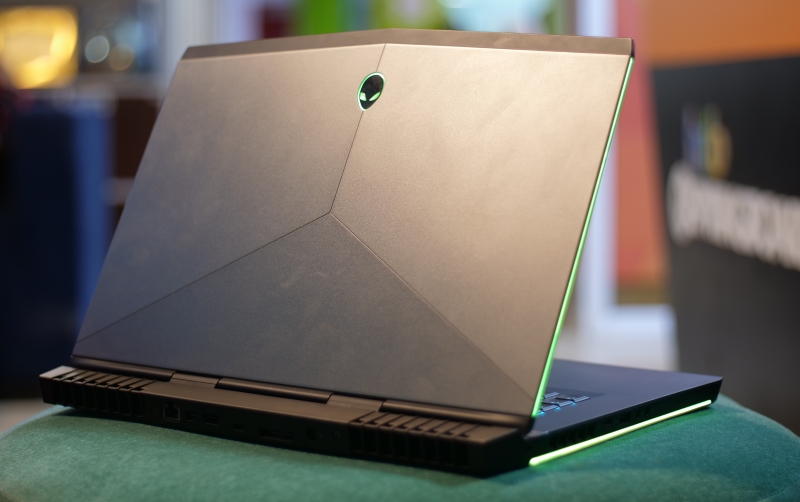 The Alienware 15 R3 is the dream laptop for any gamer. It comes with its own set of minor flaws but offers a performance like none other. For those of you who want to have the best at their hands, the Alienware 15 R3 is what you want!
Pros:
Excellent Build Quality
Great Display
Amazing Performance
Manages to stay cool under heavy loads
Cons:
No numpad
Camera is disappointing
Slightly Expensive
Buy Alienware 15 R3 from Dell Store: (Rs. 2,63,990)
SEE ALSO: MSI GE73 Raider 8RF Review: Gaming Without Compromises!
Alienware 15 R3 Review: Leaves Others Pwned
All things considered, would I recommend the Alienware 15 R3 to you? Absolutely! The laptop offers the best hardware that you can get from a gaming laptop, and comes equipped with some of the best thermal management that I've seen on a laptop. For me, the Dell Alienware 15 R3 is one of the best gaming laptops that money can buy, and also one that should last the test of time. You might be able to get similar hardware at a cheaper rate, but there's no other laptop on the market that matches Alienware's premium build quality along with the thorough design language.
REVIEW OVERVIEW

Design and Build Quality

9.5

Ports and Connectivity

9.5

SUMMARY

The Dell Alienware 15 R3 is one of the best gaming laptops that money can buy, and also one that should last the test of time. Packing in a 7th-gen i7 processor along with 32GB DDR4 RAM and 1TB storage of SSD as well as HDD, the laptop makes no compromises. The thermals on this thing are great, and the performance is exceptionally good.