Xiaomi's new Android One device – the Mi A2 – checks almost all the boxes for an excellent mid-range Android device. It packs in Qualcomm's Snapdragon 660 chipset, coupled with 4GB of RAM and 64GB of internal storage. Unlike most other Xiaomi devices, the smartphone runs near stock Android, as it's part of Google's Android One initiative and it features a respectable 5.99-inch FHD+ LCD display. But, as I mentioned earlier, the Xiaomi Mi A2 (Rs. 16,999) checks 'almost' all the boxes, as it's lack of a 3.5mm headphone jack, the missing microSD card slot and its relatively small 3,000mAh battery, don't really inspire confidence among prospective buyers.
So, in order to find out how the device stacks up against other mid-range devices in the market today, we've put the Xiaomi Mi A2 to the test, analyzing every aspect of the device to give you a clearer picture. We've already put the Mi A2 through a performance and gaming test, and here we'll be taking a closer look at its battery life. So, how does the Mi A2's 3,000mAh battery hold up? Let's jump right in and find out:
Charging Test
The Xiaomi Mi A2, unlike several other mid-range devices, packs in a USB Type-C port and therefore includes support for Quick Charge 4.0, however, Xiaomi doesn't include a Quick Charge 4.0 complaint charging brick in the box. Instead, buyers will receive a standard 5V/2A charger, which isn't able to charge the device as fast as it can be charged with a Quick Charge 4.0 compatible charger.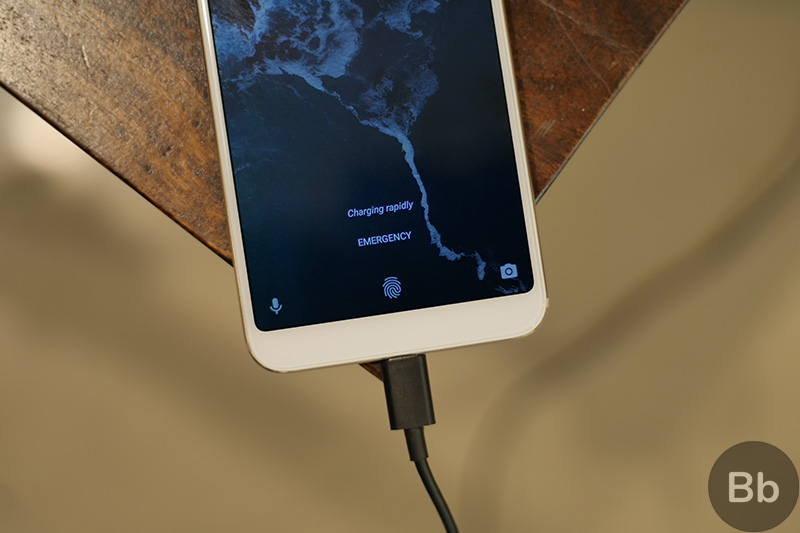 In our testing, the bundled 5V/2A charger took 1 hour and 45 minutes to charge the device from 8 percent to 100 percent, while charging up to 50 percent took about 40 minutes. Considering the fact that the Mi A2 packs in a smaller 3,000mAh battery, the numbers aren't quite impressive. I really wish Xiaomi had included a Quick Charge 4.0 compliant charger in the box, as it would have greatly benefited both the device and the buyers.
Battery Life
Talking about battery life, the Xiaomi Mi A2 isn't nearly as impressive as competing mid-range devices which boast of 4,000mAh and 5,000mAh batteries. In order to get a fair idea of the Mi A2'a battery life, we put the phone through two different types of usage scenarios – one with a normal workload and one with intensive use. Here's how the Xiaomi Mi A2 performed:
Normal Workload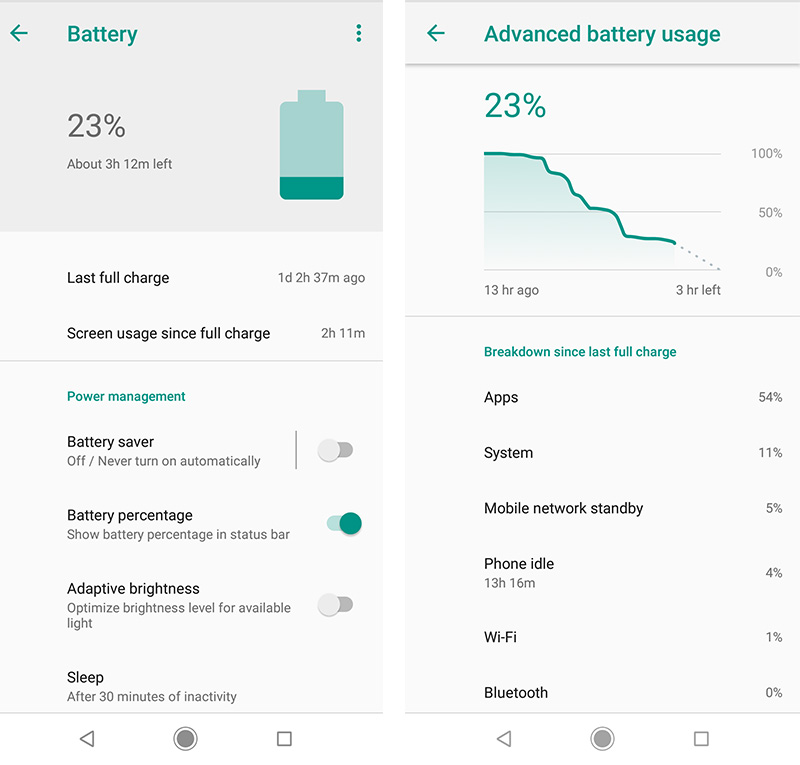 With a normal workload, including some web surfing, listening to music, playing a casual game or two, along with the usual WhatsApp messaging and phone calls, the Xiaomi Mi A2's 3,000mAh battery lasted a full day without any issues whatsoever. The combination of stock Android and the power efficient Snapdragon 660 help the Xiaomi Mi A2 last long enough to get you home at the end of the day, but compared to other mid-range devices, the Mi A2 isn't even close to being the best in the domain. The device managed just over 2 hours of screen-on time, which is perfectly acceptable but, once again, it isn't the best. Since the device is currently running Android Oreo, we expect a slight bump in the screen-on time once Android Pie, which includes better battery saving measures, is released but currently we're definitely not impressed with its performance.
Intensive Workload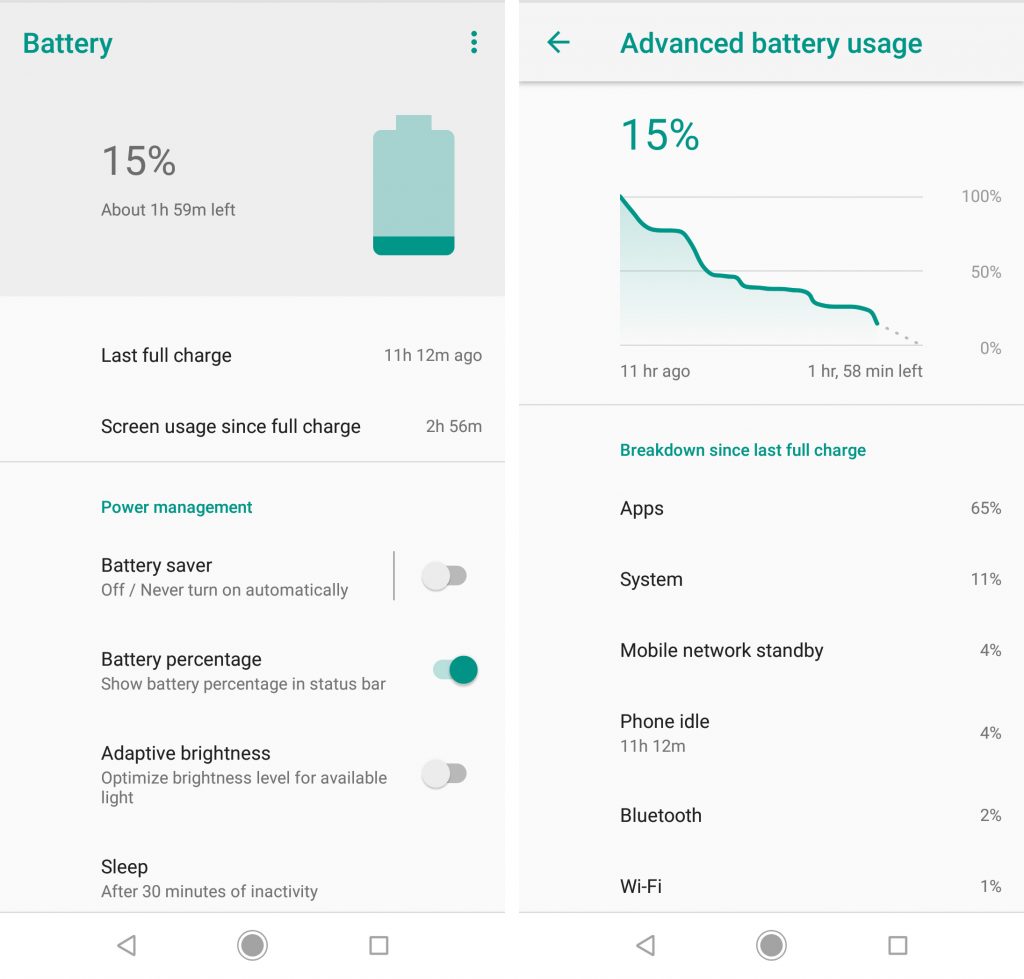 Under intensive workload, including playing a number of games, running benchmarking apps like AnTuTu and Geekbench 4 several times and all the other usual functions listed under normal workload, the Mi A2's 3,000mAh battery drained alarmingly fast. I got a screen-on time of just about 3 hours with the device sitting at 15 percent charge. The device lasted me just over 11 hours with this kind of a workload, which is quite comparable to the performance of the Nokia 6.1 Plus, but far behind that of the Redmi Note 5 Pro and the ZenFone Max Pro M1.
SEE ALSO: Mi A2 Performance and Gaming Review: Nothing Too Remarkable
Xiaomi Mi A2 Battery Test: Far Behind the Competition
In conclusion, the Xiaomi Mi A2's battery life is just about average. For a device at this price range, a 3,000mAh battery just doesn't cut it. Compared to the Nokia 6.1 Plus, the Xiaomi Mi A2 (Rs. 16,999) fares almost the same, however, the Nokia's smaller display and slightly larger battery help it perform just a tad bit better. In comparison with the ZenFone Max Pro M1 and the Redmi Note 5 Pro, however, the Mi A2's smaller battery just can't match up to the battery life delivered by the other two devices, which post better screen-on time and standby time in all use case scenarios. So, in case you're looking for a mid-range device which offers great battery performance, you'll be better off going with the Redmi Note 5 Pro or the ZenFone Max Pro M1, rather than going for the Mi A2.
Buy from Amazon (Rs. 16,999)
---
Load More