MERRAC has announced two incredible portable power stations in a compact and lightweight design. The MERRAC SPACE PRO includes 650W and 2,000W models that offer unparalleled power at half the cost of the competition. Both products are live on Indiegogo right now, and you can be an early contributor to the project. Well, in this article, we have shared all the details about the MERRAC SPACE PRO I 06 and MERRAC SPACE PRO I 20 power stations. We have discussed the design, capacity, charging speeds, environment-friendly initiatives taken by the company, and more. So without delay, let's move on to the details.
MERRAC SPACE PRO Announced (2022)
We have shared the details of MERRAC SPACE PRO I 06 and MERRAC SPACE PRO I 20 portable power stations in this guide. You can expand the table below and read about the feature that intrigues you the most.
MERRAC Space Pro Power Station: Best Features
Compact Design
One of the major issues with traditional power stations is their large size and the inconvenience of carrying them around. However, the MERRAC SPACE PRO lineup fixes this particular issue. The SPACE PRO portable power stations have a compact design and a very lightweight profile. It's so small that you can easily carry it while camping or traveling outdoors for a short jaunt.
The MERRAC SPACE PRO I 06 weighs only 8kg, and the MERRAC SPACE PRO I 20 goes up to 14kg. The dimensions are also compact with the smaller variant having a size of 275 x 180 x 220 mm and the bigger one having a footprint of 345 x 225 x 265 mm. Basically, with the SPACE PRO lineup, you will not have to worry about the size of the power station, and you will always have the convenience to lug it around.
Massive Capacity
Now, don't let the compact design make you believe that MERRAC SPACE PRO doesn't have ample capacity. The MERRAC SPACE PRO I 06 has a maximum power output of 650W and can handle a total capacity of 540Wh (~24000mAh). On the other hand, the MERRAC SPACE PRO I 20 comes with a capacity of 1,440Wh (~30000mAh) with up to 2,000W of maximum power output.
If you compare MERRAC SPACE PRO's capacity with larger power stations like the Yeti or Explorer, you get almost the same capacity in a much larger footprint and at an inexpensive price.
Not to mention, MERRAC has implemented a new inverter design that has increased the power by 30%, all the while reducing the overall volume by 20%. It's also efficient and dissipates heat pretty quickly, allowing the power station to offer longer service.
To give you an idea, the 2,000W MERRAC SPACE PRO power station can charge a standard phone 126 times, keep your portable cooler running for 23 hours, light a bulb for 280 hours, power a portable washer for 3.5 hours, and much more. Basically, be it an outage caused by a hurricane or a routine power cut, the SPACE PRO will provide reliable power backup for large home appliances or electronic devices without keeping you in the dark.
Stylish With Ton of Ports
Along with the compact design, MERRAC has also designed its power station with incredible dexterity. The power stations are designed by an Italian designer with modern and minimalist elements while also keeping ease of use in mind. It has an LCD screen where you can view all the information related to input and output power, total capacity, temperature, and more.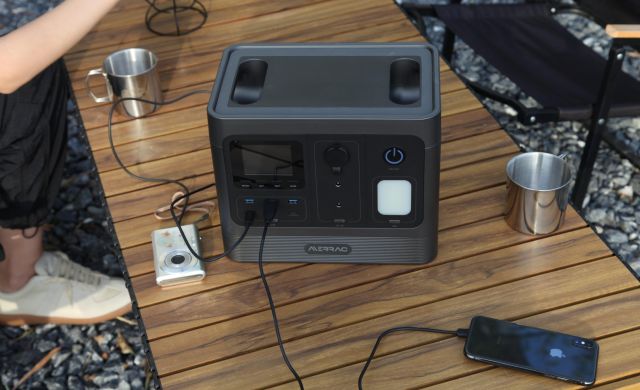 Apart from that, the MERRAC SPACE PRO features a multitude of ports. The 650W power station comes with 3x USB-A ports (max 72W), 3x USB-C ports (max 60W), a car charger that offers a maximum output of 101W, 2x DC outlets with a maximum output of 76W, and 2x AC outlets with 650W maximum output.
If we talk about the 2000W power station, it features 4x USB-A ports (max 96W), 3x USB-C ports (max 60W), a car charger that offers a maximum output of 101W, 2x DC outlets with a maximum output of 76W, and 4x AC outlets with a total 2,000W maximum output. To sum up, you will rarely need a converter to charge up your choice or use an appliance. There are ample ports and outlets on the MERRAC SPACE PRO lineup, and you are going to love the minimalist design.
Flash Charging Support
That's not all, though! The best part about MERRAC SPACE PRO power stations is that it supports quick charging. Thanks to MERRAC adopting the original research of the MS Flash Charging system, it can charge the power station pretty quickly. With 350W charging input, it can fully charge the smaller MERRAC SPACE PRO I 06 within 2 hours. And with 1,000W single-port charging, it can charge the 2,000W model from 0% to 80% in one and a half hours. To fully replenish it, the charger takes around 3 hours.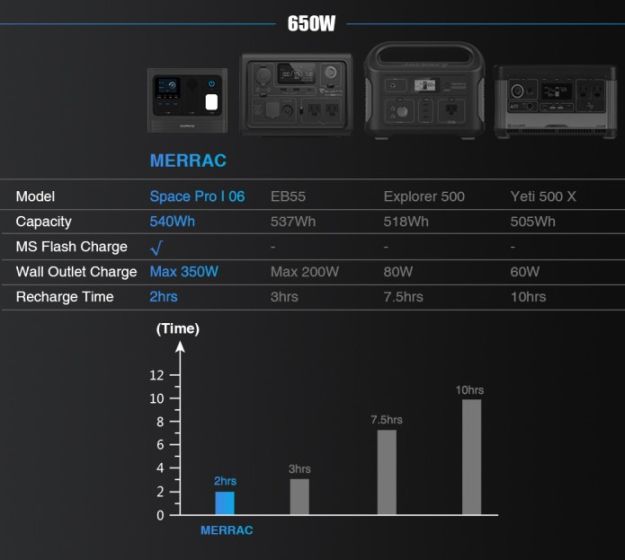 If you compare the charging speed of SPACE PRO with other power stations, it takes considerably less time. You will need more than 3 – 10 hours to charge a battery pack of similar capacity from other brands. So if you want the fastest charging speed, coupled with a modern and compact design, the SPACE PRO beats all the competition.
Environment-friendly
MERRAC is one of the few companies that absolutely believes in protecting the environment. That's why it has taken a pledge to plant a tree wherever it's needed the most for any purchase of its products. The company has partnered with the ONE TREE PLANTED platform to support low-carbon environmental protection. So with every MERRAC SPACE PRO bought, you are helping rebuild our earth.
All-Around Protection
Last but not least, the MERRAC SPACE PRO is known for reliability and superb surge protection. It packs the superior EV-grade 3C LG battery cell that promises a much longer life than the competition. In addition, the heat dissipation and stability are top-notch on these power stations. Not to mention, the battery pack is safer than run-of-the-mill battery cells available in the market. It also uses Intelligent temperature control by utilizing a circulating air duct design to keep the power station cool at all times.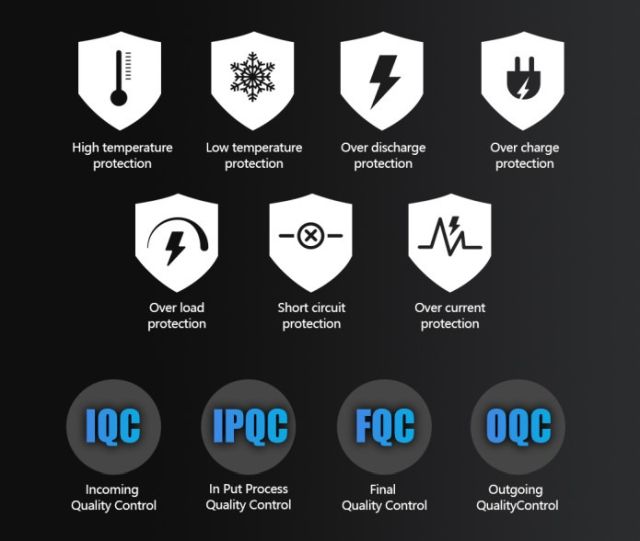 To dive into some specifics, the battery pack is 20% smaller in size and weighs 32% less than the competition. It also remains functional at -4 degrees Fahrenheit and has 35% more capacity in a similar footprint. Not to forget, MERRAC SPACE PRO portable power stations have a Battery Management System (BMS) to enhance the battery life over time and prevent all kinds of damage. It can protect the power station from short circuits, overcurrent, over-voltage, power surge, overheating, and more.
Moreover, all power stations have gone through more than 1000 rigorous inspections, which include vibration testing, hot and cold shock, prolonged higher temperature usage, noise, accessory wire bending, packaging drop, and more. In addition, the two power stations have certification from PSE, FCC, CE, UN38.3, MSDS, and ROHS. So from the safety aspect, the SPACE PRO is protective from all kinds of scenarios.
Pair Space Pro with MERRAC Solar Panel
To further make the power station environment-friendly, the company has launched a solar panel as well. The MSP 100 solar panel has a peak power of 100W and can provide a maximum output of DC 96W along with USB-A 18W and USB-C 45W. Its sunlight conversion rate is 23% and the operating temperature is between -4 degrees Fahrenheit to 140 degrees Fahrenheit.
MERRAC Portable Power Station Pricing
The smaller MERRAC SPACE PRO I 06 is priced at $399, which is much lower than other power stations with a similar capacity. And the larger MERRAC SPACE PRO I 20 will cost you $1099. In case you also want to get the MERRAC solar panel, it will cost you $169.
Support the MERRAC SPACE PRO Campaign on Indiegogo
So that is everything about the MERRAC SPACE PRO portable power station lineup. Both the power stations are excellent value for money. But if you want a larger capacity, you should pick the 2000W model that offers a massive battery cell, higher power output, and more ports. The campaign is currently running on Indiegogo, and those who participate in the crowdfunding will get rich prizes from the company. You can head to the below link to support the SPACE PRO campaign.
Check Out MERRAC SPACE PRO on Indiegogo