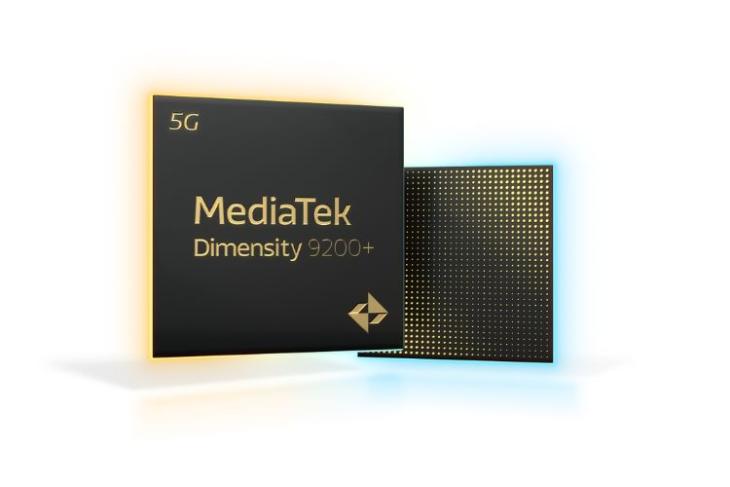 MediaTek has launched the new flagship Dimensity 9200+ chipset. The newly launched chipset is part of the existing Dimensity 9000 series lineup and is expected to power future flagship smartphones. The "brand-new" chipset is an upgraded version of the pre-existing Dimensity 9200 chipset. The details of the latest Dimensity 9200+ chip are listed below.
MediaTek Dimensity 9200+: Details
The Dimensity 9200+ is fabricated using TSMC's 2nd generation advanced 4nm process. The chipset features a single Arm Cortex-X3 Ultra Core clocked at 3.35GHz, three Arm Cortex-A715 Super Cores going up to 3GHz clock speeds, and four Arm Cortex-A510 Efficiency Cores. It features an Arm Immortalis G715 GPU which is overclocked by 17% compared to Dimensity 9200. The Dimensity 9200+ can push 10% more performance and deliver 11% more efficiency than its predecessor.
The chipset packs a sixth-generation AI Processing Unit, APU 690. This allows the Dimensity 9200+ to enable advanced AI-noise reduction and handle AI-super resolution tasks. The Dimensity 9200+ can also enable support for a high refresh rate (up to 240Hz) displays in high resolution. MediaTek MiraVision 890 allows for the inclusion of an adaptive refresh rate, with a brighter and more detailed visual experience.
The chipset packs MediaTek's HyperEngine 6.0. This translates to faster hardware-based Ray Tracing, and Motion Blur Reduction. MediaTek's Adaptive Game Technology with exclusive gaming features like Variable Rate Shading can offer up to 12% efficiency gains. Future flagship smartphones can take advantage of MediaTek's Frame Rate Smoother 2.0 to deliver sustained high frame rate smoothness and stability. The chipset also supports 53ms low latency Bluetooth audio while gaming.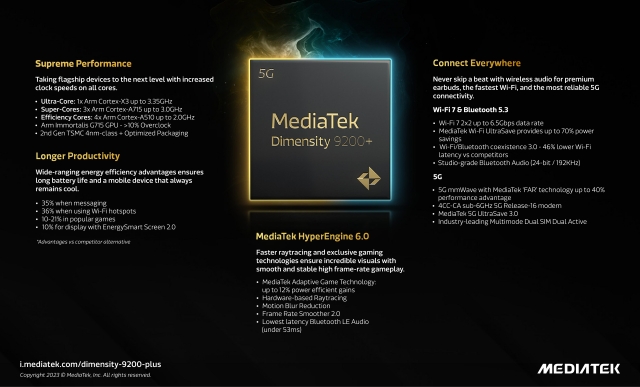 In terms of optics, the Imagiq 890 image signal processor (ISP) can enable support for up to 320MP cameras, better cinematic videos, low-light shots, and AI features like improved AI motion unblur technology. Connectivity-wise, the chipset has support for blazing fast 5G mmWaves, Wi-Fi 7, and Bluetooth 5.3, with Wi-Fi/Bluetooth coexistence 3.0 support for reduced latency.
Brands like Xiaomi, Oppo, Vivo, and more are expected to have devices ready with the flagship MediaTek Dimensity 9200+ by the end of this year.
Apart from the flagship grade chipset, MediaTek also launched a mid-range chipset, the Dimensity 8050. The Dimensity 8050 packs an Arm Cortex-A78 Super Core (up to 3GHz) with nine core Arm Mali-G77 GPU. The chipset can support 200MP sensors with improved AI capabilities and support for 4K videos with 40% improved dynamic range. MediaTek MiraVision enables HDR10+ video playback and hardware-accelerated AV1 video decoding. The chipset can push QHD+ resolution up to 168Hz. It supports LPDDR4x RAM and UFS 3.1 storage. Connectivity features include support for dual 5G SIM, Wi-Fi 6, and Bluetooth 5.2.