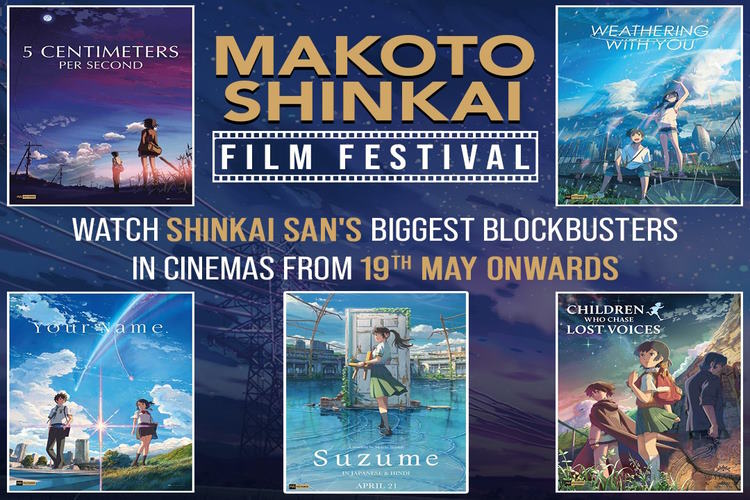 With the release of anime films like Suzume, Demon Slayer: Swordsmith Village, etc., Indian anime fans have been given a truly wonderful treat recently. Now that PVR Cinemas is organizing a Makoto Shinkai film festival across India, we are in for yet another huge gift. We were thrilled to get the opportunity to watch the just-released Suzume movie on the big screen (read our Suzume Review here), and now, we can enjoy all of Makoto Shinkai's magical films on the big screen. Keep reading to find out more about the film festival and the movies that will be showcased in India.
Witness the Magic of Makoto Shinkai Films in Theaters
The official Twitter handle of PVR Cinemas recently announced that they are super excited to present us with the "Makoto Shinkai Film Festival" in India. They have collaborated with the Japanese Film Festival and CoMix Wave Films to make this film festival a reality. Thus, the most popular hits of Makoto Shinkai will be screened in PVR & Inox cinemas all over India from 19th May.
Furthermore, the Makoto Shinkai film festival in India will include the following movies:
Makoto Shinkai Film Festival (Japanese With English Subtitles)
Your Name (2016)
5 Centimeters per Second (2007)
Weathering With You (2019)
Children Who Chase Lost Voices (2011)
Suzume (2022)
Note: As expected, all the masterpieces of Makoto Shinkai are being released with the exception of Garden of Words (2013). They must have excluded it since the movie has a shorter run time of just 45 minutes.
Makoto Shinkai Film Festival: Ticket Booking in India
As of now, PVR Cinemas has just announced the film festival and the bookings haven't opened yet. Furthermore, the cities that will get the screening during the film festival haven't been confirmed too. The theatre confirmation and bookings will be opened shortly, so keep your eye peeled. We will update this article with booking links to help you secure the tickets faster. With that said, are you excited to experience the beauty of Makoto Shinkai films once again? Tell us which movie you plan to watch in the comments below.
---