Apple's macOS is moving to new heights – except for the source of its name. Today, at the WWDC 2018 event, Apple shared a peek of the new features coming to Mac machines with the update. With the Mojave update, macOS now gets a system-wide Dark Mode, a revamped app store, new native apps, and obviously – a new name.
This time, Apple moved away from the hills in the state of California to more arid terrains and is naming the next version, macOS Mojave (pronounced mo-hah-vee).
System-Wide Dark Mode
The Dark Mode introduced by Apple applies to most of the app by Apple as well as noted third-party developers, besides the status bar and the Finder. If you want the UI of the Mac to change color with hours of the day, you can switch on the Dynamic Desktop which automatically changes the desktop image to match the time.
Users will also be able to toggle dark mode individually in apps such as Mail, Messages, Maps, Photos, Store, Calendar etc. This, Apple claims, will help users focus more on the content and improve readability on the high contrast MacBook displays.
New Desktop and Finder Features
One of the new features on macOS Mojave is meant to keep you from cluttering your desktop. This comes with Stacks which can be used to group files on the basis of file type. These stacks can be further modified using date and tags.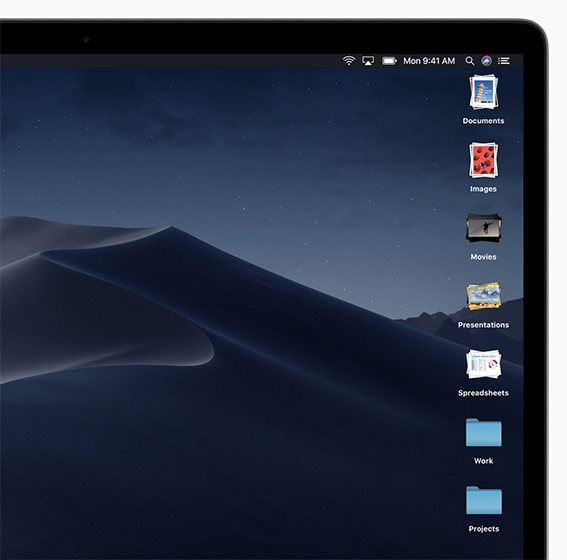 Finder, at the same time, gets a new Gallery View to show media files in bigger tiles than the current filmstrip view. Even Quick Look gets new options to more than just preview media and you now get options to crop and rotate images, and cut clips out of videos and audios.
The Preview Pane will also display the complete metadata associated with an image, which is useful for graphics creators, photographers, and other digital creators who might use the information.
New App Store for Mac
Following the redesign of the App Store on iOS last year, Apple will be revamping the Mac App Store this year emphasizing the editorial selections, as followed on the iOS App Store. Apps are now ordered as per utility under tabs like Create, Work, Play etc. while you also get an improved Updates section.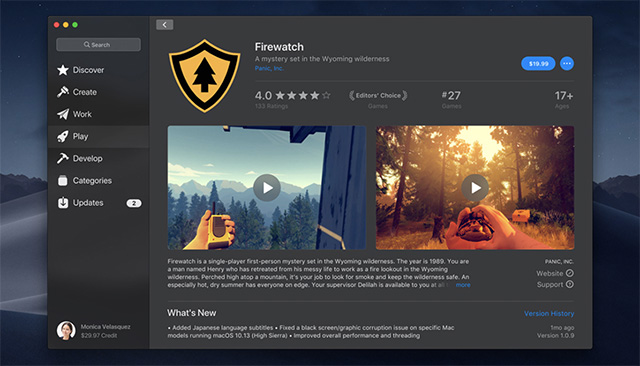 New apps including Microsoft Office 365 bundle and Adobe Lightroom CC are coming to App Store on macOS Mojave. The all-new Discover tab will share stories and other editorial bytes related to new and popular apps and will replace the Featured tab on iOS.
Group Facetime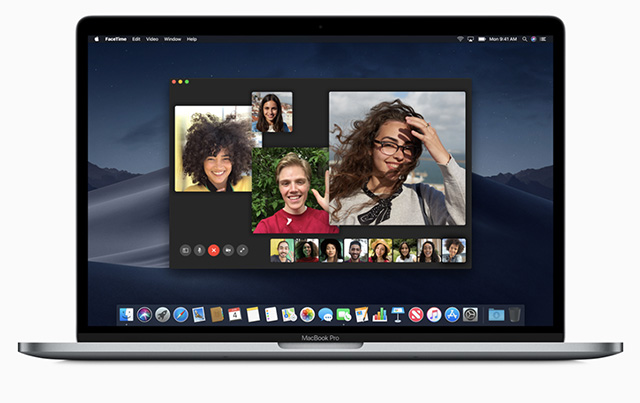 Just like iOS 12, macOS Mojave also gets Group FaceTime which can have up to 32 participants at a time. The interface is optimized for the landscape orientation and you get the same filters as iOS (just filters, neither stickers nor Animoji).
Security and Other Additions
For security, Safari on Mac gets the ability to block cookie-based tracking and other social media plugins that chase you to whichever site you visit. Safari on macOS Mojave also gets new features to prevent websites from gaining data related to your fingerprint (for those using MacBook Pro with Touch ID) which will now be encrypted.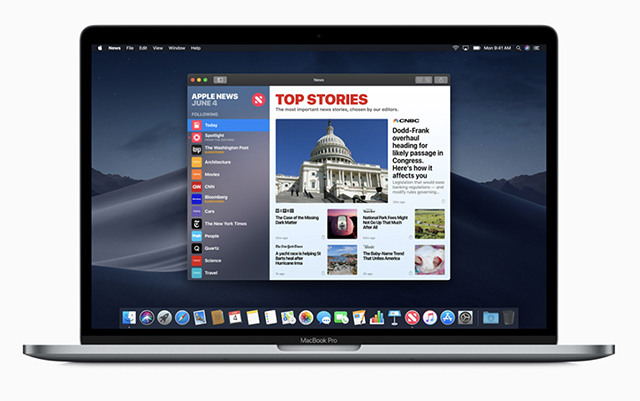 macOS Mojave also gets a new Continuity Camera which will allow users to take pictures using their iPhone's or iPod's camera and share it to the Mac automatically. Now, screenshots will not pile on your desktop, thanks to the Stacks option and you also get a new screen record shortcut just like snapper tool.
Additionally, apps like Apple News and Stocks are coming to macOS along with the all-new Home and new Voice Memos apps. As rumored, Apple will bring cross-platform functionality to allow iOS apps to run on Mac, but users will be able to make use of the feature only next year.
macOS Mojave: Beautiful and Equipped
With the upcoming macOS update, users are likely to feel more at home, thanks to the subtle additions like the Quick Look editor and dark mode. With the new App Store, Apple is clearly endorsing that each great app needs a good presentation, so why should Mac developers stay behind.
Subtle additions like the gallery mode and gaussian blur behind the navigation panel in the Finder make macOS Mojave a much-needed and highly desirable update – assuming Apple can manage to prevent hiccups and bugs from spoiling the experience.
---