The notch on the iPhone X has been debatable ever since the Apple flagship's rumors started piling up online. Despite being mocked by several Android manufacturers including Samsung, the notch is slowly becoming irresistible to Android smartphone designers. It even managed to get a place in the Android P Developer Preview – which we can't surely say is a genuine prospective feature or a parody, although it looks much like the former.
But now, Samsung could be retracing its steps and considering an iPhone X-inspired notch for its phones. This is supported by the fact that at the end of March the Chinese Patent Office SIPO had published details related to a patent filed by Samsung Electronics. This was spotted by Mobielkopen.net which pointed how unapologetically Samsung is imagining a future with the notch.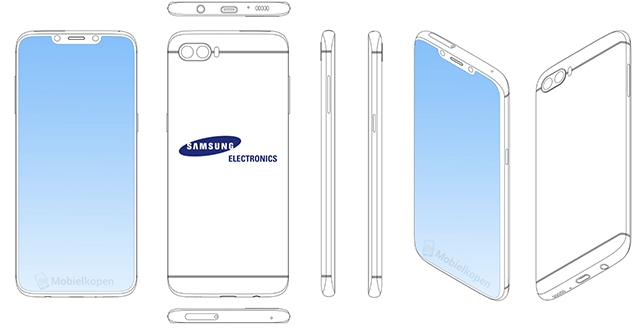 In the patent design, the notch is relatively smaller than the one on the iPhone X and can be seen carrying a selfie camera and critical sensors along with the earpiece. The design does not have a fingerprint sensor which leaves room for speculations about an in-display sensor which Samsung is reportedly planning to use on the Galaxy Note 9 too. The rear camera setup without any special sensors suggests that the design could be used for a sub-premium premium segment smartphone – potentially any of the A series devices. The smartphone retains a headphone jack.
Ironically, Samsung has taken repeated jibes at the infamous notch including at the launch event of Galaxy S9 devices and earlier in ads – which were particularly funny. You can check out for yourself and don't forget to pause at 0:53 for something special.
https://www.youtube.com/watch?v=R59TevgzN3k