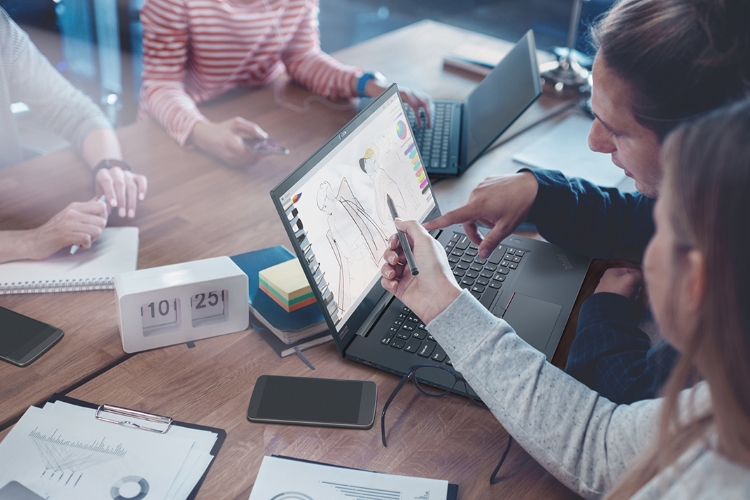 Lenovo has just launched a plethora of new laptops at this year's IFA 2018, and they pack in features that ought to make them one of the best in their leagues.
Lenovo ThinkPad X1 Extreme
The ThinkPad series has been known for its performance, and the new ThinkPad X1 Extreme is no different. The device is outfitted with some of the best hardware in the business and is also the first in the X1 Series to feature an NVIDIA discrete graphics chip.
The ThinkPad X1 Extreme packs in a 15.6-inch UHD 4K display, Dolby Atmos audio, and a 4GB GeForce 1050Ti MaxQ Edition graphics chip. As for its horsepower, the laptop comes with the latest 8th-gen Core i7 (+vPro) chipset, with an i9 variant coming later this year. The device can be outfitted with up to 64GB of RAM (2x DIMM) and 2x1TB of PCIe SSD. Additionally, the 80 Whr battery capacity is the highest among the ThinkPad X-Series, and Lenovo has included its Quick-Charge technology with this laptop as well.
The Lenovo ThinkPad X1 Extreme will start at $1859.99.
Lenovo Yoga Book C930
One of the highlights of Lenovo's event, the Lenovo Yoga Book C390 is one of the best laptops launched at IFA 2018.
The high-end version of the 2018 Yoga Book is the Yoga Book C930, which packs in a 10.8-inch display, along with an e-ink keyboard. When you type, the keys can animate to confirm the input, and of course, you can open the Yoga Book in tablet mode when reading. The E-ink display is much more power-efficient than the LCD screen and makes it easy to read on. Additionally, the note-taking is still there with the Yoga Book, except that Lenovo has now made it possible to take notes on the E-ink surface, or on the color display.
As for the specs, the laptop comes outfitted with a Core i5-7Y54 or Core m3-7Y30 CPU along with 4 GB LPDDR3 and up to 256 GB PCIe SSD. The device packs in a 35.8Wh battery which should last up to 8.6 hours.
Lenovo says that the Yoga Book C930 will be available in October starting at $999.
Lenovo Yoga S730
The Lenovo Yoga S730 is one of the premium yet portable devices announced at IFA 2018.
Weighing in at only 2.6lbs (around 1.2kg) and measuring just 11mm thin, the Yoga S730 is a slim powerhouse, equipped with an Intel Core i7-8565U processor and up to 16GB of DDR4 RAM. It comes with a 13.3-inch Full HD IPS display along with PCIe SSD storage ranging from 128GB up to a whopping 1TB SSD. The laptop has also been rated for 10 hours of battery life and will also feature Dolby Atmos audio technology.
As of now, there is no word on the pricing or availability of the laptop.
Lenovo Yoga C630 WOS
Taking the off-road, the Lenovo Yoga C630 WOS Laptop is one of the first laptops to be based on Qualcomm's Snapdragon offerings, powered by Qualcomm's Snapdragon 850 chipset.
It will also feature the Snapdragon X20 LTE modem which means that in addition to being able to connect using WiFi, users have the option of using LTE. What's more is that Lenovo is boasting that the Yoga C630 WOS will be capable of offering up to 25 hours of local video playback on a single charge. Apart from that, the device packs in a 13.3-inch Full HD IPS touchscreen display, up to 8GB of RAM, 256GB of storage, and an integrated fingerprint sensor.
As of now, there is no word on the pricing or availability of the laptop.
Lenovo Yoga Chromebook
Lastly, the company has also launched its latest Yoga Chromebook at IFA 2018, and it is nothing short of a powerhouse.
The Yoga Chromebook can be configured up to a 4K 15.6-inch display along with an 8th Gen Intel Core i5-8250U Kaby Lake processor. It comes with 8GB of DDR4 RAM, up to 128GB of eMMC 5.1 storage, and Intel Graphics 620. The Chromebook weighs 4.2lbs and includes a stereo speaker, two USB Type-C, and one USB 3.1 ports as well as a 56WHr battery capable of lasting up to ten hours on a single charge. Last but not the least, the Chromebook will have support for Google Play Store out-of-the-box as well, and all customers will also receive 100GB of free Google Drive storage.
Lenovo has confirmed that the new Yoga Chromebook will be available in the EMEA region from October, with prices starting at €799.
---