Lenovo has today launched its digital smartwatch in India, priced at just Rs. 1,999. At that price, getting a smartwatch from a well-known brand such as Lenovo sounds like a pretty sweet deal, doesn't it? So, is it actually a sweet deal, and should you consider buying the Lenovo EGO for your needs? Well, I've been using the Lenovo EGO for almost a week now, and here are my thoughts on the watch, what it can do, what it can't do, and whether or not it's worth buying.
Design and Build
At first glance, the Lenovo EGO gives off the distinct impression of being a regular digital watch, and might even trick you into thinking it's a Casio G-Shock. That's not a bad thing, per-se, after all, smartwatches that look like regular watches to the point of being deceptive aren't a bad thing — they can blend right in. However, take a couple of seconds to look at this watch, and you'll easily be able to tell that it's meant to be a very-low priced smartwatch.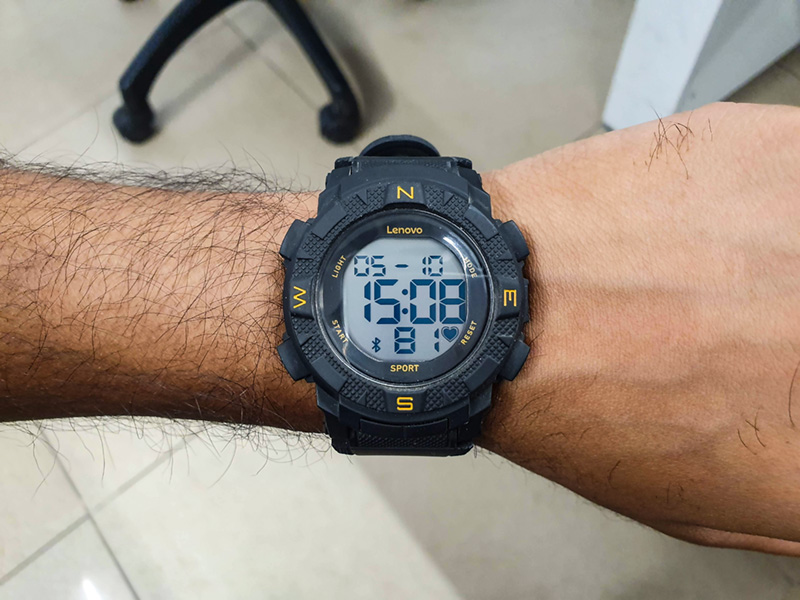 The design here is bulky, and I'm pretty confident that Lenovo wanted to make it look like a rugged watch at first blush, and it works out fine. There are unnecessary design touches in places but they all come together just fine and I didn't really find a lot to complain about it. Keep in mind, this is a watch that comes in at Rs. 1,999, and I reviewed it with that in mind.
The build, on the other hand, is clearly where the company cut considerable costs. Don't get me wrong, the EGO is by no means a fragile watch. I've used it carelessly, tossed it in my bag for formal outings when I preferred wearing my regular watch instead, and just treated it like a rugged watch for the most part, and it has held up surprisingly well. However, the quality of the plastic on the casing, and the rubber straps is very obviously not that great. It looks decidedly cheap to the eyes, and it feels thin and weird when you touch it. Even comparing it to the Mi Band's silicone strap, the EGO's strap is not at the same level.
Display
The display on the EGO is definitely not what you'd expect from a smartwatch, or even most fitness trackers. This is a typical display you'd find on a digital watch, and that might be a good thing or a bad one depending on what you're actually looking for in a watch. Personally, I think the OLED display on the Mi Band 3 is a better deal than this one — it can show a lot more information, and that's something where the Lenovo EGO falls back substantially as we'll discuss in the features section of this review.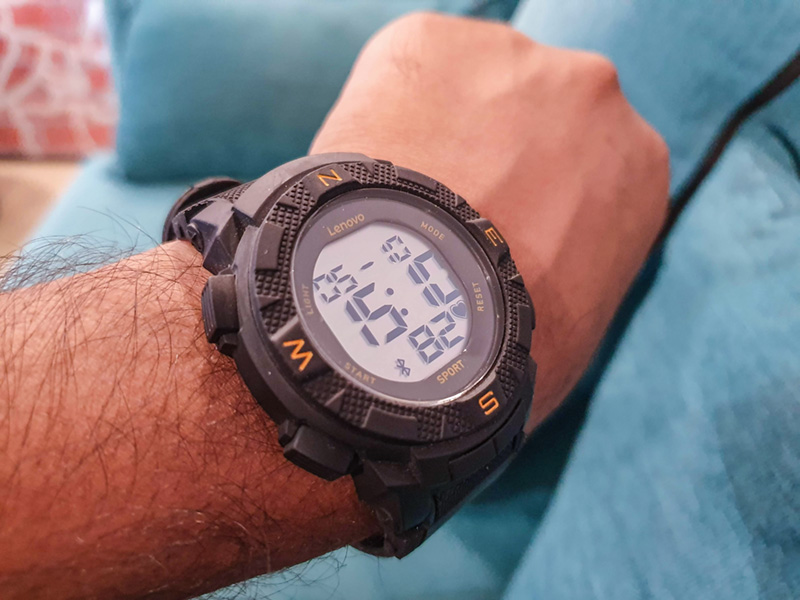 The display also has another annoying issue — pressing too hard on the buttons usually screws it up, and in my experience with the watch, sometimes even restarting the smartwatch wouldn't fix it. However, pressing on the 'Mode' button a bunch of times usually did. It's mostly a hit or miss experience though, and I'd suggest you treat the buttons with care. This watch might look rugged, but when it comes to the buttons, I don't think rugged is the word I'd use to describe it.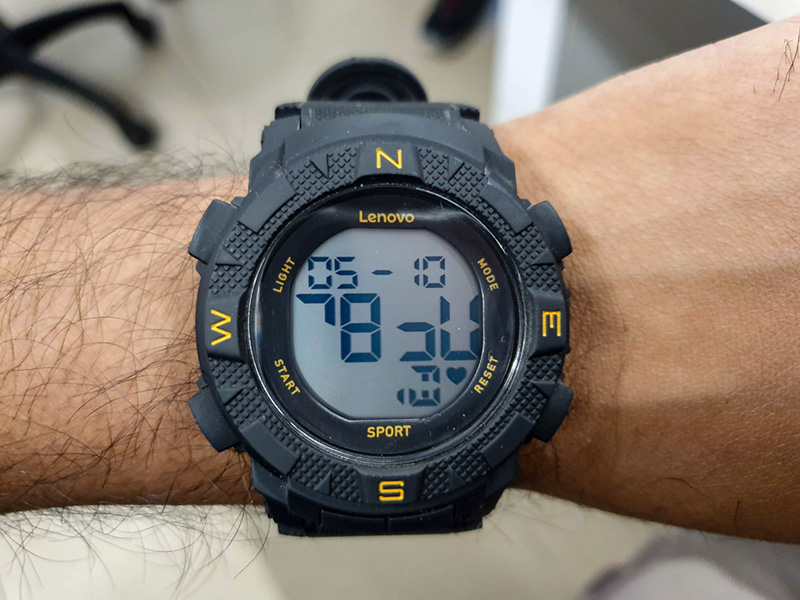 Other than that though, the display does its job just fine. It doesn't show a lot of information, which might be good for you if you don't like smartwatches that bombard you with information, but the information it does show, is well organised and is just enough to justify wearing this watch regularly. There's also a 'Light' button here, since the display itself isn't backlit like what you'd see on the Mi Band 3, and that button is something you'll not realise the importance of until you find yourself driving at night, and trying to check the time on your watch (or in another, similar situation).
Buttons
Oh, the buttons. I have a lot of mixed feelings about these buttons. These buttons feel tactile enough to not make you wonder whether you pressed them or not, which is a great thing, but Lenovo did this thing where it labelled these buttons with things like 'Light', 'Start', 'Mode', and 'Reset' and this naming scheme will throw you off unless you read the manual and figure out what each of these buttons is actually meant to do.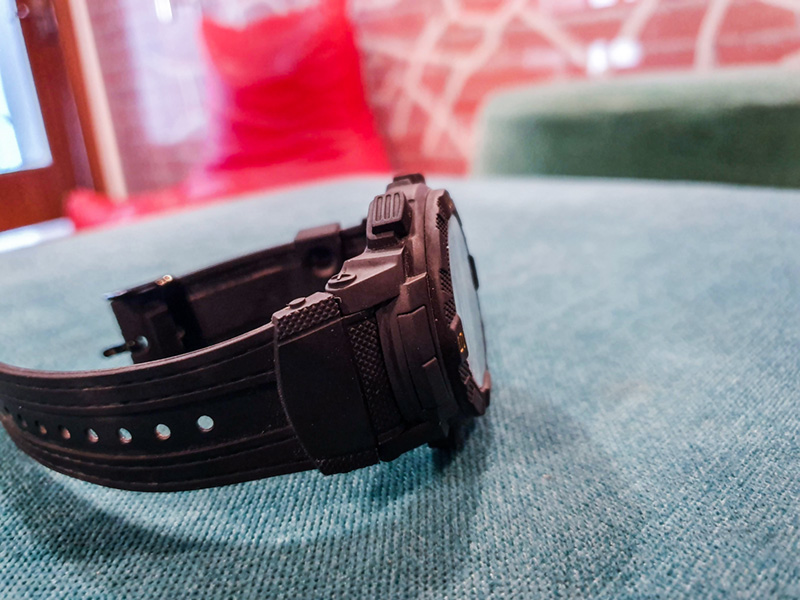 Here's what I mean. The 'Mode' button switches between the date, step-count, distance-measurement, and sleep tracking. That sounds about right, doesn't it? However, if you're looking to get to the stopwatch, or if you want a heart-rate measurement from the watch, you won't find that in one of the modes. Those two features are accessed by pressing the 'Reset' button, which is just incredibly unintuitive. But hey, even when you've found the stopwatch, starting it is yet another exercise in frustration. You might be tempted to press the button labelled 'Start' but that doesn't do anything. In fact, you'll have to press and hold the 'Mode' button to enter the 'Pause' state of the smartwatch, and then press the 'Mode' button again to actually start the smartwatch.
Also, when you're done with the stopwatch, resetting it is not accomplished by the 'Reset' button. You'll have to pause the watch with the 'Mode' button, and then press and hold the 'Mode' button to actually reset it. It's just a lot of confusing mess.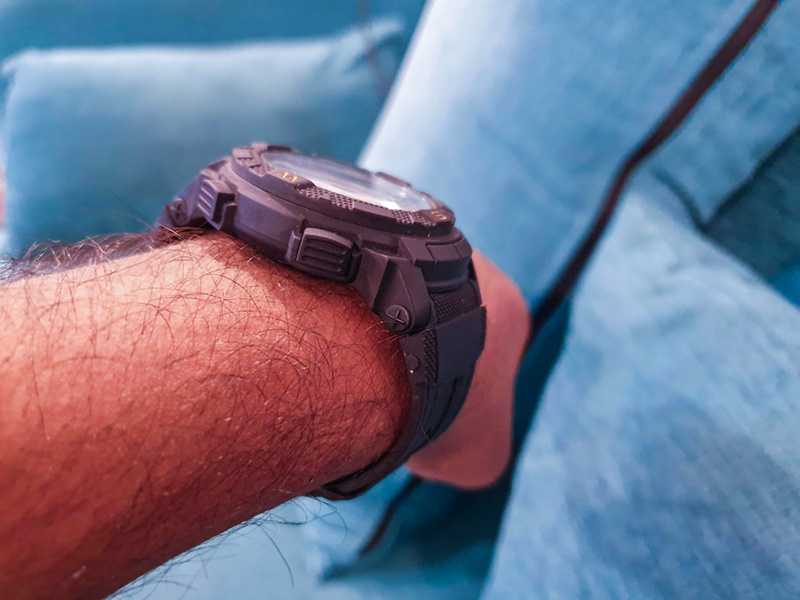 What I'm trying to tell you is "Do yourself a favour and read the manual."
From what I can tell, the button labelled 'Light' is probably the only one that actually has a decent label to it. Other than that, all of these buttons are pretty weirdly labelled, and perform wildly different functions than what one would expect.
Once you get used to them, however, this will most likely cease to be a problem for you, but in my experience with technology, you shouldn't have to "get used" to something… you know, like notches.
Features
Step Tracking
If there is one good thing I can say about the EGO, it's that it does come with most of the features you are likely to be expecting from it. There's a step counter, and it's decently accurate, although it does count around 10-15% less steps than I was taking, based on my own counting of the steps. Still, it's not that big an issue.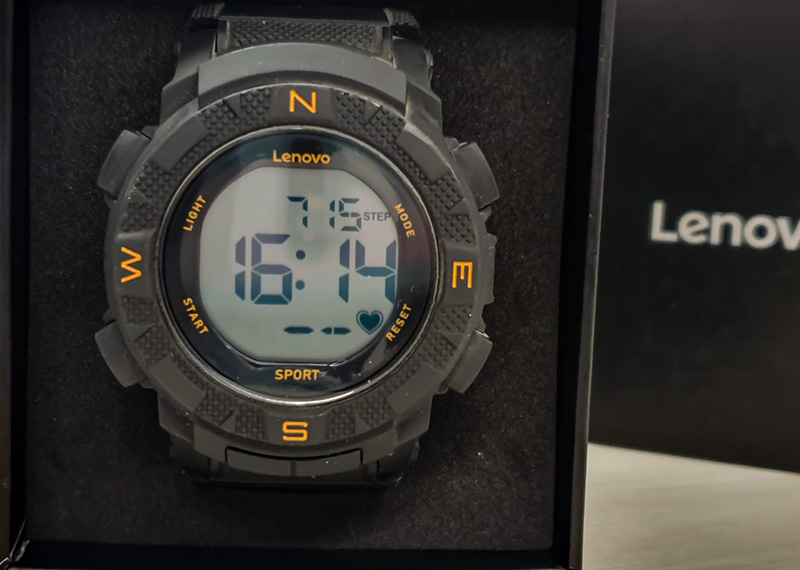 Anyway, as far as step tracking is concerned, the EGO also shows you the distance you've walked, and the calories you've burnt, which is great, but the watch does sometimes mistake driving in a car as walking so you might get discrepancies in the calories burnt and the steps taken if you drive to and from work often, as I sometimes do.
Heart Rate Measurement
There's also a heart-rate sensor which, by default, takes a continuous heart rate measurement. Well, I say continuous, but the Lenovo Life app which the watch connects to and syncs with, simply calls it 'Automatic Measurement' and says that the watch takes measurements "every once in a while". The heart rate sensor feels pretty accurate too, and for the most part, readings from the watch and from my Galaxy S10's built-in step tracker were close enough.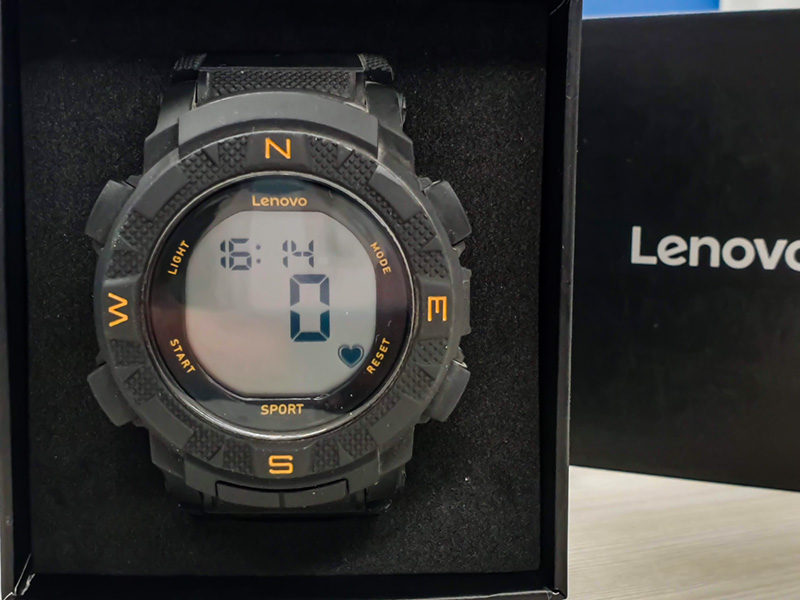 Sleep Tracking
The watch also has sleep tracking capabilities, and while it does track sleep pretty accurately, I didn't really like the feeling of sleeping with a bulky watch strapped to my wrist every night, and I'm not sure if a lot of people will, either. That said, if you do sleep with the watch on your wrist, the sleep tracking is pretty good, and I don't really have complaints with it. Also, the watch apparently can track swims as well — that's something I didn't test out though.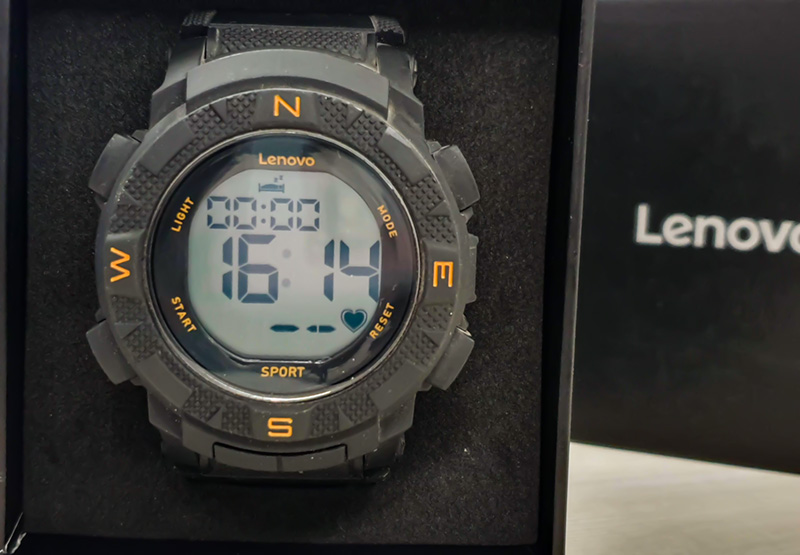 Remote Camera
Another feature that I thought would be cool, but actually wasn't, is the remote camera feature. This isn't an entirely new concept, I could do this with a third party app on my first generation Moto 360 back in the day, but the Lenovo EGO comes with a remote camera feature built in. However, using it can be a pain.
First off, you can't use your phone's stock camera app, and you'll have to go to the Lenovo Life app, tap on Profile, head over to the watch under devices, and then tap on 'Take Photo' which will launch an in-app camera. The problem here is two-fold. First, the camera quality of this app is pretty bad; the image gets distorted around the edges and it just looks weird. Two, taking a picture doesn't come as easily as pressing a button. Instead, you'll have to shake your watch-wearing hand pretty ruthlessly to actually take a picture. It not only looks weird, but it's also a pretty annoying gesture to make; plus, it doesn't work half the time. Or at least I wasn't able to get it to work properly. If you're better at shaking your hand than I am, your mileage may vary.
Alarm Clock
The Lenovo EGO doesn't have a built-in speaker, but that doesn't hold it back from becoming a pretty solid alarm clock. If you set an alarm using the Lenovo Life app, the watch uses vibrations to wake you up, and yes, it sounded pretty silly to me too, but it's pretty effective at waking me up. I mean, sure, on the first day I ended up setting my regular alarms on my phone as well, but I decided to risk it on a weekend when oversleeping wouldn't be an issue, but the watch could easily wake me up, which is great. Setting the alarm isn't the most easy task to accomplish, since you'll have to depend on the Lenovo Life app for it, but hey, at least it works and it works well.
Notifications
The EGO wouldn't qualify as a smartwatch unless it had the capability to notify you of, well, notifications on your phone, and this watch does that, just not as well or as effectively as you'd expect from something like the Mi Band.
Basically, you can enable notification support from the app, and choose the apps you want to receive notifications from. The feature works reliably, and the vibration is strong enough to alert you easily. However, when you receive a notification for something like a message, the watch simply says 'Message' on the display, and doesn't show who the message is from, or what the message says — that's something the Mi Band 3 can do, and it does it pretty well.
Even for calls, the Lenovo EGO simply mentions 'Call' on the display, and there's no way to reject or answer the call, or even to know who's calling without checking your phone. To me, this feels like it kind of defeats the purpose of having a watch that can show you notifications. Weirdly enough, the Lenovo Life app does ask for 'Contacts' permission as well as the 'Phone' permission, which led me to believe that the watch will show at least the name of the person calling, but it doesn't. I'm not entirely sure why Lenovo wants my contacts if it won't even show me the name of the person calling, so I have since revoked that permission from the app.
Battery
One of the things that really impressed me about this smartwatch is the battery. Now, Lenovo hasn't mentioned the battery specifications of the watch, but it does claim a 20-day battery life on it, which is pretty neat on paper.
In real life, the battery life feels somewhat less than claimed. In my entire week of usage, starting from 100%, the watch has dropped down to 40%, which makes it look like it'll last about 10-15 days on a charge — that's still pretty impressive, although you'll have to keep in mind that this display is clearly not a battery hog.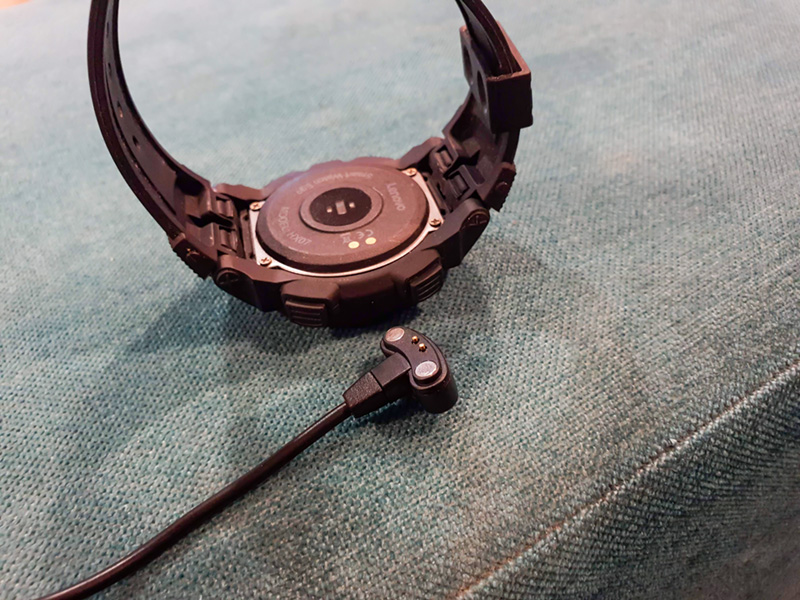 Charging takes place via pogo-connectors on the back of the watch which magnetically align with the charging module that you get in the box, and it takes around an hour to fully charge the EGO, after which it's good to go for another 10 to 15 days.
Lenovo EGO Review: Should You Buy It?
It's a pretty difficult thing to recommend or not recommend this watch. After all, Lenovo is offering a very watch-like smartwatch at just Rs. 1,999 and it does a lot of things really well. It's decently accurate at measuring steps, measuring your heart rate, waking you up in the morning, and telling you the time (duh!). Plus it has a nice battery life. However, it's also annoying how the buttons are labelled, the notification support isn't robust enough and is easily beat by the Mi Band 3 (Rs. 1,999), and on a personal note, I don't find the design to be very attractive.
That said, if you're looking for a fitness tracker, and you love the design of Casio's G-Shock line of watches, the Lenovo EGO is definitely worth a look-see. However, if you want more features, a sleeker design, better support for notifications, I'd still recommend the Mi Band 3 over the EGO. Or, if you can extend your budget a little, you can get a color OLED display with the Honor Band 4 (Rs. 2,599)
Buy the Lenovo EGO from Flipkart (Rs. 1,999)
REVIEW OVERVIEW

SUMMARY

The Lenovo EGO is a smartwatch that's actually a fitness tracker. Priced the exact same as the Mi Band 3, this smartwatch clearly competes with Xiaomi's fitness tracker, and while it does look a lot more like a watch, doesn't really put up too much of a fight against Xiaomi's already wildly popular offering. If you are looking for a fitness tracker, but the typical fitness band designs don't cut it for you, the EGO might be worth taking a look at, but it doesn't really offer anything more than its competitors.