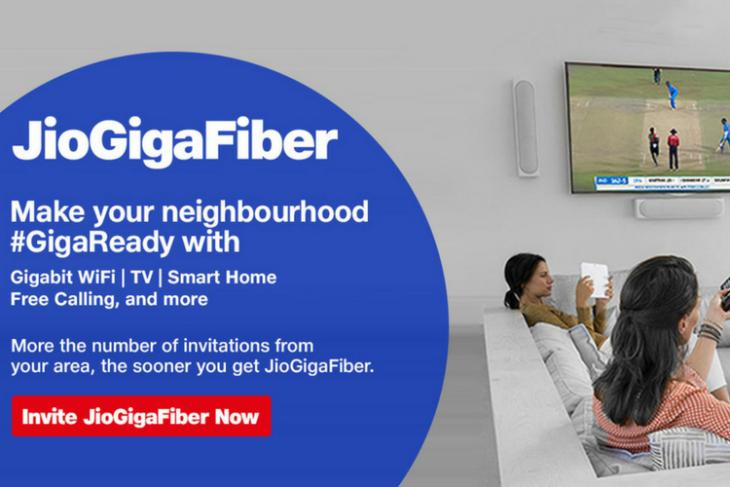 JioGigaFiber opened up for registration on August 15, allowing users to express their interest in the company's fixed-line broadband network. The service is not ready for official rollout just yet, but Reliance Jio is reportedly looking to introduce a GigaFiber preview offer for early testers.
According to TelecomTalk, Reliance Jio will soon start contacting users for the installation of Jio GigaFiber. To get started, users will have to pay Rs 4,500 up front (which includesa refundable security deposit) to get the Jio ONT (Optical Network Terminal) device, a gateway to the GigaHub Home.
The preview offer is similar to what the company offered with the rollout of its Jio telecom services.
The Jio GigaFiber preview offer will give every initial subscriber 100GB of data at upload and download speeds of up to 100 Mbps for the first three months. We expect these offers to be extended, just like in the case of Jio telecom.
The 100GB FUP limit will be refreshed each month, but if you do run over that limit, Jio will have provisions for additional data plans, known as Data Top-Ups, which subscribers can use to add 40GB data to their broadband account for free.
The top-ups will be free for the time being and will be available on Jio's website or the MyJio app. The report has no info on the number of top-ups that you can get for free every month. It's probably not going to be unlimited, and we would be surprised if it's more than once per month.
The highlight of Jio GigaFiber is that there won't be any speed caps and you'll still be able to enjoy high-speeds even when your FUP limit is reached.
There were previously reports and leaks that suggested JioGigaFiber preview offer will give users 1.1TB of free data each month using such top-ups. There is no info available on the data plans but it should be coming sooner than later.
If you are interested in trying out Jio GigaFiber at your home, you can head over to this link and register for the same. Do note that at the moment, Jio is using the registrations as a feasibility survey, and you are not guaranteed to get JioGigaFiber even if you register.