Active Noise Cancelling headphones can be pretty amazing, or pretty terrible, depending on how well they actually cancel noise in real-world situations, so when Jabra sent over their Elite 85h Active Noise Cancelling Bluetooth headphones (Rs. 28,999) over to us, I tested them the way I would test any pair of ANC Bluetooth headphones — while travelling. I've used these headphones for a considerable amount of time over the last two weeks, and I'm pretty impressed with them, so why did I put "Almost the Best" in the title? Well, read on to get a detailed look into the Jabra Elite 85h Headphones — their ups and downs, pros and cons, and more.
Jabra Elite 85h: Specifications
One of the best things about Jabra's website is the fact that they give proper specifications for their headphones, as compared to a lot of other brands that simply mention "battery life" and "Bluetooth version".
Dimensions
195 x 82 x 225 mm
Weight
296 grams
Bluetooth
Bluetooth 5.0
Ports and I/O
USB-C; 3.5mm AUX
Battery Life
Up to 41 hours (without ANC)
Up to 36 hours (with ANC)
Number of Microphones
8 (4 used for ANC)
Price
Rs. 28,999
Clearly, the Jabra Elite 85h bring a lot of impressive numbers on paper, but let's take a look at how these translate into the real world.
Design and Build
If you buy these headphones, Jabra knows enough to send them packed with a carrying case, because with headphones this size (and at this price) you'll want to keep them in a case when you're not actively using them. Not that these headphones are flimsy or weak; if anything, the Elite 85h are pretty well built, and feel sturdy and premium to the touch — as they should.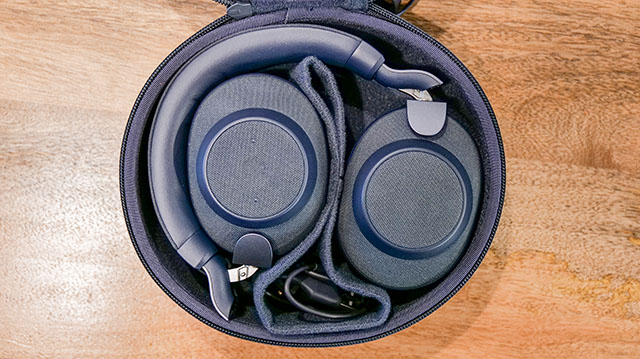 The design is pretty straightforward, and Jabra has clearly not taken too much of a risk here, which is perfectly fine by me. These headphones look impressive and attractive, without looking overdone and flashy. The back of the earcups are covered with a mesh-fabric material, while the earcups themselves are made out of a leatherette material that's soft to the touch, and really comfortable to use. There's a blend of high quality plastic, ABS, PC and other materials that keep the weight low, while giving off a premium look and feel.
The Elite 85h also come with an interesting UX choice — folding the earcups to disconnect and opening them back up to connect. That's very similar to what you'll see in some magnetic Bluetooth earphones, such as the OnePlus Bullets Wireless earphones, and it's really neat seeing this on a pair of headphones. To be honest, I wasn't completely sold on this implementation, but I used it on my weekend trip to Nainital, all through the train and the cab journey, and I found myself loving the ease of use this brings. It's incredibly quick to respond and very reliable in its functionality to make me want this functionality on all headphones.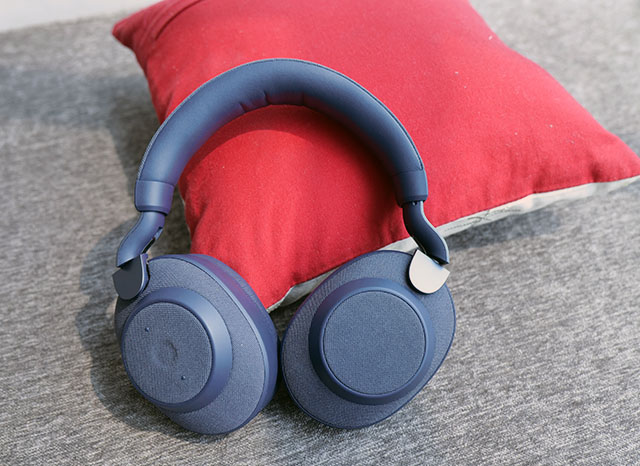 Thanks to this functionality, along with an automatic power-off in 72-hours feature, Jabra did away with the power button on the Elite 85h — it's simply not required. There are still a bunch of buttons here though, and we'll talk about these in detail later, but one thing I really like on these headphones is the USB-C port for charging. I love USB-C, and thanks to this port, I just carried one charger on my trip for my laptop, my phone, my power bank, and my Bluetooth headphones. That's incredible ease of use, and I love it.
Comfort and Fit
The Elite 85h are also amazing when it comes to the actual comfort while wearing them. True, at 296g they're heavier than headphones like the Sony WH-1000XM3, but even so, Jabra's offering doesn't feel heavy on extended usage — and I should know, I used them continuously for over 7 hours on my train + cab journey to Nainital.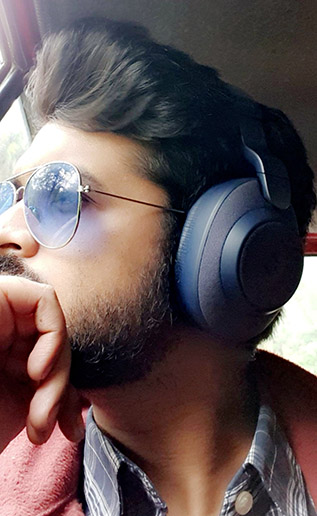 The earcups have a firm grip that puts just enough pressure to hold the headphones in place, without making it feel like the headband is pressing into the top of your head — something I've noticed happening with a lot of headphones. Along with that, the fact that the headband also has the same leatherette material used on the earcups helps with the headphones being comfortable when being used for a long period of time.
Audio Quality and Noise Cancellation
The Jabra Elite 85h come with impressive audio quality all around and while these are one of the best headphones I've used, they're definitely not the best. Let me explain: the Elite 85h have impressive sound. They get quite loud if you push them, the sound doesn't distort, and the bass is heavy enough to be thumpy, but not heavy enough to get overwhelming. Along with that, the treble is really well tuned — the elite 85h just offer a really nice blend of highs, lows, and mids.
the Jabra Elite 85h are the second best sounding pair of headphones I've tried in this price range.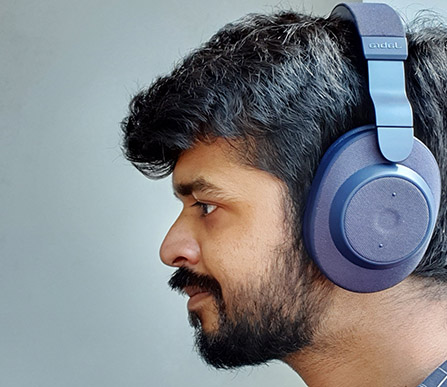 However, if you're listening to bass heavy songs on these headphones and you turn the volume to max, the bass sometimes does distort. I could clearly hear the bass distorting in some EDM songs that pump the bass exceedingly hard. For some reason this was even more pronounced when ANC was turned on the headphones. Turning ANC off, or reducing the volume to around 80% almost completely gets rid of this problem.
Apart from that one thing that bugs me though, the Jabra Elite 85h are the second best sounding pair of headphones I've tried in this price range. The first are obviously Sony's WH-1000XM3 ANC headphones that are just so blissfully good at everything it's almost wrong of Sony to not give others a chance.
Noise Cancellation
Anyway, coming back to the Jabra Elite 85h — these headphones are a very close second to Sony's offering, and the sound quality on the Elite 85h is really impressive. Speaking of impressive, let's talk about the Noise Cancellation.
The Jabra Elite 85h come with Active Noise Cancellation, and there are different modes:
Active Noise Cancellation On
Active Noise Cancellation Off
Hear-through
The effect of turning ANC on or off is pretty obvious, but Hear-through is a cool feature that I use at work a lot. With hear-through, the Jabra Elite 85h essentially mix your music with the ambient sound they take in from the microphones, so you can hear your surroundings while you listen to your music. This is most likely aimed at people listening to music while running or jogging, but it's incredibly useful at work, because I can keep listening to music and still discuss things with my colleagues. One thing to notice here is that if you're listening to music at anything higher than 60-70%, hear-through is basically useless since you won't be able to hear anything.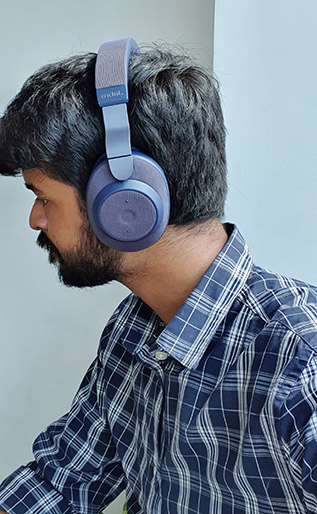 Anyway, with Active Noise Cancellation On, the Jabra Elite 85h perform admirably, and if I compare them to the Sony WH-1000XM3, they're very close. With ANC on, you can completely immerse yourself in the music, movie, or podcast you're listening to — and I did this with all three of those while I was in the train. It's pretty great, especially in trains and flights with little kids that keep creating a ruckus — I speak from experience.
That said, I did notice one odd thing with ANC on these headphones — if you're travelling in a car with the windows rolled down, the ANC tries to compensate for the noise the wind creates, and sometimes the headphones just end up making a very loud and annoying static sound as a result. I found this out by accident, but it's incredibly annoying and there's no way to fix this unless you turn off ANC, or roll the window up. It's an issue that's very specific to a particular situation, but it's annoying as hell. I'm not sure if the Sony WH-1000XM3 would also have this problem, but logic suggests that they might, considering how ANC works.
Connectivity
In terms of connectivity, the Jabra Elite 85h bring all the good stuff — there's Bluetooth 5.0, which is something you wouldn't get with Sony's WH-1000XM3 headphones (those come with Bluetooth 4.2). However, the Elite 85h don't come with aptX or aptX HD support, which is weird at this price range. In fact, Jabra isn't even mentioned on the aptX website. Still, if you're willing to ignore the absence of aptX on these headphones, the connectivity here is on point in every other way.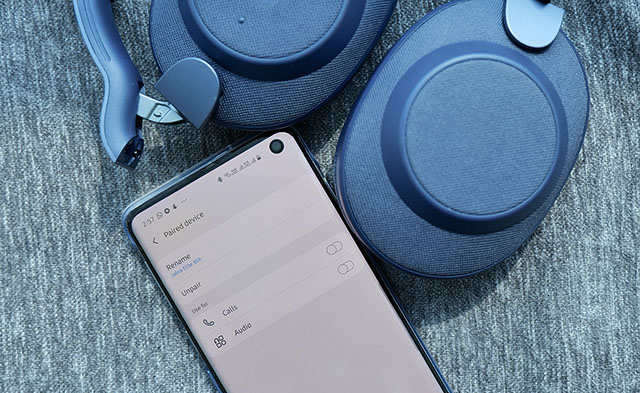 The headphones stay connected easily over 7-8 metres in a regular home-space which is pretty great, and there's no signal drop or distortions. Also, you can connect two devices to the headphones at the same time, which can come in handy if you want to pair your phone and your laptop to your headphones at the same time to listen to music from your laptop and still be able to take calls from your phone straight on your headphones.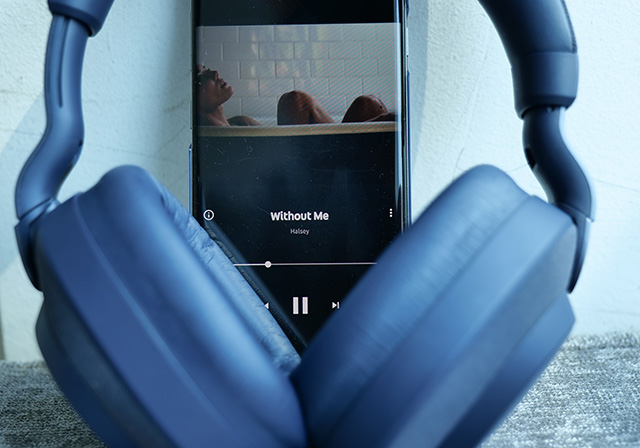 Connectivity wise, the Jabra Elite 85h are actually pretty great, and the only drawback I could find here is the missing aptX support, which, honestly, is something you would expect in high-end headphones like these.
Buttons and Ports
Moving on to the I/O on these headphones, the Jabra Elite 85h come with quite a lot of that. There are only two ports here — a USB-C port for charging, and an AUX-in port. The USB-C port is a personal favorite of mine, and I honestly can't wait for even affordable headphones to come with USB-C — it's faster, and just more convenient.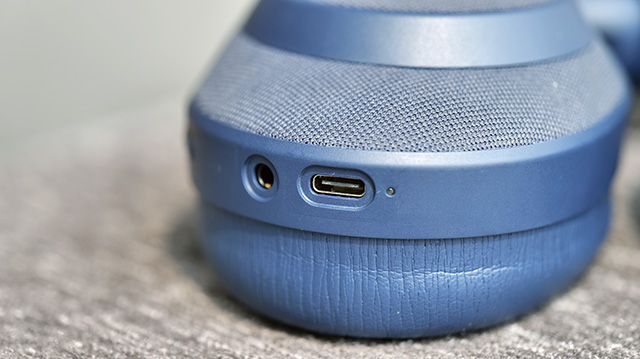 The AUX-in port, well, that's a life saver if you ever run out of battery and want to listen to music. Simply connect the headphones in wired mode and keep listening. True, ANC won't work, and neither will hear-through, but at least you can listen to music on these even if you manage to completely drain the battery (which is a task, believe me, but more on that in the battery section).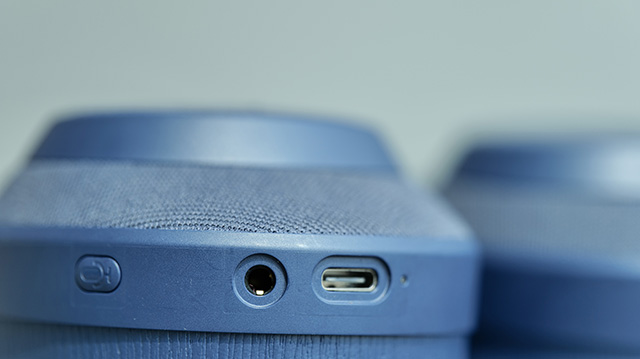 There are also a bunch of buttons here — there are the usual play/pause, and volume control buttons on the right earcup under the mesh-fabric material, that also serve the dual purpose of putting the headphones in pairing mode, and skipping tracks with long presses.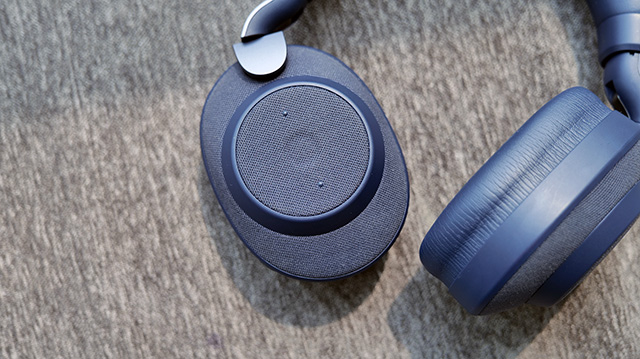 There's also the Assistant button on here which you can use to activate the smart assistant on your phone, so you can send messages and stuff without having to take the headphones off.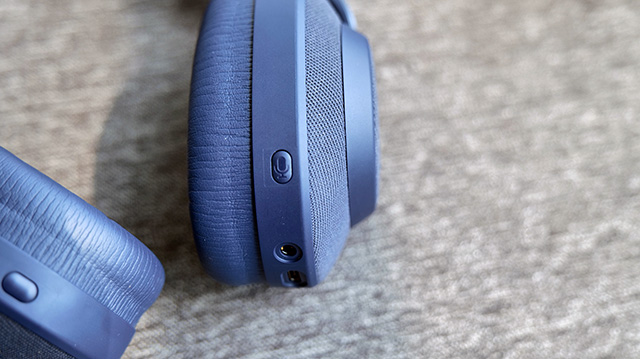 Lastly, there's this button without any markings on it — it basically switches between the various noise canceling settings:
ANC on
ANC off
Hear-through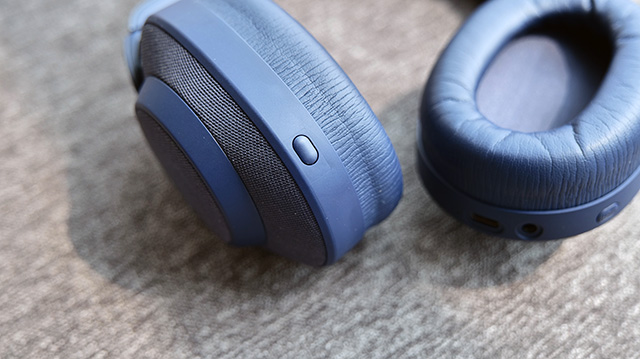 There are helpful voice prompts when you switch between these modes as well, just in case you're unable to figure out what mode you're in. These modes can also be switched between from the companion smartphone app: Jabra Sound+ that's available for free on the Play Store and the App Store.
Jabra Sound+ App
The Jabra Sound+ app is your one stop solution for managing and customising the Elite 85h. This app is where you'll find settings like choosing Moments for your headphones. Moments can be thought of as customisable sound profiles. There are four:
Commute
In Public
In Private
My Moment
with each of these Moments you can choose between ANC on/off or HearThrough mode, you can adjust the Music equalizer, and you can choose a Music preset.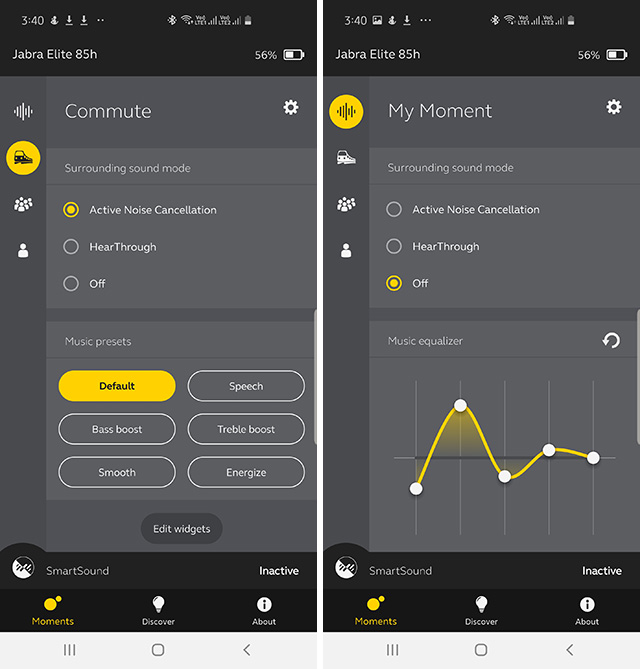 For example, I've set Commute to have ANC on, In Public to HearThrough, and In Private to ANC off. This way, I don't have to listen to random kids on my commute, but I can still listen to my coworkers when I'm at work, and when I'm alone, I can save battery by turning ANC off.
You can switch quickly between these Moments from the notification the app puts into your Notification Center, but to actually utilise these to their full extent, there's a feature called 'SmartSound.'
With SmartSound enabled, your headphones analyse the sound in your surroundings and automatically choose Moments based on that. So they will switch automatically from Commute to In Public when you reach work, and from In Public to In Private when I'm back home. It's pretty impressive, even though it does take some time to analyse ambient sounds and change Moments.
Other than that, the Sound+ app brings the Discover tab which is where you will find tips, tricks, news, and even firmware updates for your headphones.
Battery
The Jabra Elite 85h come with a battery that's rated to last up to 41 hours with Active Noise Cancellation off, and up to 36 hours with ANC on, and that claim is pretty accurate. From a full 100% charge, these headphones have been used for almost 16-17 hours so far with ANC turned on all the time, and they're at 60%. Clearly, they'll last around 34-35 hours. That's pretty damn impressive.
Plus, thanks to USB-C charging, I don't have to worry about carrying a separate cable for the headphones either because my phone, my laptop, and now these headphones, all can be charged from the same USB-C cable. Charging the battery also doesn't take too long; the headphones charge in around 2 to 3 hours, and, while I didn't test this particular thing out, Jabra claims that a 15 minute charge can get them up to 5 hours of listening time, which is also pretty impressive.
Pros and Cons
So, the Jabra Elite 85h are a pair of really impressive headphones, but they too have some drawbacks and flaws. So here's a handy list of the good, and the bad about the Elite 85h:
Pros:
Good sound quality
Excellent battery life
Bluetooth 5.0
Premium and sturdy build
USB-C
Cons:
No aptX support
Bass sometimes distorts at high volumes
ANC is not at par with competitors like Sony's WH-1000XM3
Jabra Elite 85h: Should You Buy These?
So the question at the end of all this is should you buy these headphones or not. After all, at Rs. 28,999 these are a big investment. Look, the Jabra Elite 85h bring great sound quality, an amazing battery life, good ANC, and a lot more to the table, but even though these are a great sounding pair of headphones that offer a high level of comfort, they don't quite parallel the offering from Sony in the WH-1000XM3 (Rs. 28,999) which are quite simply the best headphones I've used in this price. They offer better sound quality, a more balanced bass and treble output, and better noise cancellation as well. If I were you, I would go with the Sony headphones over these.
Buy the Jabra Elite 85h (Rs. 28,999)
---
Load More