If you're excited about iOS 17 sideloading feature, take a step forward. The European Union's Digital Markets Act (DMA) went into effect on November 1, 2022, and it requires "gatekeeper" companies to open up their services and platforms to third-party companies and developers. It means Apple has to implement the sideloading feature, allowing its users to download apps from third-party app stores.
That said, Apple won't widely offer such a feature which it has consistently opposed. If you're curious to know if sideloading is coming to iOS 17 or are excited to install apps from third-party stores on your iPhone, we've got you covered. Move along and check out if iOS 17 will support sideloading in your country or not.
Is Sideloading Apps Available in iOS 17?
Sadly, Apple has not rolled out sideloading in iOS 17 as of now and we did not see anything about third-party app stores at its WWDC 2023 event or the fall event where it announced the new iPhone 15 series. While Apple is choosing to stay mum on whether iOS 17 will bring sideloading to iPhones, it will have to comply with the EU law which states that all smartphone manufacturers must allow users to download apps from alternate app stores.
Will iOS 17 Support Sideloading?
With a sobbing heart, Apple will have to allow sideloading apps on your iPhone, but here's a catch. It is expected that the sideloading feature will only be available in European regions where the DMA is applicable. No other countries, not even in the US, will get the sideloading feature. Here's a list of some countries in which iOS 17 sideloading could be available:
Austria
Bulgaria
Belgium
Croatia
Denmark
Finland
France
Greece
Germany
Hungary
Ireland
Italy
Luxembourg
Netherlands
Poland
Romania
Sweden
Spain
It's worth knowing that after the Brexit law that took place in January 2020, the United Kingdom is now out of the EU and doesn't follow its regulations. So, users in the UK won't be able to use sideloading on their iPhones.
When Will iOS Support Sideloading?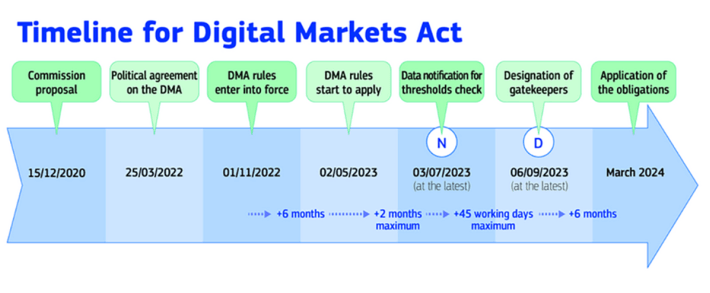 The DMA will be enforced in Europe starting from March 2024. So, Apple has six months to implement the changes. The giant already released the final version of iOS on September 18, 2023, and it didn't roll out sideloading of apps. We'll continue to see Apple adding features to its newest iPhone operating system in the coming months via iOS 17.x updates. Even though Apple didn't reveal any details about when is sideloading coming to iOS 17 users in Europe, it should be there by March 2024.
What if Apple Ignores DMA Rules?
The European Union is one of the most important markets for Apple. So, the problem is it has to comply with DMA or keep fighting for it. Well, Apple could choose to skip the implementation of sideloading on the iPhone and ignore the European Digital Union's Digital Markets Act (DMA).
That said, if the Cupertino-based tech giant didn't comply with DMA, it risks fines of as much as 20% of the company's total annual turnover, and that equates to tens of billions. While Apple has always opposed sideloading of apps in the name that it would undermine the privacy and security of Apple users, it recently said that the company will comply with EU regulations. Even if Apple has agreed, it's a forced decision just like the adoption of USB-C on iPhone 15 models.
---
Load More