At the Computex 2018 on Tuesday, Intel unveiled the commemorative Core i7-8086K Limited Edition CPU to celebrate the 40th anniversary of the groundbreaking 8086 microprocessor that was originally released way back in 1978, but remained in production up until the early 1990s.
Alongside the all-new 8086K, the company also showcased a 28-core single-socket CPU that was running at 5GHz on all cores, and apparently notched up an unreal 7334 in Cinebench R15, which is unmatched by any single-CPU system.
Intel didn't provide any further details about the chip, but Gregory Bryant, the SVP and GM of the company's Client Computing Group, said that it would be launched by the end of this year. According to AnandTech, the new processor runs in the LGA3647 socket, which is Intel's Xeon enterprise socket with 3647 pins. The company didn't reveal whether the 5GHz clock-speed was stock or overclocked, but AnandTech says that it believes the latter to be the case.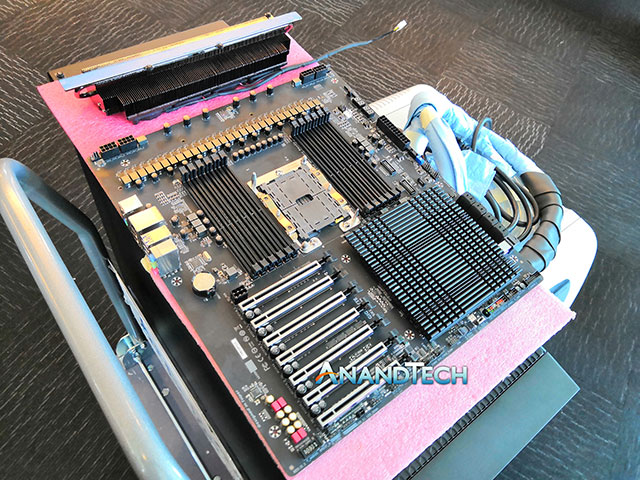 It is worth noting here that the new chip won't be the first 28-core processor from Intel. The company already sells the 28-core Xeon Platinum 8180, but that's a multi-socket server processor that costs a whopping $10,000.
The upcoming chip, on the other hand, is a single-socket processor that's aimed at the consumer market (albeit at the very premium-end of the segment), so it will be interesting to see how Intel prices it, given that the cost of the motherboard, RAM and other parts compatible with this beast will not come cheap.
According to Tom's Hardware, the new chip is most likely an overclocked version of the Xeon Platinum 8180, but with an unlocked multiplier to attract enthusiasts. However, the publication also speculates that, to prevent cannibalization of the high-margin enterprise model, Intel might remove some of the critical datacenter-oriented features from the upcoming chip, such as AVX-512, ECC, and multi-socket support.
---