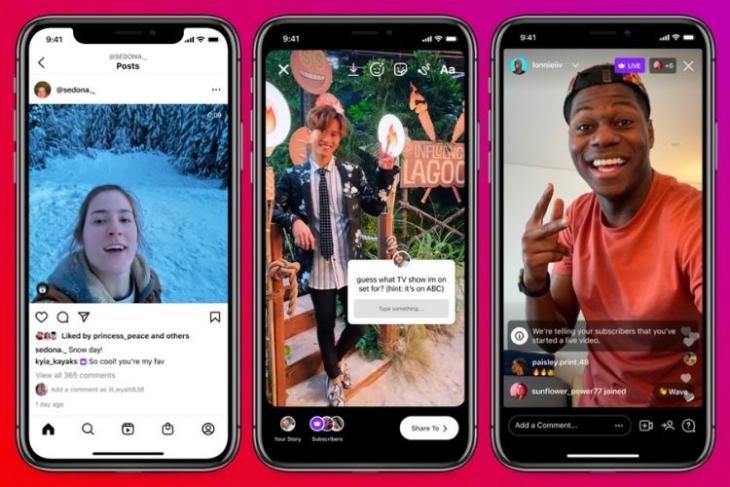 Instagram's 2022 roadmap involved a focus on content creators and keeping up with its promise, the social media platform has something for them in the form of Subscriptions today. The new paid subscription feature on Instagram will allow content creators to earn a stable income via their following on the platform.
Instagram Subscriptions for Creators Rolling Out
This new test, which was announced via a tweet, will be made available to a set of content creators in the US and will allow them to choose their subscription fee (from $0.99/ month to $9.99/ month) and even add a Subscribe option on their profile.
The subscription model will involve people paying content creators in exchange for exclusive paid-only content such as Instagram Live sessions and Stories. Of course, these creators will have to give a piece of the cake to the app stores as these subscriptions will be made via them.
The feature will help Instagram compete with the likes of OnlyFans and even the monetization option called Super Follows on Twitter.
Buying a subscription will see you get a purple badge, which will show next to your username and even the comment/ message section, implying that a user is a subscriber. The "Subscriber Stories" will also be marked with a purple ring to differentiate them from usual or Close Friend (green ring) Stories on Instagram. Users will also get notified of the exclusive content once posted.
As for the creators, they will be able to get insights into the subscriptions via the dedicated settings. The limited content creators for whom the test is live include @alanchikinchow, @sedona._, @alizakelly, @kelseylynncook, @elliottnorris, @jordanchiles, @jackjerry, @lonnieiiv, @bunnymichael, and @donalleniii. Instagram hopes to expand the subscriptions feature to more creators and users very soon.
It also wants to come up with more ways for creators to "own their relationship with their subscribers." It is planning to introduce a way for Instagram content creators to take their subscribers to other apps and platforms for them to expand their reach further.
However, while creators can have a way of getting monetized in a streamlined, we are not sure if users will be open to paying for something they have been getting for free. Do you think this new Instagram feature is worth it? Let us know your thoughts in the comments!