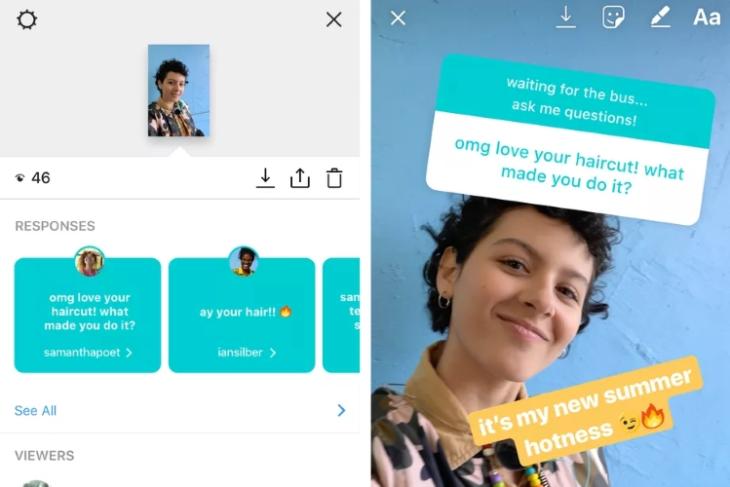 Instagram has been adding a ton of features to Stories lately, so much so that it could be an app by itself. You have polls, music stickers, shopping links and a lot more! Add one more to the list, but this one makes little sense for me.
Instagram is now introducing a new spin on poll stickers for Stories, by adding a new Question sticker. As the name suggests, it lets those you follow ask you questions which you can answer through a subsequent story post.
You can find the new sticker in the drawer in the Stories section. Similar to other stickers, just tap on it, type a question (or leave it at the default "Ask me a question"). When your friends see it, they can tap the sticker to send replies. However, it's not anonymous if that's what you expected; those who reply to your question will show up at the top of the viewers' section for that specific story.
If you see a question post on a friend's Story, you can tap it to create a new story post. The question will be inserted into the story, and you can answer however you like. While posting the reply as a story, only the question is shown and the username of the person asking the question is hidden.
Beebom's Take
According to the company, it's "a way to start conversations during moments when you don't necessarily have a photo or video to share." However,as a user, if I really want to ask someone something, I'd just Direct Message them.
The idea of allowing people to ask you questions anonymously has been around for long and was already popularized by services such as Sarahah and Sayat.me. However, with Instagram, you already know who has asked you the specific question, and your answer is plainly visible too.
From what we make of it, it seems to be an unnecessary feature that's being shoved into Stories just to boost the engagement without it meriting a place. Sure, it will get people typing answers and using Stories for a few minutes more, but that's not what Instagram is about and in its current state Questions stickers seem half-baked. It might certainly do some good for Instagram, but it just does not fit with everything else in Stories.