Of all the file formats out there, PDFs are one of the most versatile as far as viewing and sharing formatted documents is concerned, plus with editable PDFs, they've only become more useful. Whether it's a form, a draft document, or even resumes and CVs, PDFs are the most widely used formats. So, as important as it is to have a PDF viewer handy on your Mac or PC, having a PDF editor can be just as important. That's where software like the Icecream PDF Editor (download) come into play. If you're looking for a great free PDF editor, here's our review of the Icecream PDF editor.
Key Features
As far as PDF editing apps go, Icecream PDF Editor is one of the more feature-rich apps I've used. It comes with a bunch of handy tools and options that'll let you edit and manipulate PDFs with ease. Let me break down some of the most exciting features of the Icecream PDF Editor.
PDF files are great for preserving the formatting of documents across platforms, but editing them can be a pain. However, with the Icecream PDF Editor, editing a PDF is extremely easy. Simply click on the Edit button in the app, and you'll get a handy toolbar with all the editing features you might need.
There's a 'Select' tool that will let you select any element of the PDF file and easily make edits to it. If it's text, you'll be able to change the text itself or add more text to it, edit the font, change the color, the font size, alignment, and more. If it's a text-box, you'll be able to adjust the stroke size for the text field, change its color, adjust opacity, etc. You can edit the attributes for almost anything with the select tool. There's also a text tool that will let you add a text box to the PDF and add any text to it, along with options to adjust the color, font, and more.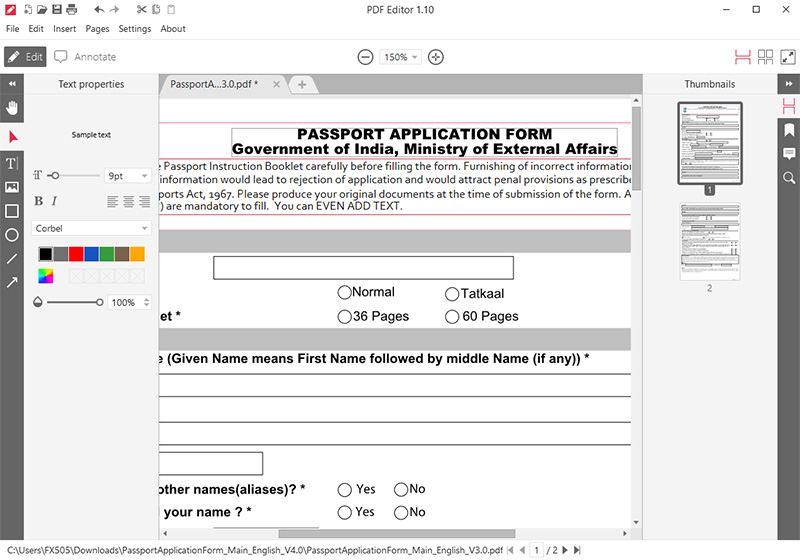 Then there are tools to add shapes to the PDF including rectangles, circles, lines, and arrows. These too have a bunch of options including things like the ability to adjust the outline color, the fill color, and a lot more. It's really quite great.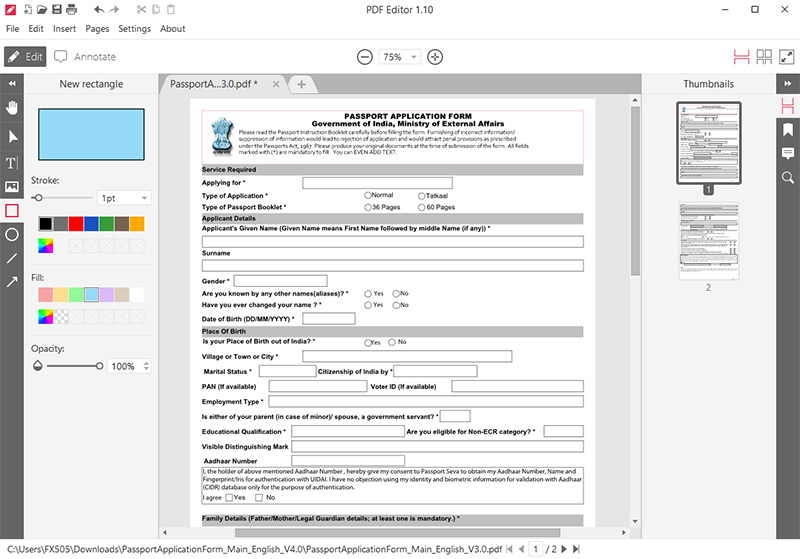 While editing a PDF is definitely great, if you're simply looking to make some annotations to a PDF file to point out certain areas of interest, or add things like sticky notes to the PDF, the Icecream PDF Editor has got you covered there as well.
For starters, there's a tool to add text to the PDF, and there's also a tool to add a sticky note. This is pretty useful since you can add it anywhere on the PDF, and add a description that will appear when someone clicks on the sticky note icon in the PDF. You can choose the color of the icon, add a description to it, and even set its opacity to suit your liking.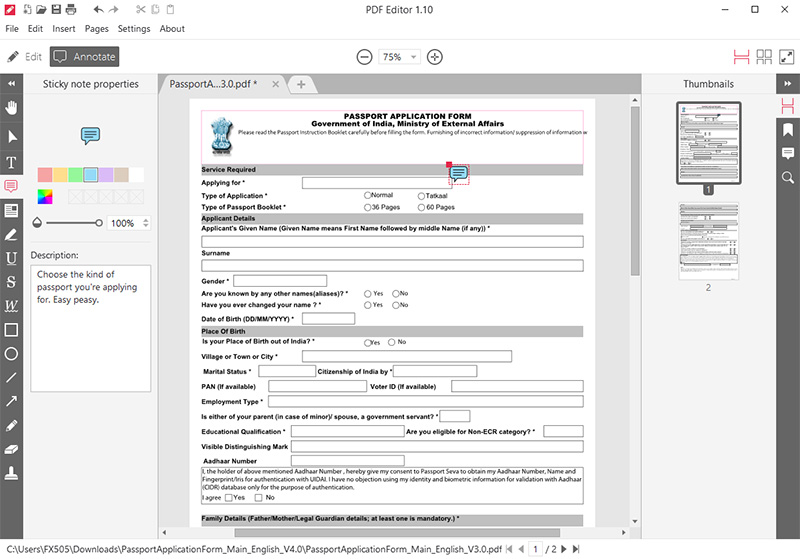 There are also highlighting tools here, including an area highlight tool that will let you draw a selection around the area you want to highlight and highlight it when you're done. You'll also be able to choose the color for the highlight if you want.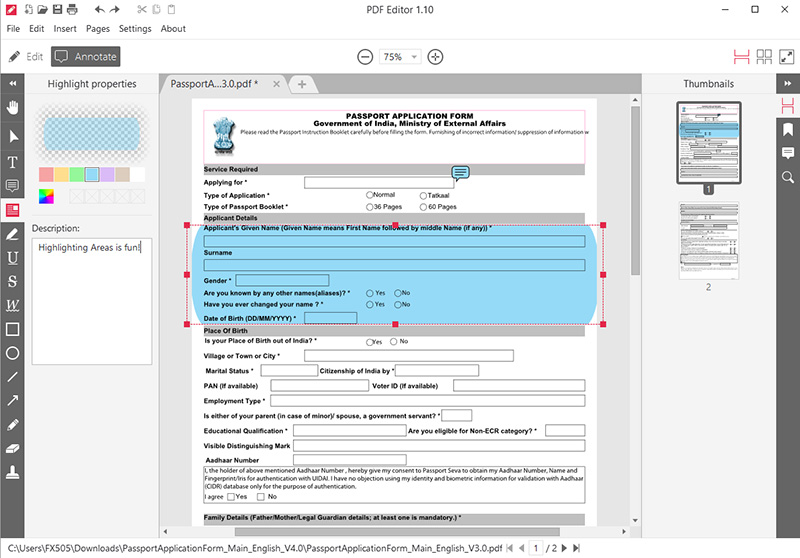 Other than that, there are tools to underline text, make a strikethrough, and even add a wobbly underline — something I'll be using to mark proof-reading errors in documents. Plus there are shapes like circles, rectangles, lines, and more that you can use to annotate a PDF.
There's also a stamp tool here that has a bunch of preset stamp options that you can simply place on the PDF. It's like a digital stamp saying something like 'Accepted,' 'Withdraw,' 'Finished,' and more. You can also use custom stamps if you want, by the way, but for the most part, these should suffice.
Another really common thing that people do with PDFs, is adding pages to them and adjusting the order that they appear in. Icecream PDF Editor can handle that with ease as well. You can simply click on the 'Pages' option in the menu bar and then click on 'Add Page' to add a new page to the PDF. That's all well and good, but what really won me over was the drag and drop functionality here. So if I add a new page and I want to shift it to a different position in the PDF file, I can simply click and hold on it, and drag it to the new position. It's really intuitive.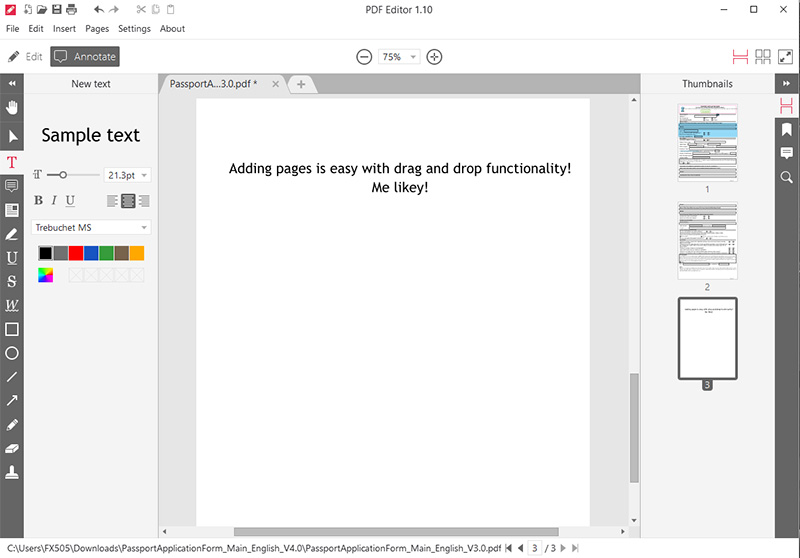 User Experience
Features are good and all, but without a decent user experience, even a powerful and useful app becomes an annoyance to deal with. The Icecream PDF Editor, however, has a pretty great design and it results in very simple and intuitive user experience.
Things are very streamlined here, and everything is either properly labelled, or has icons that are self-explanatory to the extent that you'll never be left wondering what a particular tool does, or where to find a particular tool that you're looking for.
Honestly, this is one of the more under appreciated things in a lot of apps. Seriously. I mean, the Icecream PDF Editor might not be the most feature rich software out there, but it definitely is the most easy to use PDF editors I've ever used. It's just that well organised.
On the left you get all the editing and annotation tools that you might need, along with a handy toolbar that pops up when you're using a tool, allowing you to make adjustments to things like colors, fonts, and more. On the center, there's the PDF viewer itself, and it also has tab functionality so you can open up multiple PDF files in the same instance of the app. That's great too.
On the very right, there's a narrow strip of tools that will let you switch between viewing pages of the PDF document you have open, to viewing any bookmarks you've added in the PDF, and a handy option that shows you all the sticky notes and descriptions you've added in the PDF in one, easily accessible place so you don't have to go searching through the entire file.
Pricing and Availability
I'm pretty sure you're impressed with the Icecream PDF Editor and its capabilities. So let's talk pricing and availability now. If you look at other software with similar features, you'll easily end on the ballpark of around $60 to $80 for them. However, the Icecream PDF Editor is absolutely free. You can simply download it from the website and start editing all your PDF files without worrying about spending a lot of money.
The only issue that I personally have with the Icecream PDF Editor is that it's not available for macOS. The software is only available on Windows 7,8, and 10, and that's it. So yeah, if you're a Mac user, you'll have to look elsewhere for your PDF editing needs. For Windows users, however, Icecream PDF Editor is pretty much the best PDF editing software.
Pros and Cons
While the Icecream PDF Editor is an awesome PDF editing app for Windows, it does have some pros and cons.
Pros:
Feature rich
User friendly interface
Completely free
Cons:
Only available on Windows
No functionality to export PDFs to other formats
Icecream PDF Editor: An Awesome PDF Editor for Windows
At the end of the day, the question is, should you use the Icecream PDF Editor for your PDF editing needs? The answer, dear reader, is absolutely. If you're a Windows user, this is one of the best PDF editors you can use. Plus, it's absolutely free so that's even better.
Download Icecream PDF Editor for Windows (Free)
---
Load More