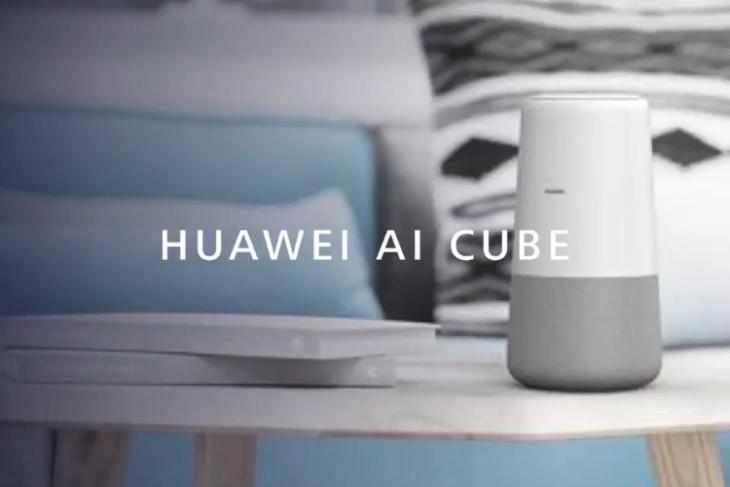 Apart from launching the world's first 7nm chipset, the Kirin 980, Huawei has also launched its Smart Speaker at IFA 2018.
Despite Huawei calling it the Huawei AI Cube, the device is actually shaped like a cylinder. Why? God knows! But let's skip the geometry lesson and discuss about the device, shall we?
Where sound meets synergy, the #HuaweiAICube. A powerful speaker in a smart environment. #ExperienceSmarter #HuaweiIFA2018 #IFABerlin #IFA18 pic.twitter.com/iJj2qk4hJU

— Huawei Mobile (@HuaweiMobile) August 31, 2018
Based on first impressions, the Huawei AI Cube looks an awful lot like the Google Home, just a tad bit bigger. It comes with a fuzzy speaker grille down below, and a section that lights up when interacting via voice. However, it comes equipped with a fully-fledged LTE modem/router and a larger speaker chamber.
The 15-watt speaker is backed up by Huawei's HiSten software for faithful audio reproduction, while the four far-field mics should help Amazon's Alexa assistant respond to your commands.
What's more is that the AI Cube can also work as a mobile router, though since there's no built-in battery you'll still need to be within cord reach of a power outlet. Huawei is promising cellular data speeds of up to 300Mbps, with Wi-Fi throughput up to 1200Mbps over 802.11ac.
As of now, there is no word on the pricing for the Huawei AI Cube, but the smart cube (cylinder) is expected to launch in the European markets later this year.