If anyone asks me advice for buying printers, I only recommend Ink Tank printers. I have had too many bad experiences with ink cartridges printers that I would not take one even for free. While the ink-jet printers cost a lot less when you buy them when you add up the successive cartridge costs and the problems that they make you go through, investing up front in an ink tank printer will start making more sense. Over the years, the cost of ink tank printers has gone down quite a bit which makes them even more alluring. The HP Ink Tank Wireless 419 printer (₹13,895) is one of the most affordable int tank printers on the market and in this article, we will see whether it is cutting corners to meet that price or it is as good as the company says. Here is our review of the HP Ink Tank Wireless 419 printer:
HP Ink Tank Wireless 419 Specifications
In the table below, you can find all the important specifications that you need to know about the printer. These specifications will help you determine if the printer will suffice your needs or not. For most home and office users, the HP Ink Tank Wireless 419 will be enough, however, it is still good to check the specifications before buying anything. If you want a detailed list of all its specifications, you can get it on HP's official website.
| | |
| --- | --- |
| Name | HP Ink Tank Wireless 419 |
| Dimensions | 525 x 310 x 158 mm |
| Weight | 4.67 kg |
| Print Technology | HP Thermal Inkjet |
| Functions | Print, Scan, and Copy |
| Max Input Sheets | 60 |
| Printing Resolution | 4800 x 1200 optimized dpi color |
| Connectivity | USB, WiFi, HP ePrint |
| Scan Speed | Up to 21 Seconds |
| Scan Resolution | 1200 x 1200 dpi |
| Print Speed | Black & white - 14s / Color - 18s |
| Compatibility | Windows and macOS |
| LCD Screen | ICON LCD |
| Recommended Monthly Usage | 400 to 800 pages |
| Ink Tank Life | Up to 8,000 color or 15,000 black pages |
| Warranty | 1 Year Limited Warranty |
Design and Build Quality
The HP Ink Tank Wireless 419 is a compact printer which will not take much space on your desk. It features a retractable paper input panel along with foldable paper output panel. I love the printers that have the paper intake at the top-back as it just makes life so much easier and the HP Ink Tank Wireless 419 brings the same system. Since the paper intake system can be closed, it also prevents the printer from eating dust when not in use.
On the whole, the printer boasts of solid build quality. The body is made from high-quality plastic which feels premium to the touch. The only thing that I don't like is the smooth touch plastic used at the top of the printer. It is made even worse by the use of glossy blue color. That might be a personal bias but the glossy blue plastic top makes it feel like a children's toy and I am not very fond of that. That said, it is my personal opinion and you might like this design choice.
When it comes to the design, the HP Ink Tank Wireless 419 looks like all the other printers with some differences. The front of the printer houses the paper output tray while the top houses all the controls. Along with the controls, There's a small LCD panel where you can see the printing status. The right side of the printer hosts the ink tank where the tanks themselves are made of transparent plastic allowing you to easily see the ink level.
There is nothing on the left side of the printer as both the power and the wired connector are at the back. Overall, I am quite happy with the build quality of the printer. Not only it is compact, but it is also very light coming at just 4.67 Kg. You can move around this printer quite easily if you don't have set a permanent place for the printer.
Connection and Compatibility
HP Ink Tank Wireless 419 brings enough connectivity options and allows you to send prints to the printer using a number of devices. It is not only compatible with both Windows and macOS operating system but also offers mobile printing services for iOS and Android devices (more on this later). As far as connectivity is concerned, you can either use the wired connection or go the wireless route.
Connecting the HP Ink Tank Wireless 419 to your computer using a wire is pretty easy. Just use the USB connector that comes in the box and connect the printer to your computer. It literally took just a few seconds for the printer to show up on my computer and I was able to print documents instantaneously. That is how easy the wired connection is.
If you want to use the printer with multiple devices, you can use wireless internet connectivity. I love the wireless connectivity on a printer as it allows me to keep the printer away from my work desk and still be able to print documents. The wireless set up will take a few minutes as you will have to first make the printer available on your WiFi and then connect your devices. While it takes a few minutes, the setup process itself is pretty easy.
Finally, the HP Ink Tank Wireless 419 also allows you to print documents and images directly from the smartphone using its ePrint technology. All you need to do is download the HP Smart app (Android / iOS), and you can start printing. What I love about the HP Smart app is that it is incredibly easy to use and very well designed. It is by far the best printer companion app I have used in a while.
Printing and Performance
We tested the printing and performance of the HP Ink Tank Wireless 419 by printing dozens of documents and pictures. We used documents with difficult fonts along with scanned documents, IDs, emails, and more. After printing dozens of documents and pictures, I am happy to report that the HP Ink Tank Wireless 419 brings exceptional print quality. The ink on the print is precise and never smudges. The paper remains pristine and doesn't show any ink overflow on the edges.
As far as pictures are concerned, we used the normal A4 size paper as we didn't have the glossy photo paper at hand. However, seeing the details in the A4 sheets, I am assuming that that using photo paper will result in quality printed photographs. The print speed is fairly good with the printer churning out 15-18 prints when only using black ink and 12-14 prints when using color prints. Note that these figures are for text documents only and if you are going to print documents filled with images or images only, your print rate will vary.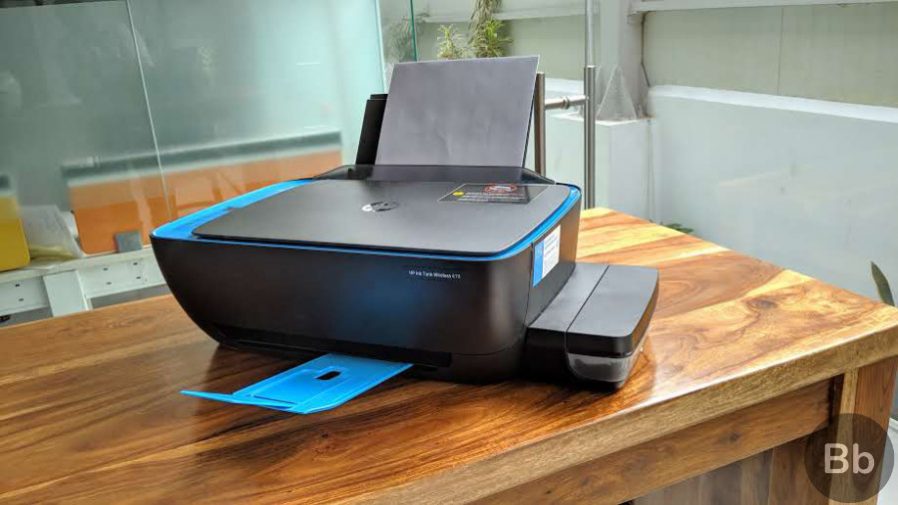 Something that I will mention is that the printer takes a few seconds after you send the print job before it starts printing. It might be a little annoying if you send a ton of individual documents. However, since the delay only happens at the start, printing documents with multiple pages is not a worry. I have seen this delay in many budget printers and this is not something exclusive to the HP Ink Tank Wireless 419. This should not influence your buying decision, however, it is something that I noticed and you will too.
Scanning and Copying
When it comes to scanning documents, the HP Ink Tank Wireless 419 is nothing exceptional. It takes the usual 10-20 seconds to scan a document which is normal for a printer in this price range. Copying is a bit faster and the printer supports multiple copies. Overall, I would say that the printer's scanning ability is nothing out of the ordinary but at the same time, it is not terrible either.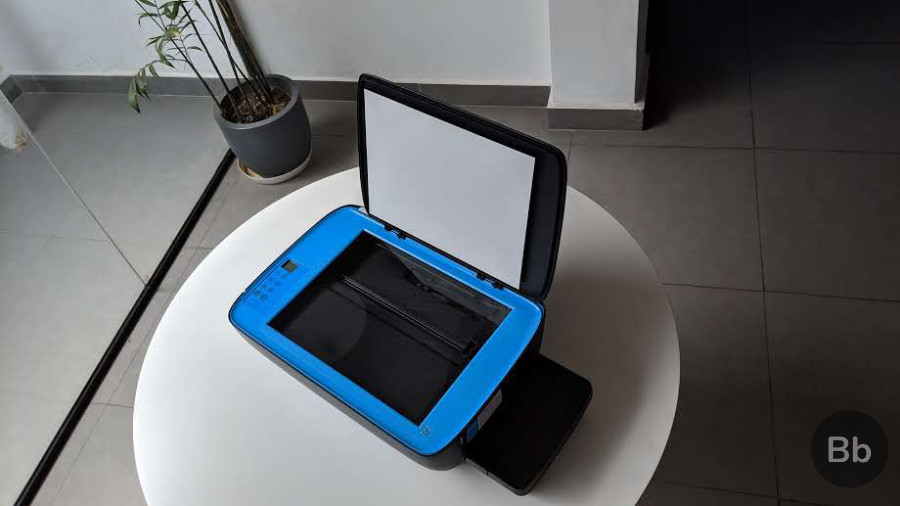 HP Ink Tank Wireless 419 vs Competition
While the HP Ink Tank Wireless 419 is moderately priced, it is not the only printer in this price range. It is facing tough competition from the likes of Epson EcoTank L3150 and the Canon Pixma G3000 which are available on Amazon at similar prices. While I have not used both of these printers before, a quick look at their ratings and specs sheet shows me that they are good printers and offer both advantages and disadvantages over the HP Ink Tank Wireless 419.
The HP Ink Tank Wireless 419 is not beating the competition by a clear margin. So, even though it is a really good printer, it is not the only one. That will make your choice a little bit difficult. The bottom line is that you will be happy if you buy the HP Ink Tank Wireless 419 as there was not one thing that turned me off while using this printer. That being said, if there is something that you didn't like about this printer, you don't have to settle as there are options on the market.
Pros:
Wired and wireless connectivity options
Excellent iOS and Android apps for mobile printing
Good print quality
Compact and light
Ink Tank Support
Cons:
Not a fan of the blue plastic top
SEE ALSO: HP Omen 15 Review: Thin, Light, and Extremely Powerful
HP Ink Tank Wireless 419 Review: A Good Budget Ink Tank Printer
I used the HP Ink Tank Wireless 419 for a couple of days and printed dozens of pages using text documents, scanned documents, and images. In my testing, I found the print quality to be exceptional. The build quality of the printer is also quite good. Overall, I didn't find any reason that should make anyone not buy this printer.
Buy HP Ink Tank Wireless 419 from Amazon: ₹13,895
REVIEW OVERVIEW

Design and Build Quality

8.5

Printing and Performance

8.5

SUMMARY

HP Ink Tank Wireless 419 is a capable and affordable ink tank printer which is good for home and small offices. The printer offers a good build quality and is compact enough to fit in a small desk space. The printing speed is good and the print quality is exceptional. For anyone who is looking for an affordable ink tank printer for his home or office, this is a great choice.