Google I/O 2023 packed a ton of new announcements which excited users. From Generative AI coming to Google Search to the all-new Pixel Fold, there were a lot of reveals last night. However, amid all the chaos, Google Bard too got its fair share of improvements. While it was initially locked behind a waitlist to select countries, Google Bard is open for all now spanning 180 countries and territories. However, with all of Google Bard's best features, how exactly does one go about using it? Well, that's what we teach you here so dig in.
Step 1: Go to Google Bard's Website
With a new browser tab open, head to the official Google Bard website and click on "Sign In" to begin.
Note: Unlike Bing AI which is limited to the Microsoft Edge browser, Google Bard is accessible from any browser of your liking.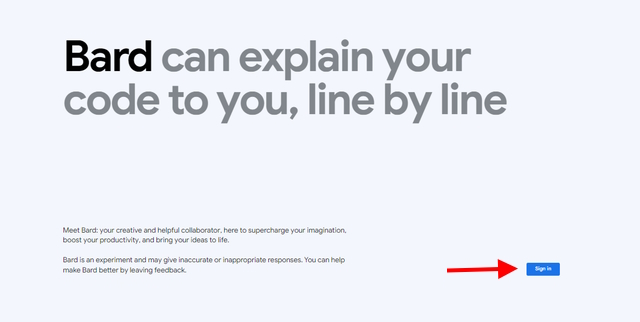 Step 2: Sign in to Your Google Account
You will now be led to Google's sign-in page. Simply enter your Google account credentials and go through the sign-in process.
Step 3: Begin Using Google Bard AI
As you can already see, you will now be on Google Bard's homepage. This is the main console with all the settings on the left sidebar and the main chat window in the center.
To begin chatting, type out any prompt into the "Enter a Prompt here" textbox and Bard will draft out a response in seconds.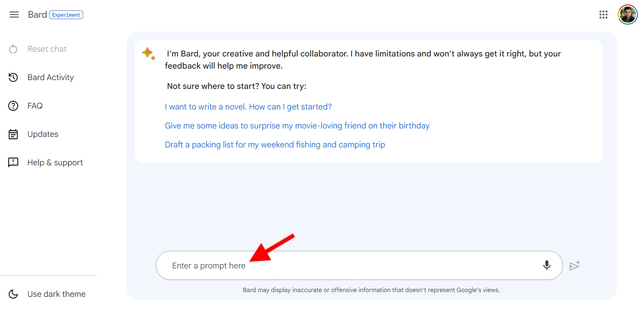 With Bard's response now typed out, you can go ahead and keep using Google Bard for all your AI helper needs.
Google Bard Options Explained
While the process to use Google Bard is easy enough, we are highlighting the most common options you should know about to fully leverage the AI bot. Let's begin with the left sidebar: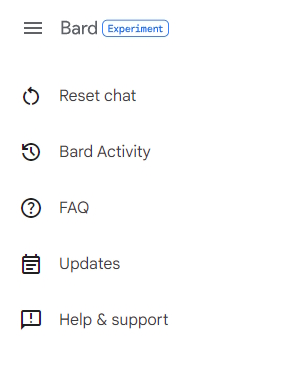 Reset chat: This option clears up the entire current chat and starts a new one. Any of your current chat sessions are not saved when clearing. Also, you cannot start multiple chats with Bard, which is not the case with ChatGPT.
Bard Activity: While the sessions aren't saved, your prompts are. Clicking this will open up a new window showcasing your Google Bard activity along with the option to turn it off and turn on auto-delete.
FAQ: As is obvious, this opens up a new page detailing all the frequently asked questions about Google Bard. Good for people wanting information about it in a punch.
Updates: Google constantly pushes out a variety of updates to its AI chatbot. This option stores changelogs for every update for users who want to keep track.
Help and Support: Opens up a dedicated Google Bard help page full of questions and answers along with a feedback center.
With these options explained, let's begin with the main chat window and explain all the features acessible here:
1. Edit Prompt: Clicking this button allows users to edit their previously sent message to the bot.
2. View other drafts: Expands and collapses the other drafts window where Bard houses its answer variations (three different answers) to the same query.
3. Regenerate Drafts: If a user is not satisfied with the initial answer, they can choose to click this button and have Bard regenerate the response.
4. Export Response: Allows users to quickly export the message onto Google Docs or as a draft in Gmail.
5. Google it button: Opens up a new tab wherein Bard searches Google for more information based on your query.
6. More button: Houses the copy and report buttons.
7. Microphone input: Allows one to use their voice to chat with Bard. This is something OpenAI's bot can only do with ChatGPT Chrome extensions.
Frequently Asked Questions
1. Is Google Bard free to use?
Google Bard is indeed completely free to use. Unless Google itself specifies, steer clear of any impostor websites convincing you to pay up to access Google Bard.
2. Is Google Bard behind a waitlist?
While Google Bard was locked behind a waitlist to certain countries, Google at the I/O 2023 announced that Bard is now open to 180 countries and territories in English. You can use the steps above to use Bard easily.
3. What language model does Google Bard use?
Google Bard uses the company's next-generation LLM called PaLM 2. The new LLM is significantly more capable and faster than Bard's previous snippet of LaMDA.
4. Does Google Bard use ChatGPT?
As mentioned above, Google Bard uses the company's own LLM called PaLM 2. On the other hand, ChatGPT is an AI chatbot by the company OpenAI and uses a combination of its LLM models, including GPT-4.
---
Load More